South Carolina Railroads In "The Palmetto State"
Last revised: October 11, 2023
By: Adam Burns

South Carolina railroads are somewhat unique in featuring mountainous operations to the west and coastal operations to the east, similar to that of its northern Carolina neighbor.

While the Palmetto State is usually best known for its white sandy beaches and palm trees, its western mountains also feature coal drags and stiff grades (notably the historic Clinchfield Railroad, which is part of the CSX system today). 
History
Abandonments have, unfortunately, been widespread across the state.  As a major agricultural and cotton producer many secondary branch lines were laid down throughout the piedmont and coastal plains.  

South Carolina was home to nearly all of the Southeast's most recognized railroads and today include successors CSX Transportation and Norfolk Southern Railway along with more than a dozen short lines.
Given the diversity of railroad operations in South Carolina it is a unique state from a railfan perspective even though it offers no significant engineering feats or notable structures.

Photos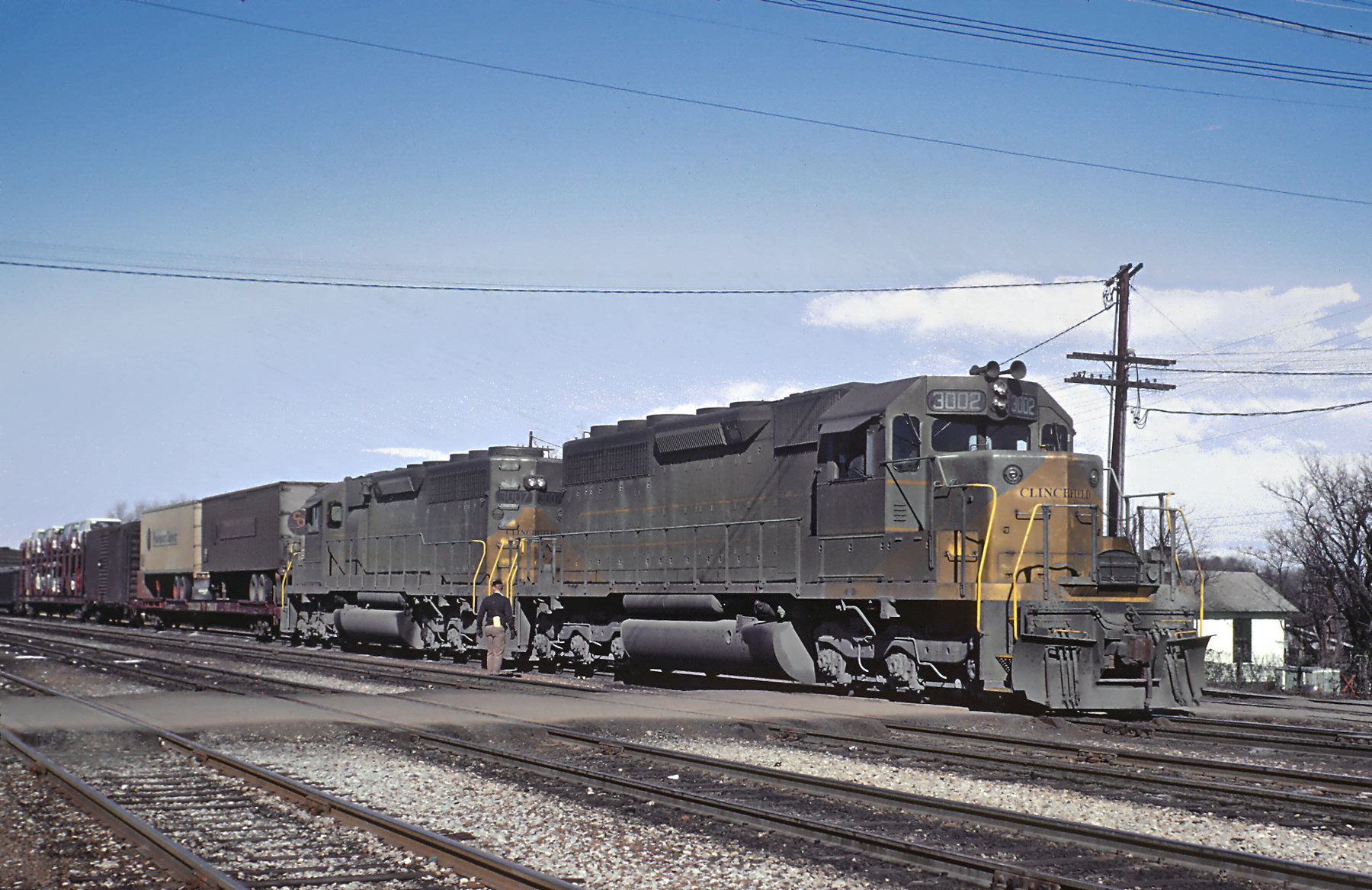 A pair of Clinchfield Railroad SD40's are at the southern end of the system in Spartanburg, South Carolina in February, 1968. This location was an important interchange point with the Southern Railway, Charleston & Western Carolina (Atlantic Coast Line), and Piedmont & Northern. Note the grime covering the locomotives. The CRR's primary commodity was coal. Roger Puta photo.
South Carolina railroads date back to the South Carolina Canal and Railroad Company (SCCRR), which was chartered in 1827 to connect historic Charleston with Hamburg, 136 miles away in the hopes of moving the South's valuable cotton trade to its then largest port (Charleston).
The railroad originally completed a short six-mile stretch west from Charleston in 1830 and earned the distinction of operating our country's first regularly scheduled passenger train (via the early steam locomotive, Best Friend of Charleston).
By October 1833 the railroad had completed its entire line, a massive system for its time easily making it the largest such company in operation.
Additionally, by 1836 the railroad began to replace its inefficient and dangerous strap rail with the common, and much stronger "T"-rail.
The South Carolina Canal & Railroad eventually became part of the Southern Railway system and amazing, much of the original main line remained in use until the 1980s when then-successor Norfolk Southern Railway elected to finally abandon the route (completely pulling up much of it).
In the succeeding years following the SCCRR, South Carolina would become home to all of the Southeast's most celebrated railroads, save for the Louisville & Nashville Railroad.
Today, South Carolina railroads are predominantly the realm of the successors to the above lines, Norfolk Southern (Southern) and CSX (ACL, SAL, and Clinchfield).
Current Railroads
CSX Transportation


Norfolk Southern


Aiken Railway



Carolina Piedmont Railroad


Lancaster & Chester Railway


East Cooper & Berkeley Railroad


Greenville & Western Railway


Hampton & Branchville Railroad


Pee Dee River Railway


Pickens Railway


Port Terminal Railroad of South Carolina


Port Utilities Commission of Charleston
RJ Corman - Carolina Lines



South Carolina Central Railroad
South Carolina's rail network currently includes nearly 2,300 miles of rail although at its peak South Carolina was home to nearly 4,000 miles.
Despite losing 1,600 miles of trackage since the 1920s the state still retains about 60% of its peak mileage, a fairly high number considering many states have lost between 45% and 50% of their infrastructure.
For a more in-depth look at South Carolina railroads, in terms of its route mileage over the years please refer to the chart below.
State Mileage Chart
First Railroad
* South Carolina's beginnings with the railroad can be traced back to one of the earliest, and longest of its time, the South Carolina Canal & Rail Road Company (SCC&RR). 
As the iron horse found its way to America during the 1820's its advantages were widely recognized although few ever saw it as a unified national network providing efficient transportation. 
Instead, it was viewed as a local entity serving a particular need.  East coast port cities such as Philadelphia, New York, Baltimore, Boston, Wilmington, and Charleston were particularly interested in the technology as it could potentially funnel goods much fast to and from these locations. 
During a time when these municipalities fiercely competed for trade any advantage was critical.  In this case of Charleston, business leaders there were fearful that Savannah, Georgia would usurp their profitable cotton trade.  To counteract this threat they organized the South Carolina Canal & Rail Road Company on December 19, 1827. 
 Its purpose was to connect the city with Hamburg, South Carolina/Augusta, Georgia along the Savannah River to move agricultural products to the port for shipment.  In late 1830 six miles were opened and within three years the entire 136-mile corridor was complete.  It was the longest railroad in operation at the time.  The SCC&RR would go on to join the modern Southern Railway.

State Map
While South Carolina railroads may no longer feature such stately passenger trains as the Orange Blossom Special, East Coast Champion or the Southerner Amtrak continues to operate a number of trains that predate its existence.
---
Abandoned Lines
The state of South Carolina has suffered a great deal of abandonments, particularly since the 1960s. 
Many of these lines were either duplicate Atlantic Coast Line or Seaboard Air Line secondary routes, abandoned in the Seaboard System/early CSX era.
Other lines were former Southern Railway corridors.  Perhaps the most well-known abandonment is the most historic, the South Carolina Canal & Rail Road Company.
The SCC&RR was completed in 1833 between Charleston and Hamburg.  After a few mergers it became part of the South Carolina & Georgia Railroad in 1894 and then the modern Southern in 1899.
The line remained in service, surprisingly, until the 1980's when it was finally abandoned by Norfolk Southern.
Another notable line was the Piedmont & Northern, a successful interurban which operated two disconnected segments in the Carolinas; Greenwood-Spartanburg, South Carolina and Gastonia-Pinoca/Charlotte, North Carolina
Most of the old P&N was abandoned following its acquisition by Seaboard Coast Line in 1969.
---
This services include the Southern's venerable Crescent, the ACL's Palmetto and the SAL's Silver Star andSilver Meteor.  Lastly, South Carolina railroads also feature a few railroad museums and tourist railroads.
So, if you are just interested in seeing museums or are just tired of live freight railroading the Palmetto State is home to three; the Lancaster and Chester Railway (which includes a museum at its main headquarters, the Railroad Historical Center and the South Carolina Railroad Museum (which also features excursion trains).  
---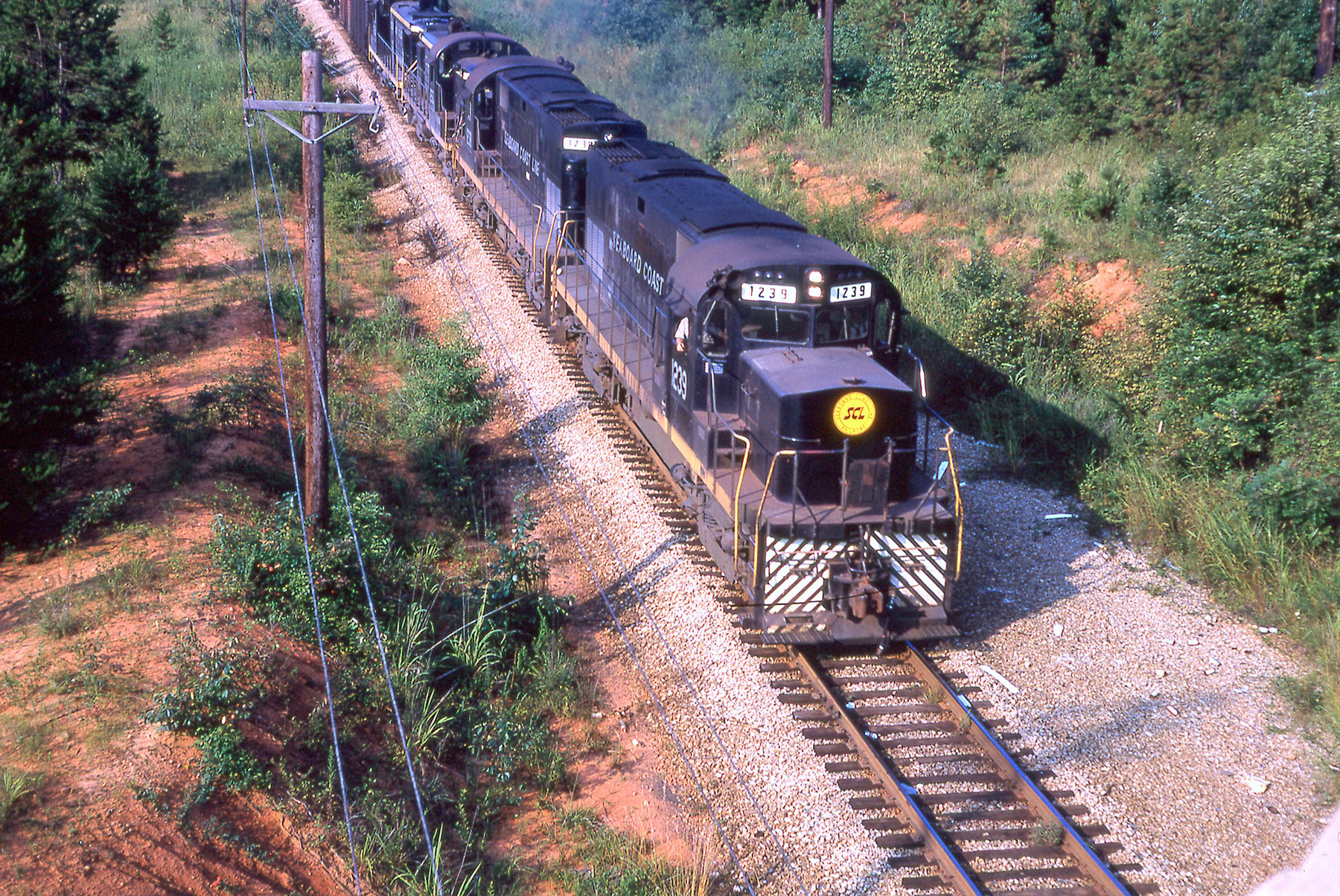 A pair of former Piedmont & Northern C420's and RS3's are north of Belton, South Carolina on home rails in August, 1968. Warren Calloway photo.
Finally, while no railroad-related museums are found in Charleston a visit to the city is like stepping back into the 19th century and has preserved a number of railroad buildings. Having been there several times, it is well worth the visit if time allows!
All in all, South Carolina railroads feature a diversity of operations depending on which side of the state you visit from the Port of Charleston to coal country around Spartanburg.