South Dakota Railroads In "The Mount Rushmore State"

Last revised: October 11, 2023
By: Adam Burns

South Dakota are not what they once were as the state has seen its mileage plummet since it spiked during the industry's heyday of the 1920s.

Today, both Class Is BNSF Railway and Canadian Pacific continue to have a significant presence in the Mount Rushmore State along with one Class II, regional and just a few short lines.
History
South Dakota has lost over 50% of its peak rail infrastructure; a result of the numerous branch lines that tapped grain elevators and other agricultural business in the state's eastern regions.   
The state is also significant as the official gateway of Milwaukee Road's fabled Pacific Coast Extension, which began at the Missouri River in tiny Mobridge. 
By the 1950's these companies had either switched to trucks or could no longer support so many railroads. 
Western South Dakota, in the mountains of the Black Hills, once included trackage serving numerous mines; today, however, only CP and BNSF's line to Wyoming's lucrative Power River Basin coal region. 
At one time, regional Dakota, Minnesota & Eastern (which CP acquired) was attempting to build its own corridor into the era to tap this market.  Alas, with CP's take over the idea was shelved.

Photos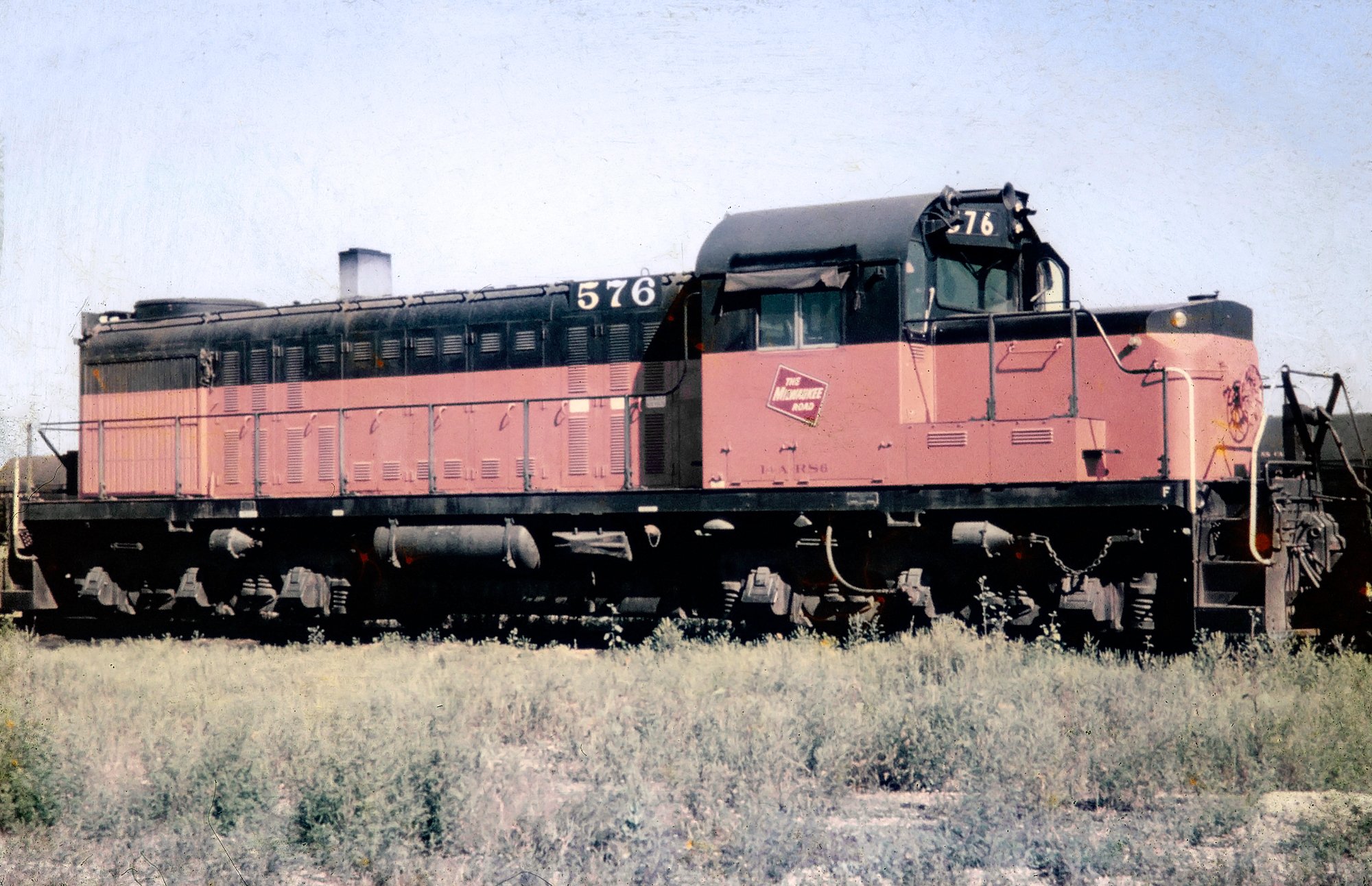 One of the Milwaukee Road's RSC2 rebuilds, #576, is seen here in Aberdeen, South Dakota in August, 1967. The Milwaukee had originally acquired 22 examples in the latter 1940s for light branch line service (975-996). They were sent back to Alco in 1965 where the short nose was lowered; a new 12-cylinder, 1,400 horsepower engine was installed (down from the original 1,600 horsepower 244 power plant); and other internal upgrades carried out. Fred Byerly photo. American-Rails.com collection.
South Dakota railroads date back to 1872 when the original Dakota Southern Railroad completed its main line between Vermillion and Sioux City, Iowa a distance of roughly 37 miles.
Interestingly, the idea for the railroad began in January of 1872 and by early fall that same year it was completed and in operation.
The Dakota Southern would eventually become part of the Chicago, Milwaukee & St. Paul Railroad (predecessor to the company today commonly known as the Milwaukee Road).
Following the Dakota Southern the Mount Rushmore State would find itself home to well-known Midwestern railroads like the Milwaukee Road, Chicago & North Western Railway, CB&Q and CRI&P. 
While what remains of South Dakota's rail network is mostly owned by BNSF and CP there are several smaller companies in operation there as well.
Current Railroads
BNSF Railway


Canadian Pacific


Dakota, Missouri Valley & Western Railroad


D&I Railroad


Ringneck & Western (former Dakota Southern lines)


Ellis & Eastern Railroad
Rapid City, Pierre & Eastern Railroad



Sisseton Milbank Railroad


Sunflour Railroad


Twin Cities & Western
Milwaukee Road RSC2 #589 is seen here in freight service next to the depot in Aberdeen, South Dakota during June of 1968. Fred Byerly photo. American-Rails.com collection.
South Dakota railroads today operate just 1,800 miles of a network that once featured more than 4,200 miles. Having lost 57% of its railroad infrastructure since the 1920s the state is far above the average declined during that time for most states which ranges between 45% to 50%.
Much of this loss can probably be explained by the fact that agriculture has always played such a large role for the state's economy and railroads began to lose a lot of this business following World War II.
For a more in-depth look at the state's rail mileage over the years please take a look at the chart below. 
While South Dakota railroads do not include many museums or tourist railroads they do feature the famous Black Hills Central Railroad which operates the last running Mallet, a 2-6-6-2T type.
State Mileage Chart
First Railroad
* South Dakota's first railroad opened before the territory even joined the Union.  According to the South Dakota State Historic Preservation Office, in a dissertation prepared by Mark Hufstetler and Michael Bedeau in July, 1998, John I. Blair formed the Dakota Southern Railway Company in 1871 to bring rail service to what was then known as simply Dakota Territory. 
The new system would link Yankton with Sioux City, Iowa.  According to Trains Magazine, the first segment to Vermillion (36 miles) opened in 1872.  The following year the line was completed.  In 1883 it was acquired by the Chicago, Milwaukee & St. Paul Railway, becoming one of the granger's many secondary agricultural corridors. 
As for passenger train services, historically only the Milwaukee Road's transcontinental Olympian Hiawatha traveled through South Dakota as competitors Great Northern and Northern Pacific traveled through North Dakota with their important streamliners.

---
Abandoned Lines
South Dakota was once blanketed by railroads but ironically, only one through route cut across the state; Milwaukee Road's Pacific Extension.  
This line was built westward from its then end-of-track at MoBridge in 1905 (completed in 1909). 
Both the Milwaukee and Chicago & North Western predominantly served the state and both maintained long branches such as Rapid City, Faith, Stickney, Wessington Springs, Wood, and Mitchell.
These secondary corridors were built primarily to serve the state's rich agricultural industry, such as grains and corn.
With increased competition, particularly by the trucking industry, which carved serious inroads into the Midwestern agricultural market, these secondary branch lines became unprofitable.
In addition, with the Milwaukee Road's 1977 bankruptcy and truncation in 1980, many of its lines in South Dakota were sold or abandoned.
Thankfully, the state had the foresight to save some key corridors, such as its line to Rapid City.  The long term plans call for this line to be fully reopened by Watco's Ringneck & Western short line.
In any event, most of South Dakota's 2,200 miles of abandoned railroads were either C&NW or Milwaukee branches.  
---
Unfortunately, today, Amtrak provides no services in the state.  In all, South Dakota railroads include some interesting and unique operations on a beautiful backdrop setting of our country's Northern Plains region.

State Map
While railroading here is not as prolific as it once was you will quite likely enjoy seeing that which remains, from main line railroading to local shortline operations.

---
If you enjoy the state's history with trains you might like the book South Dakota Railroads by authors Mike Wiese and Tom Hayes. 
The title comes from Arcadia Publishing's "Images of Rail" series and primarily features a collection of historic photos through 128 pages.  
Although they do not contain much text I have several of Arcadia's titles from this series in my collection and have thoroughly enjoyed all of them for the pictures alone (all of which are featured in black and white).