Shoreland/Valley 400


The Shoreland/Valley 400 was one of many new streamliners the Chicago & North Western initiated during the early 1940s.  This particular set of trains served the popular Chicago to Green Bay corridor running via Milwaukee/Fond du Lac. 
According to Jim Scribbins in his book The 400 Story they, and the other 400s launched at this time, were based closely from the original inaugurated in 1939 that proved so successful for the C&NW. 
For about a decade the railroad experienced strong ridership among its streamliner fleet, which it believed would continue following the astronomical traffic surge during the World War II conflict.  However, this was not to be and the patronage waned throughout the 1950s leading to more and more cutbacks.  What was once the Shoreland/Valley 400s were finally discontinued in 1971.

When the Chicago & North Western reequipped its original 400 with lightweight, equipment from Pullman-Standard and diesels from Electro-Motive the railroad was playing catchup against the Burlington and Milwaukee Road, both of which had launched their first streamliners between Chicago and the Twin Cities some four years earlier in 1935. 
Ironically, the C&NW could proclaim itself as the first to offer high-speed service along this corridor when it launched the original 400 on January 2nd of that year.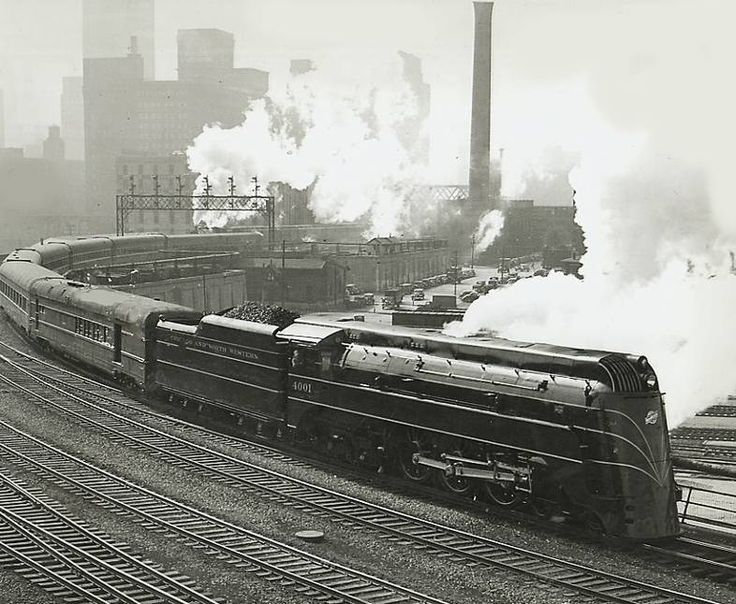 However, a bankruptcy precluded the company from purchasing streamlined equipment until it was allowed to do so in 1939.  The rechristened 400 was widely promoted by the C&NW and the company also made sure to mention its status as being all diesel-powered.   
According to one advertisement, featured in conjunction with EMC/GM and displayed on the cover of the September, 1939 edition of Railway Age: 
"The Famous '400' Goes Diesel.  Now two new, 4000 horsepower EMC diesel locomotives power the famous Chicago & Northwestern '400' between Chicago-Milwaukee-St. Paul-Minneapolis..."
"Built for high-speed, economical, safe and comfortable transportation, these EMC locomotives are capable of a top speed of 117 miles per hour and will make the six and one-half hour, four hundred mile run of the '400' without changing locomotives and without the necessity of continuous top speeds." 
The latter statement, of course, was speaking in regards to the now "antiquated" steam locomotive as diesels were all the rage.
C&NW's "400" Fleet And Other Trains
More Reading...
The 'North Western witnessed an incredible level of patronage with its relaunched 400 and quickly worked to field an entire fleet as fast the equipment could be acquired.  The first of these new cars, also Pullman products, began arriving during January of 1942. 
According to Scribbins there were four complete sets within this order and they allowed the C&NW to launch the Peninsula 400, Capitol 400, Commuter 400, City of Milwaukee 400, and Shoreland/Valley 400. 
The latter was an interesting endeavor; the Shoreland 400 was listed on C&NW's timetable as train #215, the northbound run departing Chicago for Green Bay via Milwaukee.  In turn, its counterpart was train #206, the southbound Valley 400 running south from Green Bay to Chicago via Fond du Lac.
The consist for these trains normally consisted of a baggage-tap-cafe-lounge, reclining seat coaches, and a standard parlor while power was provided by new E6 diesels from Electro-Motive (in later years the trains were powered by even newer E7 and E8s). 
Scribbins notes that one of the most interesting and unique features of the Shoreland/Valley 400 was the baggage-lunch-counter-diner cars that arrived during 1950 from Pullman-Standard. 
They offered:
"...tables seating four angled so that two persons had their backs toward the windows while their companions sat in moveable chairs with their backs to the aisle. Across the aisle, triangular tables for two pointed toward angled banquettes against the wall." 
The postwar era was one filled with hope and enthusiasm for railroads, believing the streamliner and strong ridership experienced during the war years would lead to another "Golden Age" of rail travel.

(The below Shoreland/Valley '400' timetable is dated effective April 29, 1962.)

Read Down
Time/Leave (Train #239/Valley '400')
Milepost
Location
Read Up
Time/Arrive (Train #168/Shoreland '400')
7:30 AM (Dp)
0.0

Chicago, IL (North Western Station) (CT)

8:50 PM (Ar)
7:48 AM
12.0

Evanston, IL

8:30 PM
8:08 AM
35.9

Waukegan, IL

8:04 PM
8:25 AM
51.6

Kenosha, WI

7:50 PM
8:36 AM
61.9

Racine, WI

7:39 PM
9:05 AM (Ar)
84.4

Milwaukee, WI

7:15 PM (Dp)
9:15 AM (Dp/Via Fond du Lac)
84.4

Milwaukee, WI

7:10 PM (Ar)
9:55 AM
117.6

West Bend, WI

10:35 AM (Ar)

Fond du Lac, WI

10:40 AM (Dp)

Fond du Lac, WI

11:05 AM
164.3

Oshkosh, WI

11:24 AM
177.2

Neenah-Menasha, WI

11:36 AM
182.6

Appleton, WI

112.6

Port Washington, WI

6:35 PM
120.2

Belgium, WI

6:25 PM
125.3

Cedar Grove, WI

6:20 PM
139.1

Sheboygan, WI

6:02 PM
150.7

Cleveland, WI

5:46 PM
156.2

Newton, WI

5:40 PM
163.6

Manitowoc, WI

5:30 PM
171.2

Francis Creek, WI

5:17 PM
183.5

Denmark, WI

5:03 PM
12:15 PM (Ar)
200.4

Green Bay, WI (CT)

4:40 PM (Dp/Via Manitowoc)
Unfortunately, this was not to be as the C&NW experienced firsthand.  By the 1950s, coupled with Union Pacific's move to the Milwaukee Road in ferrying its City fleet to Chicago, the 'North Western realized that the public's interest for trains was waning in favor of automobiles and airlines. 
In an ironic twist the railroad began wide-scale cutbacks within its passenger fleet when just a few years before it was still launching new 400s. 
The most notable changes occurred during 1958 when the C&NW acquired new bi-level, gallery cars from Pullman-Standard and through a deal with the state of Wisconsin the implementation of this equipment enabled the railroad to discontinue 14 secondary, money-losing trains.  Some of these cars would later be assigned to the Shoreland/Valley 400.

---
---
Chicago & North Western's southbound "Shoreland '400'" is seen here boarding in Green Bay, Wisconsin during September, 1963. Roger Puta photo.
As the '50s gave way to the 1960s it was clear that the public would never return to the rails as their primary means of travel.  The decade witnessed continuing cutbacks within the C&NW fleet as the railroad attempted to stave off growing losses. 
This came to a head in 1969 when Scribbins writes:
"...when the Peninsula 400 was discontinued north of Green Bay in mid-July, C&NW quietly dropped the 400 name, referring to its trains only as streamliners.  What had started on January 2, 1935 in a brilliant burst of optimism and had grown into a fine example of modern passenger train operation was no more." 
According to the railroad's 1969 timetable only train #206 was still operating between Green Bay and Chicago offering reclining-seat coaches via the bi-level cars.  It was later discontinued in 1971.