The current Union Depot (in the streamliner era it was often known by its initials, SPUD) is actually the second terminal to be located on the site. The original opened in 1881 and was a three-story, largely brick structure.  Its history began a few years earlier when nine railroads formed the St. Paul Union Depot Company in 1879 to provided a centralized facility for passenger rail service which included the Great Northern; Northern Pacific; Chicago, St. Paul, Minneapolis & Omaha (later Chicago & North Western); Chicago, Milwaukee, St. Paul (later the Chicago, Milwaukee, St. Paul & Pacific better known as the "Milwaukee Road"); Chicago Great Western; Chicago Burlington & Quincy (Burlington); Minneapolis, St. Paul & Sault St. Marie (Soo Line); Minneapolis & St. Louis (later C&NW); and the Chicago, Rock Island & Pacific (Rock Island).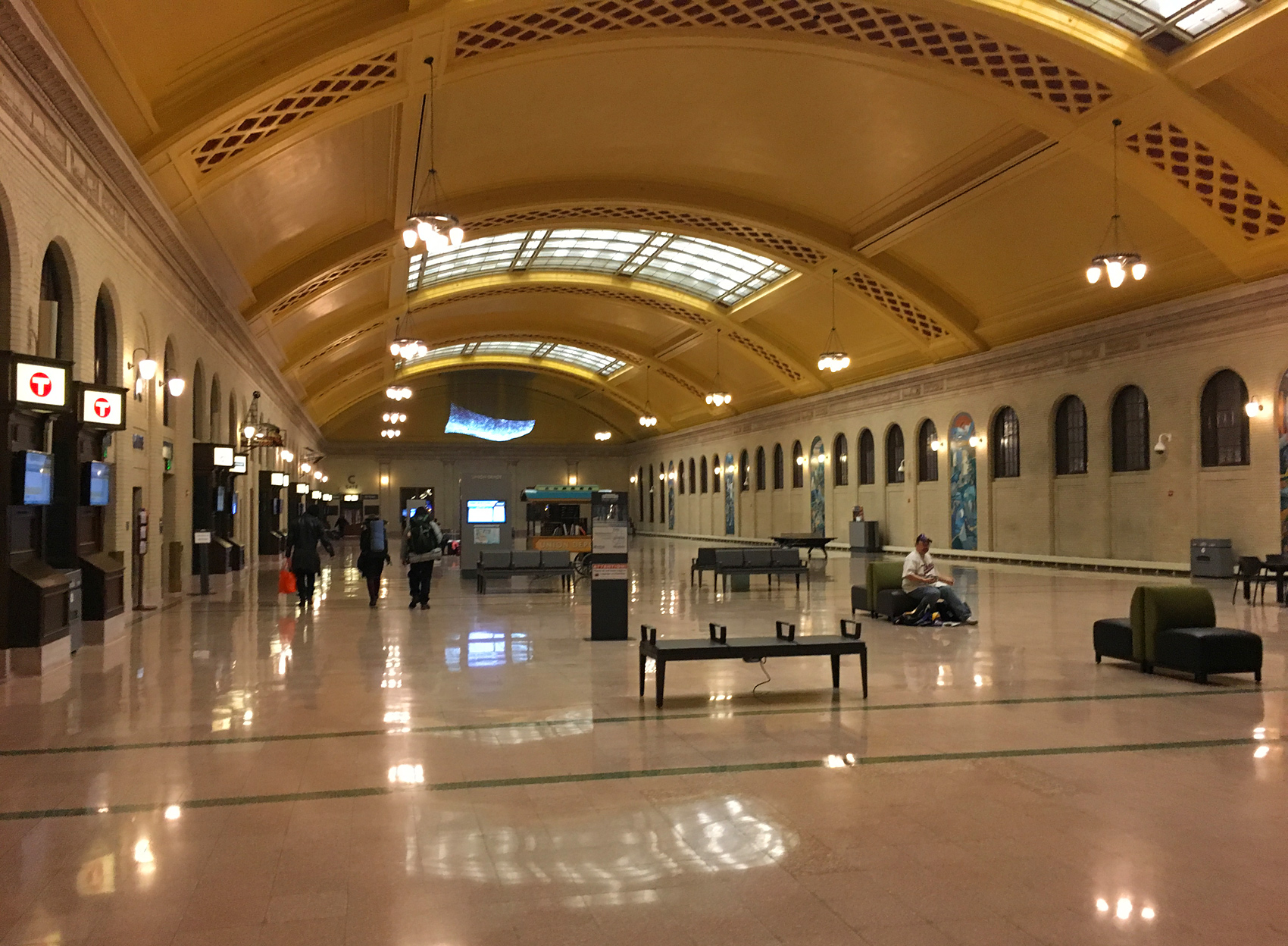 Located south of Kellogg Boulevard it had cost a total $125,000 but alas was open for only a short time before being damaged by fire.  The facility was rebuilt in 1884, and again in 1890.  In its final incarnation it featured a gorgeous, centered clock tower giving it a more lavish exterior appearance.  The facility remained in use until 1913 when, according to the website "Great American Stations" (an Amtrak-sponsored historical resource), a much more serious fire destroyed the structure.  Despite this unfortunate event the original union station was already becoming cramped and outdated.  Spearheaded by Great Northern's legendary James J. Hill the railroads mentioned above formed a consortium to build a new facility.  St. Paul Union Depot was designed by architect Charles Frost and began construction in 1917.  Due to the United States entering World War I it took six years to complete and finally opened in 1923.

The terminal, built in the Classical Revival style had cost a total of $15 million and opened in time to witness the final years of the "Golden Age" of passenger rail travel. The facility was arguably far less extravagant than its predecessor.  It offered no exterior ambiance with a boxy appearance and simple colonnade facing 4th Street looking more like a local courthouse than a stately passenger terminal.  Perhaps the interior made up for the outside's lack of visual appeal.  It featured a Great Hall adorned in light pink Tennessee marble, local Mankato-Kasota stone, and lined with Ionic columns to each side.  In addition, the waiting room featured an arched ceiling, partially stained-glass, both adding its beauty as well as offering a light and airy feel.  The oncoming Great Depression hit the industry hard and the station struggled to regain this lost business throughout the 1930s. 
However, it still served millions of passengers each year, particularly during World War II, and played host to several famous passenger trains such as Milwaukee Road's Hiawathas, Chicago & North Western's "400", Burlington's Twin Cities Zephyr, Great Northern's Empire Builder, Rock Island's Zephyr Rocket, and several others.  While the station was primarily a stub-ended design featuring 18 tracks and 9 platforms (meaning trains had to back into and pull out of the staging the tracks to return to the main line), the through main line also passed right next to the building where additional boarding was available. During its peak years more than 280 trains arrived and departed from its tracks on a daily basis.  As rail traffic declined through the 1950s trains began to stop calling to the terminal with the first being the C&NW's Twin Cities 400 in late July, 1963.
By April 30, 1971, the last day prior to Amtrak, then-Burlington Northern's Afternoon Zephyr was the final privately owned passenger train to depart.  When Amtrak took over intercity passenger rail operations in 1971 it opted not to use Saint Paul Union Depot, instead decided on nearby Great Northern Station in Minneapolis for its services to the Twin Cities. Thankfully, Saint Paul Union Depot has been preserved; in 1974 it was placed on the National Register of Historic Places and today serves as an office building although future plans for it are much grander. With millions in funds secured the Ramsey County Regional Railroad Authority (RCRRA) oversaw the Twin Cities region provided with high-speed commuter rail and light rail service.   The first step involved moving the Postal Service, which used the facility since the cessation of rail services in the early 1970s.  USPS announced plans in 2005 to relocate its bulk mail processing center to Eagan, Minnesota (completed in 2010) and the RCRRA forged away with plans to overhaul St. Paul Union Depot into a multimodal hub.
The concourse, bridge and nine acres south of the station were acquired in 2007 for $49.6 million while the headhouse was acquired in 2009 for $8.1 million.  Finally, on January 18, 2011 construction began to return the facility to its former glory and was officially completed in late November of 2012 with a price tag of $212 million.  In 2013 Metro Transit bus service commenced and Amtrak called to the terminal for the first time ever on May 7, 2014 when the westbound Empire Builder stopped at 11:30 PM.  A month later, in June the Central Corridor light rail system (operated by Metro Transit, also known as the Metro Green Line) began service to the facility (this 11 mile line connects downtown St. Paul with Minneapolis via the University of Minnesota, the Midway district and Capitol complex).


Home

›

Stations And Depots

› St. Paul Union Depot