The 
Texas Chief
Last revised: May 19, 2023
By: Adam Burns

The Texas Chief was the only streamliner Santa Fe operated which provided direct service between Chicago and Texas at Galveston along the Gulf Coast. 

It was inaugurated a few years following World War II and not surprisingly, thanks to the Santa Fe's unparalleled devotion to passenger rail travel, the Texas became one of the most popular trains serving its home state (despite a schedule that was somewhat slow and circuitous).  

In its nearly three decades running the train maintained a high level of service as the AT&SF was unwilling to let such decline even in the face of falling ridership. 
As with most of the other Chiefs (except the original incarnation, The Chief, which was canceled during 1968) the Texas remained on the railroad's timetable until the start of Amtrak on May 1, 1971. 

Photos
Santa Fe F3A #31-L has the "Texas Chief" at Fort Worth, Texas in 1950. Russ Cole photo. American-Rails.com collection.
History
The Santa Fe's latest edition to its fabled fleet of streamliners was the Texas Chief launched during the spring of 1948 listed as train's #15 (southbound) and #16 (northbound) taking the numbers of what was formally the Chicago Express that served much of the same territory. 
According to Mike Schafer and Joe Welsh's book, "Streamliners:  History Of A Railroad Icon," the train covered a route of 1,410 miles with a schedule of 26 1/4 hours serving such notable locations as Kansas City, Topeka, Oklahoma City, Fort Worth, and Houston while later providing connecting service to Dallas/Gainesville during 1955 (this train was listed as #115 and #116 offering sleepers and coaches, covering about 85 miles during its run). 
The train was advertised as a full streamliner (and the only through Chicago-Gulf Coast service available) but as a secondary Chief the AT&SF carried on the usual practice of providing it with handed-down equipment from other more notable trains, such as the Super Chief. 
At A Glance
Route

Chicago - Kansas City - Houston - Galveston

Travel Time

26 Hours and 15 Minutes

Service History

April 3, 1948 - April 30, 1971 (Santa Fe)

May 1, 1971 - May 19, 1974 (Amtrak)

Train Numbers

15 (Southbound/Westbound)

16 (Northbound/Eastbound)

Distance

1,427.3 Miles

End Terminals

Union Station (Galveston)

Dearborn Station (Chicago)
For instance, its consist was comprised of secondhand cars manufactured by American Car & Foundry, Budd, and Pullman-Standard that included chair cars, Pullman sleepers, diners, and lounges (a fairly typical consist for a Santa Fe streamliner). 

However, the locomotives carried the usual Warbonnet livery while the cars were clad in stainless steel.  Its early power was provided by the Santa Fe's bevy of F3s and F7s built for passenger service and Alco's iconic PAs also pulled assignments on the Texas Chief. 
In later years less attractive F45s or General Electric U28CGs and U30CGs could be found on the head-end.

From a scheduling standpoint the southbound Texas Chief departed Chicago during mid-evening each day and arrived later the next evening in Galveston.  Its northbound counterpart would leave the Gulf Coast early in the morning and return to the Windy City around mid-morning the following day. 
By the 1960s the Santa Fe was facing declining ridership system-wide and it was (albeit reluctantly) forced to cancel trains, combine others, and perform cutbacks where service no longer warranted the need to continue doing so. 
Consist (1952)
The latter was the case for the Texas, which saw its timetable truncated no further south than Houston during 1967.  A year later in 1968 further reductions witnessed the Dallas section canceled albeit the railroad continued providing motor-coach service seven days a week. 

Despite these cutbacks the train also gained new equipment at the same time in the form of popular "Big Dome" lounges (Budd products manufactured during 1954 they were some of the heaviest of their type ever constructed), which came from the canceled Chief that year. 
Dinner Menu (1961)
According to the Santa Fe's 1970 timetable there was no reserved seats required on the Texas although it did provide "train to train baggage transfer service" via the Penn Central's connecting Broadway Limited at Chicago. 
Such small, but notable, gestures were becoming the exception rather than the once-common rule in rail travel by those days. 
Additionally, the train still provided chair cars (coaches), the noted "Big Dome" lounge, a full service diner, and a trio of sleepers (10-roomette, 6-bedroom serving Chicago - Topeka; 10-roomette, 6-double bedroom serving Chicago - Fort Worth, and finally a 10-roomette, 6-double bedroom running the Chicago - Houston route). 
Timetable (January, 1970)
Read Down Time/Leave (Train #15)

Milepost

Location

Read Up
Time/Arrive (Train #16)

5:20 PM (Dp)
0

Chicago, IL (Dearborn Station) (CT)

9:15 AM (Ar)
6:10 PM
38

Joliet, IL (Union Station)

8:10 AM
6:55 PM
90

Streator, IL

7:20 AM
8:15 PM
177

Galesburg, IL

5:55 AM
9:20 PM
232

Fort Madison, IA

5:00 AM
10:30 PM
311

La Plata, MO

3:49 AM
11:05 PM
346

Marceline, MO

3:15 AM
1:10 AM
449

Kansas City, MO (Union Station)

1:35 AM
1:55 AM
489

Lawrence, KS

12:15 AM
2:20 AM
515

Topeka, KS

11:45 PM
3:25 AM
577

Emporia, KS

10:40 PM
4:40 AM
650

Newton, KS

9:35 PM
5:20 AM
677

Wichita, KS

8:45 PM
6:05 AM
715

Winfield, KS

8:00 PM
6:25 AM
728

Arkansas City, KS

7:45 PM
7:00 AM
753

Ponca City, OK

7:05 PM
7:30 AM
786

Perry, OK

6:35 PM
8:00 AM
817

Guthrie, OK

6:05 PM
8:55 AM
848

Oklahoma City, OK

5:30 PM
9:52 AM
881

Purcell, OK

4:40 PM
10:18 AM
903

Pauls Valley, OK

4:06 PM
11:13 AM
948

Ardmore, OK

3:15 PM
11:58 AM
988

Gainesville, TX

2:31 PM
1:40 PM
1052

Fort Worth, TX

1:08 PM
2:12 PM
1081

Cleburne, TX

12:23 PM
4:02 PM
1180

Temple, TX

10:45 AM
6:19 PM
1291

Bellville Yard, TX

8:50 AM
8:00 PM (Ar)
1368

Houston, TX (CT)

7:20 AM (Dp)
---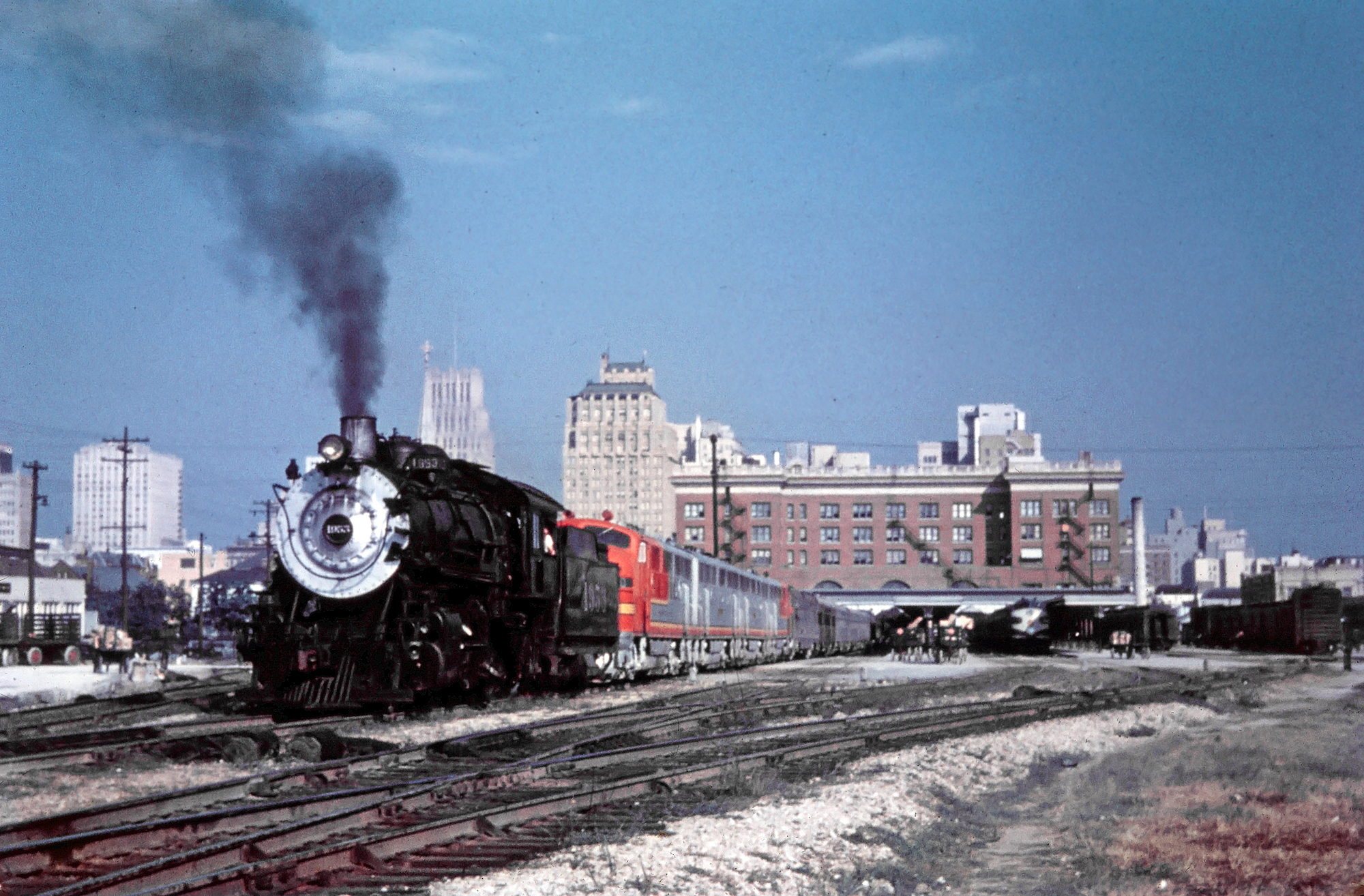 Santa Fe 2-8-0 #1953 switches the "Texas Chief" at Houston Union Station, circa 1950. Ed Olsen photo. American-Rails.com collection.
Final Years
There were very few roads that were both unwilling and financially able to maintain their trains to the highest of standards right until the day Amtrak took over intercity operations in 1971.  The Santa Fe was one such company (the Union Pacific another). 
Despite having to combine its flagships El Capitan and Super Chief into one, for example, the train continued running on-time with the very best of equipment until the end. 
This was also the case for both the Texas Chief and San Francisco Chief (the other transcontinental still running then) which boasted high operational standards as well.  The former would make its final run under its parent company on April 30, 1971.

Sources
Glischinski, Steve. Santa Fe Railway. St. Paul: Voyageur Press, 2008.
Schafer, Mike and Welsh, Joe. Streamliners, History of a Railroad Icon. St. Paul: MBI Publishing, 2003.
Solomon, Brian.  Streamliners:  Locomotives And Trains In The Age Of Speed And Style. Minneapolis:  Voyageur Press, 2015.
Yenne, Bill.  Santa Fe Chiefs.  St. Paul: TLC Publishing Company, 2005.