The Chessie
Last revised: March 7, 2023
By: Adam Burns

The Chesapeake & Ohio, similar to neighbor and competitor Norfolk & Western, is not well remembered for its passenger trains.  The Chessie was the vision of new Chesapeake & Ohio president Robert R. Young who believed passenger service was still a very important and integral part of a railroad's business.  

He also held a strong commitment to the idea such service could maintain a visible presence in the postwar era with high quality customer service and exquisite accommodations.  
This belief led to the creation of "The Chessie," an all-new, all-coach service between Washington, D.C. and Cincinnati, Ohio.  Young intended for the train to launch a year after the end of World War II but back-logged orders and continually sagging ridership ultimately led to the train's cancellation before it ever entered service.
The train was also envisioned to be entirely steam powered (with coal as the primary fuel) using a new type of technology, steam turbines.   Similar to the N&W, C&O officials believed coal could be harnessed efficiently and strongly compete against the new diesel locomotive.  Both railroads had an additional incentive; because they handled millions of tons of black diamonds annually, a cheap and steady source of fuel was readily available.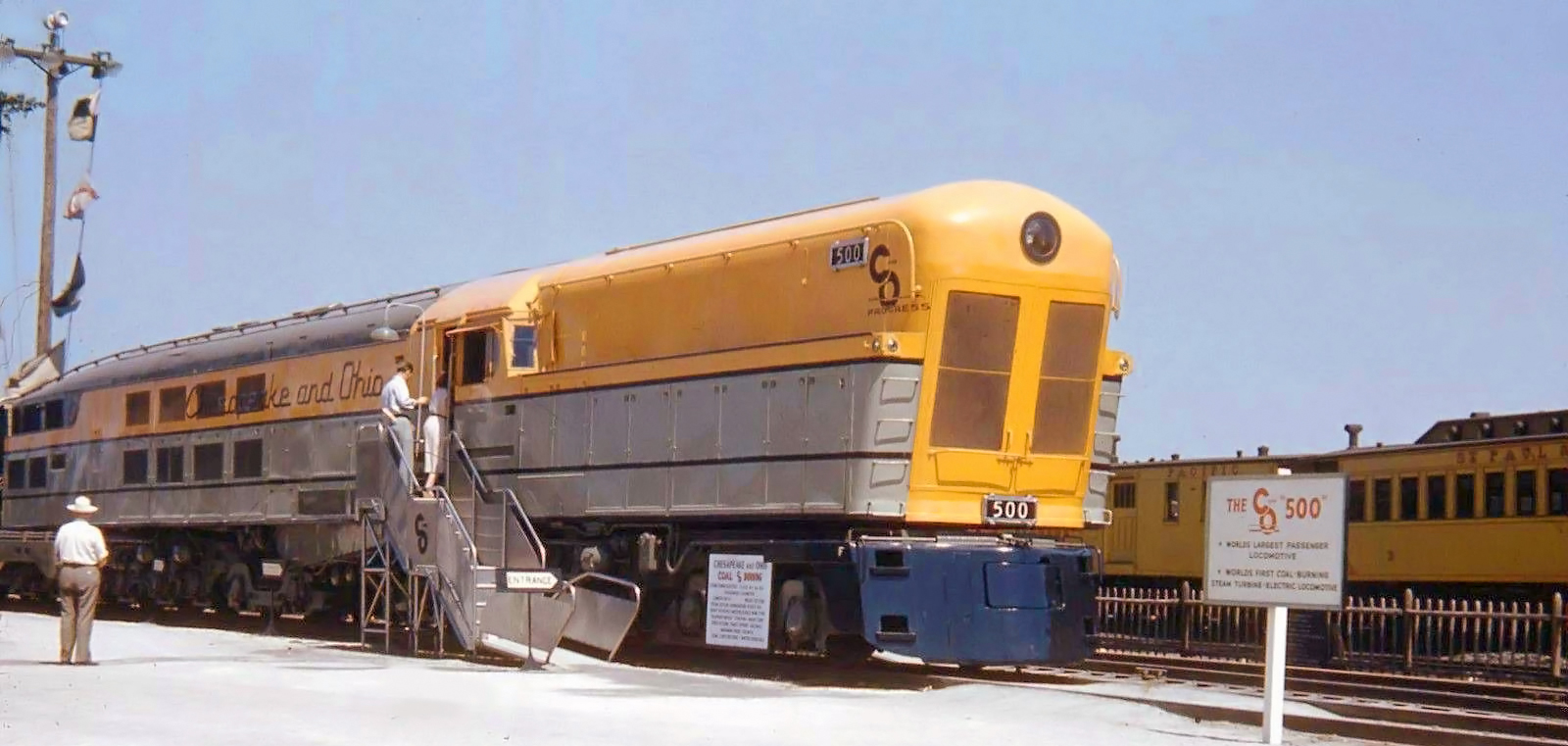 Chesapeake & Ohio M-1 steam turbine #500 on display at the Chicago Railroad Fair in 1948. The railroad was quite proud of its product, as noted by the sign, but alas it never saw regular service.
While the railroad tended to focus more heavily on its freight business, particularly coal, it did field a fine, albeit confined, fleet of trains including the George Washington, Sportsman, and Fast Flying Virginian (F.F.V.).  When Robert Young became president in 1942 everything changed, at least in regards to the company's passenger department.  
He believed strongly in this business with intentions to seriously beef up the fleet once hostilities ceased.  Believing the C&O should take full advantage of the robust travel business at the time he quickly placed orders for new equipment from the Budd Company and Pullman-Standard.  
However, a backlog from other carriers delayed many of these cars from arriving for more than two years; a situation which would eventually doom the Chessie.  
During August of 1946 the railroad was able to acquire enough new equipment from Budd for its new Pere Marquettes, a regional service between Detroit and Grand Rapids, Michigan over the C&O's Pere Marquette Railway subsidiary.  These trains proved very successful, further cementing Young's belief in postwar passenger service.
According to Thomas Dixon, Jr.'s, "Chesapeake & Ohio Passenger Service:  1847-1971," the C&O boasted the Chessie as the most luxurious all-coach train ever put into service.  
The name carried deep roots within the company's culture as "Chessie, The Sleeping Kitten" became a marketing sensation when the little fur feline debuted in 1933.  The iconic kitten became the unofficial symbol of the C&O throughout the rest of its corporate existence and led to the railroad's nickname as "Chessie."  
In addition to the C&O's bold statement of luxury the train would be powered by new technology, a steam-turbine locomotive designed by General Electric and Baldwin dubbed the Class M-1.  Just like the N&W, the C&O believed fervently in coal and steam-powered locomotives, wishing to project this through a new locomotive concept.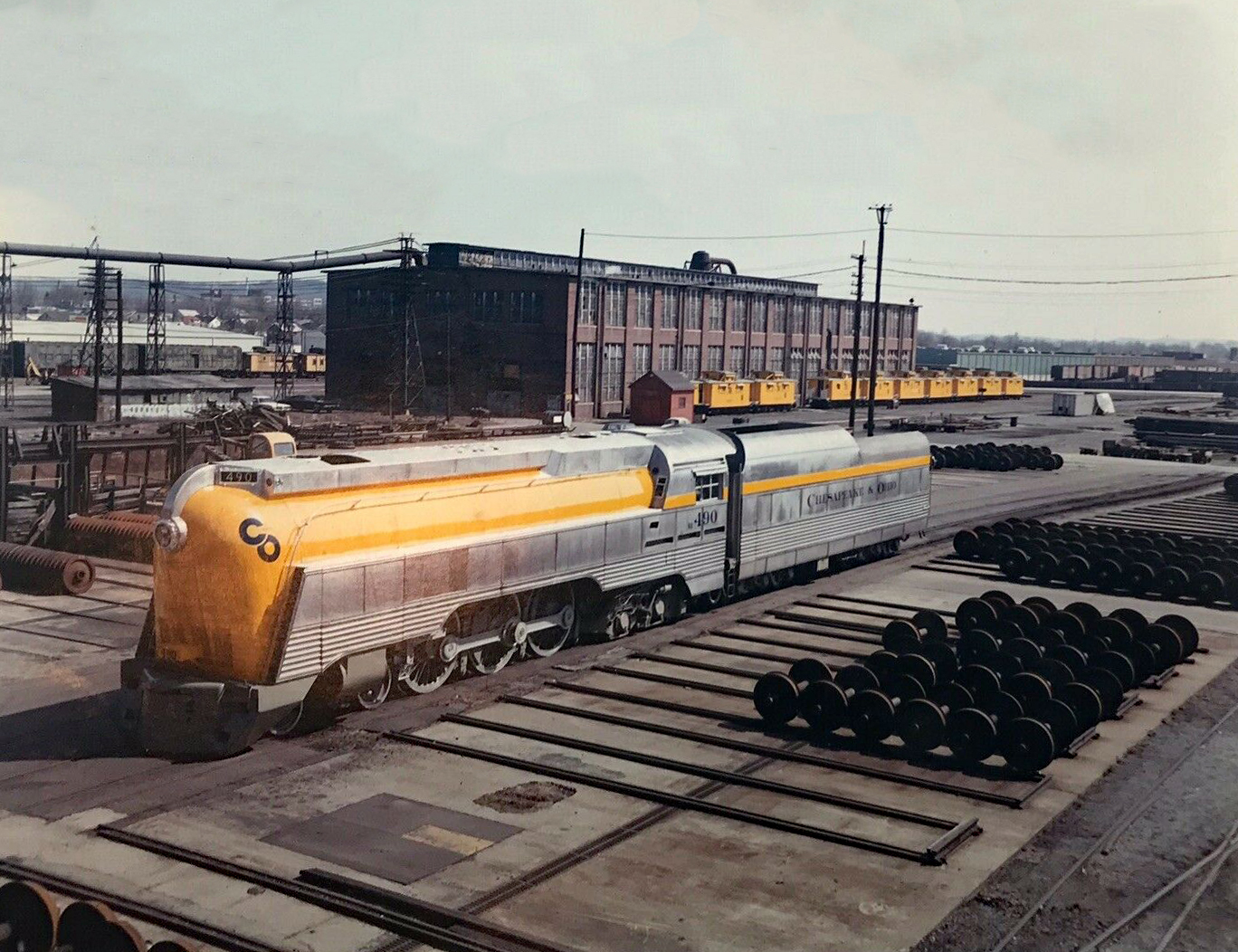 In a photo that appears to have been taken just before its delivery to the Baltimore & Ohio Railroad Museum we see Chesapeake & Ohio 4-6-4 #490 (L-1) at the railroad's Huntington, West Virginia engine shops, circa 1968.
The railroad intended the M-1's to handle the Chessie for the duration of its trip with fueling stops, as Mr. Dixon notes, at terminals along the main line in Clifton Forge, Virginia and Hinton, West Virginia.  
Unfortunately, while steam-turbines were powerful and fast on paper they were an unproven design.  The three streamlined M-1's built, #500-502, carried a 2-C1+2-C1-B wheel arrangement and while they never got the chance to prove themselves ahead of the Chessie they were disappointing and unreliable in service on other trains.  
The locomotives were completed between 1947 and 1948; after only a few years on the road the turbines were scrapped in 1950.

In 1946 the Chesapeake & Ohio placed a 48-car order from Budd for its new Chessie (which included domes, lounges, diners, and coaches) followed by a massive 287 car order on November 19th from Pullman-Standard to reequip its entire passenger fleet with all-new, lightweight equipment.  
According to Mike Schafer and Joe Welsh's book, "Streamliners:  History Of A Railroad Icon," the C&O's research department, headed by Ken Brown, was heavily involved in the development of the new cars.  Instead of accepting designs that were more-or-less "off the shelf" the C&O went its own way.  
Some of its more notable improvements included moving bedrooms to the center of sleepers where the ride was smoother, partitioning coaches to provide a more open feel for passengers during their trip, providing twin-unit diners, baby changing rooms, a theater for kids, and even goldfish aquariums!
Aside from the Chessie's radical car designs Young was ahead of his time with customer service offering a type of early credit card service, passenger representatives available on every train, hostesses, pay-on-train ticketing, the C&O's Central Reservation Bureau that enabled travelers to call toll-free and book a trip, and the discontinuance of tipping porters and waiters.  
Such a considerable departure from traditional, conservative industry ideas was thanks to Young's non-railroading background, a man who hailed from broader business roots.  Alas, even his visionary thinking could not save the C&O's passenger business although he continued efforts to curb the losses until moving on the New York Central chairmanship in 1954.
---
With the Chessie's new equipment delayed until mid-1948, and the rest even later, it was clear Young's hope of launching the train directly after the war would not transpire.  
Along with continually sagging patronage the Chessie was quietly shelved that same year.  The cars were transferred in October to the Pere Marquettes and subsequently sold a few years later.  
The large, 287-car order was partially delivered with the C&O taking on 147 by the spring of 1950 while the rest on order had been picked up by other railroads; 33 of the cars eventually delivered were quickly sold as well with the rest used to reequip the remaining heavyweight coaches and Pullman sleepers then still in service.
Sources
Dixon, Thomas W. Chesapeake And Ohio Railway:  A Concise History And Fact Book.  Clifton Forge:  Chesapeake & Ohio Historical Society, 2012.
Dixon, Thomas W. Chesapeake & Ohio Passenger Service:  1847-1971.  Clifton Forge:  Chesapeake & Ohio Historical Society, 2013.
Schafer, Mike and Welsh, Joe. Streamliners, History of a Railroad Icon. St. Paul: MBI Publishing, 2003.