Tennessee Railroads In "The Volunteer State"

Last revised: February 25, 2022
By: Adam Burns
Tennessee railroads are perhaps best known for their rugged operations through Appalachia. However, being so far west it is also unique in being home to both eastern and western railroads. 
Today, for instance, Memphis is served by five Class I carriers (CSX, Norfolk Southern, Canadian National, BNSF Railway, and Union Pacific); one of only five cities in the country able to claim such a lofty distinction. 
Interestingly, while the state did claim some originating coal traffic to the east it is perhaps best known as a through route for numerous classic railroads including the Louisville & Nashville; Nashville, Chattanooga & St. Louis; Southern Railway; Illinois Central; Gulf, Mobile & Ohio; and Tennessee Central. 
In total, Tennessee is home to six of the seven North American Class I railroads as Kansas City Southern Railway also derives a small amount of its traffic from the state. 
Rail lines in the Volunteer State run both east-west and north-south so the operations are quite diverse. And, throw in a more than a dozen short lines and you have plenty of action to see!
Additionally, Tennessee also has a fascinating history with trains as most of the south's most well known railroads operated in the state including a number of Midwestern companies (which, as aforementioned, were seeking to reach Memphis).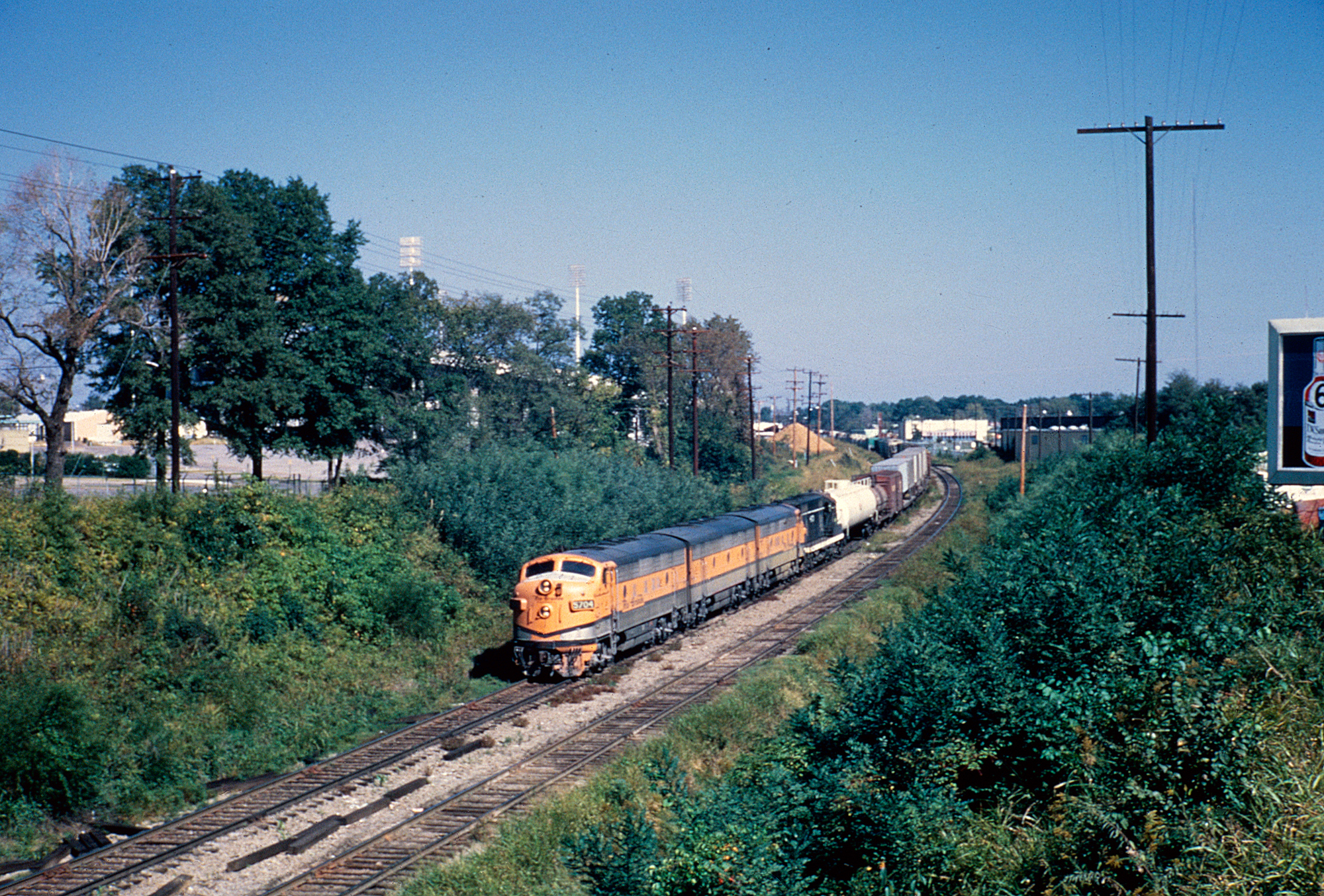 Rio Grande F7s, on lease to the Illinois Central, lead a southbound freight on the Belt Line at Memphis, Tennessee; October, 1970. The train is about to duck beneath the Southern Avenue Overpass. The light towers of Liberty Bowl Memorial Stadium can be seen just above the trees on the left. American-Rails.com collection.
A Brief History Of Tennessee Railroads
Tennessee railroads date back to 1845 when the Nashville & Chattanooga Railroad was chartered to connect its namesake cities, and it completed its main line on February 11th, 1854.
The railroad was chartered, however, nearly ten years earlier in December 1845 but due to rugged terrain that required several tunnels and bridges the 125-mile line took years to complete.
During the Civil War the N&C found itself constantly under attack from both Northern and Southern forces resulting in the company having trouble seeing any substantial growth.
In 1872 the railroad was renamed as the Nashville, Chattanooga & St. Louis Railway as it continued to expand following the war, intending to reach St. Louis to the west.
Classic Railroads To Serve Tennessee
Nashville, Chattanooga & St. Louis
Tennessee, Alabama & Georgia ("The TAG Route")
East Tennessee & Western North Carolina ("The Tweetsie")
Surrounding State Histories
Alabama 

Arkansas 

Kentucky 

Mississippi 

Missouri 

North Carolina

More Reading...
Tennessee Short Lines And Regionals
Tennessee Train Ride Information
Seaboard System C30-7 #7093 (built as Seaboard Coast Line #7093 in 1981) heads south out of Kingsport, Tennessee over the former Clinchfield in September, 1986. The train is about to enter a short tunnel and then cross the Holston River's South Fork. This line remains active under CSX today. Warren Calloway photo.
Unfortunately, the railroad lost its independence in 1880 when after a nasty stock battle the Louisville & Nashville took control of the company although it was not dissolved as an operating entity until 1957.
In the succeeding years following the construction of the Nashville & Chattanooga, Tennessee would be home to most of the South's largest railroads with Memphis a hub for several more railroads, both east and west.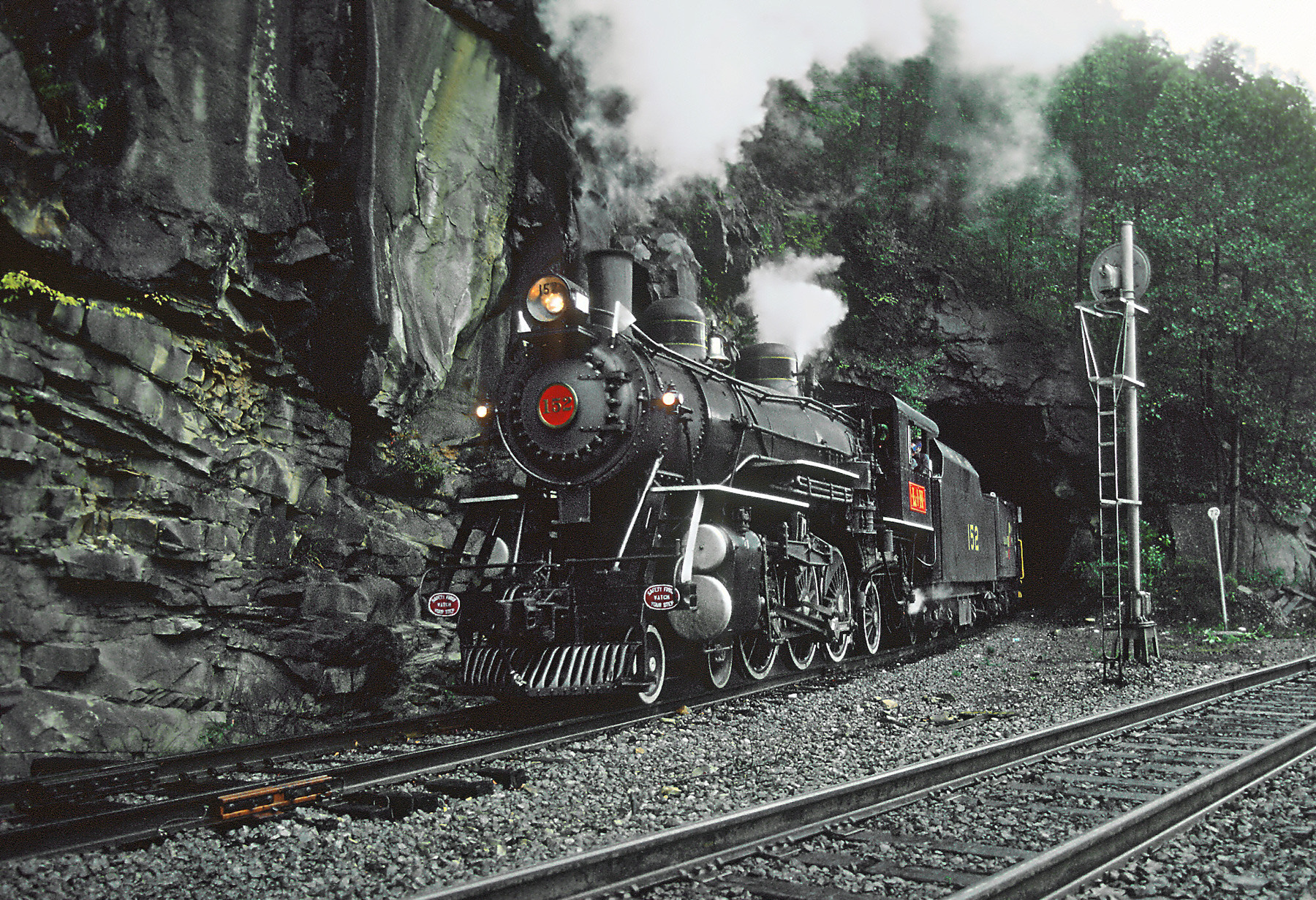 Louisville & Nashville 4-6-2 #152 (K-2a), built by the Rogers Locomotive Works (Alco) in 1905, leads an excursion near the Kentucky border at Jellico, Tennessee in October, 1986. Roger Puta photo.
Today Tennessee railroads are mostly the domain of CSX and Norfolk Southern (with a few miles also operated by KCS reaching Counce, Tennessee) along with the hub of Memphis which sees interchange traffic among UP, BNSF and Canadian National along with the aforementioned railroads.
Short Lines
Aside from the Class I systems, Tennessee also features several short lines some of which include the:
Caney Fork & Western Railroad


Conecuh Valley Railroad


East Tennessee Railway


Knoxville & Holston River Railroad


KWT Railway


Nashville & Eastern Railroad


Nashville & Western Railroad


Sequatchie Valley Railroad


Tennken Railroad


Tennessee Southern Railroad


Walking Horse & Eastern Railroad


West Tennessee Railroad


Wiregrass Central Railroad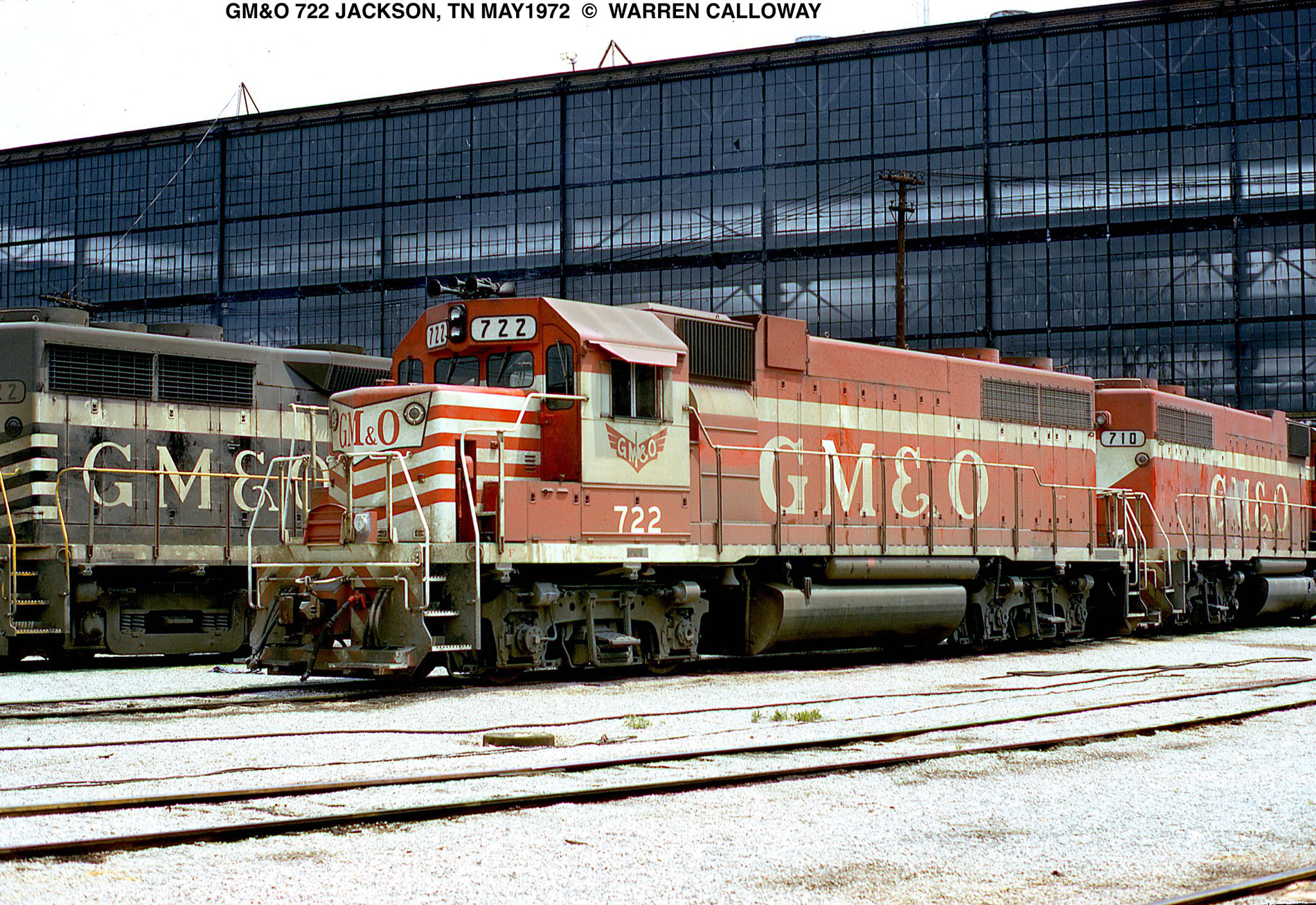 Gulf, Mobile & Ohio GP38AC #722, GP38 #710, and other power sit outside the shops at the road's big engine terminal in Jackson, Tennessee in May, 1972. Warren Calloway photo.
In total, today these railroads operate about 2,600 miles of the original 4,100 miles of track originally located in Tennessee.
---
Tennessee's Abandoned Railroads
While Tennessee has lost nearly 1,500 miles of railroads since the 1920's the state has been fortunate when compared to many others.
It has only suffered a loss of around 800 miles since the 1960's.  Most abandonments have been coal branches operated by the Louisville & Nashville.
The state's notable loss has been the fabled Tennessee Central Railway; while a large section of its main line remains in use many segments have since been removed.
Three notable railroads you may wish to explore include the:
Oneida & Western: A coal hauler shuttered on March 31, 1954 that operated between Oneida and Jamestown, Tennessee.


Kentucky & Tennessee: Another coal hauler which also handled timber products. It once operated from a connection with the Southern at Stearns; part of the original route remains in use while the line west of Oz is abandoned.


East Tennessee & Western North Carolina: This famous narrow-gauge wound its way from Johnson City Tennessee to Boone, North Carolina (60 miles).  Most of the corridor was abandoned between 1940-1950.  However, today most of the right-of-way remains intact featuring tunnels and trestles.
---
With the state retaining nearly 64% of its original rail infrastructure, this is a remarkably high number considering that so many states have experienced losses typically over 45% of their rail networks.
For a more in-depth look at the state's route mileage over the years please refer to the chart below.
* Tennessee's first railroad was the Nashville & Chattanooga, which later became the Nashville, Chattanooga & St. Louis.  It was chartered in 1845 and according to Dain Schult's book, "Nashville, Chattanooga & St. Louis: A History Of 'The Dixie Line'," the first freight train linking its namesake cities made its initial run on February 11, 1854.
As for passenger trains Amtrak still operates Illinois Central's City of New Orleans, which calls at Memphis.
And, the Volunteer State got its first commuter rail service in 2006 when the Music City Star which operates between Nashville and Lebanon to the east, a distance of just over 32 miles.
To learn a little more about some of the classic streamliners which served Tennessee please click here to visit the site's section covering the subject.  
Railroad Museums And Attractions
Tennessee railroads feature several museums and tourist railroads like the Three Rivers Rambler and Tennessee Central Railway Museum.
The Three Rivers Rambler offers numerous train rides behind motive power like a Baldwin 2-8-0 and an EMD SW600 (one of only a handful ever built).
---
---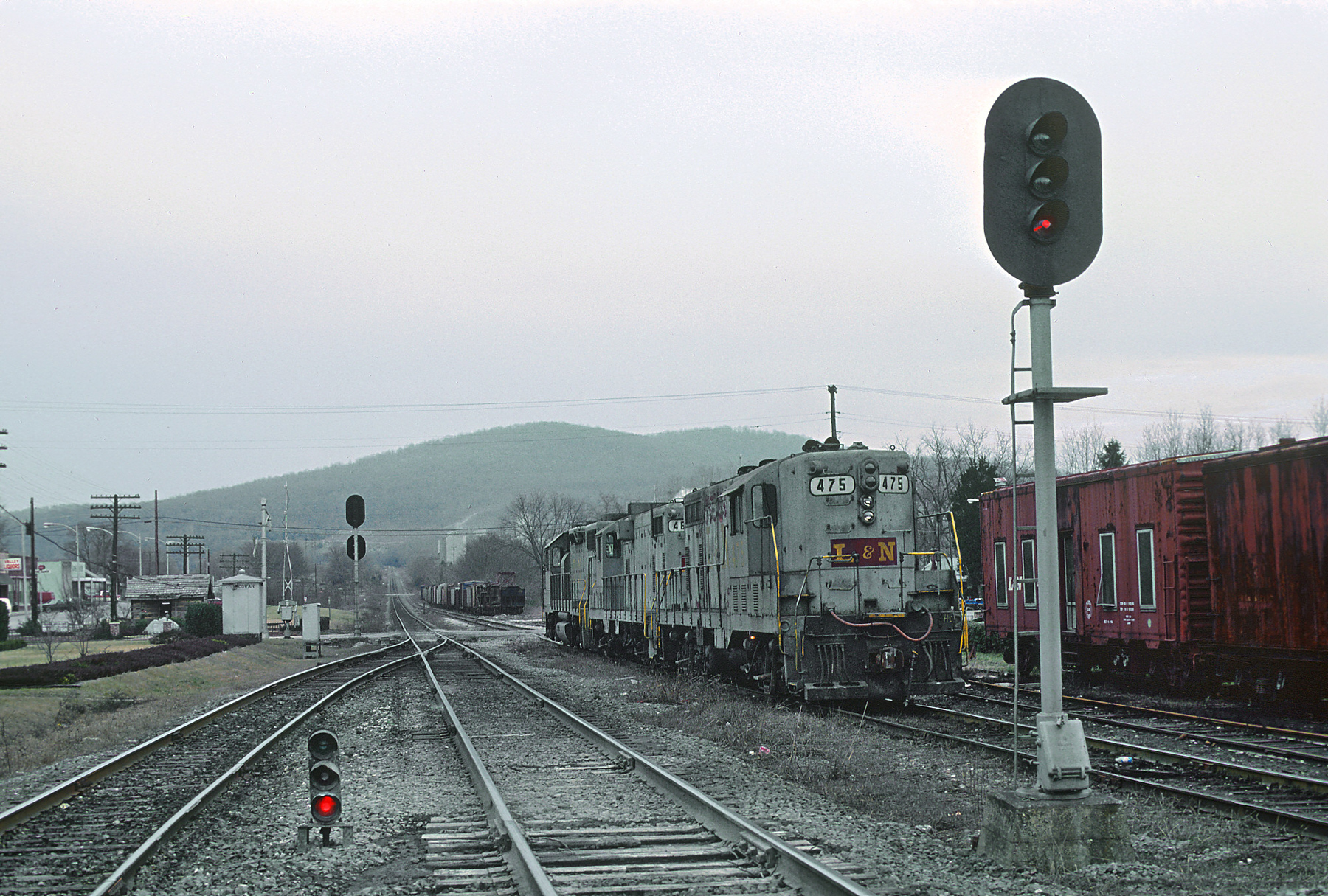 Louisville & Nashville GP7 #475 and other power appear to be tied down in Cowan, Tennessee on the former Nashville, Chattanooga & St. Louis during February, 1980. Roger Puta photo.
The Tennessee Central Railway Museum likewise features excursions but also tells the history of one of Tennessee's most famous railroads.
Of course, there are several more museums and tourist trains in Tennessee than those listed above. 
In all, along with its rich history (such as Casey Jones, who is buried in Jackson, TN and whose home is now a museum) Tennessee railroads offer a wide range of operations that should appeal to about any railfan.
If, however, you are just interested in museums and/or excursion trains the Volunteer State offers plenty of those as well!
And lastly, after a thorough day of enjoying everything Tennessee has to offer book a room in the Chattanooga Choo Choo, the Southern Railway's former Terminal Station.