Railroads In The 21st Century

Last revised: June 7, 2023
By: Adam Burns

Railroading today, unlike what the industry witnessed between the end of World War II and 1980, has witnessed a renaissance with profits and ton-mileage steadily increasing.

Particularly in the 1970s times were not good and many seemed to think that the industry was an outdated mode of transportation that needed to be replaced.
However, with the creation of the Staggers Act and deregulation of the industry things slowly began to change. Now free to set their own rates and more open to abandon unneeded trackage railroads slowly began to recover. 
The mega-merger movement also continued during the 1980s as many more famous names like the Milwaukee Road, Southern Railway, Norfolk & Western Railway, Rio Grande and others all disappeared during the decade.

While its been unfortunate to see these names gone forever railroads found a new role in the transportation market during the 1980s and today they play an extremely important role in moving goods and materials. 

Photos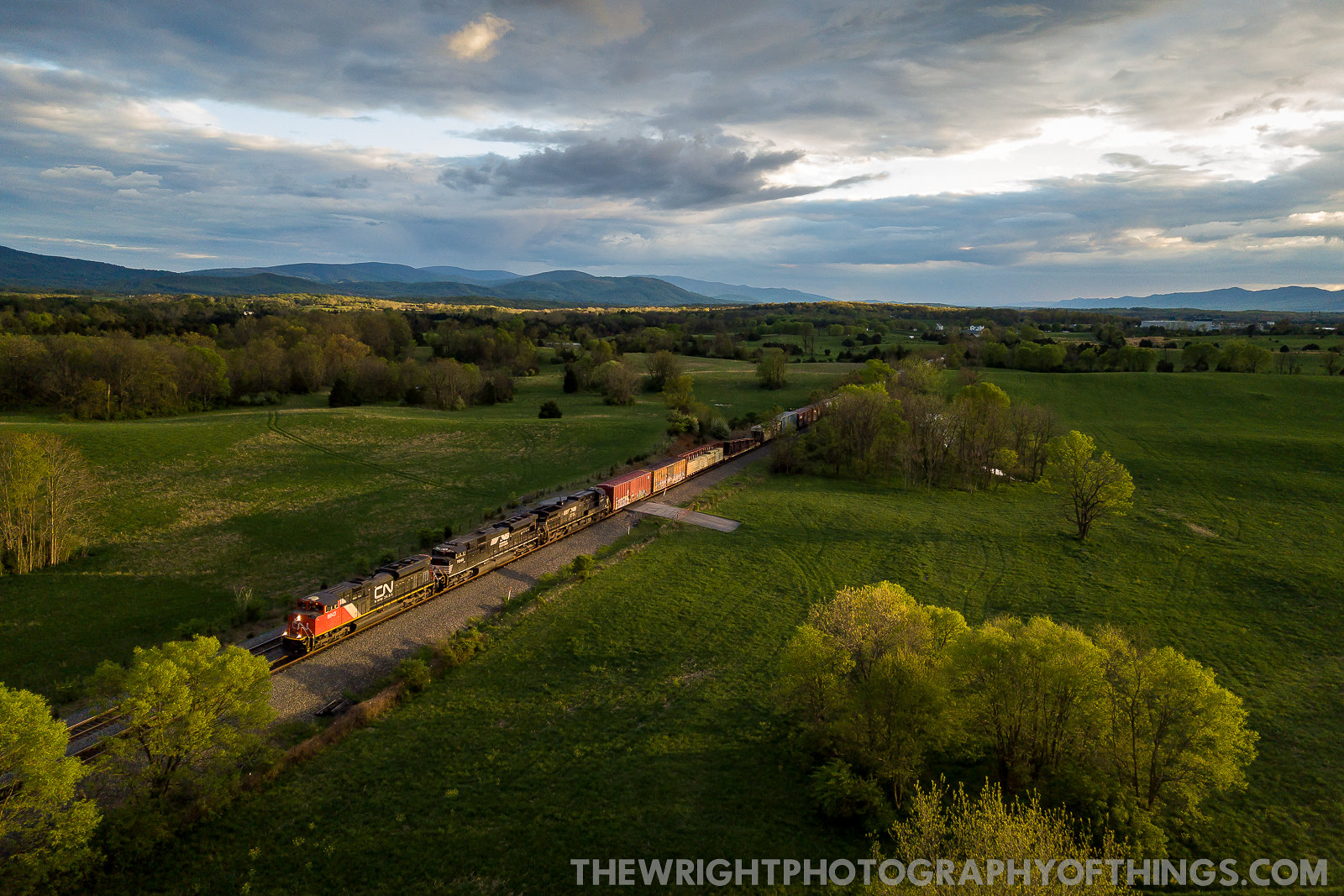 Norfolk Southern manifest 36Q heads north near Front Royal, Virginia within the stunning Shenandoah Valley on the night of April 21, 2019. Jon Wright photo.
Staggers Act
While bankruptcies and mergers saw many fabled companies disappear in the 1960s and 1970 the process only increased after 1980 with the Staggers Act. This act was named after Rep. Harley O. Staggers of West Virginia who originally sponsored it.
It was signed into law by President Jimmy Carter on October 14, 1980, which allowed enormous deregulation of the railroad industry.
At A Glance
National Rail Network

164,822 Miles (1980)

136,650 Miles (2020)

Communities Listed In "Official Guide Of The Railways"

75,500 (1916)

53,000 (1957)

34,000 (2004)

Total Investment (1980-2021)

$760 billion

Average Employee Annual Salary (2020)

$135,700

Average Rail Rates (1981-2021)

Declined By 44%

Average Annual Rail Tonnage (2020)

1.7 billon tons

Current Freight Railroads

632

Current Employees

159,720
Sources (Above Table):
Yenne, Bill.  Atlas Of North American Railroads. St. Paul: Voyageur Press, 2005.
Association Of American Railroads (https://www.aar.org/)
Schwieterman, Joseph P.  

When The Railroad Leaves Town:  Western United States

.  Kirksville:  Truman State University Press, 2004.
Some of the advantages included allowing railroads to enter into contracts with shippers to set prices and services, both without ICC approval. Other incentives including allowing railroads to more freely abandon unprofitable lines.
One of the first to go was the fabled Chicago, Rock Island & Pacific (Rock Island), which was liquidated on January 25, 1980 after a strike crippled the railroad and it was unable to move freight. In 1980 there was over two-dozen Class I railroads still in operation. 
Mergers
However, by 1990 that number had dropped to just nine; CSX Transportation, Norfolk Southern, Union Pacific, Southern Pacific, Conrail, Santa Fe, Burlington Northern, Illinois Central, and Kansas City Southern (by this time lines like the Florida East Coast and Chicago & North Western railroads were considered Class II, Regionals).
While famous, classic railroad companies steadily disappeared after 1980 the industry itself was on the rebound. Since 1980 rail freight ton-miles have steadily increased from 932 billion in 1980 to over 1.5 trillion in 2006. 
What's more is that market analysts and experts expect this number to continue to rise as shippers, and even trucking companies, look for more efficient and faster means of transporting their products with highways steadily becoming more choked and clogged. 

Burlington Northern Santa Fe
Between 1990 and 2000, however, we saw even more famous railroads disappear into merger, most notably the Atchison, Topeka & Santa Fe Railway.
In 1994 the Santa Fe agreed to merge with northwestern giant, Burlington Northern, to form the Burlington Northern Santa Fe Railway, who recently changed its name to simply the BNSF Railway.
With the merger thus ended one of the most famous railroads to ever operate worldwide although its legend will forever live on in the products bearing its name and famous "Warbonnet" livery. The Santa Fe, however, wasn't the only well-known railroad to disappear in the '90s.
In 1995 the Chicago & North Western Railway became another arm of the Union Pacific, the Illinois Central Railroad was purchased by the Canadian National in 1998, and in 1999 Conrail was split up among CSX and Norfolk Southern.
Since the fall of Conrail no other major mergers have taken place leaving North America with seven major Class Is; CSX, NS, BNSF Railway, UP, Kansas City Southern, CN and Canadian Pacific. 

Rio Grande's North Yard in Denver, Colorado as the facility appeared in 1983. Mike Bledsoe photo. American-Rails.com collection.
With technological improvements such as continuous welded rail (CWR) in the 1950s and the widespread use of concrete ties, today company's can operate faster trains while at the same time reducing maintenance to both the track structure and equipment.
In the 1970s locomotives began to built with computer control systems and EMD's SD40-2, one of the most successful diesels of all time, is perhaps best remembered. In the 1990s both EMD and General Electric began constructing locomotives that employed alternating current (AC) traction motors.
While AC locomotives operate at lower speeds they produce vast amounts more of tractive effort making them ideal for drag service hauling coal over steep grades. 

Modern Locomotives
Today, the newest locomotives are equipped with the latest electronics and are becoming increasingly more environmentally friendly as has been seen with GE's and EMD's newest models the Evolution Series™ and SD70ACe. Railroads of the present era are seeing a renaissance of freight traffic not experienced since World War II.
Freight ton-miles have more than doubled since the mid-1940s with railroads hauling 43% (the most) of all transportation types, and freight revenue reached $57 billion in 2007.
While coal still makes up nearly 50% of all freight revenue for railroads other commodities are also important to the industry such as chemicals, intermodal and agricultural products.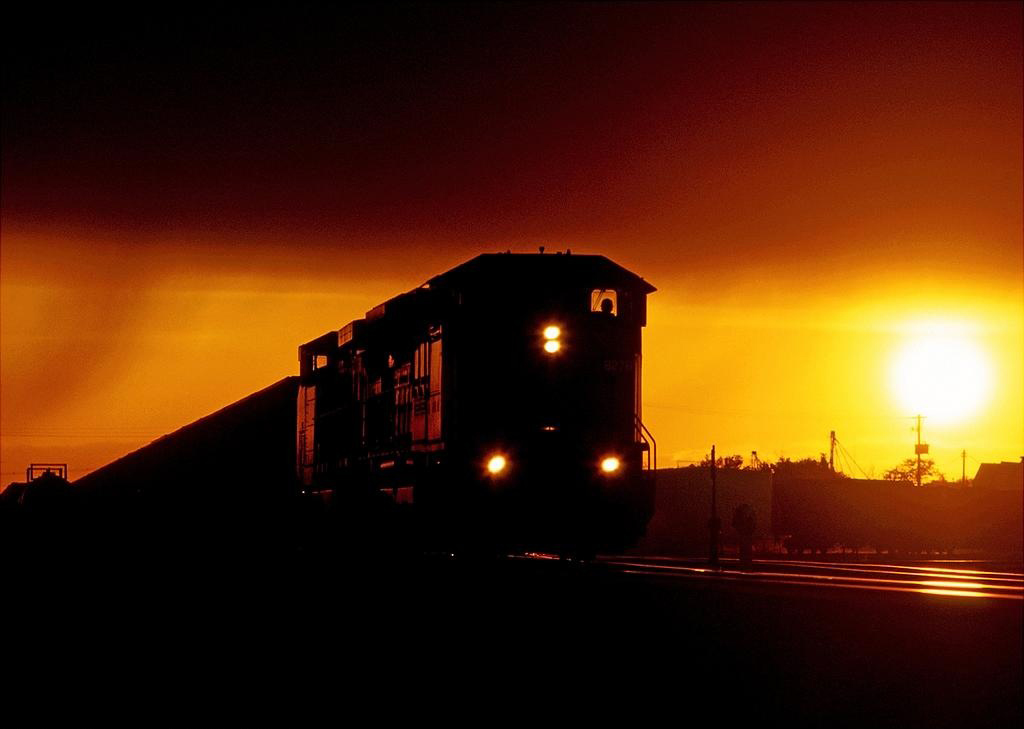 Union Pacific SD9043MAC's are silhouetted against a setting sun as they roll through a grade-crossing at Scottsbluff, Nebraska on June 19, 2000. Wade Massie photo.
Even though Amtrak over the years has operated almost entirely on "life support" with just enough funding to survive year to year, support for the carrier has increased, particularly in the post-9/11 era and it commonly breaks annual ridership records.
Along with Amtrak, state passenger railroading operations are gaining support and receiving increased attention and funding, particularly as highways become increasingly congested and gas prices skyrocket. Perhaps the two most noted states that are giving passenger railroading serious attention include North Carolina and California. 

---
Norfolk Southern train 290 rolls past a rural farm at Lee's Crossroads, Pennsylvania within the Cumberland Valley along the ex-Reading Lurgan Branch on September 22, 2014. Jon Wright photo.
Both are doing a magnificent job at developing passenger rail corridors in their respective states, particularly North Carolina.
As transportation issues are becoming more of a topic today, passenger and commuter rail are both gaining increasing support and its future looks very bright, as everything from local trolley systems to large state-supported passenger rail systems are being planned and developed.
Today's freight trains are a far cry from thirty to forty years ago when much of the public thought it an outdated mode of transportation that was no longer needed.
Now, today, it is as strong as ever and looks to be solidly entrenched as an important component of of our transportation network.