Transcisco Tours: Sierra 49er Express
Last revised: March 21, 2023
By: Adam Burns

The Transcisco Tours' Sierra 49er Express (reporting  mark, MCHX) was launched during the dinner train/rail tour movement's infancy of the 1980s/1990s. 

Like most such operations it was a short-lived affair lasting barely four months before throwing in the towel.  The train linked San Jose, California with Reno, Nevada in an attempt to improve Amtrak's Reno Fun Train. 
The day trip covered just a few hours whereby passengers were afforded many luxuries in a laid back, carefree atmosphere of dome cars, diners, and lounges. 
It  began amid much excitement and fanfare although high ticket prices soon turned many away.  The train also wore a violent livery of bright red and blue with white trim. 
It was clear the Sierra 49er Express was in trouble by early 1991, just weeks after its debut.  Finally, in April, Transcisco Tours gave up and canceled the train; a year later the company filed for bankruptcy.
In the June, 1990 issue of Trains Magazine the publication's featured story that month entitled, "Going Out (And Back) For Dinner: Dinner Trains Serve Up Good Food, Nostalgia, And Cab Units," author Steve Glishchinski discussed this subject in great detail. 
At the time it was a relatively new concept, permitting passengers the opportunity to enjoy rail travel as it had been in the pre-Amtrak era. 
Many consists featured original diners, lounges, and domes with meals freshly prepared on board.  In 1990 most dinner trains were just that; a meal enjoyed on preserved/restored passenger cars from a bygone era. 
As they ate, patrons could watch the passing scenery and ponder life's deeper questions. Nostalgia and a good meal was the order of the day. 
In more contemporary times, dinner trains have evolved to include some sort of entertainment, such as music or a live play (murder mystery specials have been especially popular). 
Mr. Glishchinski's article highlighted the operations either then in service or which had already been canceled.
At the time there were 24 dinner trains in all.  These included:
Eureka Springs & North Arkansas Railway (Eureka Springs, Arkansas, launched in 1981)


Napa Valley Wine Train (Napa, California, launched in September, 1989)


Valley Railroad (Old Saybrook, Connecticut, opened in 1971)


New Georgia Railroad (Atlanta, Georgia, began running in 1986)


Chicago & Illinois Midland (Springfield, Illinois.  The C&IM was a historic coal hauler.  In 1991, the carrier agreed to run special dinner trains and excursions in conjunction with Ross Rowland and his Chesapeake & Ohio 4-8-4 #614.)


'Hoosierland Limited' (Indianapolis, Indiana, launched in 1990 over short line Indiana Rail Road)


'Iowa Star Clipper' (Waterloo/Waverly, Iowa, originally began in 1984)


'Pathfinder Dinner Train' (Des Moines, Iowa; service began on December 31, 1986)


'My Old Kentucky Dinner Train' (Bardstown, Kentucky, a division of RJ Corman the train first ran in July, 1988)


'Maryland Zephyr' (Union Bridge, Maryland, launched in 1990)


'Michigan Star Clipper' (Paw Paw, Michigan, launched on August 5, 1989)


'Minnesota Zephyr' (Stillwater, Minnesota, launched in September, 1986)


'Columbus & Greenville Railway' (Columbus, Mississippi; this historic short line briefly ran dinner trains from 1988-1989)


'Fremont Dinner Train' (Fremont, Nebraska, launched on October 23, 1988)


Blue Diamond (Grenada, New York, opened on May 8, 1988)


Tioga Central Rail Excursions (Owego, New York, began running dinner trains in 1985 with excursions commencing the previous year)


Great Smoky Mountains Railway (Dillsboro, North Carolina, began excursions in 1989 with dinner service added the next year)


'Watonga Chief' (Watonga, Oklahoma, began in 1987)


Waccamaw Coast Line (Myrtle Beach, South Carolina, began in 1990)


'Broadway Dinner Train' (Nashville, Tennessee, commenced in December, 1988)


'Newport Star Clipper' (Newport, Rhode Island, launched in October, 1988)


'Spirit of Washington' (Kennewick/Yakima, Washington, initiated dinner trains in 1989)


'The Texan' (San Antonio, Texas, dinner trains were initiated in August, 1988)


Scenic Rail Dining (Milwaukee, Wisconsin, an operation of the Wisconsin & Southern Railroad that began on October 4, 1988)
Interestingly, The Texan was another operation headed by Transcisco Tours. 
Today, most of the above-mentioned trains have either shutdown or undergone a name change. 
Similar rail tour operations like the American European Express, American Orient Express, and Sierra Madre Express (all launched during this era) have all met similar fates. 
Transcisco Tours began in 1972 as Transcisco Industries, a rail car lessor led by Mark Hungerford.  The former became a subsidiary of the latter when the company decided to enter the excursion train business. 
The equipment for what was dubbed the Sierra 49er Express included three F45's of Burlington Northern heritage, several Gallery Cars that saw commuter service on Southern Pacific, two Astra Domes manufactured by American Car & Foundry, a lounge, and a dome/diner. 
Perhaps it was a sign of the era when such vibrant colors were all the rage, but the train's promoters came up with an interesting paint scheme even by the day's standards; an eye-blinding bright red and blue with white trim while the F45s' nose wore an over-sized "TT" logo. 
Maybe it was meant to evoke contemporary pop culture and modernity.  Whatever the case it was a drastic change from traditional railroad liveries.
Locomotives
Model

F45

F45

F45

Builder

EMD

EMD

EMD

Number

1001

1002

1003

Built As

Burlington Northern #6627, 4/1971

Burlington Northern #6642, 5/1971

Burlington Northern #6635, 5/1971

Rolling Stock
Type

Gallery

Gallery

Gallery

Gallery

Gallery

Gallery

Astra Dome

Dome/Diner

Cafe/Lounge

Astra Dome

Builder

Pullman

Pullman


Pullman

Pullman

Pullman


Pullman

ACF

Pullman

ACF

ACF

Number/Name

800532 Club High Sierra


800533 Donner Lake

800534 Lake Tahoe

800535 Sacramento

800536 San Jose

800537 San Francisco

800556 Zephyr Cove

800558 Emerald Bay

800559 Pine River


800560 Crystal Bay


Date Built/Railroad

1955/SP #3703

1955/SP #3702

1955/SP #3701

1955/SP #3700

1955/SP #3708

1955/SP #3707

1955/UP #9009

1958/UP #7012

1955/UP #4003

1955/UP #8003
The train's market was straightforward, upscale clientele who were traveling the short, 280-mile, 7-hour jaunt from San Jose to Reno. 
Rail historian Drew Jacksich offers more insight into the train: 
"For the 1990/1991 winter season, the long time 'Reno Fun Train' was discontinued in favor of the 'Sierra 49er Express'' operated by Trancisco Tours.
The garish red, blue, and white train of refurbished equipment including some ex-Southern Pacific gallery cars operated from San Jose, California to Reno, Nevada.
With the vocalized sentiment that they did not want 'the beer and pretzel' types they aimed for a 'high class trade.'
As I recall, for a couple, it easily ran over $700 for a weekend. By April of 1991, Trancisco had filed for a high class bankruptcy and the train vanished from the scene. It did make for a change of scenery..." 
In addition to the train, connecting van service was offered to Reno and Lake Tahoe. Ticket prices included a two-night hotel stay, ranging from $289 to $439.
---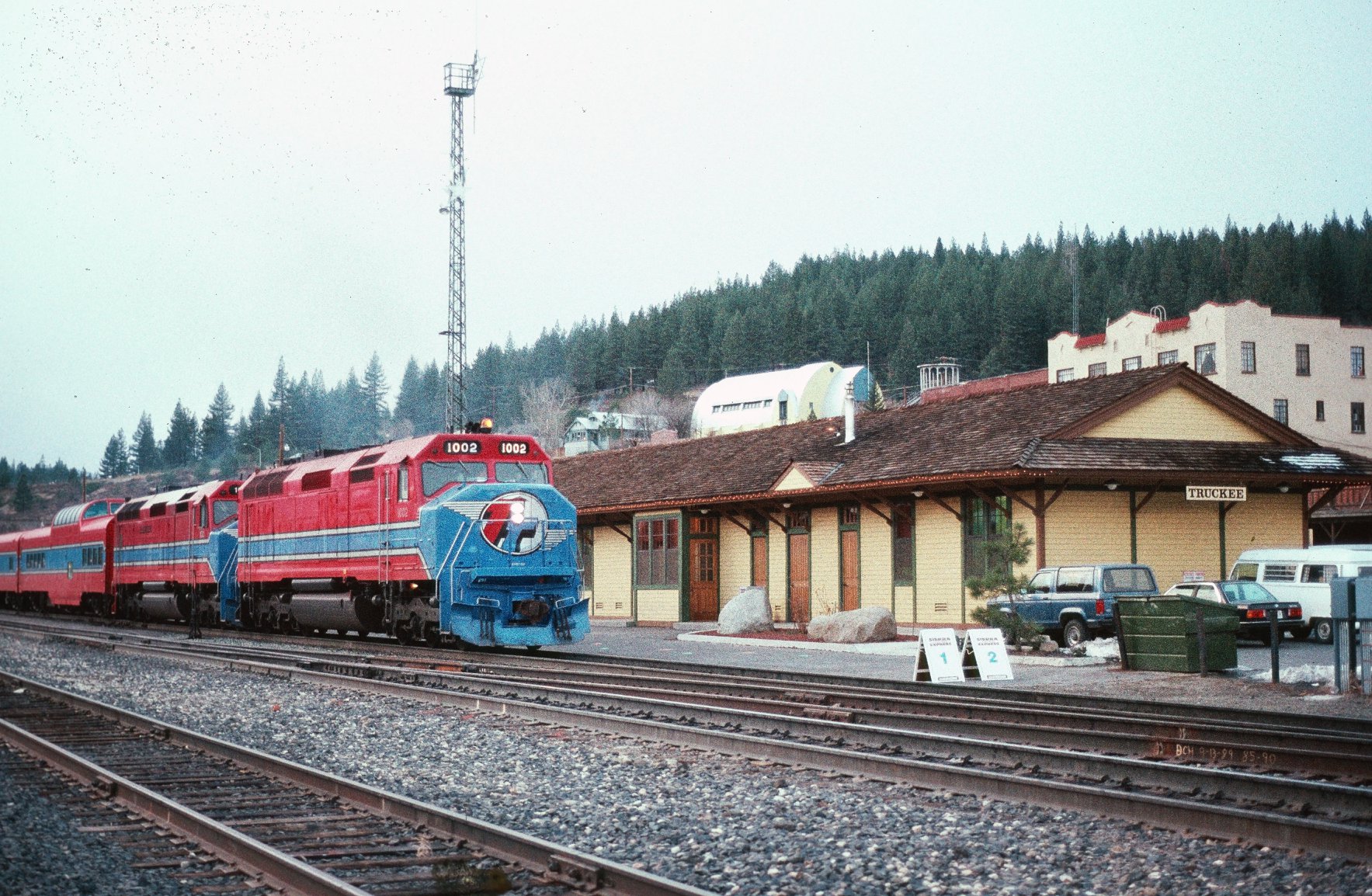 While dinner and fantastic scenery highlighted the trip, the Sierra 49er Express also provided dancing and live music. 
Transcisco described the service as a "cruise train," a term later used by TCS Expeditions' American Orient Express.  The concept described an ocean-going cruise only on rails with lavish accommodations and unparalleled and scenery. 
The Sierra 49er Express officially launched on December 7, 1990 amid great excitement as it had already sold 18,000 advance tickets. 
Transcisco stated the service would need to average 50,000 ticket sales annually to break even.  Unfortunately, issues cropped up immediately as sales lagged and the service was quickly in trouble. 
With ridership fading and losses mounting the train lasted barely 20 weeks before the plug was pulled.  The final train ran on Monday, April 29, 1991. 
Transcisco reported losses of nearly $14 million and filed for bankruptcy the following year.  The equipment was soon sold off to various entities.  Interestingly, the locomotives and cars still remain in use today.