The 
Tulsan
Last revised: October 2, 2022
By: Adam Burns

The Atchison, Topeka & Santa Fe is best remembered and most revered for its legendary streamliners like the Super Chief, El Capitan, Chief, and San Francisco Chief which offered the highest of services on their transcontinental journey from the Windy City to West Coast. 

However, the railroad also offered a long list of other named trains providing either regional or secondary services across its vast system.  While not on par with the names mentioned above they still offered high quality service including what was known as the Tulsan.  

History
This particular train connected its home city of Tulsa, Oklahoma with Kansas City while the Chicagoan (and later Grand Canyon) provided travelers the opportunity to reach Chicago.  First launched just prior to World War II it survived until the start of Amtrak.

Photos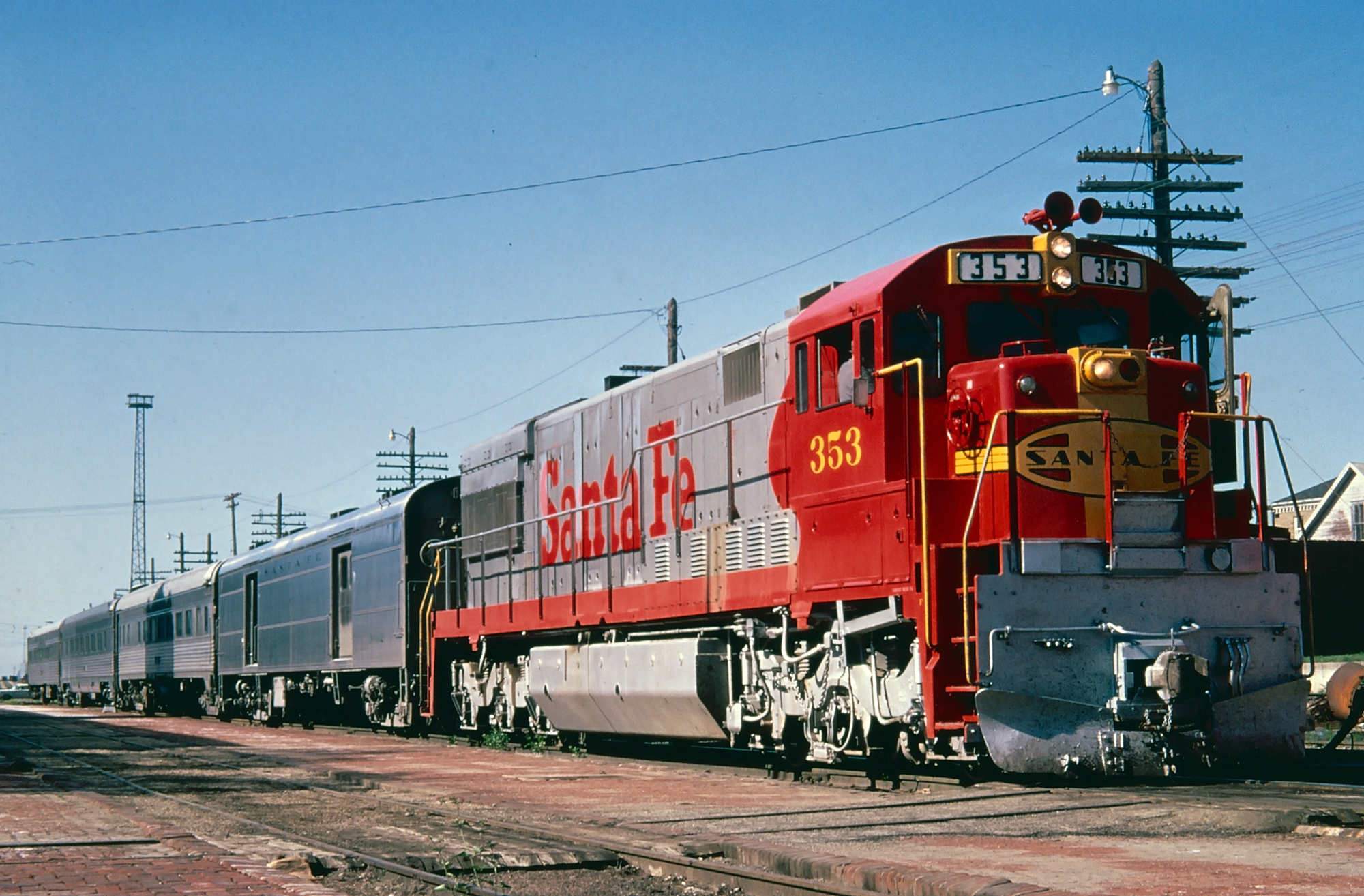 Santa Fe U28CG #353 is stopped at Chanute, Kansas with the northbound "Tulsan," circa 1968. American-Rails.com collection.
When the Santa Fe entered the streamliner craze in the spring of 1936 with the introduction of the Super Chief this iconic train went on to spark an entire fleet.  Some were inaugurated soon after such as the El Capitan while others were inaugurated years later like the Texas Chief and San Francisco Chief. 
The AT&SF also fielded numerous secondary trains which it considered as streamliners (many utilized lightweight equipment) such as the Chicagoan/Kansas Cityan, Grand Canyon, Tulsan, and Californian regional services known as the San Diegan and Golden Gate. 
Many are rarely mentioned in historical texts or magazines but they were no less important to the Santa Fe in providing high quality service and on-time performance.
The Tulsan joined the timetable on December 10, 1939 with predominantly lightweight, stainless-steel equipment from the Budd Company (the Santa Fe's go-to manufacturer of new, streamlined passenger cars).

Read Down Time/Leave (Train #23/Grand Canyon)

Milepost

Location

Read Up
Time/Arrive (Train #24/Grand Canyon)

9:00 AM (Dp)
0.0

Chicago, IL (Dearborn Station) (CT)

9:00 PM (Ar)
5:40 PM (Ar)
449.4

Kansas City, MO (Union Station)

12:30 PM (Dp)

Time/Leave (Train #211/Tulsan)

Milepost

Location

Time/Arrive (Train #212/Tulsan)

6:05 PM (Dp)
0.0

Kansas City, MO (Union Station)

12:10 PM (Ar)
6:32 PM
25.6

Olathe, KS

11:30 AM
7:00 PM
56.8

Ottawa, KS

11:00 AM
7:28 PM
82.5

Garnett, KS

10:28 AM
7:55 PM
109.4

Iola, KS

10:02 AM
8:05 PM
117.1

Humboldt, KS

9:54 AM
8:20 PM
126.2

Chanute, KS

9:45 AM
8:48 PM
155.5

Cherryvale, KS

9:12 AM
9:10 PM
165.2

Independence, KS

9:00 AM
9:31 PM
187.5

Caney, KS

8:31 AM
9:55 PM
206.2

Bartlesville, KS

8:10 AM
F 10:30 PM
237.0

Collinsville, OK

7:35 AM
11:00 PM (Ar)
255.9

Tulsa, OK (CT)

7:15 AM (Dp)
Its original consist included a pair of 52-seat chair cars, a 36-seat diner, and a 32-seat parlor-observation, which ran through to Chicago via the Chicagoan/Kansas Cityan. From the outset the train was diesel powered using the railroad's initial E1A models, manufactured in 1937 for the new Super Chief. 
Interestingly, even though the AT&SF would go on to own few E units many wound up on Tulsan assignments including the road's first two boxcabs (built for the original Chief), its single E3A/B set (#11L and #11A), and most of the E6A/B sets.
Overview
Route

Chicago - Kansas City - Tulsa

Travel Time

12 Hours and 40 Minutes

Service History

December 10, 1939 - April 30, 1971

Train Numbers

211 (Westbound/Southbound)

212 (Eastbound/Northbound)

Distance

707

End Terminals

Union Depot (Tulsa)

Dearborn Station (Chicago)
According to Trains Magazine the train also had a pair of 4-6-2 Pacifics, the only two in their class with roller-bearings, as emergency power in the event of mechanical issues with the diesels.  These steamers' regularly ran on the Oil Flyer (trains #47 and #48), which also served the Tulsa to Kansas City corridor. 
The Tulsan was listed on Santa Fe's timetable as trains #211 (westbound) and #212 (eastbound) running the 256 miles between the two cities in about five hours.  Travelers also had the opportunity to take the westbound Kansas Cityan and interchange to #211 around dinnertime (a distance of nearly 450 miles) and continue on to Tulsa. 
Additionally, those traveling eastbound from Tulsa could board the Chicagoan at Kansas City around noon and reach the Windy City at 9 PM that evening.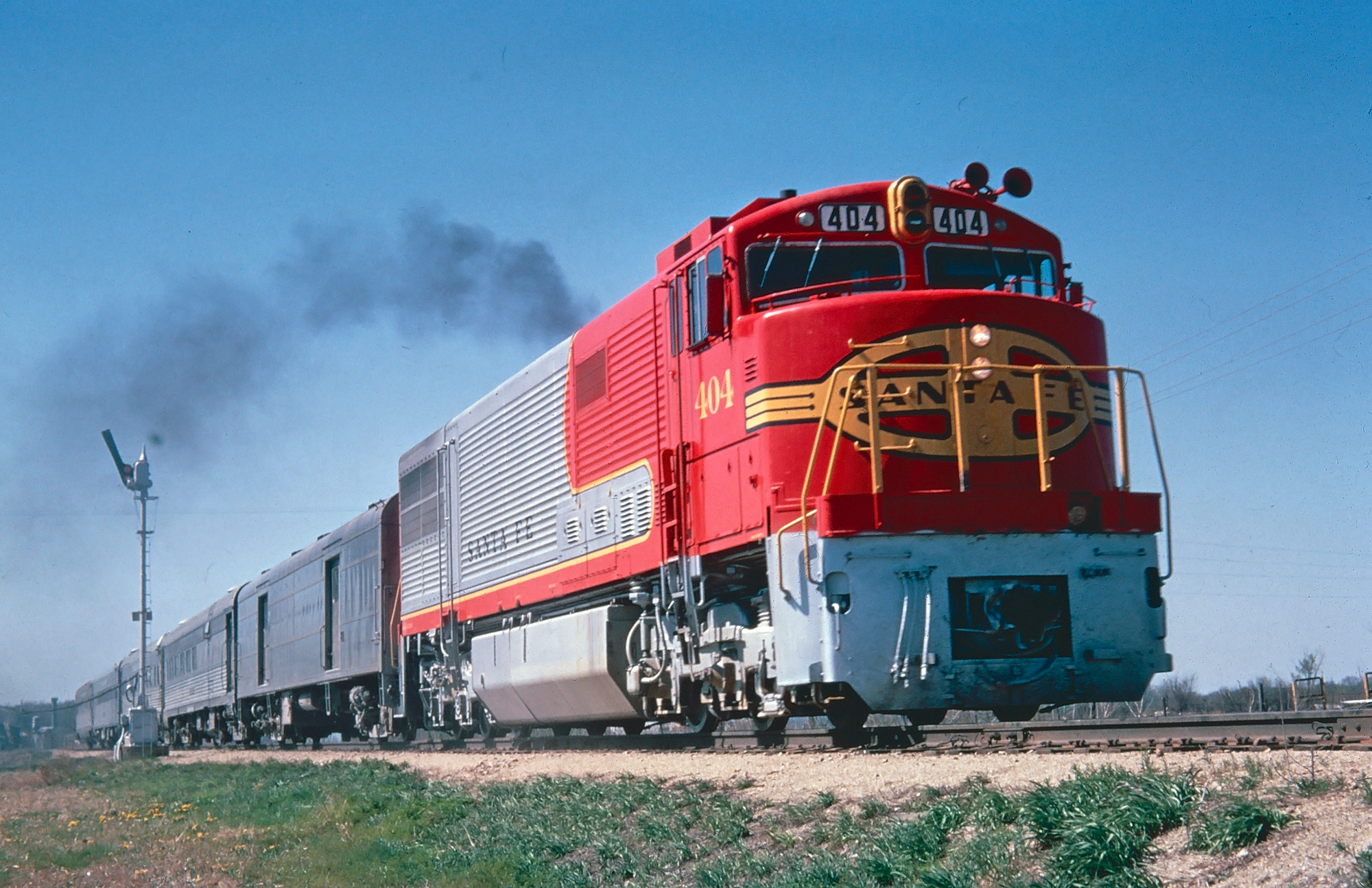 Santa Fe U30CG #404 with train #212, the "Tulsan," at Iola, Kansas, circa 1968. Mac Owen photo. American-Rails.com collection.
Accommodations
When those trains were canceled after April 18, 1968, the Grand Canyon took over the Chicago connection.  During June of 1940 the Tulsan added a baggage/Railway Post Office (RPO) and baggage-dormitory-chair car to its consist. 
The train's full-service diner was removed during February of 1949 with a heavyweight café-lounge (this particular car, #1516, according to the railroad's records was the only of its kind to receive silver painting and "shadowlining" to mimic the appearance of Budd's patented fluted stainless-steel), and would not return. 
However, during October of 1954 a lounge-diner replaced the café-lounge where it remained until April 1, 1963 when the Tulsan lost all dining service in the face of declining patronage.  From then on it operated as coach-only (chair cars) with a handful of head-end equipment.

---
Timetable and Consist (1952)
Final Years
The Santa Fe was one of few roads who believed so strongly in high-quality passenger service that it was unwilling to let it slip into a state of mediocrity and only cutback service or removed trains when it had no other choice. 
The Tulsan was one such corridor that remained on its schedule until the start of Amtrak, making its final run on April 30, 1971 (however, soon after the mail contracts were lost in 1967 notices appeared in timetables stating the train was to be discontinued but it was never given authority by the Interstate Commerce Commission to do so). 
In its late era the train could be seen with F7s on point or General Electric U28CGs and U30CGs, which arrived between 1965 and 1968. 
The latter, basically a standard U30C internally (except for the addition of a steam generator), wore an interesting semi-streamlining of fluted-stainless steel and Warbonnet paint with a cab-inspired carbody. 
Neither model was particularly successful in passenger service and were occasionally assigned to freight assignments until Amtrak.  They remained there after that time and all were eventually retired by the fall of 1980.