Twilight Limited

Last revised: January 7, 2022
By: Adam Burns
The Twilight Limited was a notable New York Central train providing regional service along the busy corridor between Chicago and Detroit. 
The train was initially added to the timetable during the 1920s and for many years, through the early 1950s, provided patrons with a bevy of opulent accommodations for a trip that required only a few hours. 
As ridership disappeared after World War II the train still maintained at least somewhat respectable ridership although it eventually lost many of its once-popular amenities. 
The NYC continued scaling back its passenger fleet and a year before the Penn Central merger dropped the Twilight Limited name from the timetable although service over the route continued through Amtrak.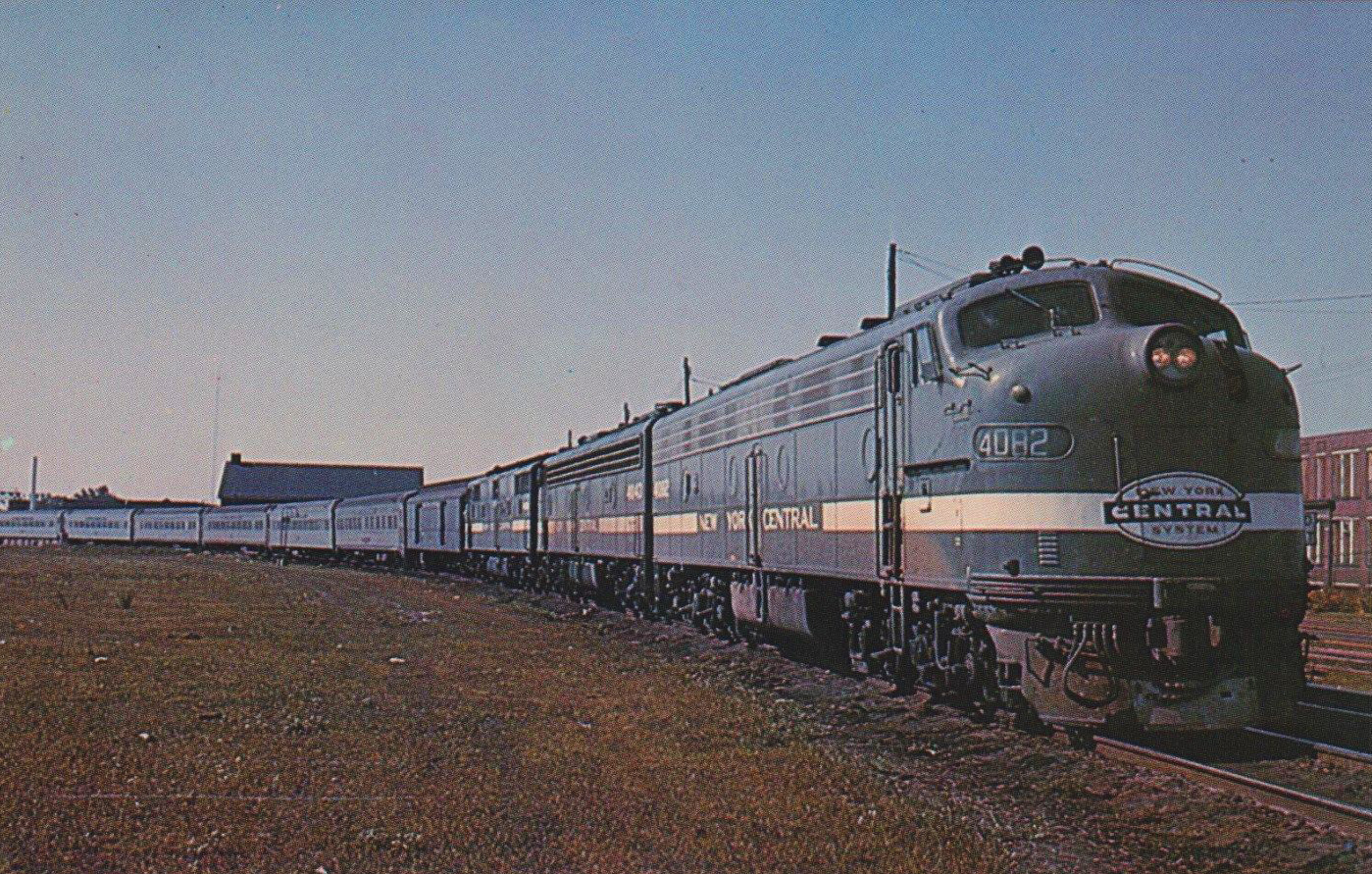 If there was one corridor in which the New York Central held a virtual monopoly it was the busy Chicago - Detroit market where no other railroad offered such a direct routing, even arch rival Pennsylvania, thanks to its long-time control of subsidiary Michigan Central. 
This system comprised a large component of the NYC, stretching from Chicago to Detroit, through southern Ontario and reconnecting with its other routes at Buffalo giving the railroad the unique advantage of two main lines to Chicago. 
The MCRR also stretched across its home state, reaching as far north as Mackinaw City along the Straits of Mackinac where Lake Michigan and Lake Huron joined one another.  The Twilight Limited wasn't necessarily considered the best train on the route but it was quite important.
New York Central's, "Great Steel Fleet"
20th Century Limited: (New York - Chicago)
Commodore Vanderbilt: (New York - Chicago)
Detroiter: (New York - Detroit)
Empire State Express: (New York - Buffalo)
James Whitcomb Riley: (Chicago - Cincinnati)
Pacemaker: (New York - Cleveland - Chicago)
Wolverine: (Chicago - Detroit - New York)
Other services on this popular corridor included the Chicago Mercury (a spinoff from the popular Mercury, NYC's original streamliner), Motor City Special, New York Special, and Wolverine. 
The Twilight Limited first entered service on April 25, 1926 according to Craig Sanders' book, "Limiteds, Locals, And Expresses In Indiana, 1838-1971." 
At that time the railroad hosted 23 various trains on the route every day, two of which provided local service. 
At its pinnacle this number would reach 30.  The Twilight was listed as #30 (eastbound) and #31 (westbound), advertised as a first-class service providing such accommodations as parlors and a diner but no coaches. 
Its schedule was around five hours on a corridor that spanned roughly 284 miles.  

The train originally departed from Chicago's LaSalle Street Station but after 1949 switched to Illinois Central's Central Station.
This setup remained until 1957 when the Twilight again returned to NYC's long-used Windy City terminal.  The depression era was hard on all railroads and by 1932 NYC had cut its Chicago-Detroit services to just 22 trains, which later fell as low as 16. 
However, the Twilight continued on and by 1938 boasted deluxe coaches. 
By then the streamliner era was gaining steam and New York Central was quick to jump on the bandwagon. 
Using rebuilt equipment to test the viability of the service the all new Mercury was launched on July 13, 1936 between Detroit and Cleveland.  It became so successful NYC eventually put a second set into service. 
(The below Twilight Limited timetable is dated effective April 9, 1944.)

Read Down Time/Leave (Train #30)

Milepost

Location

Read Up
Time/Arrive (Train #31)

4:15 PM (Dp)
0.0

Chicago, IL (LaSalle Street Station) (CT)

9:00 PM (Ar)
4:29 PM

Englewood, IL (Union Station) (CT)

F 8:46 PM
6:54 PM
92.9

Niles, IL (ET)

8:20 PM
7:43 PM (Ar)
141.5

Kalamazoo, MI

7:30 PM (Dp)
7:43 PM (Dp)
141.5

Kalamazoo, MI

7:27 PM (Ar)
8:17 PM
164.3

Battle Creek, MI

6:56 PM
9:05 PM (Ar)
209.4

Jackson, MI

6:11 PM (Dp)
9:05 PM (Dp)
209.4

Jackson, MI

6:09 PM (Ar)
9:47 PM
247.6

Ann Arbor, MI

5:30 PM
10:30 PM (Ar)
283.5

Detroit, MI (ET)

4:45 PM (Dp)
On June 15, 1938, in conjunction with Pennsylvania's Broadway Limited, the New York Central launched its newly streamlined 20th Century Limited flagship and the Great Steel Fleet took on an entirely new meaning. 
The Twilight Limited would eventually gain its own set of streamlined equipment according to Geoffrey Doughty's book, "New York Central's Great Steel Fleet: 1948-1967." 
The cars primarily came from the Budd Company, sporting fluted stainless steel and a consist that included a parlor, tavern-lounge, diner, twin-unit dormitory, observation, and reclining seat coaches (these were Pullman-Standard products). 
As you can imagine, in this time period railroads considered the journey itself just as important as the destination and passengers were treated with the finest of accommodations. 
Doughty also notes in his book that after 1958 the train sometime ran with a "sleeper-as-parlor" and this continued until parlor service was removed altogether in 1965.

---
---
Into the 1960s once-standard amenities such as those mentioned above were swiftly removed or cutback in an effort to reduce rising costs as patronage disappeared. 
By October of 1966 the Twilight Limited offered little more than a diner and coaches, while between April and November of 1967 it ran as coach-only until the diner was brought back.
Heading into the Penn Central merger the NYC was in better financial condition than its former rival but it still removed or reduced passenger operations wherever possible. 
Mr. Sanders notes in his book that the Twilight Limited name was removed entirely on December 3, 1967. 
Penn Central was successful in canceling the westbound former Twilight west of Ann Arbor, Michigan on October 15, 1968 while the eastbound run was continued under Amtrak.