The Milwaukee Road first began regional passenger service along its Northern Iowa main line kicked off during April of 1927 when the railroad added trains #3 (westbound) and #18 (eastbound) to the timetable operating between Mason City, Iowa and Chicago Union Station via Wisconsin's state capital of Madison.  During its first decade the train carried a relatively low-profile, no doubt a result of its nameless status and relatively bucolic areas served.  However, that all changed during the spring of 1935 when the railroad launched its dazzling new Hiawatha streamliners.  Such sleek trains were all the rage following their successful debut on the Union Pacific and Burlington a year earlier as a means of luring the public back to the rails after the Great Depression severely hurt the country and ridership plummeted.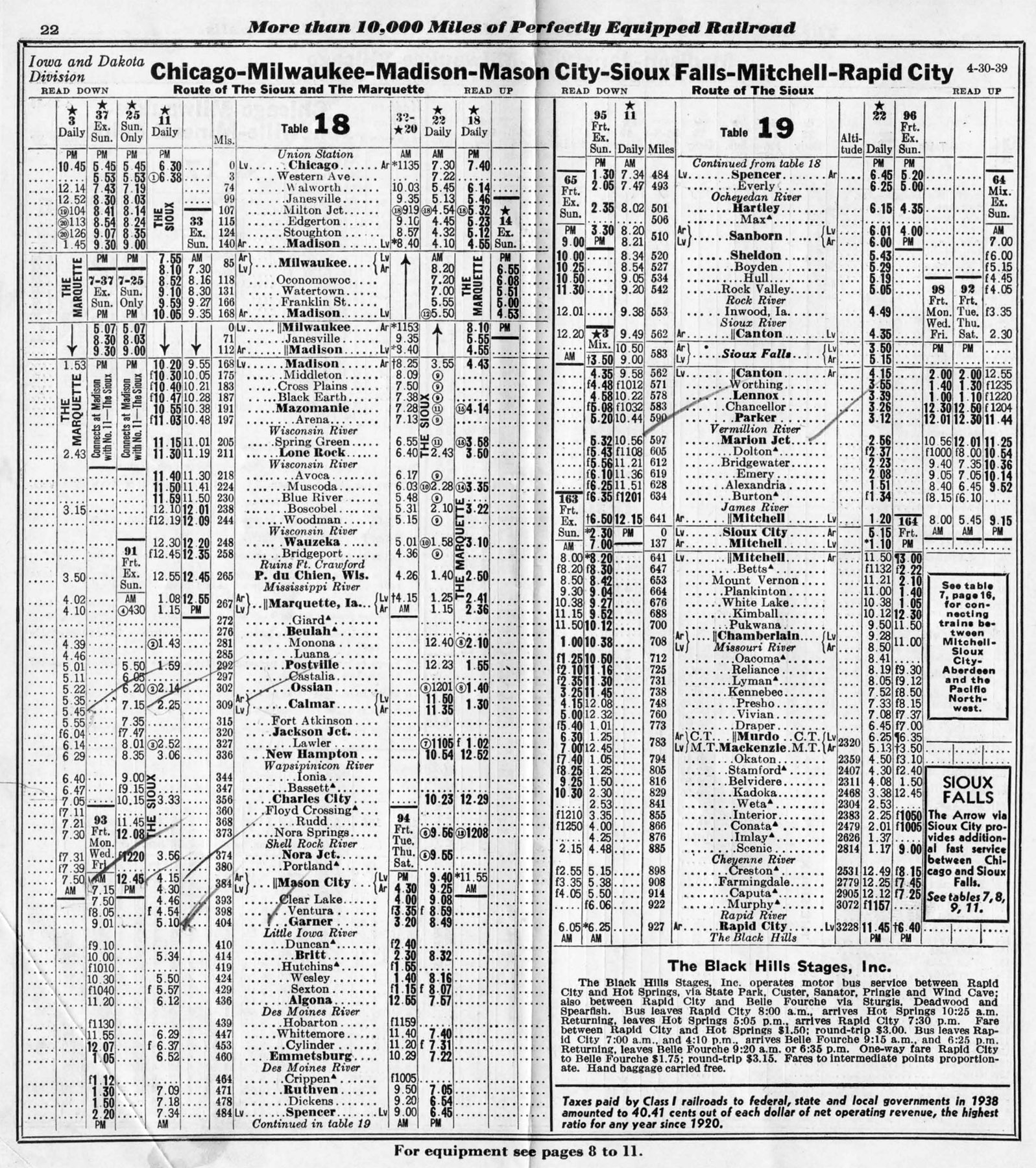 Following a contest to find a new name for the Mason City-Chicago train, Marquette proved the winning entry.  It was re-inaugurated on August 8, 1937 with a schedule of under eight hours along the 384-mile route.  According to John Gruber and Brian Solomon's book, "The Milwaukee Road's Hiawathas," train #18 departed Mason City at 12:01 PM and arrived in Chicago by 7:40 PM later that evening carrying speeds as high as 75 mph (this was later increased to 85-90 mph).  Its early equipment was not particularly fancy usually carrying an RPO, coaches, and cafe parlor-solarium with consists ranging from five to six cars. However, in times of high demand the train could swell up to eight cars or more warranting the need for double-headed power, usually in the form of trusty Class F Pacifics.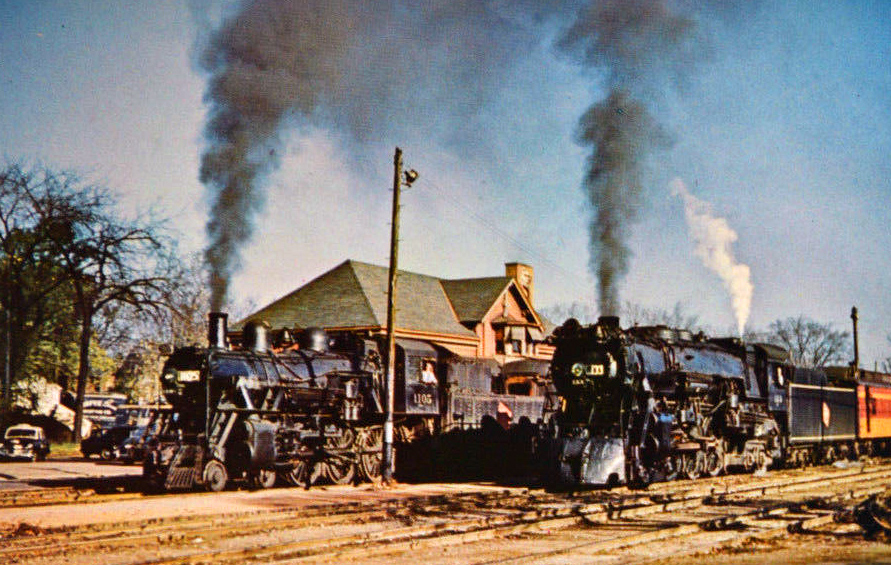 The Marquette's direct competitor was the Chicago & North Western's Minnesota "400" and both trains often ran neck and neck carrying similar levels of patronage and running nearly identical schedules.  During this time it received some streamlining in the form of handed down equipment from the crack Hiawathas.  The Marquette maintained its strong ridership through World War II but faced stiff competition via the automobile soon after the conflict was over.   As a result the Milwaukee elected to truncate its schedule to a Madison-Chicago corridor during April of 1951.  This also brought about a new name as the Varsity (and changed to #117 westbound and #118 eastbound) since the train served the University of Wisconsin's Madison campus.  The westbound train would depart Chicago after 9 AM in the morning while the eastbound leg would leave Madison sometime around 5:30 PM in the evening.
(The below Varsity timetable is dated effective December 7, 1969.)

Read Down Time/Leave (Train #117)

Milepost

Location

Read Up
Time/Arrive (Train #118)

9:30 AM (Dp)
0

Chicago, IL (Union Station)

8:45 PM (Ar)
9:52 AM
17

Glenview, IL

8:18 PM
10:27 AM
50

Fox Lake, IL

7:41 PM
10:54 AM
74

Walworth, WI

7:16 PM
F 11:11 AM
89

Avalon, WI

11:27 AM
99

Janesville, WI

6:42 PM
11:50 AM
115

Edgerton, WI

6:13 PM
12:04 PM
124

Stoughton, WI

6:02 PM
F 12:15 PM
133

McFarland, WI

F 5:52 PM
12:25 PM (Ar)
140

Madison, WI

5:45 PM (Dp)
By the late 1940s diesels were already replacing steam in the form of handed down power bumped to less glamorous assignments such as Electro-Motive E6As, Alco DL-109s, and even Fairbanks Morse Erie-Builts that had not proved their worth heading the premier transcontinental Olympian Hiawatha.  These were followed by FP7s, E7As, and E9s during the 1950s.  In the postwar era the train continued carrying a consist similar to its more prosperous days sporting coaches, an RPO/express car, and a rear Beaver Tail parlor-observation from the original 1935 Twin Cities Hiawathas (the Beaver Tails survived only until the fall of 1951 when they were replaced by a parlor-diner and tap-diner).   This consist normally sufficed through much of the year.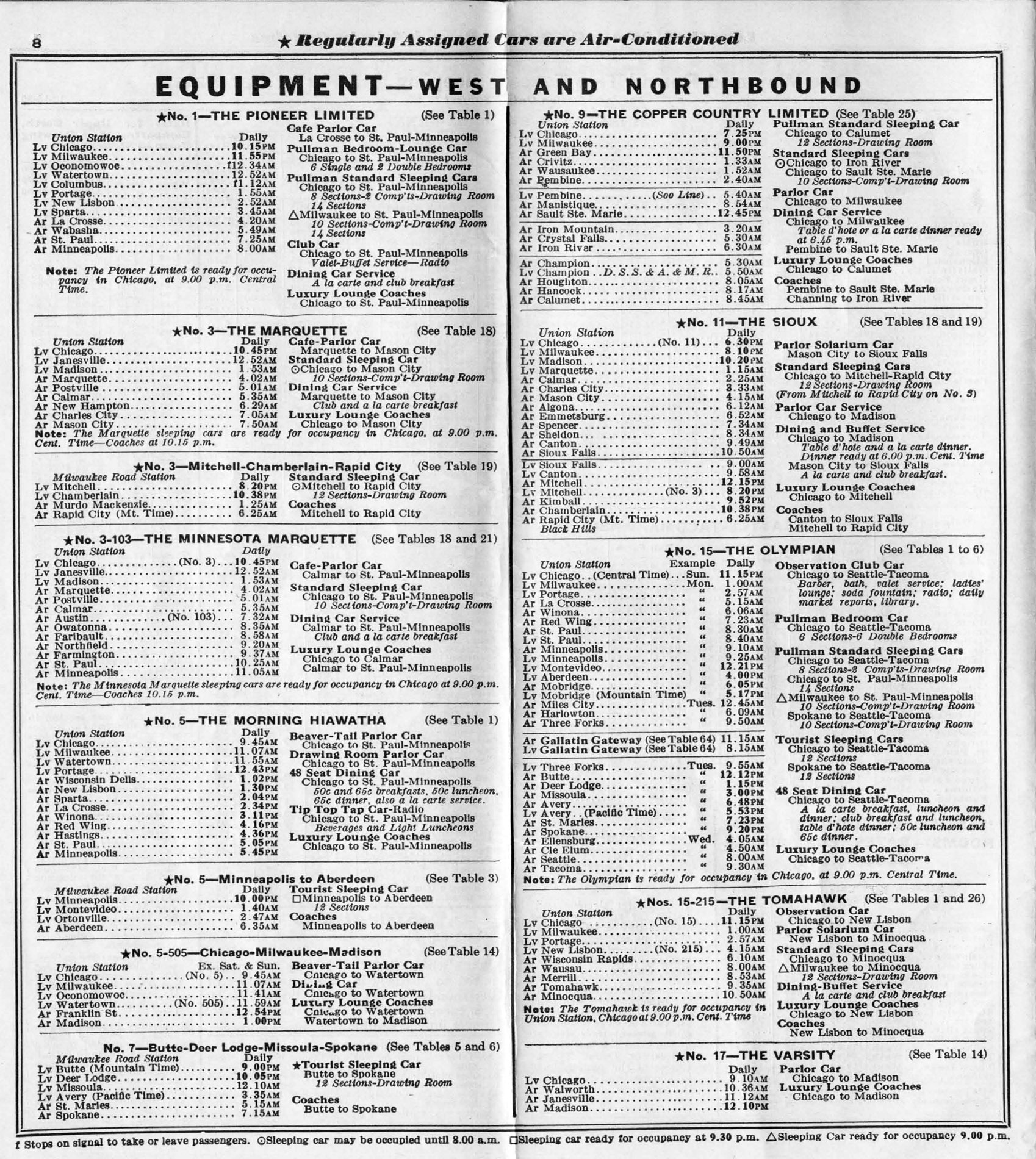 ---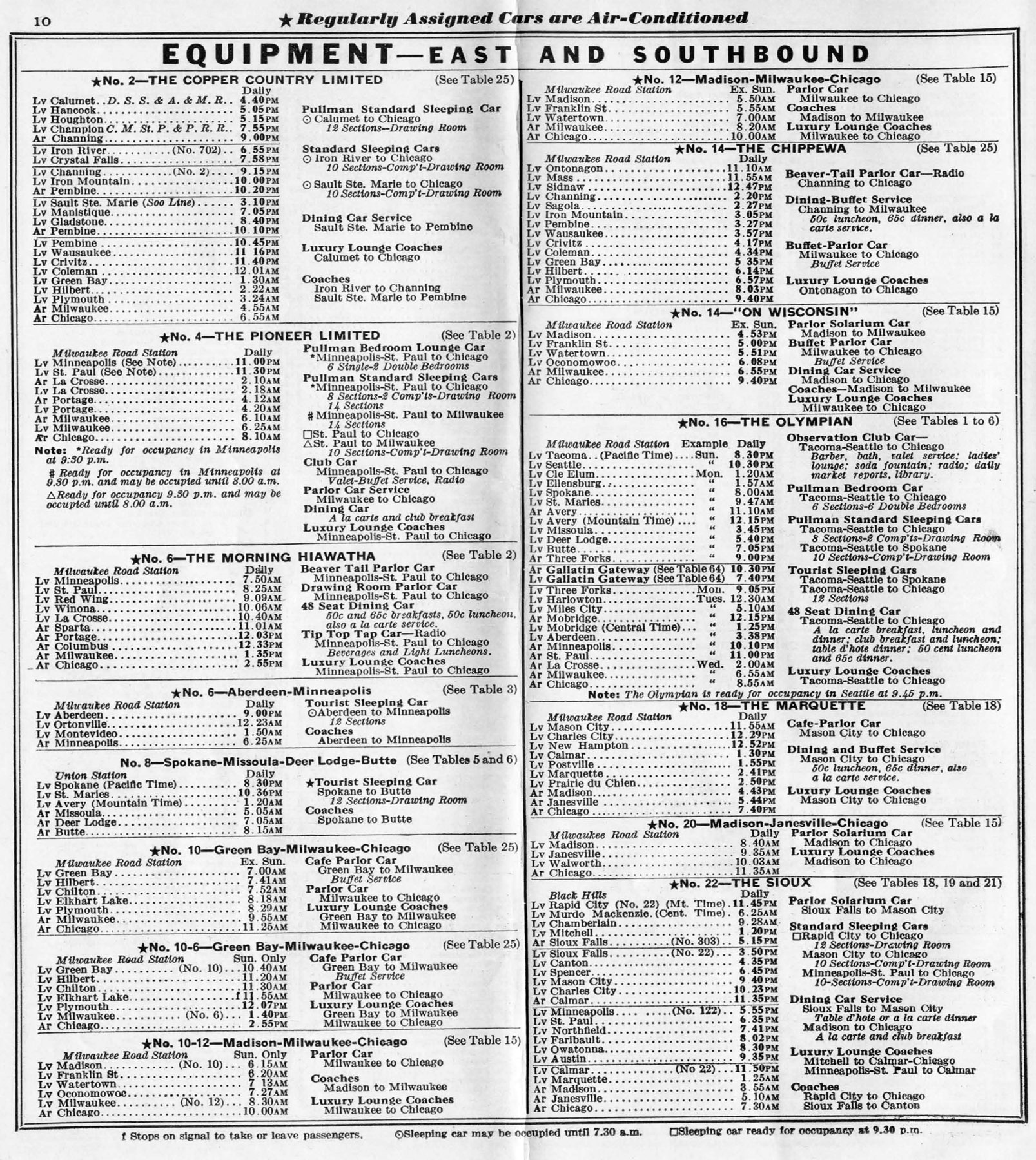 However, according to William Middleton's, "The Noon Milwaukee," from a 1975 issue of Rail Classics Magazine it sometimes carried a whopping 18 to 20 extra cars out of Chicago for Wisconsin University football games at Camp Randall Stadium in Madison.  Operationally, the Varsity utilized one of the most unique stretches of line anywhere on the Milwaukee's system.  At Madison the railroad crossed the Chicago & North Western at a diamond located within Lake Monona along its southwestern corner near the downtown area.  The location was protected by MX Tower (or Monona Tower) and offered a fascinating look at railroad engineering tackling a difficult geographical problem.  Until the mid-1960s the Varsity remained a relatively unchanged train.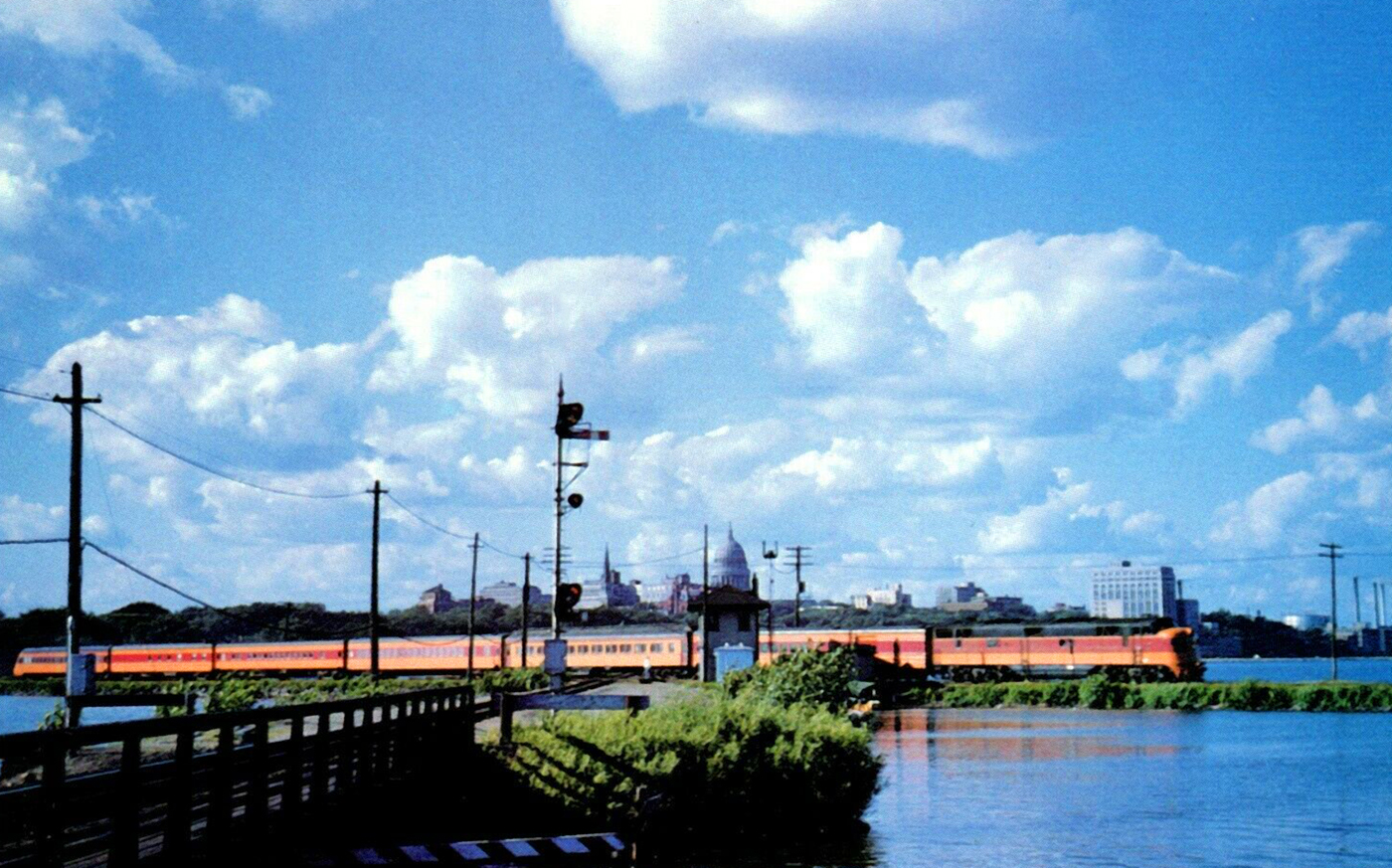 In the spring of 1964 its parlor-diner was downgraded to a tap-grill car although later that year received a Super Dome from the canceled Olympian Hiawatha.  By then the train was experiencing rapidly declining patronage in the wake of new interstate construction such as I-90 and the Illinois Turnpike.   With the completion of these freeways Mr. Middleton notes in his article that one could drive, or take a bus, faster to Chicago than by train.  In the spring of 1965 the Varsity carried services no greater than the diminutive coach and when the U.S. mail contracts were canceled in 1967 the Milwaukee Road had no further incentive to continue the train.  It had only partial success in this regard when the Interstate Commerce Commission granted permission to reduce service to weekend/holiday running. The train limped along mostly empty for the last few years until Amtrak took over intercity operations on May 1, 1971.

Related Reading You May Enjoy


Home

›

Fallen Flags

›

Milwaukee Road

› Varsity/Marquette