Vermont Railroads In "The Green Mountain State"

Last revised: June 19, 2023
By: Adam Burns

While Vermont railroads once featured celebrated lines like the Rutland Railroad, Boston & Maine, Central Vermont, and Delaware & Hudson.

For many years, Vermont carried a similar statistic that most New England states would rather not have; it no longer enjoyed Class I rail service. 
History
However, that changed in 2020 when two subsequent events took place; in June Canadian Pacific acquired the Central Maine & Quebec while that same year CSX Transportation announced it was purchasing Pan Am Railways.

After more than 40 years of not having Class I service, it appears Vermont gained back two in the span of a single year.
However, how long both roads continue to operate the entirety of these smaller systems they acquired remains anyone guess.
In addition to providing freight service, the Vermont Railway  also operates the Green Mountain Railroad, a popular tourist attraction offering guests spectacular views of the Vermont countryside.
If you are interested in visiting New England this a fantastic way to see its splendor, especially during the fall.  
Photos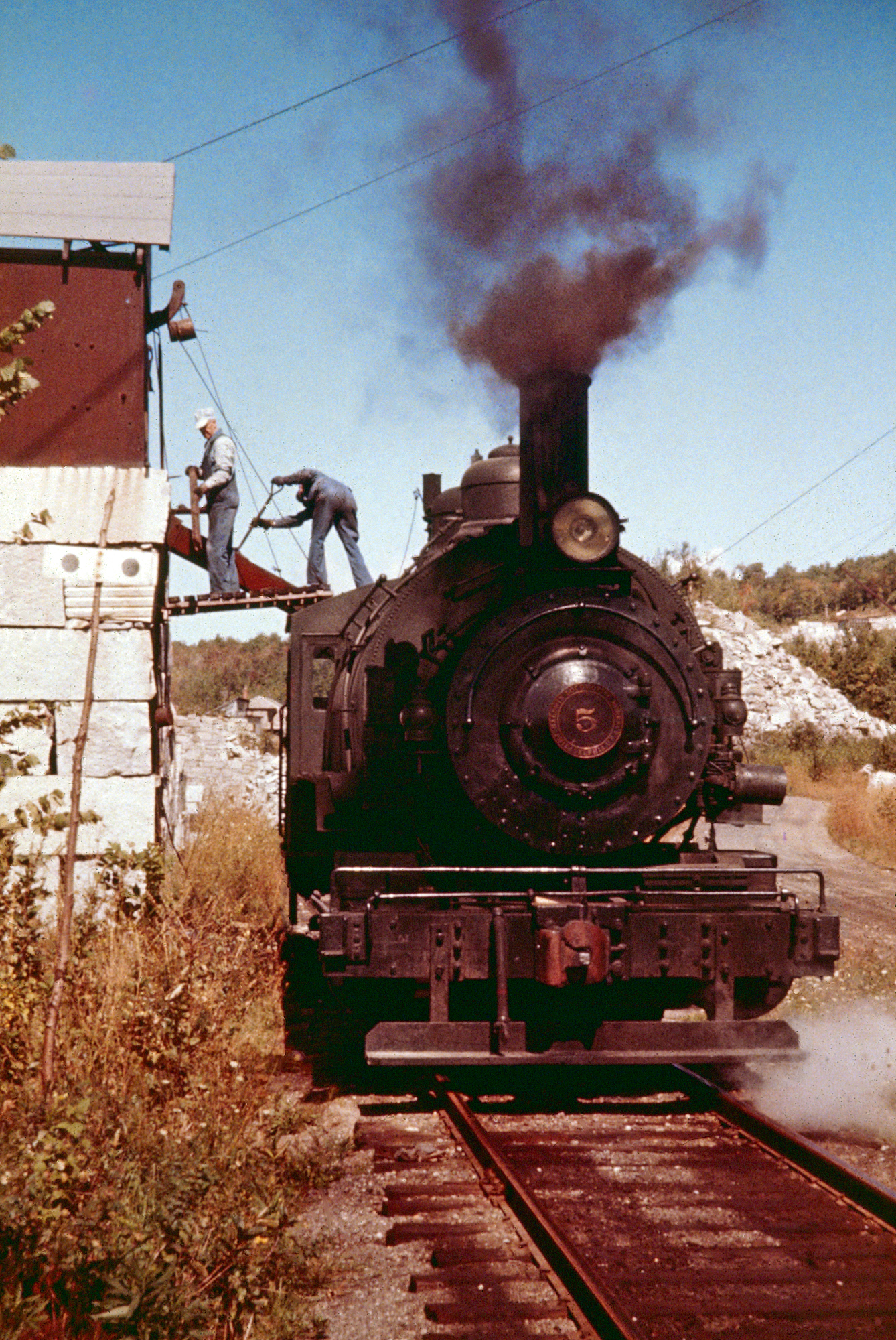 Rock of Ages 0-6-2T #5 takes on coal in Graniteville, Vermont during the 1940s. Philip Hastings photo. American-Rails.com collection.
Historically, Vermont was the home of the Rutland; a fabled New England carrier that shutdown in 1961.  The railroad offered photographers bucolic settings of a local freights passing through small towns during simpler times. 
It was once a common sight to catch trains loading milk at the depot when this product regularly traveled by train.  Today, much of the old Rutland remains in use under the Vermont Railway although the quiet charm has long since passed.
Vermont railroads date back to 1843 when the Vermont Central Railroad was chartered to connect Windsor with Burlington, a distance of roughly 103 miles.
The first segment was completed in June of 1848 connecting White River Junction with Bethel, and the entire line was opened on December 31st, 1849.
The railroad eventually became part of the Central Vermont Railway, a fabled New England line that eventually connected northern/central Vermont with central Massachusetts, reaching as far south as New London, Connecticut.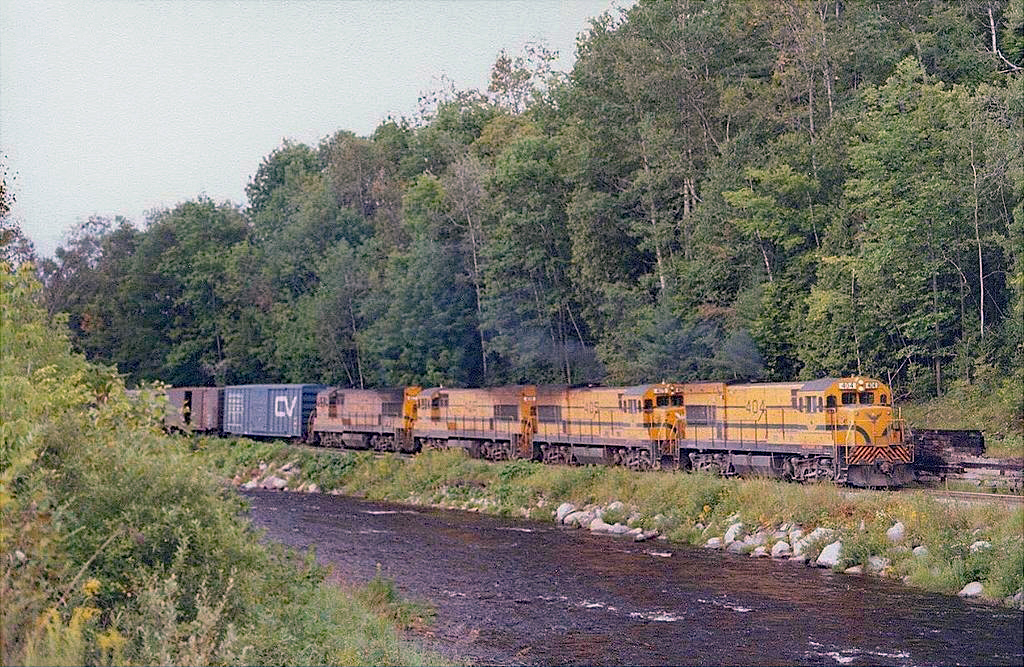 A quartet of Maine Central U18B "Baby Boats" are on the Mountain Division near East St. Johnsbury, Vermont on August 6, 1981. Doug Kroll photo.
At the railroad's height of independence it controlled the Rutland Railroad but bankruptcy in the late 19th century forced it to lose control of the nearby company.
Soon after in the early 20th century the Central Vermont came under the control of the Grand Trunk Railway, a Canadian National subsidiary.
It remained under CN control until 1995 when it was sold to the New England Central Railroad, an important shortline system in the region.
While Vermont was home to railroads like the B&M, Central Vermont, and D&H perhaps its most legendary railroad was the Rutland Railroad, which even named itself after the state, The Green Mountain Gateway.
Current Railroads
New Hampshire Central Railroad


CSX Transportation (ex-Pan Am)


St. Lawrence & Atlantic Railway


New England Central Railroad 
State Mileage Chart
First Railroad
* By New England standards, Vermont's first railroad was not constructed until relatively late when the Vermont Central Rail Road (VCRR) was incorporated by the state in late 1843. 
The road's purpose, conceived by Charles Paine, was to not only link Vermont with the rest of New England but also transport its agriculture (notably cheese and milk) and marble to market.  Construction was launched in 1845 and the first section, about 25.5 miles, opened between Bethel, Vermont and White River Junction in the summer of 1848. 
Throughout the 19th century the company continued to expand and grow, becoming one of the region's largest.  Unfortunately, it became overextended and fell into bankruptcy in 1896, emerging two years later in 1898 as the Central Vermont Railway.  The CV became a Canadian National subsidiary for decades until it was spun-off in 1995.  The original route remains in regular service today.
Additionally, passenger service can still be found in the Green Mountain State with Amtrak operating the Vermonter between St. Albans and Washington D.C. and the Ethan Allen Express between Rutland and New York City.

State Map
Historically, Vermont was never home to any important or significant streamlined passenger trains although lines like the Rutland, D&H, and Boston & Maine offered local/regional service to the state.

Lastly, Vermont railroads offer some of the most spectacular excursion trains in the country with the Green Mountain Railroad offering splendid views of the Vermont countryside aboard one of its many tourist trains.
Also, be sure and visit the New England Transportation Museum to learn more about Vermont's railroad history.
---
Abandoned Lines
Like every state, Vermont has suffered its share of abandoned rail corridors; about 50% of its peak mileage has been removed since the 1920's.
However, this would have been much more had it not been for the state's foresight in purchasing left-for-dead corridors, like the Rutland.
At the time of the Rutland was in a precarious position; following its second strike in less than 10 years in 1960, it appeared the railroad would largely be scrapped.
This was made increasingly clear when the Interstate Commerce Commission ruled for total abandonment on January 29th, 1963.
In August of that year, Vermont stepped in and purchased the remaining property to preserve freight service.  Most of the Rutland system was saved
There were sections abandoned, however, notably the Burlington-Alburgh extension across the lake and the remainder of the line to Ogdensburg, New York (built as the Ogdensburg & Lake Champlain).
This constituted the entirety of the historic Rutland except the old Chatham Division which had been abandoned way back in 1953. 
This 57-mile line branched south from North Bennington, Vermont and offered an interchange with the New York Central at Chatham, New York.
It was pieced together by the Rutland to offer an inside gateway from New York City to Montreal, Quebec.  Unfortunately, it was far too circuitous and Cornelius "Commodore" Vanderbilt ultimately built his own, more direct route to Montreal. 
In addition to the Rutland, you can find other abandonment segments of the Boston & Maine and Central Vermont.
---
For more information on Vermont railroads in terms of route mileage over the years please refer to the chart above.  
Today, Vermont railroads operate over 500 miles of track although at one time the Green Mountain State featured a rail network of nearly 1,100 miles.
---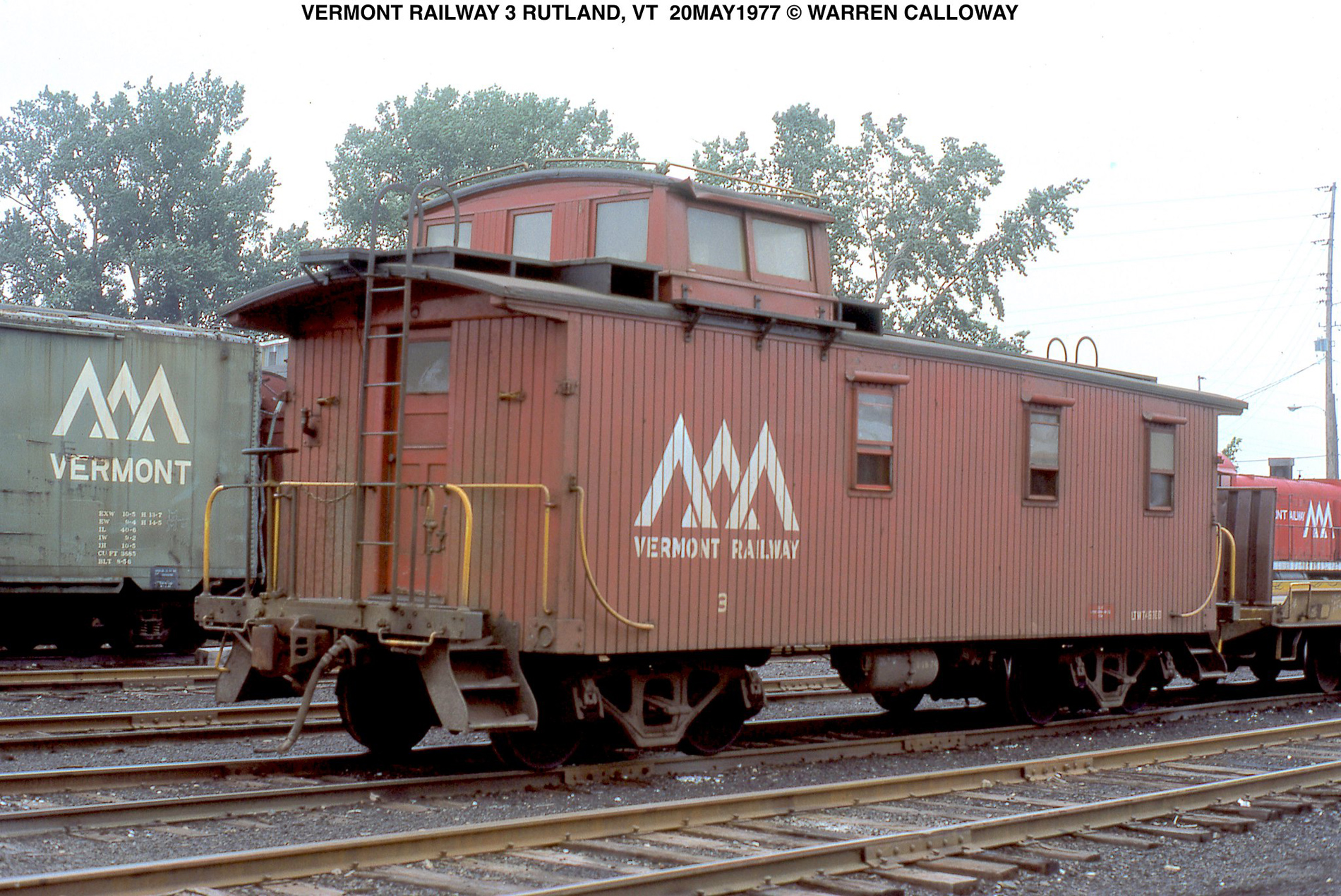 Vermont Railway wooden caboose #3, of Rutland Railroad lineage, is seen here in Rutland, Vermont on May 20, 1977. Warren Calloway photo.
While not a particularly large number the state was once an important agricultural producer, particularly in milk and related products which sustained the Rutland for years.

Today, many of the state's secondary and branch lines that served these farming interests have long since been abandoned as it retains just 52% of its original rail infrastructure (which is about average for most states, which have seen similar declines).