Washington Railroads In "The Evergreen State"

Last revised: June 14, 2023
By: Adam Burns

Today, Washington railroads are dominated by BNSF Railway, which owns three main lines in the Evergreen State and controls the lucrative container traffic coming from the Puget Sound region.

Washington is also rich in railroad history as the state was the final destination of northern plains railroads attempting to reach Seattle and the west coast.
History
From an operational standpoint Washington has plenty to offer with the Cascade Range covering much of the state and the spectacular Columbia River carving its way through the state's western region.
Aside from the Class I's lines of BNSF and Union Pacific, Washington is served by one regional (Class II) and a wide range of short lines. 
Perhaps the state's most famous railroad was the Milwaukee Road, which maintained a key route to Seattle, electrified west of Othello. 
It is also the state's most famous abandoned corridor when the Milwaukee left the west in 1980.  
Whether you are interested in seeing BNSF stack trains blast their way through legendary Cascade Tunnel or see Amtrak Cascades skirt along the Puget Sound, the Evergreen State is home to all of this plus much, much more.
Photos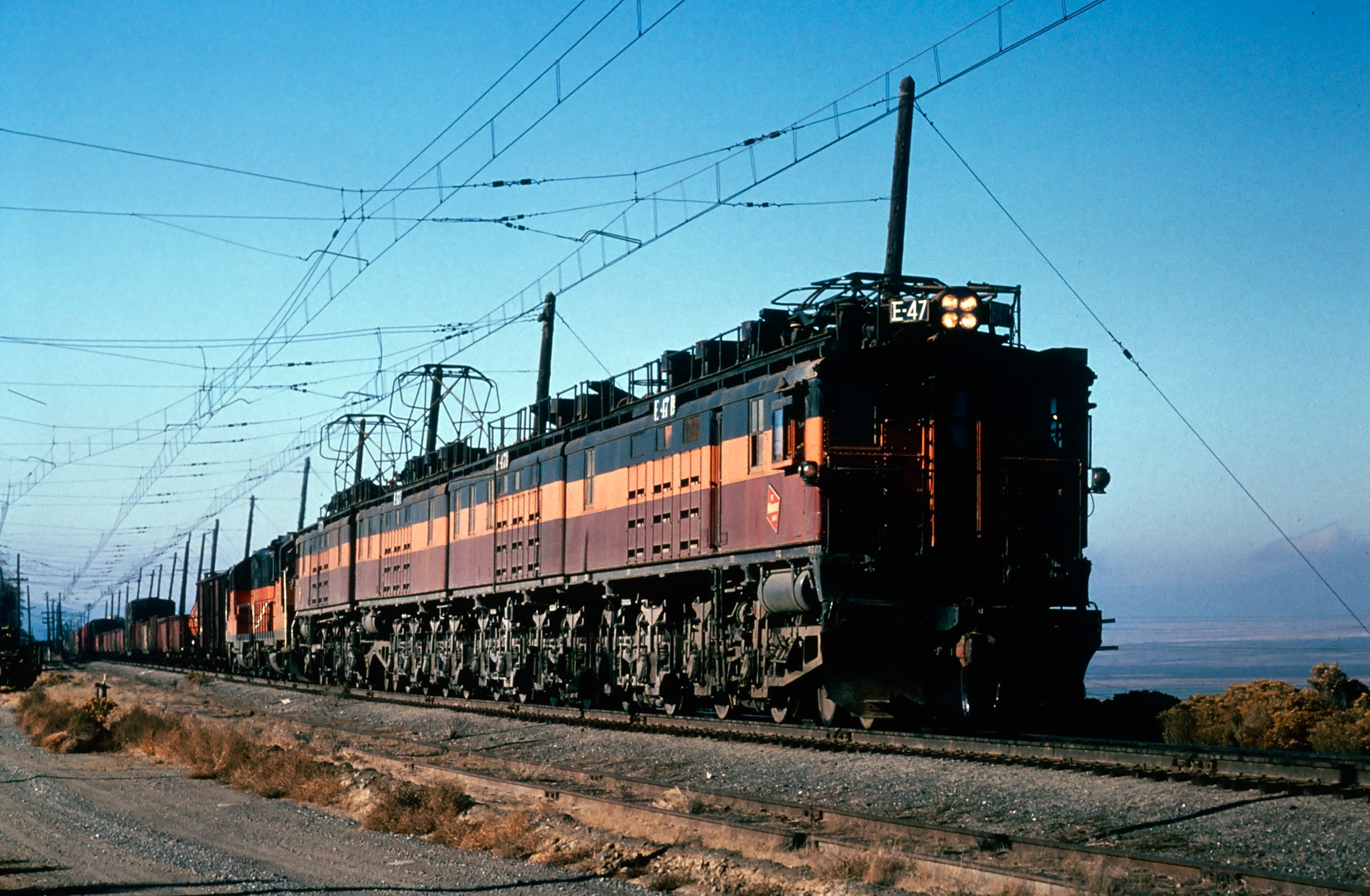 A Milwaukee Road boxcab set, led by E-47, have an eastbound freight at Taunton, Washington, circa 1960. American-Rails.com collection.
Washington railroads date back to 1851 when the Cascade Portage Railway opened six miles of railroad between Hamilton Island and Stevenson, Washington (the railroad operated until 1907).
By 1883 the first of the "Hill" lines reached the Puget Sound with the Northern Pacific Railway opening its main line between Minneapolis and Seattle that year.
Ten years later in 1893 the other transcontinental "Hill" line also opened, the Great Northern Railway, operating over much of the same territory as its allying road.
The final railroad to compete in the Pacific Northwest was the Milwaukee Road, which completed its main line to Seattle much later than its two competitors by not reaching Puget Sound until 1909.
Statistics
| | |
| --- | --- |
| First Railroad | Cascades Portage Railroad (1851) |
| Peak Mileage | 5,587 (1920) |
| Current Mileage | 2,891 (2020) |
| Current Railroads | 30 |
| Originated Rail Tons (2019) | 20.8 million |
| Terminated Rail Tons (2019) | 65.8 million |
| Originated Carloads (2019) | 749,744 |
| Terminated Carloads (2019) | 986,830 |
While the MILW, NP and GN were the transcontinental routes through Washington other notable Class I railroads also served the state including the NP-GN owned Spokane, Portland & Seattle and the Union Pacific, which reached as far east as Spokane and as far west as Seattle/Tacoma.
Of all of Washington's railroads perhaps the SP&S is the most interesting. The railroad proudly claimed itself The Northwest's Own Railway and while it operated less than 1,000 miles of railroad it was a vital link for parents Great Northern and Northern Pacific railroads. 
Milwaukee Road SD9 #533 lays over at Everett, Washington in June, 1962. Fred Byerly photo. American-Rails.com collection.
Today successor BNSF operates all of the ex-GN, NP, and SP&S trackage and because of the strategic advantage all three carriers' routes held in Washington it is not surprising that BNSF continues to hold the upper hand in the state (as evidenced by the endless string of container and grain traffic that travel to and from the Puget Sound region).
It was not always this way, however. Prior to the Milwaukee Road abandoning the Pacific Northwest it, amazingly, dominated the intermodal market along the Puget Sound.
Union Pacific GP30 #700 is tied down at Longview, Washington while working local service; September, 1981. American-Rails.com collection.
The railroad enjoyed so much of this growing traffic that it could not handle the business by the 1970's, due to deferred maintenance. 
Even today, the Milwaukee Road's main line would have also made for a vital link to Chicago with its direct route but unfortunately virtually nothing remains of it in Washington (although the state does own virtually the entire right-of-way between the Idaho border and Seattle).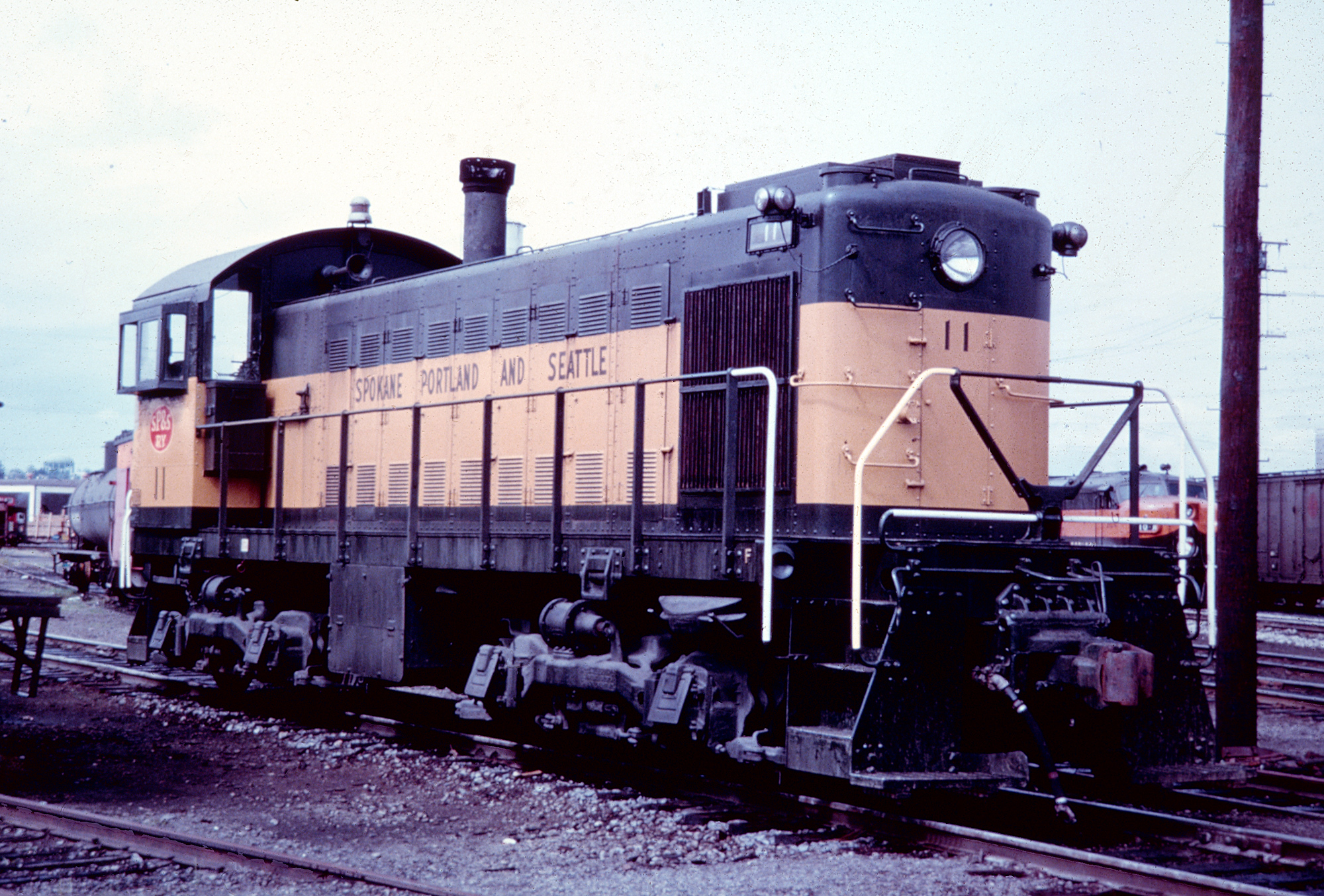 Spokane, Portland & Seattle S1 #11 was photographed here by Fred Byerly tied down for the weekend in Spokane, Washington on May 2, 1965. American-Rails.com collection.
Current Railroads
BNSF Railway


Ballard Terminal Railroad


Bountiful Grain & Craig Mountain Railroad


Cascade & Columbia River Railroad


Columbia Basin Railroad


Columbia & Cowlitz Railway


Columbia Walla Walla Railroad



Eastern Washington Gateway Railroad



Great Northwest Railroad


Kettle Falls International Railway


Meeker Southern Railroad


Mount Vernon Terminal Railway


Olympia & Belmore Railroad



Palouse River & Coulee City Railroad


Pend Oreille Valley Railroad


Portland Vancouver Junction Railroad



Puget Sound & Pacific Railroad


Spokane, Spangle & Palouse Railway



Tacoma Rail


Tri-City & Olympia Railroad


Washington & Idaho Railway


Washington Eastern Railroad
These smaller roads operate the remainder of Washington's rail network (of note, Montana Rail Link has trackage rights into eastern Washington).
State Mileage Chart
First Railroad
* Washington's very first railroad put into service was the Cascades Portage Railroad, launched in 1851 as a mule-powered, wooden tram way (5-foot gauge) that was predominantly built on a trestle.  It operated about 6 miles of track along the Columbia River's north bank from Lower Cascade to Upper Cascade.  According to George Hilton's book, "American Narrow Gauge Railroads," it was built by Francis Chenoweth to circumvent the rugged Cascade Mountains.  It was sold to the Bradford family upon and renamed as the Cascades Railroad on January 31, 1859.  In 1883 it was converted to narrow-gauge (3 feet).  It eventually wound up leased to Union Pacific.  No longer seeing any useful value in the property, due to surrounding standard-gauge routes, UP promptly abandoned  it in 1908.
The state's railroads today operate over 3,100 route miles of its original infrastructure, which peaked at nearly 5,600 miles during the industry's height of the 1920s.
While Washington has lost nearly 2,500 miles of trackage it still retains 56% of its network, which is about the national average.
State Maps
For more information about Washington railroads, in terms of mileage over the years please take a look at the chart above.  
Washington railroads also include a number of commuter and passenger trains.
---
Abandoned Lines
Washington State has lost 2,500 miles of railroads since the 1920's; most of this (1,900 miles) has been removed since only the 1960's.
Every major classic Pacific Northwest railroad to serve Washington has since segments removed; Union Pacific (via its Oregon Short Line subsidiary), Northern Pacific, Great Northern, Milwaukee Road, and Spokane, Portland & Seattle.
None, however, compare to the Milwaukee Road's losses.  Most of its main line, from the Idaho border at Tekoa to just outside of Seattle is now-abandoned; most of the corridor has subsequently been converted into trails.
The line remains a popular subject among train enthusiasts while thousands of bikers and hikers ride the trails annually.  It is rather ironic that the best engineered rail route to Seattle (electrified from the east to Othello) is now a recreational trail.
Most abandonments in Washington are found either to the east (agricultural branches), Olympic Peninsula, or the northwest.  The latter two regions largely handled timber products.
---
Amtrak operates the Coast Starlight and Empire Builder from Seattle's King Street Station and is also contracted by the state to operate the Talgo trainsets between Eugene, Portland (Oregon), Seattle, Bellingham (Washington), and Vancouver, British Columbia.

Along with Sounder commuter trains (which operated between Seattle and Tacoma), commuter rail has become an extremely popular mode of transportation in Washington since debuting in the 1990s, and future extensions of the service are planned.  

---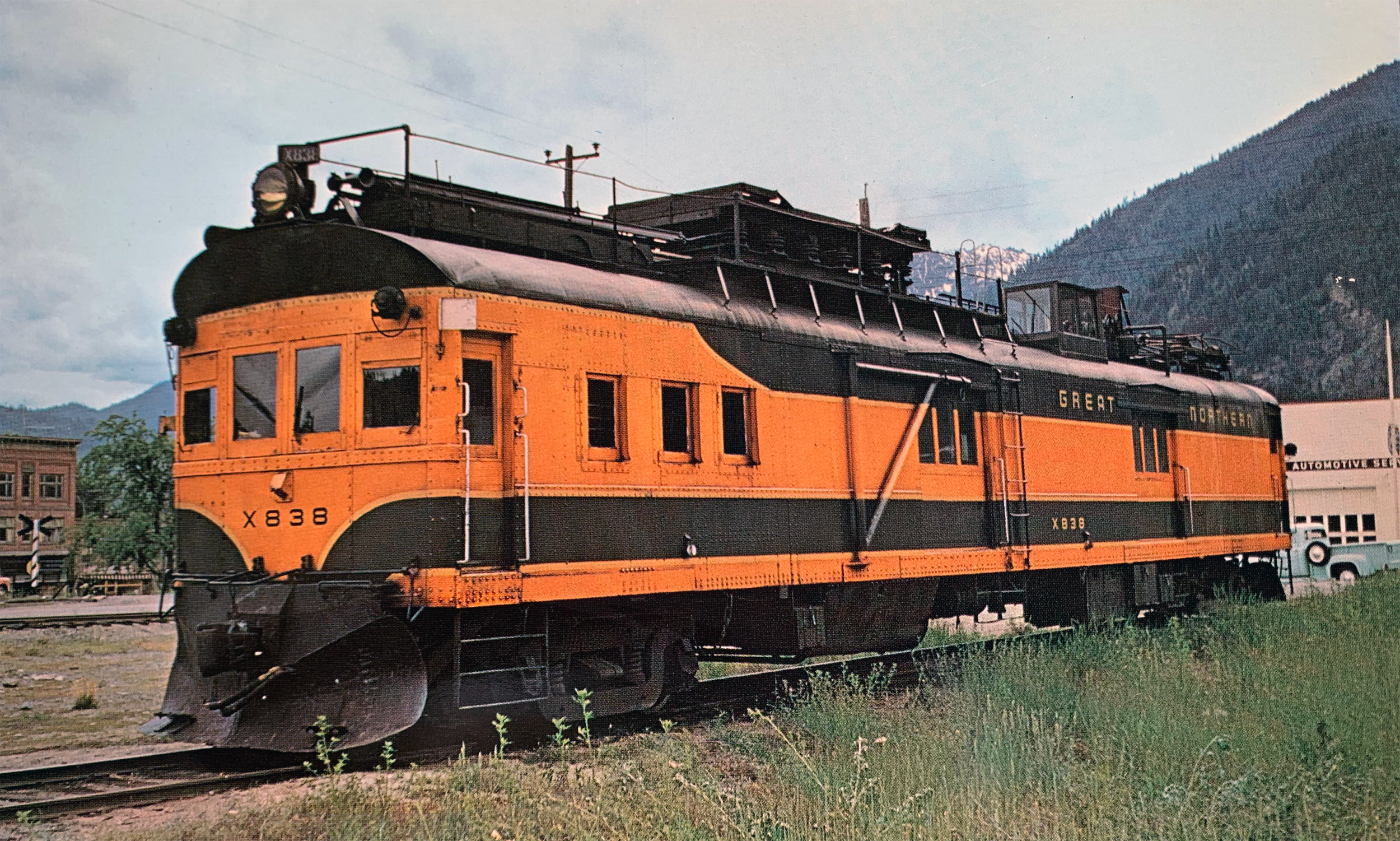 Great Northern line car X838 was photographed here by Stan Kistler at Leavenworth, Washington on June 9, 1956. The MOW car, built by GN forces from a self-propelled rail car ("Doodlebug"), maintained the railroad's 71 miles of electrified territory through Cascade Tunnel from Wenatchee to Skykomish. Author's collection.
Museums and Attractions
If you enjoy excursion trains and tourist railroads, Washington railroads feature several!

While the Spirit of Washington Dinner Train closed in the fall of 2007 others like the Mount Rainer Scenic Railroad and the Chehalis-Centralia Railroad continue to offer stunning views of the Cascade Mountains and Washington countryside.
The Evergreen State is also home to several railroad museums such as the Northwest Railway Museum and the Washington State Railroads Historical Society Museum.