Walla Walla Valley Railway

Last revised: April 13, 2023
By: Adam Burns

Some of the most interesting interurbans to ever operate like the Walla Walla Valley Railway were those located in the Pacific Northwest.

These companies began as typical electrified lines to move passengers but transitioned into freight haulers serving the agricultural fruit and vegetable economy of southern Washington and northern Oregon.
The WWV dated back to the 1890s as a streetcar line serving Walla Walla but later other interests were able to complete an electrified system into northern Oregon.
Passenger service for the road ended soon after the Great Depression hit and from that point forward it relied exclusively on moving mostly fruit and canned goods.
By the late 1940s all electric services were ending, transitioning to diesels. Unfortunately, Walla Walla's very traffic became its downfall as it was the most susceptible to the trucking industry.
By the early 1980s little freight was still moving by rail prompting then owner Burlington Northern to abandon the route.
Walla Walla Valley Railway HH660 #770, a former Northern Pacific unit, is seen here coupled to what appears to be Burlington Northern FA-1 #4120 (built as Spokane, Portland & Seattle #866A1 in 1950), circa early 1970's. This switcher led to the cessation of electrified operations. John Henderson photo
The earliest history of the WWV can be traced back to the Walla Walla Street Railway & Investment Company of 1890, which served the town of Walla Walla, Washington located in the state's southeastern corner.
This first streetcar line was horse powered only and connected the town's Second and Main Streets with Park Street.
At its peak the little operation covered 4 miles but it was never able to electrify as hoped for and service was suspended in 1899.
With the completion of a hydroelectric dam along the nearby Walla Walla River on December 31, 1904 electrified operations could now be much more easily implemented and led to the chartering of the Walla Walla Valley Traction Company in 1905, not only to provide interurban service but also connect the northern Oregon town of Milton-Freewater.
By 1905 interurban fervor was sweeping the nation as the industry was in its second major construction boom, which would last through 1908.
The new WWVTC was first put into service on December 24, 1906 when it began operations from the Oregon Railway & Navigation (an early Union Pacific predecessor) depot to Walla Walla's City Park.
On April 7, 1907 the company completed its 14-mile line to Milton-Freewater (where it had an additional connection with the UP) and a year later was operating 12 miles of street trackage in its hometown. Around 1910 the company saw an ownership change, becoming a subsidiary of the Pacific Power & Light Company.
From the beginning passenger traffic was never particularly heavy considering both towns were not very large. It was also from an early date the WWVTC's freight traffic grew steadily.
This fact was not lost on the large, transcontinental Northern Pacific which in 1921 acquired the property as a freight feeder and renamed it as the Walla Walla Valley Railway (WWV).
In 1931 the company ended remaining passenger services, and by that time freight derived 93% of its annual gross revenues.
During these years the fertile fruit region supplied the railroad with much of its freight business that included things like apples, cherries, and prunes although it also transported vegetables including peas, wheat, and beets.
Since this traffic was seasonal the WWV saw 60% of originating carloads during just four months of the year, between July and October!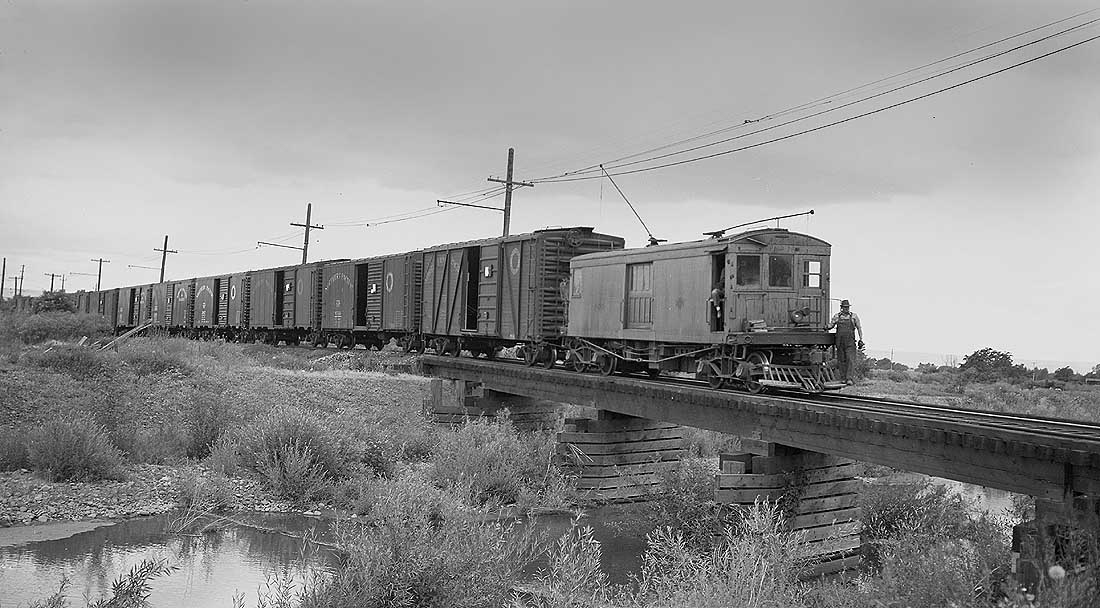 A Walla Walla Valley Railway boxmotor toting a string of empty boxcars in a scene typical of the interurban's operations.
Fruits and veggies, though, were not the WWV's only source of traffic as it also transported some other types of freight such as scrap metal, lumber, pulp, and paper.
During peak operations the railroad served a multitude of customers: at Walla Walla these included:
Snyder-Crecelius Paper


Continental Can Company


Snider/Birds-Eye Foods


Northwestern Ice & Cold Storage


Walla Walla Grange Supply


Consolidated Freight


Conoco Oil
At Milton-Freewater it served:
Continental Can's warehouse


Umatilla Canning


Harris Elevator (grain)


Rogers Canning


Milton Box


Blue Mountain Growers Co-Op


Milton Grain


Lamb Fruit


Stadelman Fruit


Another Milton-Ice & Cold Storage


Smith Frozen Foods


E. Brown & Sons


Mojoinner Fruit


Valley Feed


Pendleton Grain Growers
This, of course, did not include the many orchards the WWV also served.
Electrified operations would come to end on December 16, 1949 when the railroad acquired a former Northern Pacific Alco HH660 diesel switcher, #770.
It later picked up an additional unit from NP, #775, in May of 1950. During the era of electrification the WWV used primarily B-B steeple cabs and box motors.
However, due to their increased temperamental nature and management realizing that if there was ever a power failure during the peak summer fruit and vegetable harvest business could be seriously affected, it was decided to replace them in favor of more reliable diesels.
The decision to dieselize was also an interesting one; a model had to be chosen which could navigate the Walla Walla's extremely tight trackage that swung down streets and through alleys to reach customers.
Initially, General Electric's light 44-ton design was considered but it couldn't move the required tonnage, which led to the decision in choosing the Alcos.
In November of 1955 the region experienced an unusually hard freeze, hitting apple and prune orchards in particular.
While the WWV did see carloads of both commodities rebound somewhat by 1960 neither reached such high levels again (which had peaked at more than 1,000 carloads annually).
Despite this setback in 1959 the WWV saw its highest originating loads ever, providing parent NP with 3,550 cars.
In 1968 the short line retired Alco #775 and replaced it, as well as #770, with two EMD SW1s (#77 and #104) between August, 1971 and March, 1972 following the Burlington Northern merger in 1970.
By this date beets made up nearly 45% of the WWV's traffic base and a switch to corn syrup as a sweetener in the late 1970s forced many farmers in the region out of business and a significant loss of income for the railroad. 
(Thanks to Blair Kooistra and Marc Entze's "Walla Walla Valley: 1968, Twilight Of A Former Interurban In Produce Country" from the December, 2004 issue of Trains as a primary reference for this article.)
---
There were also over issues facing the little line; trucks were taking away considerable business as well since its traffic was predominantly short-haul in nature.
Additionally, shippers could not take advantage of the larger cars then being used within the industry (which would have lowered shipping costs) since the Walla Walla's track and infrastructure could not handle the heavier equipment.
Alas, by 1982 the railroad originated just 163 carloads and service became so sporadic that BN transferred remaining WWV employees to other positions and operated the line on an as-needed basis.
After a continued drop in carloads in 1983 BN petitioned the Interstate Commerce Commission for complete abandonment of the route in 1984 with approval granted on April 19, 1985. The railroad wasted no time in completing the process and the final train ran on May 26 of that year.