Washington Train Rides

Washington train rides are noteworthy for their incredible scenic views, ranging from the rolling desert hills and farmland in the eastern regions to the breathtaking Cascade mountain range in the west. If you want to take a rail excursion in the state that truly defines the Pacific Northwest then I would strongly consider visiting Washington. The state's tourist railroads also offer a lot of different sights and sounds from classic diesel locomotives to historic steam locomotives. You can also catch views of Mt. Rainier aboard the railroad named after the mountain as well as ride antique trolleys at Yakima Valley Trolleys. Finally, if you would like to enjoy a meal during trip that is also option offered by the Chehalis-Centralia Railroad & Museum.  Please note!  The guide information here pertains only to Washington train rides related to vacation and tourism destinations.  If you are interested in intercity/long distance rail travel please visit Amtrak's website.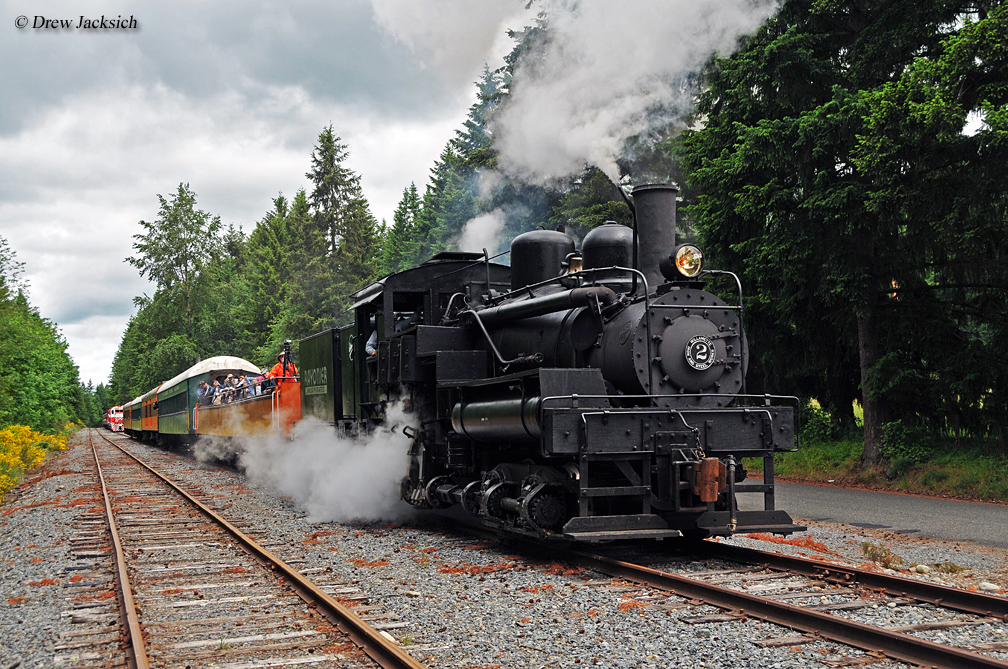 The state of Washington has a fascinating history with trains, once being home to three transcontinental railroads (the Northern Pacific, Great Northern, and Milwaukee Road), as well as several famous streamliners. Today, the state's tourist railroads try to preserve its rich rail heritage, two of which use tracks once owned by the Milwaukee Road. Additionally, excursions like the Chelatchie Prairie Railroad look to tell the history of Washington's vast logging railroads, which were once dotted all over the western areas of the state. Of particular note, if you would like to see venerable geared steam live, and in operation check out either the Mount Rainier Scenic Railroad, which has a nice fleet of these locomotives in service. They are definitely something to see in person. Finally, if you are interested in Washington train rides that pertain to specific events, such as "The Polar Express," Halloween, Thomas the Tank Engine excursions, or fall foliage events please visit the main tourist trains section of this website.
Washington Train Rides And Railroad Museums, 2018
Bellingham Railway Museum
This museum is located in Bellingham tells the history of railroad operations in Whatcom and Skagit Counties, particularly as it related to the lumber industry.  There are several exhibits on-hand to see including an operating model train layout.  The museum is open most days of each week.
Cashmere Museum & Pioneer Village
Located in Cashmere this museum generally looks to preserve the history of the region and local area (i.e., Native Americans and early pioneers) although they do have a collection of rolling stock on-hand to see.  The facility is open during the warmer months each year.
Chehalis-Centralia Railroad & Museum
The Chehalis-Centralia Railroad & Museum located in Chehalis, Washington operate train rides on former Milwaukee Road trackage in the Chehalis Valley. The railroad and museum's primary goal is to preserve the area's railroad history and the excursion train really helps in this regard, especially since they have an operational 2-8-2 Mikado steam locomotive to pull the trains. The railroad also features several different dinner trains including brunch trains and murder mysteries.
Chelatchie Prairie Railroad

The Chelatchie Prairie Railroad, located in Yacolt, operates train rides on former logging trackage between Chelatchie Prairie and Lucia Falls that was eventually owned by the Northern Pacific. The railroad normally operates between May and October with specials running through December.
Dayton Historic Depot
This museum is located in the small town of Dayton at the beautifully restored Union Pacific depot constructed in 1881.  It is operated by the Dayton Historical Depot Society and features a fine collection of artifacts and displays.  Also, be sure and stop by to see their preserved UP caboose outside.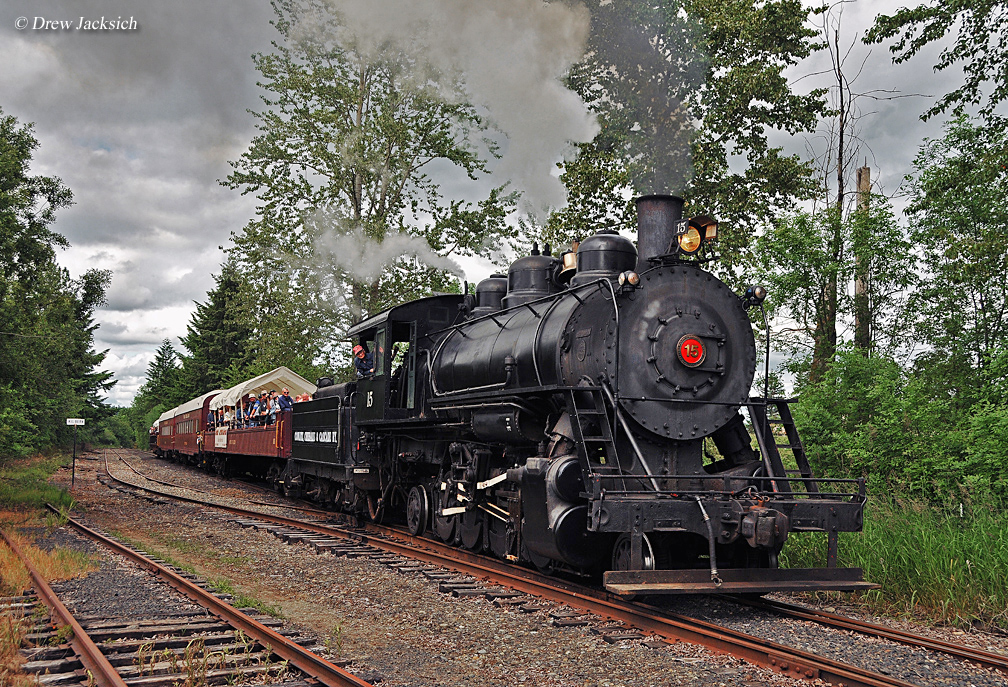 Lake Whatcom Railway

The Lake Whatcom Railway, based in Acme, Washington, in the northwestern corner of the state operates on former Norther Pacific trackage with train rides lasting about an hour-and-a-half. The railroad uses a vintage Alco diesel switcher for power and normally operates during the warmer months of the year. 
Mount Rainier Scenic Railroad
One of the most popular of all Washington train rides is the Mount Rainier Scenic Railroad based out of Elbe, which utilizes former Chicago, Milwaukee, St. Paul & Pacific (The Milwaukee Road) rails. For a small operation the railroad owns quite a large collection of operating steam locomotives although they are only operated when there are enough volunteers available to man them (the rest of the time diesel locomotives do the job). Regardless, the Mount Rainier Scenic operates in the spectacular Washington backcountry where logging was once king and today takes you on either an 18 or 30-mile round trip from the restored depot in Mineral.
Northern Pacific Railway Museum
The Northern Pacific Railway Museum is located in Toppenish at the Northern Pacific's restored depot located there.  Inside they feature a collection of displays and exhibits while outside are pieces of rolling stock to view.  The museum is also attempting to fully restore NP 4-6-0 #1364, a 1902 product of Baldwin.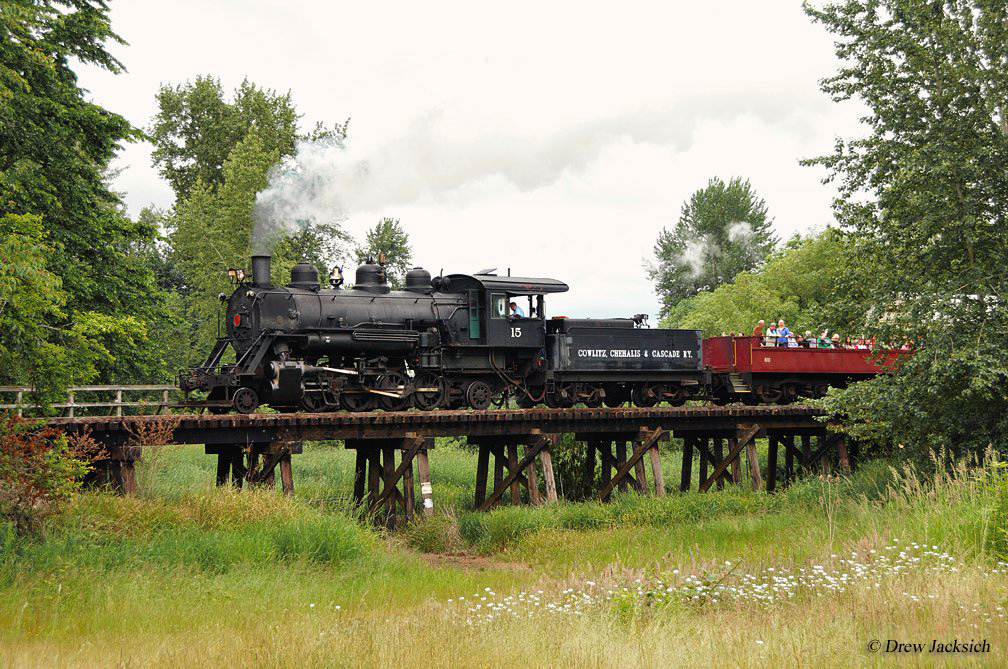 Northwest Railway Museum
The Northwest Railway Museum, based in Snoqualmie, looks to preserve the area's railroad history and in doing so also hosts train rides between May and October. Trains board from the restored Snoqualmie depot and the museum hosts several special and seasonal excursions such as "A Day Out With Thomas" the tank engine.
Remlinger Farms' Tolt River Railroad
This attraction is located in Carnation offering scale train excursions among several different rides available at the park.  They are open from May through October each year.  To learn more please visit their website.
Tacoma Railroad Heritage Center
Since 1965 the Tacoma Railroad Heritage Center looks to tell the history of railroads serving the city and Puget Sound region.  They have several exhibits and displays on-hand to see and peruse.
Washington State Railroads Historical Society Museum
This organization attempts to tell the history of all the railroads which played a role in developing and shaping the state of Washington.  They have a large collection of artifacts and displays but currently do not have a museum facility in which to showcase them.

Yakima Valley Trolleys
Yakima Valley Trolleys, based in Yakima is Washington's only operating heritage interurban line. The interurban operate train rides on trackage once owned by the Yakima Valley Transportation Company, a freight interurban that served the Yakima Valley for nearly one-hundred years.
Home

›
Tourist Train Information
› Washington