Guide To Amtrak/Passenger Trains In Washington (2023)
Published: July 17, 2023
By: Adam Burns

Washington state, known for the Cascade Mountains, eastern plains, Puget Sound, and vibrant cities offers an array of exciting travel opportunities. One of the most picturesque and convenient ways to explore this beautiful region is by hopping on a passenger train.
With a robust rail network and several popular routes, the state provides travelers with a unique and memorable train travel experience. In this guide, we'll take a closer look at the current passenger rail services in the Evergreen State.
Photos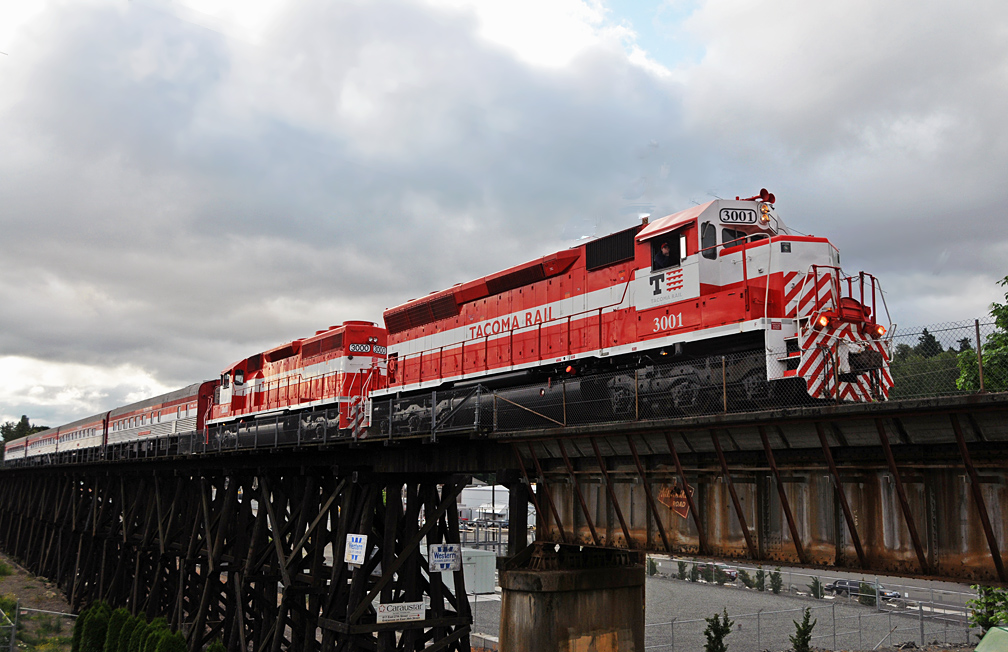 Tacoma Rail SD40R #3001 leads an excursion over the former Milwaukee Road at Mineral, Washington on June 23, 2011. The train ran to Eatonville where the passengers changed to the Mt. Rainier Scenic Railroad. Drew Jacksich photo.
Cascades
The Amtrak Cascades is a service that runs between Eugene, Oregon, and Vancouver, British Columbia, with multiple stops in Washington. This scenic route offers stunning views of the Pacific Northwest, including the Cascade Mountains, lush forests, and picturesque coastal areas. The train features comfortable seating, onboard amenities like Wi-Fi, power outlets, and a dining car offering a selection of delicious meals.
The heritage of Amtrak Cascades dates back to the pre-1970s when private lines like Union Pacific, Northern Pacific, and Great Northern hosted trains along this same corridor.  However, the current service has only been named such since the fall of 1998.
While the routing between Vancouver, Seattle, Tacoma, Portland and Eugene (Oregon) has been popular since Amtrak began, demand exploded in the 1990s when the carrier began offering new trains and other perks.
Today, the Cascades trains with their European equipment built by the French is the carrier's most popular in the west and now nearly tops one million riders annually.
As demand grows Amtrak continues to add new trains and services. Despite a funding situation that is always fuzzy and unpredictable, the Cascades will likely remain a very bright spot for the company throughout the foreseeable future.
When Amtrak first began it attempted to organize a chaotic network into something both manageable and sustainable in regards to the rather small operating budget it was given.
Additionally, it attempted to make sense of a tired fleet of both locomotives, passenger cars, and other equipment handed over by the private railroads.
One region which Amtrak retained was the Pacific Northwest and the corridor between California, Oregon, western Washington, and Vancouver.
Historically, this service had been provided through a combination of several roads; Union Pacific, Southern Pacific, Great Northern, Northern Pacific, and Canadian Pacific. There was no Amtrak Cascades in 1971.
However, you could reach all of those areas via trains such as the Coast Starlight (which continued to California), Mount Rainier, Pacific International (to Vancouver after 1972) and Puget Sound.
In 1980 northwest service received its first major "endorsement," if you will, when the state of Oregon subsidized a train to reach Eugene, the Willamette Valley.
While it appeared the stage was set for the region to receive even further improved services. However, in the early 1980s Oregon cancelled its sponsorship and around the same time the Pacific International was dropped to Vancouver.
This left only local/regional service between Seattle, Tacoma, and Portland (aside from the Coast Starlight to Los Angeles). Things remained the same for the next decade.
On April 1, 1994, with more funding available from both the federal government and the states of Washington and Oregon, Amtrak again looked to expand in the Pacific Northwest with new equipment built by the French company Talgo (short for Tren Articulado Ligero Goicoechea Oriol).
These cars, the only of their kind to be used in the United States, featured free tilting technology which meant that they could not only easily glide through curves but could also do so at high speeds.
Despite the fact that they were meant to operate at speeds over 100 mph the sets are limited to the mandated track speed of 79 mph. In any event, the cars offer passengers an incredible degree of comfort even though they are only used in regional service.
For power the trains used EMD's then-new F59PHIs, capable of operating at 110 mph with 3,200 horsepower.  When launched in 1994 the service was only available between Seattle and Portland on new trains the Northwest Talgo, Mount Rainier and Mount Adams later that year.
Then, in May 1995 the Mount Baker International returned service to Vancouver and a month later the Mount Rainier was extended to Eugene after Oregon again agreed to subsidize the service through its borders. 
This setup continued until the fall of 1998. It was then Amtrak began publicizing Amtrak Cascades service between Eugene and Vancouver, a distance of 467 miles if one were to travel the entire route, which offered eighteen stops.
An attractive new paint scheme adorned the five trainsets of green, white, and burnt umber.  The consist includes a baggage, a business coach, lounge-diner, Bistro café, five coaches, and finally a service car. 
For those looking for a convenient way to commute between Seattle and nearby suburbs, the Sounder Commuter Rail is an excellent option. Operated by Sound Transit, this commuter rail service connects Seattle with cities like Tacoma, Everett, and Lakewood. Sounder trains offer comfortable seating, bike storage, and onboard amenities like Wi-Fi, making the commute efficient and enjoyable for both residents and visitors.
Empire Builder
The Empire Builder is an iconic long-distance train service operated by Amtrak but with a heritage dating back to the Great Northern Railway, launched on June 10, 1929.
While not exclusive to Washington state, this route offers a memorable cross-country journey that passes through the state's northern region.
The Empire Builder starts in Chicago, Illinois, and travels all the way to Seattle, with stops in Spokane, Leavenworth, and other picturesque locations along the way. Passengers can marvel at the beauty of the Columbia River Gorge, the rolling hills of Eastern Washington, and the stunning landscapes of the Pacific Northwest.
Seattle's streetcar system, operated by King County Metro, provides a convenient and accessible mode of transportation for locals and tourists. The streetcars offer a comfortable and efficient way to navigate key areas of the city, connecting popular neighborhoods, business districts, and attractions.
Whether you're exploring downtown Seattle, visiting the lively Capitol Hill neighborhood, or heading to the vibrant South Lake Union area, the streetcar system provides easy access to these destinations.
Seattle's streetcar system consists of two main lines: the First Hill Streetcar and the South Lake Union Streetcar. The First Hill Streetcar connects the vibrant International District and Pioneer Square neighborhoods with the bustling Capitol Hill neighborhood, home to trendy shops, restaurants, and nightlife.
The South Lake Union Streetcar traverses the dynamic South Lake Union neighborhood, where you'll find tech companies, local breweries, and the picturesque Lake Union Park.
Seattle's streetcar system allows passengers to enjoy scenic views of the city as they travel from one neighborhood to another. The streetcars offer large windows, providing panoramic views of Seattle's iconic skyline, waterfront, and surrounding mountains.
Additionally, the stops along the streetcar routes are strategically placed, allowing passengers to easily explore nearby attractions on foot. Whether it's hopping off to visit a local café, browse through independent boutiques, or take a leisurely stroll through a picturesque park, the streetcar stops open up a world of possibilities.
Future Developments
Washington state is also actively working on expanding and enhancing its passenger train services. Plans are underway to improve the Amtrak Cascades route, including increasing train frequencies, reducing travel times, and upgrading infrastructure. Additionally, there are ongoing discussions about the potential introduction of high-speed rail in the region, which would further enhance connectivity and travel options.
Tips for Train Travel in Washington State
Book tickets in advance, especially during peak travel seasons, to secure your preferred travel dates and times.
Consider upgrading to business class for additional comfort and amenities.
Take advantage of the onboard dining options and savor the local flavors as you enjoy the passing scenery.
Don't forget to bring your camera or smartphone to capture the stunning vistas along the way.
Check the Amtrak and Sound Transit websites for the latest schedules, fares, and any updates on service disruptions or changes.
---
Two of Seattle's historic streetcars, #605 and #512 from Melbourne, Australia, are seen here in service on July 10, 2005. These cars are currently stored. Drew Jacksich photo.
Conclusion
Whether you're admiring the natural beauty of the Pacific Northwest on the Amtrak Cascades, commuting to work on the Sounder Commuter Rail, or embarking on a cross-country adventure on the Empire Builder, the passenger train services in Washington state provide convenient and scenic travel options. So, next time you plan your journey through this picturesque region, consider hopping on a train and enjoy the sights, sounds, and comforts of rail travel in Washington state.