Waterloo, Cedar Falls & Northern Railway

Last revised: June 24, 2023
By: Adam Burns

The Waterloo, Cedar Falls & Northern Railway was originally created in the late 19th century as an interurban road to serve the Waterloo area.

It rapidly grew, however, into one of Iowa's largest such systems and is widely recognized for its development of carload interchange business within the interurban industry.
The WCF&N worked so hard at this practice that it became a major source of revenue for the company, so much so that without it the road would very likely have withered away during the 1920s since passenger traffic was never in high demand even during peak years (although surprisingly, these services survived until the 1950s).
In the late 1950s the road was jointly purchased by the Rock Island and Illinois Central which renamed it as the Waterloo Railroad.
Much of the property was abandoned by the 1980s when the IC had become sole owner. Today, a section of the line to Waterloo remains in use, owned by IC successor Canadian National.
Photos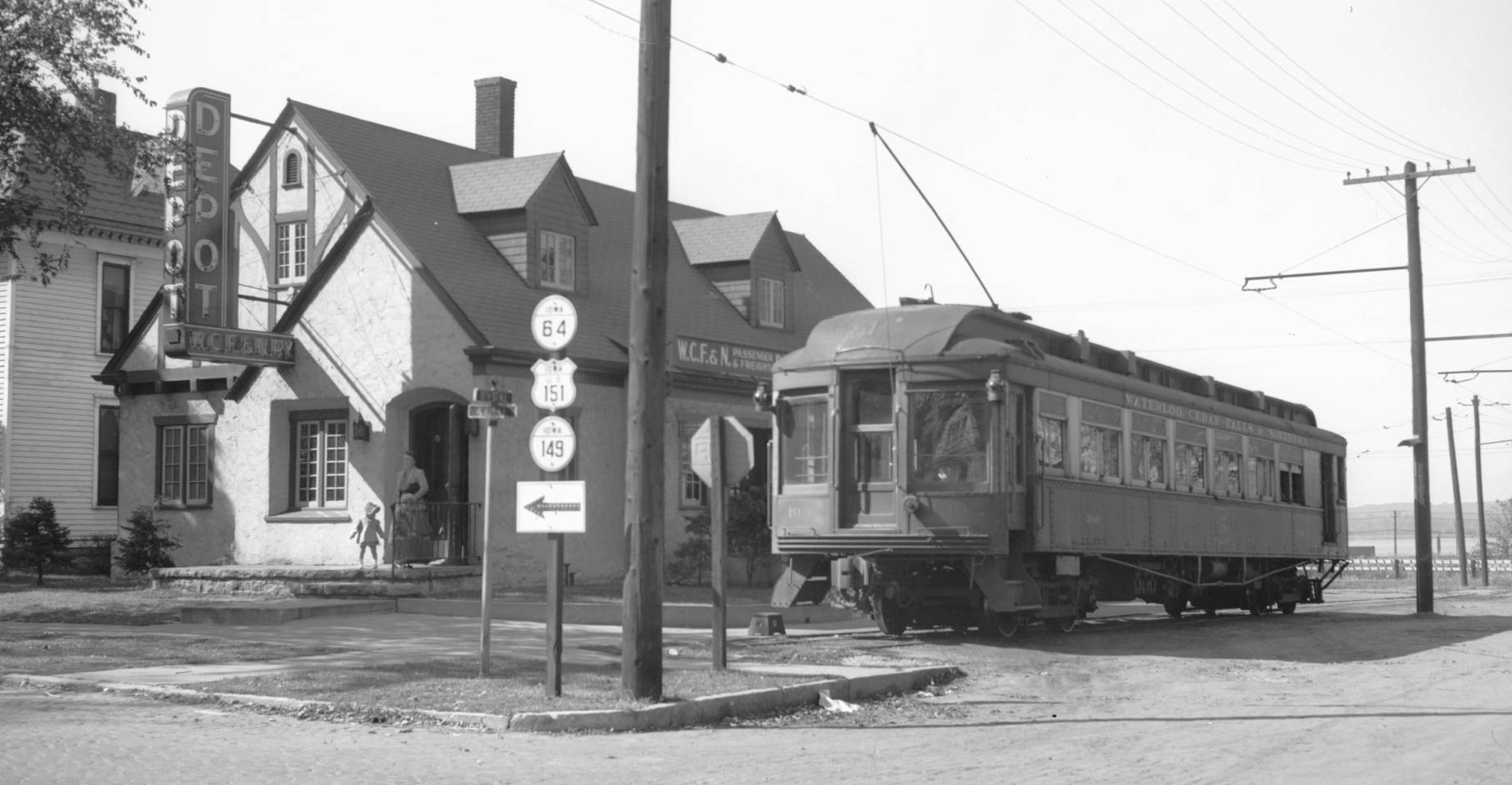 Waterloo, Cedar Falls & Northern interurban car #100 waits at the depot in Cedar Rapids, Iowa for a few passengers to come aboard on October 3, 1945. The stub-end tracks here simply ended at the street corner. Otto Perry photo.
History
The Cedar Valley Road was the vision of the Cass brothers Louis, Joseph, and Claude who already had experience working on main line railroads.
In the late 19th century the interurban industry was only in its infancy although the brothers believed there was real potential in this new form of railroading.
In 1895 they organized the Waterloo & Cedar Falls Rapid Transit Company with intentions at first to serve the Waterloo, Iowa area.
At A Glance
Headquarters

Waterloo, Iowa (Midland Building)

States Served

Iowa

Dates Of Operation

1897 - 1956

Track Gauge

4 Feet, 8 ½ Inches

Genesis

Waterloo & Cedar Falls Rapid Transit Company (Organized 1895)

Formation Date

1904

Route Miles

140 (1930)

Electrification

1,300-volt DC (main lines)

650-volt DC (cities)

Principal Lines

Cedar Rapids - La Porte City - Waterloo - Waverly

Waterloo - Normal, Iowa

Connections

Chicago Great Western (Waterloo, Cedar Falls, Waverly)

Illinois Central (Waterloo, Cedar Falls, Waverly, Cedar Rapids)

Rock Island (Waterloo, Cedar Falls, Waverly, La Porte City, Center Point, Cedar Rapids)

Milwaukee Road (Cedar Rapids)

Chicago & North Western (Cedar Rapids)

Cedar Rapids & Iowa City Railway (Cedar Rapids)

Slogan

The Cedar Valley Road

Reporting Mark

WCFN

Successors

Illinois Central and Rock Island
From the beginning, however, the brothers insisted that the interurban be built to strict main line standards so as to insure the possibility of future interchange with the many large railroads operating nearby.
By 1897 the W&CFRT had reached nearby Cedar Falls (located about seven miles to the west) and taken over Waterloo's local streetcar line, electrifying that operation.
In 1901 it extended northward reaching Denver 14 miles away and two years later opened a short spur from this point to interchange with the Chicago Great Western.
The following year in 1904 the company was reorganized as the Waterloo, Cedar Falls and Northern Railway to better reflect its ambitions.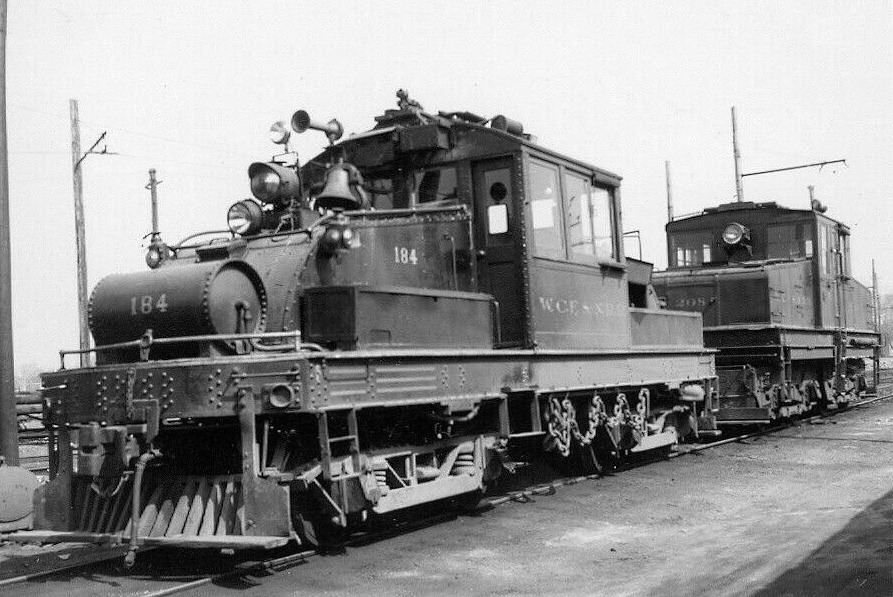 Waterloo, Cedar Falls & Northern freight motors #184 and #208 are seen here in Waterloo, Iowa, circa 1940's. As George Hilton and John Due note in their book, "The Electric Interurban Railways In America," the Cedar Valley Road worked hard to develop freight business from an early period and was also an early proponent of interchange freight business with the surrounding steam railroads: #184 was built by the McGuire-Cummings Car Company in 1915 (retired in 1957) and #208 by General Electric in 1930 as Interstate Iron Company #208. The latter was acquired in 1947 and retired in 1957.
From the time the WCF&N opened its connection with the CGW it began to focus on carload freight business and soon became a valued partner with the Class I, even entering into trackage rights agreements so the interurban could reach Sumner 44 miles away to the northeast (offering both freight and passenger service between there and Waterloo).
In 1910 the company opened its own line as far north as Waverly, ending CGW trackage rights to this point but still retaining them to Sumner.

Map
Interestingly, it was not until 1912 did the WCF&N begin to look southward, which would ultimately constitute the bulk of its system.
That year in December it opened as far as La Porte City (18.97 miles) and on September 14, 1914 had reached Cedar Rapids 62.05 miles from Waterloo.
At its southern terminus the road interchanged with the Milwaukee Road, Chicago & North Western, Rock Island, Illinois Central, and fellow interurban Cedar Rapids & Iowa City (the CRANDIC Route).
Keeping true to their intentions in operating to high standards the main line (and the whole system in general) ran along privately-owned right-of-way and was electrified using a 1,300-volt, D.C. system (incredibly powerful for an interurban when most didn't operate more than 600 or 800-volt systems).
Logo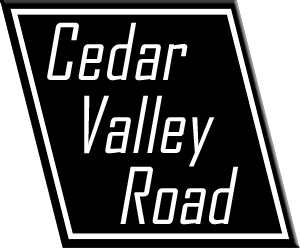 Despite the fact that passenger demand never materialized, early on the WCF&N also operated this service to a high level.
After completing its Cedar Rapids line the company ordered seven all-steel cars from the McGuire-Cummings Manufacturing Company of Paris, Illinois (this builder would supply the WCF&N with nearly all of its passenger equipment over the years).
Of these, four were combination baggage coaches and the the other three were de luxe parlor-buffet-observation cars.
The interior of the cars were incredibly luxurious for an interurban with ornamental brass railings, scalloped awnings draped from the roof overhangs, washrooms, hot water heaters, oak paneling, leather-upholstered wicker armchairs, and an illuminated "Cedar Valley Road" drumhead on the rear platform.

Additionally, in a rare move for an interurban, the WCF&N worked in conjunction with the C&NW to provide through Pullman service between Chicago and Waterloo.
This survived until the 1930s when demand began to quickly decline following the rise of the automobile and ongoing depression.
The road's top-notch passenger operations did not even last that long, after just a few years of providing this service lack of demand forced it to scale back.
By 1952 daily scheduling had ended altogether and the interurban provided only weekend runs after that point. A 1954 roundhouse fire at its headquarters in Waterloo destroyed most of its passenger equipment and this ultimately led to the discontinuance of such service altogether after July 31, 1958.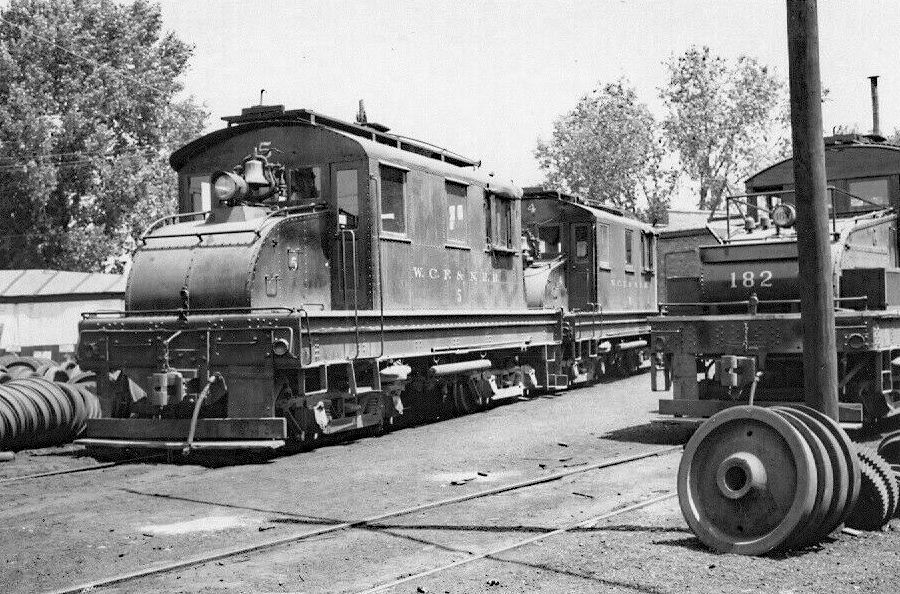 Waterloo, Cedar Falls & Northern steeple-cab freight motors #4 and #5 at the interurban's primary engine facility in Waterloo, Iowa circa 1940's. Both were manufactured by the company's own shop forces; #4 in 1910 and #5 in 1912. They remained in service until 1957.
The WCF&N's forward thinking of its freight business kept the company humming along as passenger demand waned.
It had three interchange points with the Class Is mentioned above (Waterloo, La Porte City, and Cedar Rapids) and was able to remain fairly profitable after World War I except for a period during the mid-1920s.
Two decades later, however, it was not so fortunate as it fell into receivership in 1940 and reorganized in 1944. While the interurban showed strong profits during the period its operating ratio was far too high (a typical problem in the industry).
In 1956 it was finally sold (then still owned by Cass interests) to the IC and Rock Island which renamed it as the Waterloo Railroad.  A year later all remaining electrified services ended, which had been provided by a fleet of freight motors and steeple-cabs most of which had been built by Baldwin-Westinghouse.
---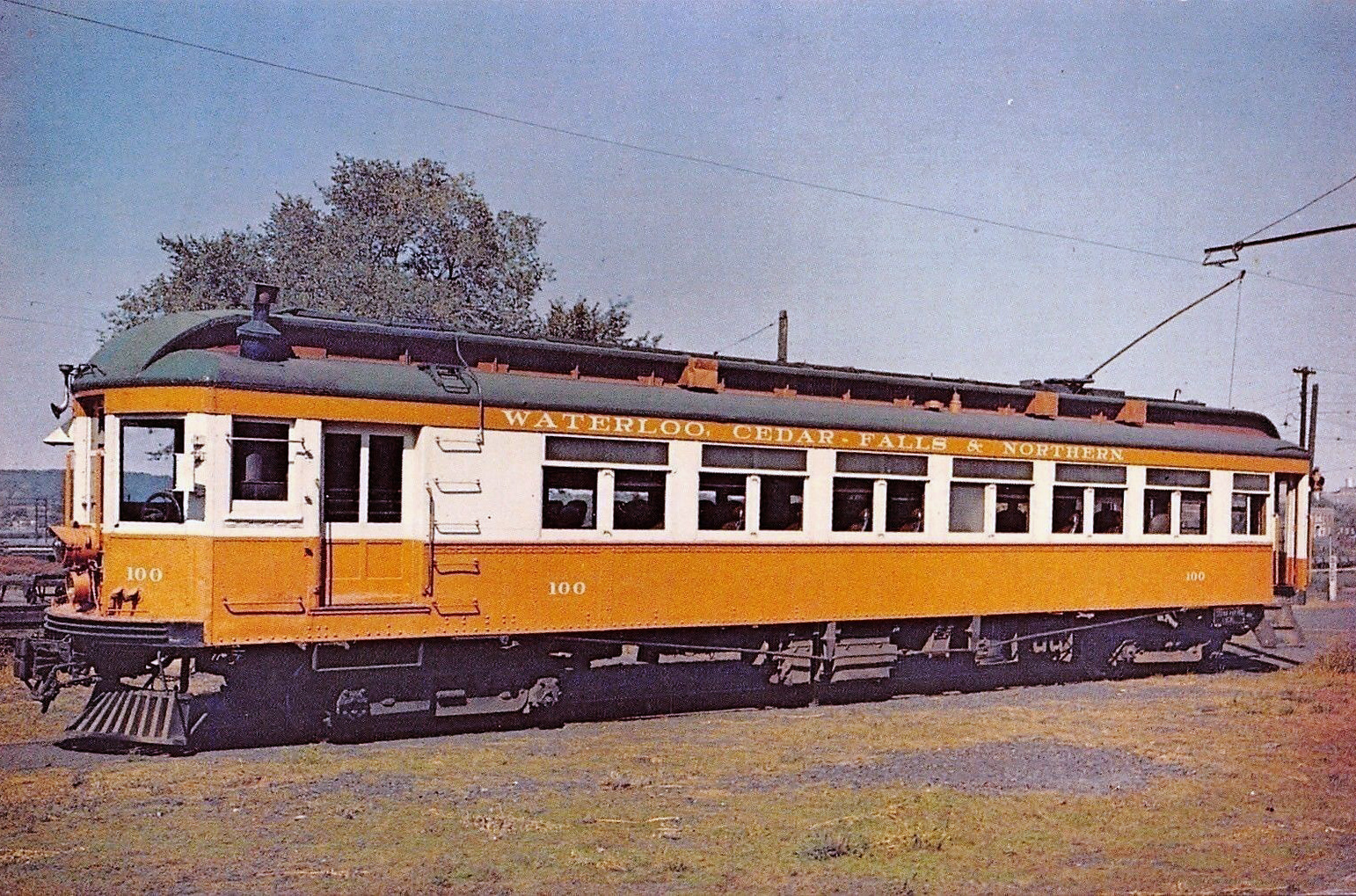 Waterloo, Cedar Falls & Northern car #100, built by the McGuire-Cummings Company in 1915. It was donated to the Iowa Chapter/NRHS in 1956 but consumed by fire on November 23, 1967.
Final Years
In their place four Electro-Motive SW900 diesel switchers were purchased, #1-4, painted originally in the road's black and white livery (later in the mid-1970s they were repainted into IC's white and orange).
In 1968 the CRI&P sold its share and before the year ended remaining owner Illinois Central began abandoning most of the railroad.
On December 24, 1985 Class II, regional Chicago, Central & Pacific Railroad was formed from ex-IC trackage which included the remaining WCF&N line that still survived around Waterloo. This was repurchased by the IC in 1996 and is still owned by Canadian National which acquired the Class I in 1999.