Well Cars, Hauling Today's Intermodal Needs

Last revised: June 23, 2023
By: Adam Burns

Today's well cars go by many names (double-stack cars, for instance) but their primary purpose has not changed over the past twenty years or so; to haul international containers in loads of one or two from port to market and vice-versa.

While the car has been embraced by railroads for its efficiency it is actually little more than a glorified flat car.
The well car was also another step in the evolution of COFC service (said "Cof-cee"), or "Container On Flat Car."
You might be surprised to learn that while the movement of intermodal freight in such large quantities is a relatively recent phenomenon, its history and experimentation within the industry can be traced back decades to around the time of World War II! 
During this time railroads like the Pennsylvania, Baltimore & Ohio, Erie, and New York Central all tested the concept although it remained relatively isolated to the testbed sector. 
It slowly grew from the 1950s to become a major source of traffic for roads like Conrail and the Santa Fe during the 1980s. Today, most Class Is now derive a substantial source of annual revenue from the movement of intermodal.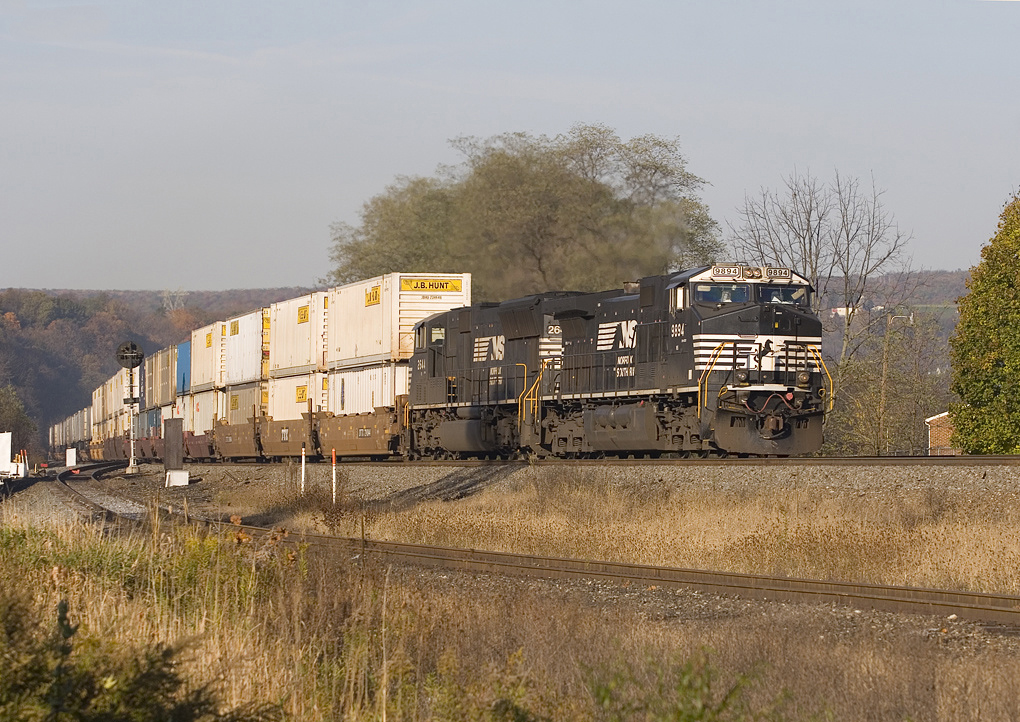 Norfolk Southern C40-9W #9894 and SD70M #2644 grind up grade with stack train 20W at Portage, Pennsylvania on October 20, 2009. Wade Massie photo.
The beginnings of COFC date back to the 1940s and 1950s when railroads began experimenting with TOFC service (said "Tof-cee").
The Baltimore & Ohio actually employed the saying when it marketed its TOFCEE service for many years through the 1960s and 1970s, or "Trailer On Flat Car."

One of the first lines to try out this new type of freight, moving either trailers or containers, was the Pennsylvania Railroad.
The service was pretty straightforward as it basically involved standard 40-foot flatcars to haul truck trailers in large numbers.
This setup benefited the trucking companies allowing for several of their trailers to be moved over long distances, which is often quicker and cheaper while also providing railroads with another means of traffic.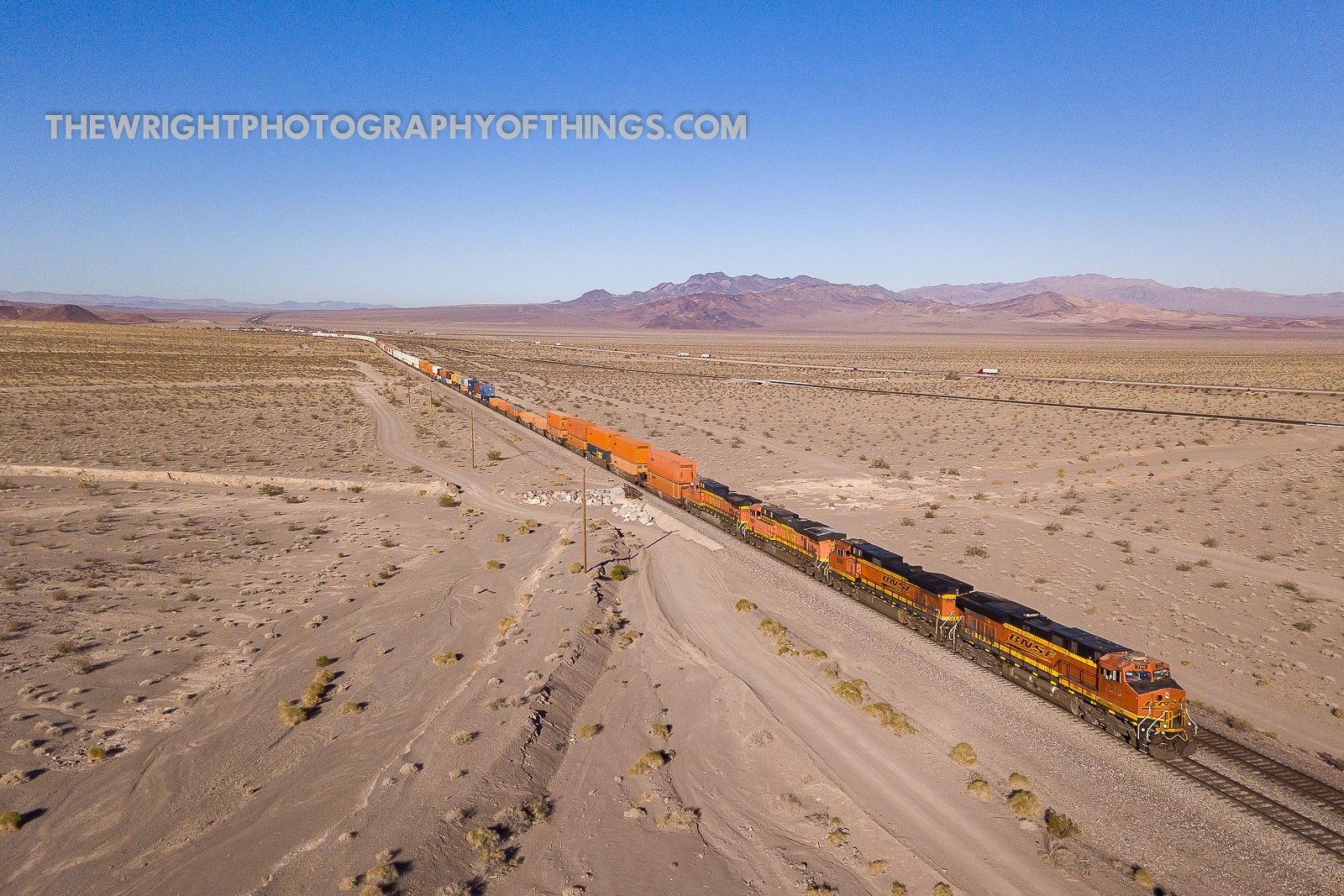 A quartet of BNSF power are running the former Santa Fe "Transcon" near Ludlow, California with an eastbound intermodal on November 1, 2019. Jon Wright photo.
COFC and TOFC service went through significant experimentation over the years by several different railroad.
The little Chicago Great Western Railway, a granger road operating trackage west of Chicago in the Heartland, is credited with pioneering TOFC's widespread use.
The CGW proved that the commodity was a profitable venture and despite its regional status continued to grow the business before its takeover by the Chicago & North Western.
As the 1950s gave way to the 1960s TOFC service, also known as "piggyback" (because trailers "piggybacked" their journey by train), began to really gain momentum with many Class I railroads using it in one form or another. This led to the construction of new hubs and terminals specifically to handle TOFC service. 

In this beautiful aerial view of Cajon Pass an eastbound Union Pacific container train is climbing upgrade on November 3, 2019. Jon Wright photo.
As railroads do so well the advent of unit trailer trains soon took hold whereby the same commodity is blocked together.
Such movements at the time were usually given top priority over the particular route they operated (often known as "hotshots") with names like TrailerJet, Apollo, Razorback, Thunderhawk, and Flexi-Van. T
he change from "Trailer-On-Flatcar" to "Container-On-Flatcar" service began when the large ocean commerce industry started development of a new standard, international container that could more efficiently be loaded and unloaded at world ports.
What they came up with was today's rectangle box configuration of 20 feet high by 40 feet long.
While railroads would continue to employ piggyback service (and still do, today, with specialized cars known as spine cars), there was a clear shift in COFC service when this new container became widely used.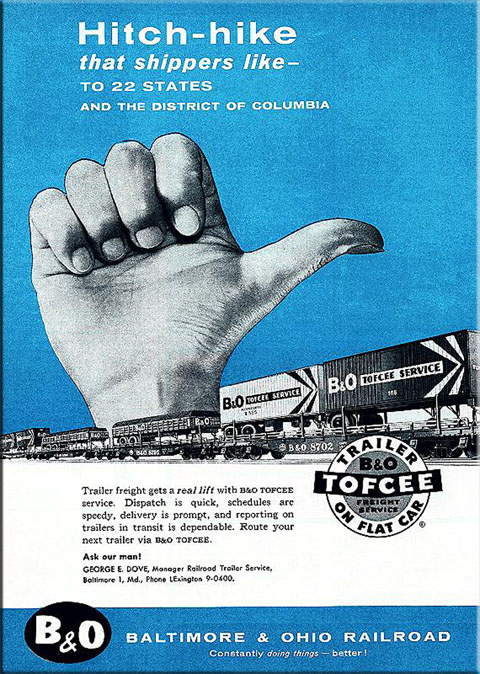 For railroads, the widespread use of the container began in the 1980s. However, at first they found it rather difficult to transport because there was no specialized car to handle the equipment requiring the use of traditional flatcars.
The biggest problems railroads faced with this setup were the inefficiencies the car provided.
First, only one container could be transported on each car as two would make for a very dangerously high center of gravity while tunnel clearances could often not accommodate such heights.
Second, the containers were built to interlock with one another but with only one capable of being handled per car, each had to be manually secured with chains, which took an excruciatingly long time.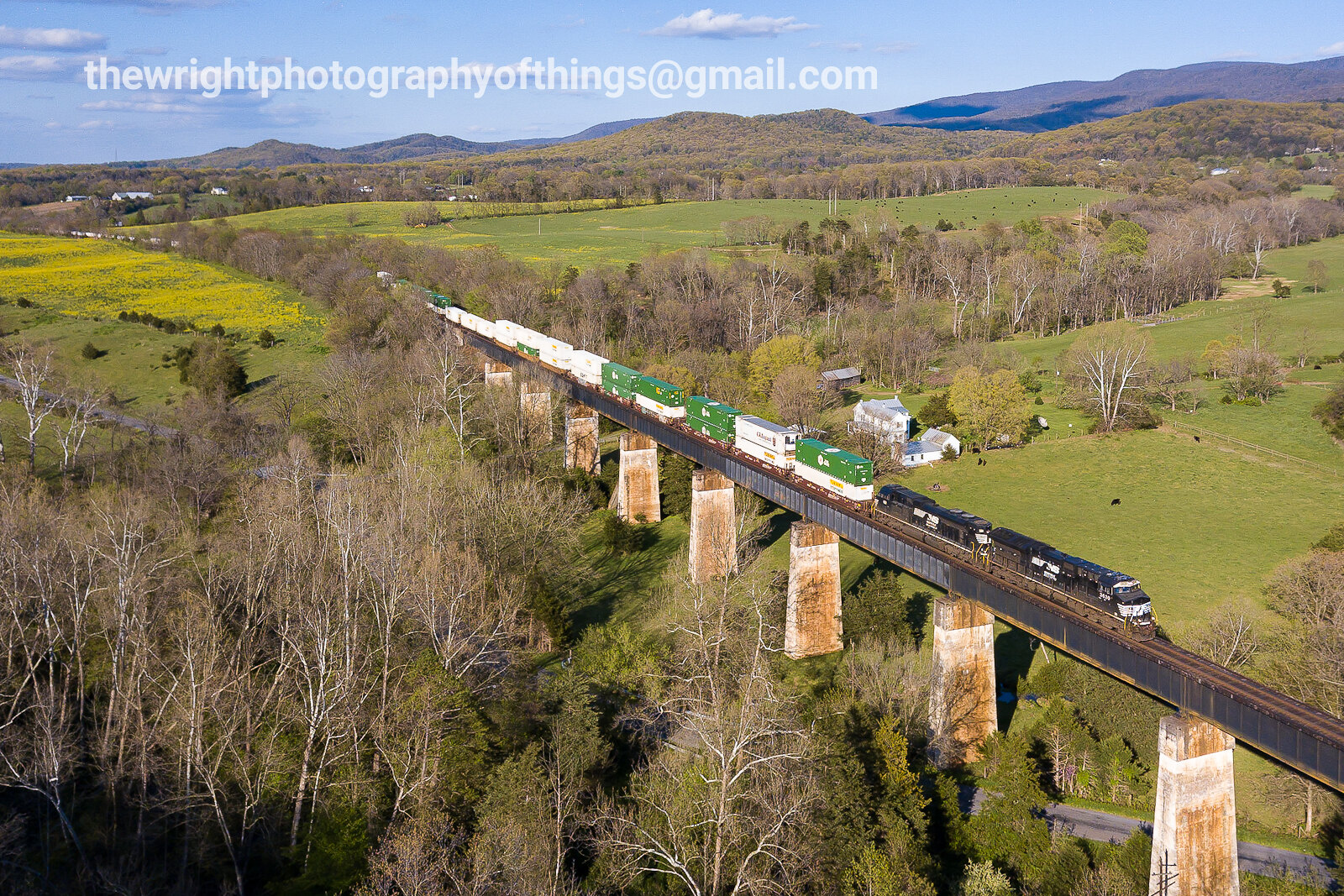 Norfolk Southern intermodal train 201 heads south across Jeremy Run Trestle just south of Rileyville, Virginia on April 18, 2020. Jon Wright photo.
This could not do and after working with freight car builders the railroads came up with the unique well cars of today, which are sort of a mix between a gondola and center-depressed flatcar (used to haul extremely heavy loads, they typically are equipped with six axles or more).
This design allows for two containers to be easily transported in each car with both sitting low enough that tunnel clearances became less pronounced.
Today, well cars are found in widespread use all across the country, better known as intermodal service, especially on the Norfolk Southern and BNSF Railways, which haul hundreds of thousands of containers per year.
Nearly all Class I's today derive a large portion of their traffic base from the movement of intermodal.
For instance, if you live near the BNSF Railway Transcon between Los Angeles and Chicago you can witness literally hundreds of nothing but container trains traveling between the two cities every day. 

---
A pair of CSX C40-8Ws led by #7324 have intermodal freight Q182 at Pinoca Yard in Charlotte, North Carolina completing its run from Savannah, Georgia on October 10, 2009. Dan Robie.
The growth of this particular market has been such that eastern giants CSX and NS have spent billions of dollars updating major routes that continued to be plagued with tight clearances an issue western roads have largely avoided.
Known as the Heartland Corridor (NS) and National Gateway (CSX) projects they have allowed for the movement of double-stacks over their respective routes instead of single containers the carriers were forced to handle before.
Naturally, this has allowed for a great boon of freight and profit derived from a single train.
As the United States companies continue to outsource their products and imports remain high, expect the handling of intermodal freight to remain a major source of the rail industry's traffic base.