Wisconsin Railroads In "The Badger State"

Last revised: October 11, 2023
By: Adam Burns

Historically Wisconsin railroads have featured everything from intermodal and ore traffic to main lines and light density branch lines (many of these served grain elevators or other agricultural traffic).

Perhaps, though, what Wisconsin railroads are best remembered for is the Chicago, Milwaukee, St. Paul & Pacific whose nickname, The Milwaukee Road became the railroad's unofficial adopted name, forever putting the Milwaukee on the map. 
History
While the Milwaukee was named for the state's largest cities, many other important railroads served there such as the Chicago & North Western; Chicago, St. Paul, Minneapolis & Omaha (C&NW); Soo Line; Chicago, Burlington & Quincy; and Green Bay & Western. 
The state's unique location meant thousands of miles of railroad were built here.  It was situated within the heart of America's breadbasket while also bordering two great lakes.
All types of freight traffic either originated or moved through its borders such as iron ore, agriculture, general merchandise, automobiles, and much more. 
Alas, with the industry's decline Wisconsin was hit hard by abandonments; since 1920, and particularly after the 1970's, the state has lost around 57% of rail infrastructure. 
In any event, throughout the article here there are links provided to other pages of the site here which relate to Wisconsin railroads.
Photos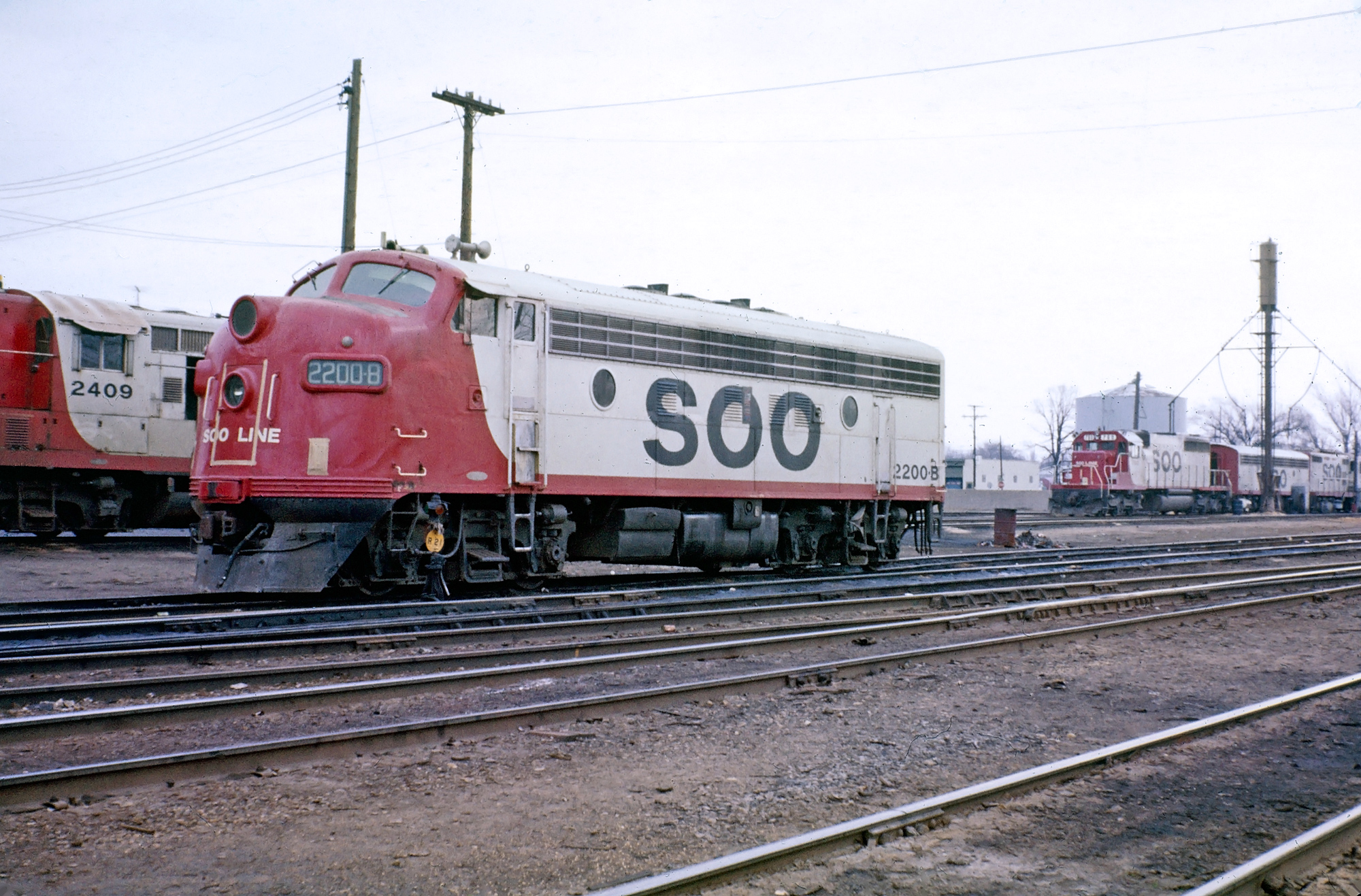 Soo Line F3A #2200-B, and other power, layover at the engine terminal in Stevens Point, Wisconsin on April 20, 1974. American-Rails.com collection.
Wisconsin railroads date back to 1847 when the Milwaukee & Waukesha Railroad was chartered by Byron Kilbourn to connect Milwaukee with Madison.
While construction of the railroad began two years later in the fall of 1849 soon after it changed its name before even beginning operations, to the Milwaukee & Mississippi Railroad.
By late November, 1850 the M&M had five miles open and operable on a wide, 6-foot gauge line running west from Milwaukee.
---
Abandoned Lines
With numerous major cities and industrial centers, coupled with thousands of acres of farmland, railroads crisscrossed Wisconsin by the early 20th century.
They also began to be pulled up as early as the 1920s, a process that accelerated after the 1960s.  All of the notable Midwestern granger lines served Wisconsin but three in particular stand out; the Milwaukee Road, Soo Line, and Chicago & North Western.
These roads dominated the state and scars of their abandoned rights-of-way can be found throughout. Most were secondary, agricultural branches although a few stand out, such as:
Soo Line's Duluth-Glenwood, Minnesota corridor, built in 1907 and abandoned by Canadian Pacific in 1990.


Chicago & North Western's former Chicago, St. Paul, Minneapolis & Omaha corridor that ran from Bayfield (along Lake Superior) to Hudson (along the Saint Croix River).
In addition to these routes, almost all of the historic Green Bay & Western is gone.  The "Green Bay Route" served the heart of Wisconsin, running 250 miles from Winona to Green Bay/Kewaunee.  In 1993 it was acquired by new startup Wisconsin Central and subsequently abandoned.
Finally, the Chicago, North Shore & Milwaukee cannot be forgotten.  This large and well-remembered interurban provided extensive rapid-transit service from Milwaukee to Chicago.
It even boasted a double-tracked main line, all electrified, and was successful, in particular, because it provided direct service to downtown Chicago via the Loop.
Alas, it, along with the Chicago, Aurora & Elgin, was pushed out in favor of highways, in particular the Eisenhower Expressway.
Once both roads lost access to the Loop, ridership plummeted and both were abandoned in the early 1960's.
---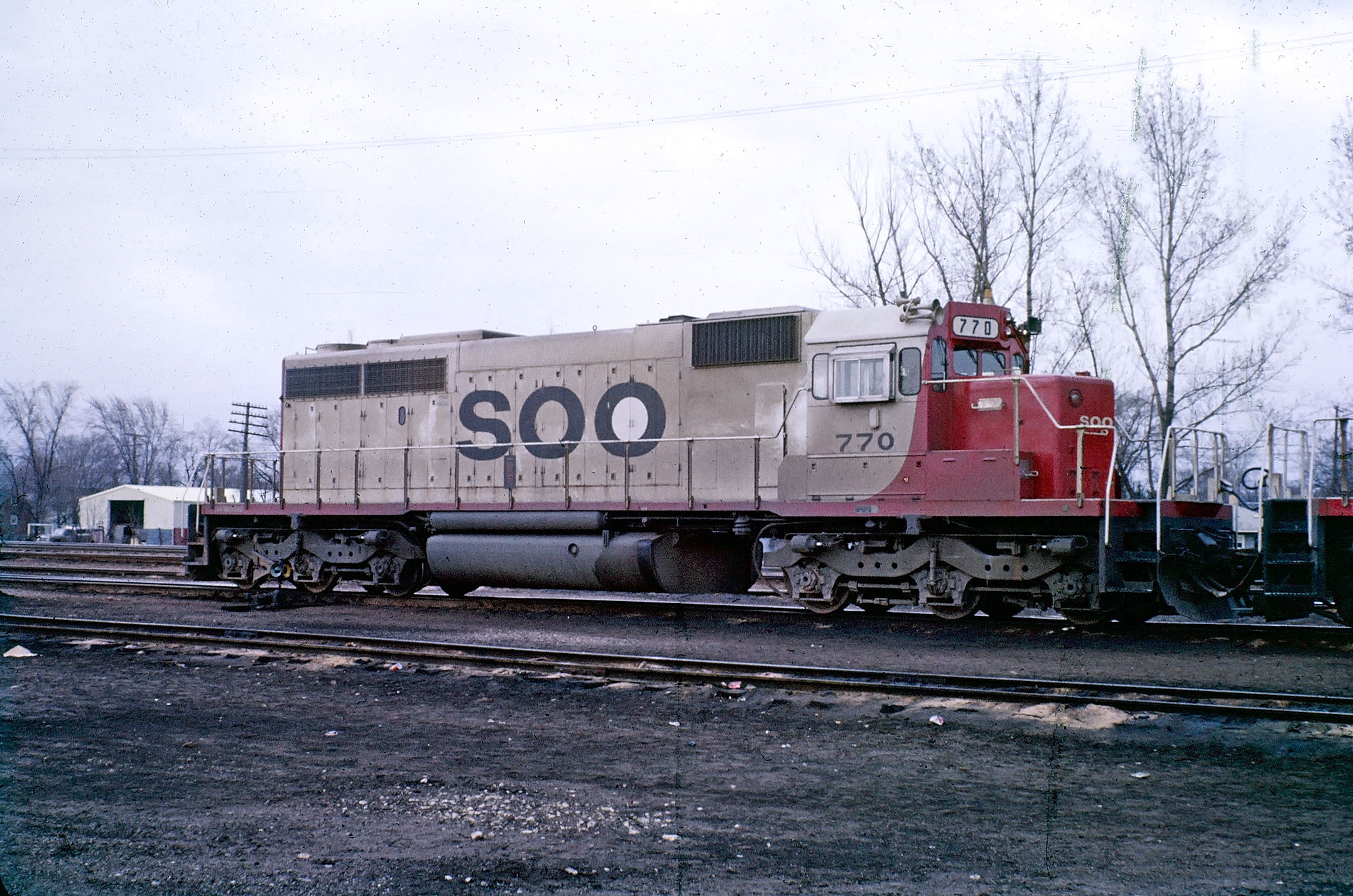 An already-dirty Soo Line SD40-2, #770, was photographed here between assignments in Stevens Point, Wisconsin on April 25, 1974. American-Rails.com collection.
By 1860 the M&M operated a system of 238 miles although a year later due to financial troubles it fell into receivership and soon emerged as the Milwaukee & Prairie du Chein Railway.
The M&PdC operated independently until late 1867 when it was purchased by the Milwaukee & St. Paul Railroad, an early predecessor of the venerable Milwaukee Road (whose full name was the Chicago, Milwaukee, St. Paul & Pacific).
Following the construction of the M&M, with ports along Lake Michigan and the natural resources and agriculture traffic available in Wisconsin railroads quickly flocked to the Badger State attempting to tap these resources.
In the succeeding years several classic railroad companies would operate within Wisconsin.

Today, many of the hundreds of miles of branch lines laid down by the C&NW and Milwaukee to serve grain elevators and other agricultural business have been abandoned.
However, some still operate under names like the Wisconsin & Southern, the historic Escanaba & Lake Superior Railroad, Wisconsin Northern Railroad, and the Tomahawk Railway. The key main lines that see movements of things like coal and intermodal are the realm of BNSF, Union Pacific, Canadian Pacific and Canadian National.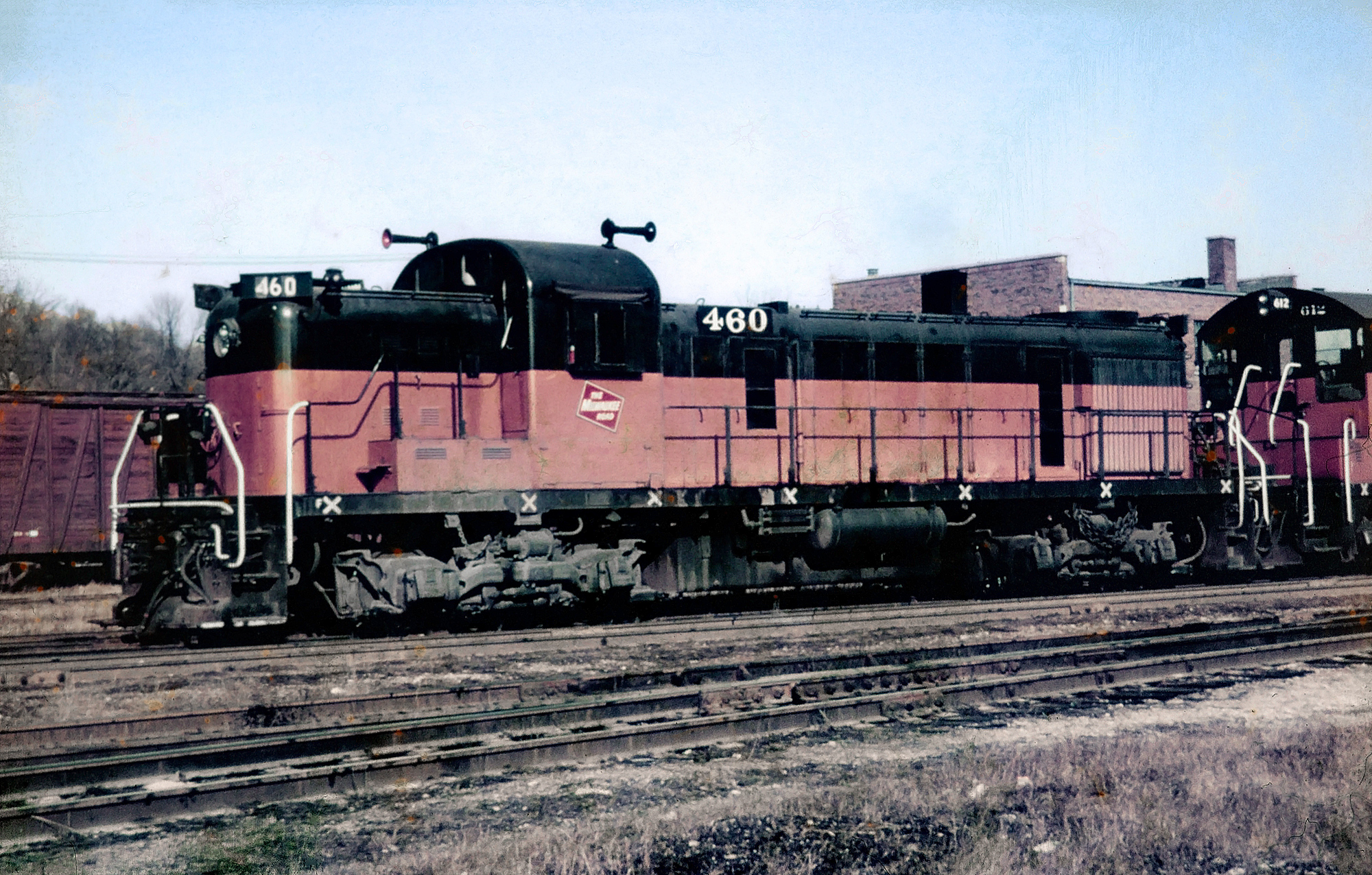 Milwaukee Road RS3 #460, sporting Blunt trucks from a retired S2 switcher, was photographed here at Janesville, Wisconsin in January of 1964. Interestingly, the unit's road trucks (colloquially known as AAR Type B's) were reused on newly purchased GP30's. American-Rails.com collection.
Current Railroads
Union Pacific


BNSF Railway


Canadian Pacific


Canadian National
Wisconsin & Southern


Escanaba & Lake Superior Railroad
Fox Valley & Lake Superior Rail System



Wisconsin Northern Railroad


 Tomahawk Railway
Because Wisconsin was another of the granger states it was hit hard by abandonments and service cutbacks between the 1960s and 1980s.
Where once there were numerous branch lines sprawling all across Wisconsin today just 45% of the state's original rail infrastructure remains in use.
State Mileage Chart
First Railroad
* Wisconsin's first railroad was a predecessor and the founder of the modern Milwaukee Road.  The Milwaukee & Waukesha Railroad was formed in 1847 to link its namesake towns with the Mississippi River. 
In 1850 its name was changed to the Milwaukee & Mississippi and that same year opened 5 miles from Milwaukee to Wauwatosa.  Following a few more years of construction it reached Prairie du Chien, along the Mississippi River, running via Waukesha, in 1857. 
The Milwaukee Road became one of Wisconsin's major rail carriers, along the Chicago & North Western, providing service to all of the state's largest cities.  Poor management was a primary cause of the Milwaukee's downfall during the 1970's and what was left was sold to the Soo Line in 1985.
During the 1920s, at the height of the railroad industry the state boasted a rail network of more than 7,500 miles. For more information on the Badger State's rail mileage over the years please have a look at the chart below.

State Map
In all, Wisconsin railroads offer a little of everything whether you're interested in main line railroading or just a relaxing ride behind a steam locomotive while watching Wisconsin's bucolic countryside roll by. 
---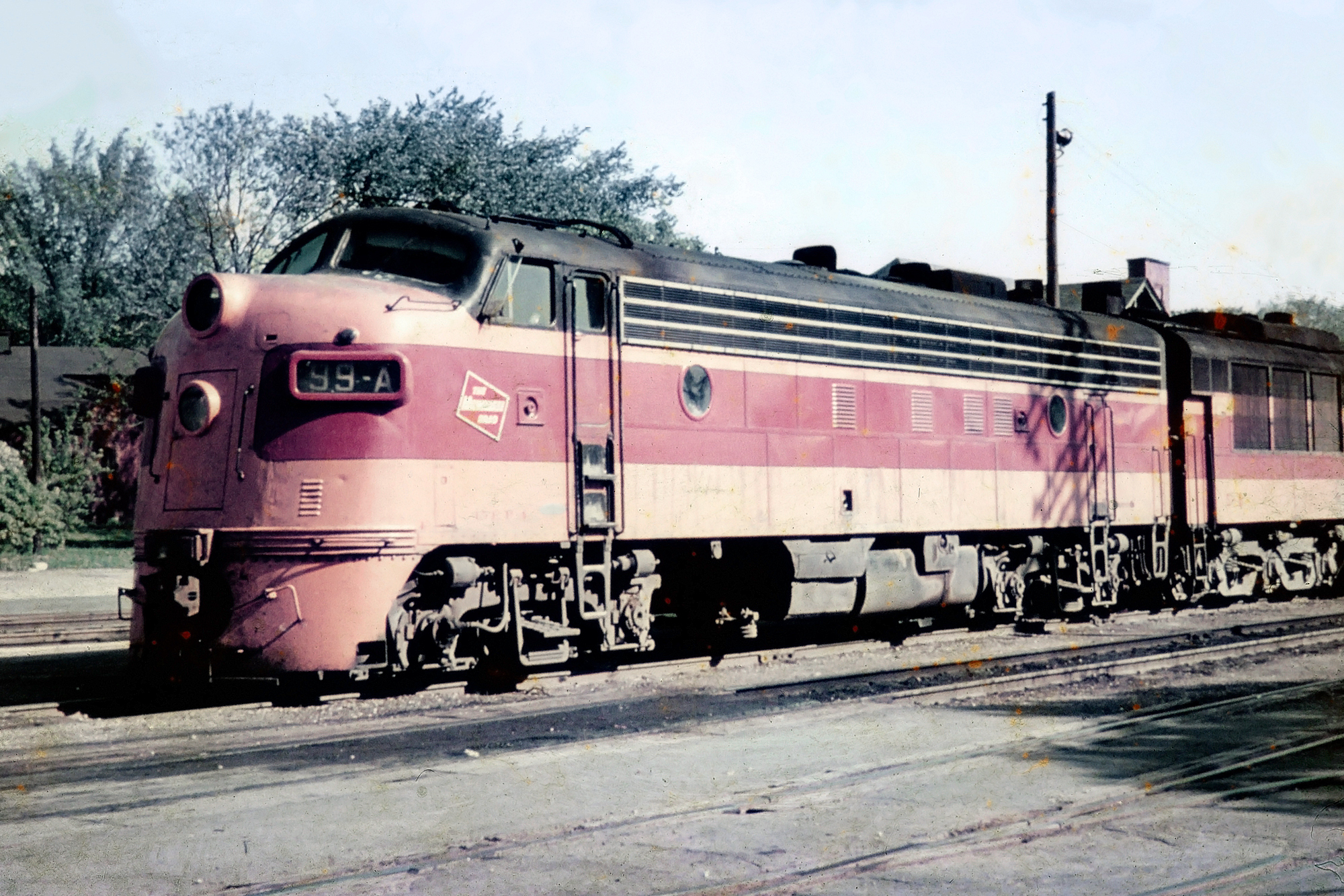 Milwaukee Road FP7 #99-A at Janesville, Wisconsin in May, 1956; trailing appears to be an FM "Erie-Built" unit. Fred Byerly photo. American-Rails.com collection.
While the CMStP&P's famous Hiawathas or the C&NW's 400s no longer fly through the Heartland at 100+ mph Amtrak still uses the name for its passenger operations between Chicago and Milwaukee, and the Empire Builder makes several stops in the state.
To learn more about the historic streamliners that once operated in Wisconsin please click here to visit the section of the site covering the subject.