Winchester & Western Railroad

The Winchester and Western Railroad (reporting marks, WW) today operates a railroad of some 50+ miles with its history dating as far back as 1916. The W&W was originally built to haul timber and for many years supplied parent Baltimore & Ohio Railroad with railroad ties. Winchester, Virginia, where the W&W connected with the B&O, one of its only connections into the state although the trunk line had ambitions of reaching deep into the Commonwealth. Today, the Winchester and Western hauls a variety of materials due to its connection with both eastern Class I railroads, CSX Transportation and Norfolk Southern Railway. And, the railroad was given the name "Ol' Weak and Weary" by Winchester area residents due to its sporadic activity along its stretch of line between the city and Gore, Virginia (which is only used to serve a sand quarry).
The Winchester and Western Railroad dates back to the summer of 1916 when it was chartered to connect Hardy and Hampshire Counties in West Virginia with southwestern Frederick County in Virginia to haul timber products and railroad ties to a connection with the Baltimore & Ohio at Winchester. Originally, the W&W was to be constructed as a three-foot narrow gauge line but eventually it was decided to build the railroad as a standard-gauge operation. The W&W was contracted to Intermountain Construction Company for actual grading of the line. Interestingly, due to the ongoing World War I at the time and lack of heavy machinery to build the line Intermountain had to resort to much more antiquated practices including sledgehammers, mules, and general manual labor.
Other Historic Railroads Of Virginia
By 1918 the first section of the line was complete between Gore and Winchester, opening in January of that year. Three years later on May 25, 1921 the Winchester and Western Railroad was officially completed between Winchester, Virginia and Wardensville, West Virgina with West Virginia Governor John J. Cornwell marking the occasion by giving a grand speech on the new line's importance to the region (of note, two years earlier in the summer of 1919 a golden spike ceremony had been held at Capon Springs as the railroad neared completion).  The railroad stretched about 40 miles in length along its new route although it connected no significant communities between its two major towns. The route roughly resembled an upside-down "L" and quickly began hauling vast amounts of timber thanks its subsidiary company the Winchester Lumber Company which owned a large amount of land in the area. While the railroad never had significant passenger train operations it did run several railbuses which were popular with the local communities along the line.
During the early 1920s the W&W reached its peak when it chartered a new railroad, the Lost River Railroad, to build and operate three, three-foot narrow-gauge lines radiating from Wardensville to further tap timber interests in the region. Unfortunately, with the Great Depression setting in later that decade these lines were used for only a short period of time before they were eventually abandoned. The railroad remained a profitable operation but after the timber played out in the area in the mid-1930s and with increased competition to automobiles, the W&W began cutting began back operations as early as the 1940s when it abandoned its line between Gore and Wardensville, leaving the line in place as far as the Virginia/West Virginia state line. By 1970 the railroad was operating just 18 miles of track.
Interestingly, it was in the mid-1980s that the W&W began to see a rebirth. In 1986 it purchased the former Pennsylvania Railroad's route between Winchester to Williamsport, Maryland from Conrail. This gave the railroad essentially a new main line between Winchester, north to Hagerstown (which again allowed it to field a main line about 40 miles in length). Then, a year later in 1987 it picked up three small shortlines in the state of New Jersey (whose trackage was originally built by the Central Railroad of New Jersey), further increasing its size and reach. Today, its two unconnected systems are known as its "Virginia Division" and "New Jersey Division". The W&W's current roster is an all-EMD fleet, made up almost entirely of GP9s and GP10s.   For a bit more reading about the W&W's original route to Wardensville, West Virginia please click here.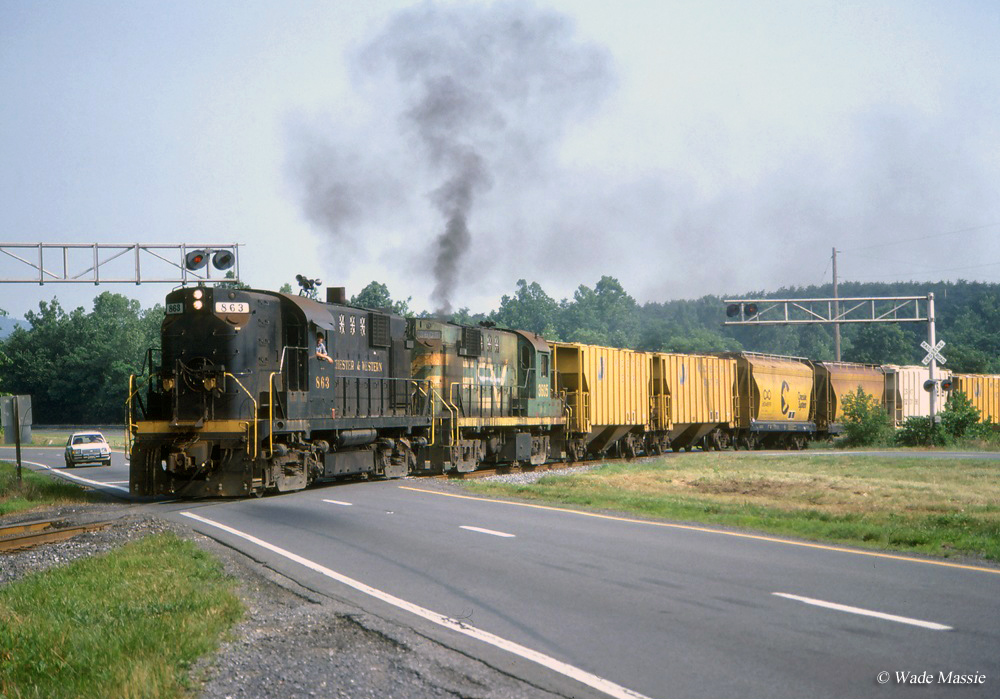 Winchester & Western Locomotive Roster
New Jersey Division
| Builder | Model Type | Road Number | Date Built | Quantity |
| --- | --- | --- | --- | --- |
| EMD | GP9 | 459, 475, 517, 520, 732, 811 | 1955-1959 (Ex-NKP, Ex-NYC) | 6 |
| EMD | GP10 | 575 | 1959 (Ex-PRR GP9) | 1 |
Virginia Division

| Builder | Model Type | Road Number | Date Built | Quantity |
| --- | --- | --- | --- | --- |
| Alco | MT-4 | 107, 120 | 1957/74 (Ex-PRR RS11) | 2 |
| EMD | GP9 | 403, 445, 498, 709 | 1954-1956 (Ex-SP, Ex-PRR, Ex-NKP) | 4 |
| EMD | GP10 | 572, 8066 | 1954, 1959 (Ex-NKP and Ex-IC GP9s) | 2 |
---
---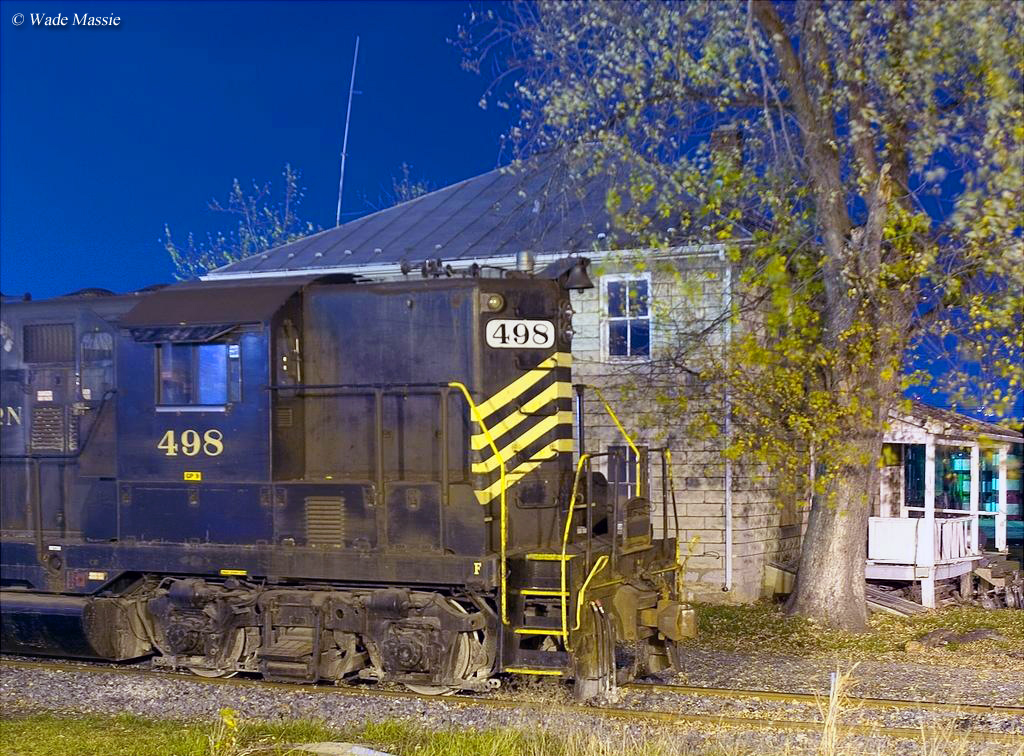 For more reading about the history of Virginia's railroads you enjoy the title Virginia Railroads: Volume 1: Railroading in the Old Dominion by authors William Griffin and Thomas Dixon.   Both of these individuals have spent many years studying the history of trains, particularly in Appalachia and have written many books on the subject, several of which I have within my collection that are quite good.  This particular piece was released in 2011 through TLC Publishing and offers brief overview of all the state's major railroads that once were located there.  If you're interested in perhaps purchasing the book please visit the link below which will take you to ordering information through Amazon.com.
---
---
---
Home

›
Short Lines
› Winchester & Western