West Virginia Railroads In "The Mountain State"

Last revised: April 21, 2023
By: Adam Burns

aWest Virginia railroads perhaps best define Appalachian railroading itself; rolling green mountains, trains fighting stiff grades, and plenty of coal.

However, while the dominant source of traffic and identity of the state, coal is not the only commodity derived from the Mountain State.
Along the Ohio River and around Charleston CSX serves several chemical plants, and in the much flatter Eastern Panhandle the state-owned South Branch Valley Railroad moves a moderate amount of grain.
Lastly, Norfolk Southern's former Norfolk & Western double-track main line through southern West Virginia sees plenty of stack trains to and from the port of Newport News/Norfolk, Virginia, which significantly increased after the multi-million dollar Heartland Corridor opened.

Couple all of this with the Mountain State's wildly popular Cass Scenic Railroad and West Virginia offers an Appalachian railroading experience that is something to behold!
Alas, abandonments have been hard on the Mountain State, a region that has long struggled economically.  When manufacturing and industry died after the 1970's, thousands of miles have been removed. 
Perhaps most notable is the Baltimore & Ohio; successor CSX has abandoned or sold off much of its network in the northern half of the state, including its so-called "Parkersburg Branch," part of its key St. Louis main line.
Photos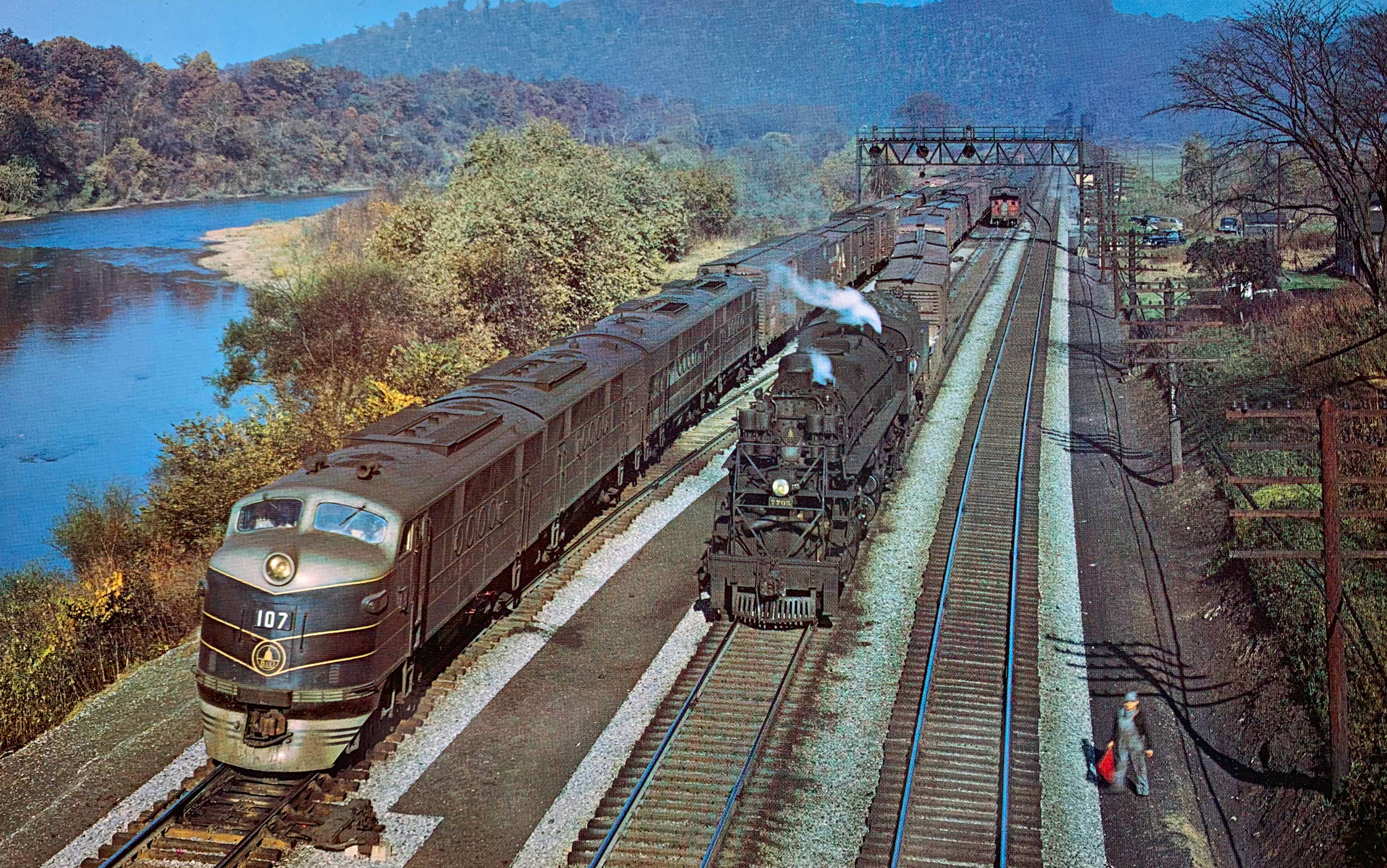 It's a busy scene in this Baltimore & Ohio publicity photo taken at Sir Johns Run, West Virginia during the early 1950's; a nice A-B-B-A lash-up of FT's are ahead of a westbound manifest to left while 2-6-6-4 #7705 (KB-1a), a former Seaboard Air Line unit, leads another to the right. An eastbound coal drag can be seen in the background. Author's collection.
History
West Virginia railroads date back to before the Mountain State was even born (in June of 1863).
In January of 1837 the Baltimore & Ohio Railroad arrived in Harpers Ferry, Virginia and continued to push west reaching the Ohio River (its ultimate original destination) at Wheeling in 1852.
While other railroads would push into West Virginia to tap its rich reserves of coal and timber (and oil/natural gas along the Ohio River although this had mostly dried up as a source of rail traffic by the early 20th century), it was the B&O that would come to symbolize railroading in the Mountain State.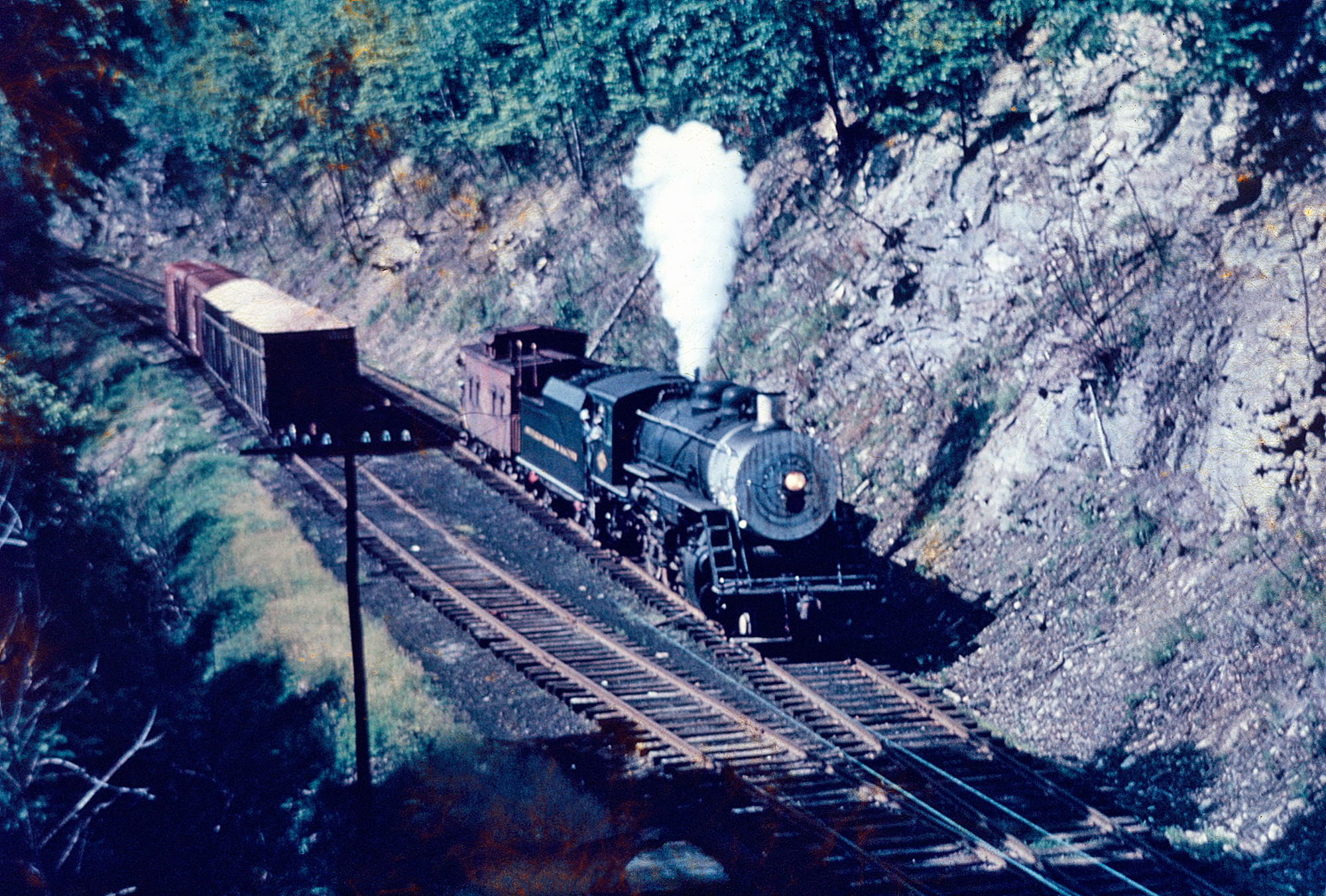 Buffalo Creek & Gauley 2-8-0 #4 has caboose C-1 near Rich Run Mine near Widen, West Virginia during the summer of 1964. Larry Fellure photo. American-Rails.com collection.
After reaching Grafton in 1852 and opening its main line to Wheeling that same year the B&O began pushing west from Grafton, eventually reaching the Ohio River again at Parkersburg through Clarksburg, a distance of 103 miles in May of 1857.
This line would eventually become part of the B&O's principle main line to St. Louis with the line between Parkersburg and Clarksburg known as the Parkersburg Branch.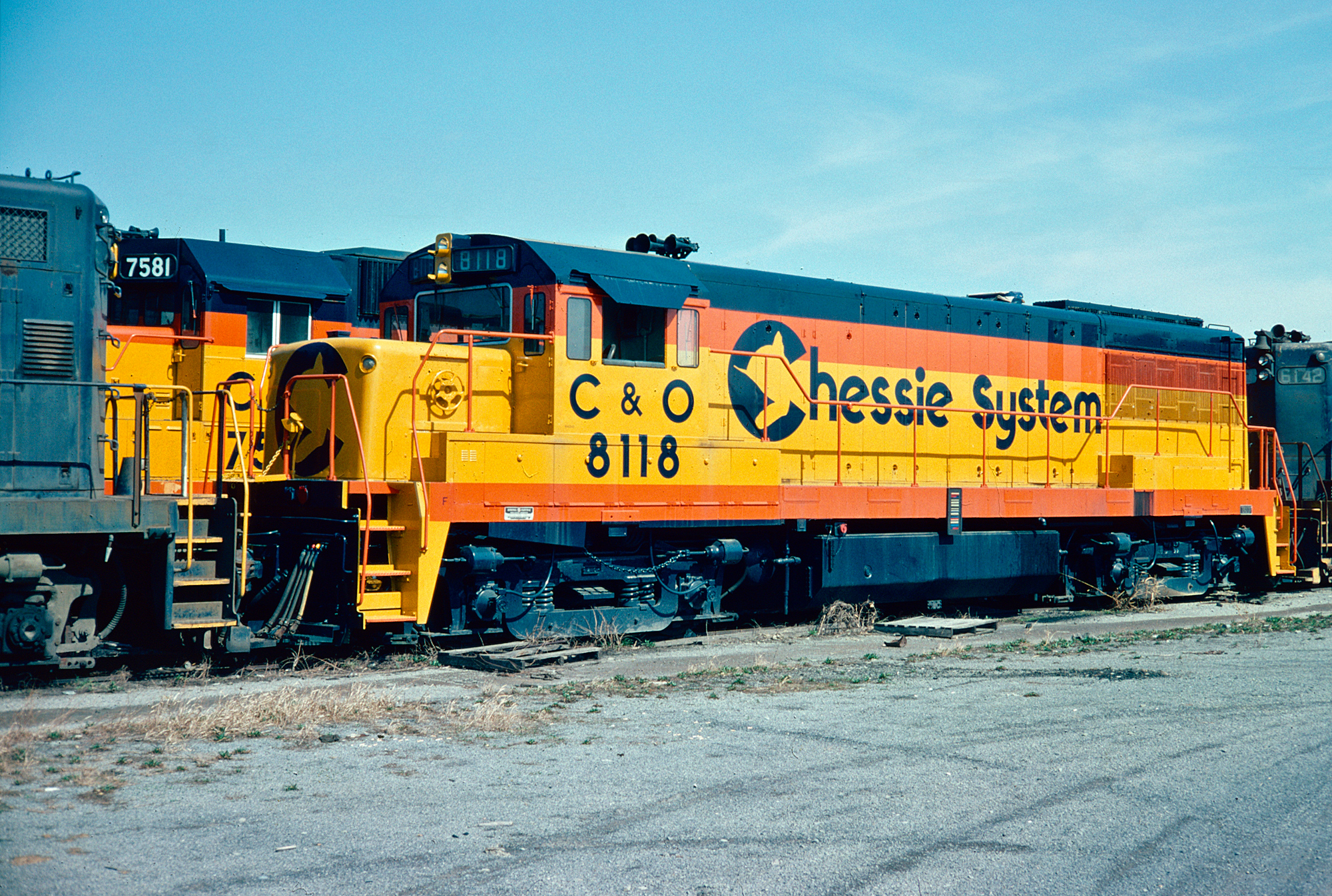 Chesapeake & Ohio U25B #8118, now sporting Chessie System colors, lays over with other power at the railroad's Huntington, West Virginia terminal; March, 1976. American-Rails.com collection.
The B&O also would lease Ohio River Rail Road in September of 1901 (and directly purchase it in 1912) giving it direct access to cities up and down the Ohio River between Wheeling and Huntington.
Known as the railroad's Ohio River Subdivision it continues to be a source of chemical traffic for successor CSX today, as well as a through route for coal movements and merchandise. 
With two lines branching to the west from Grafton and a spider web of coal branches radiating out from the city it is no wonder that it became a major division point on the system with a large yard, service tracks and repair facility on site.
Grafton essentially became the heart of the B&O's coal operations in West Virginia.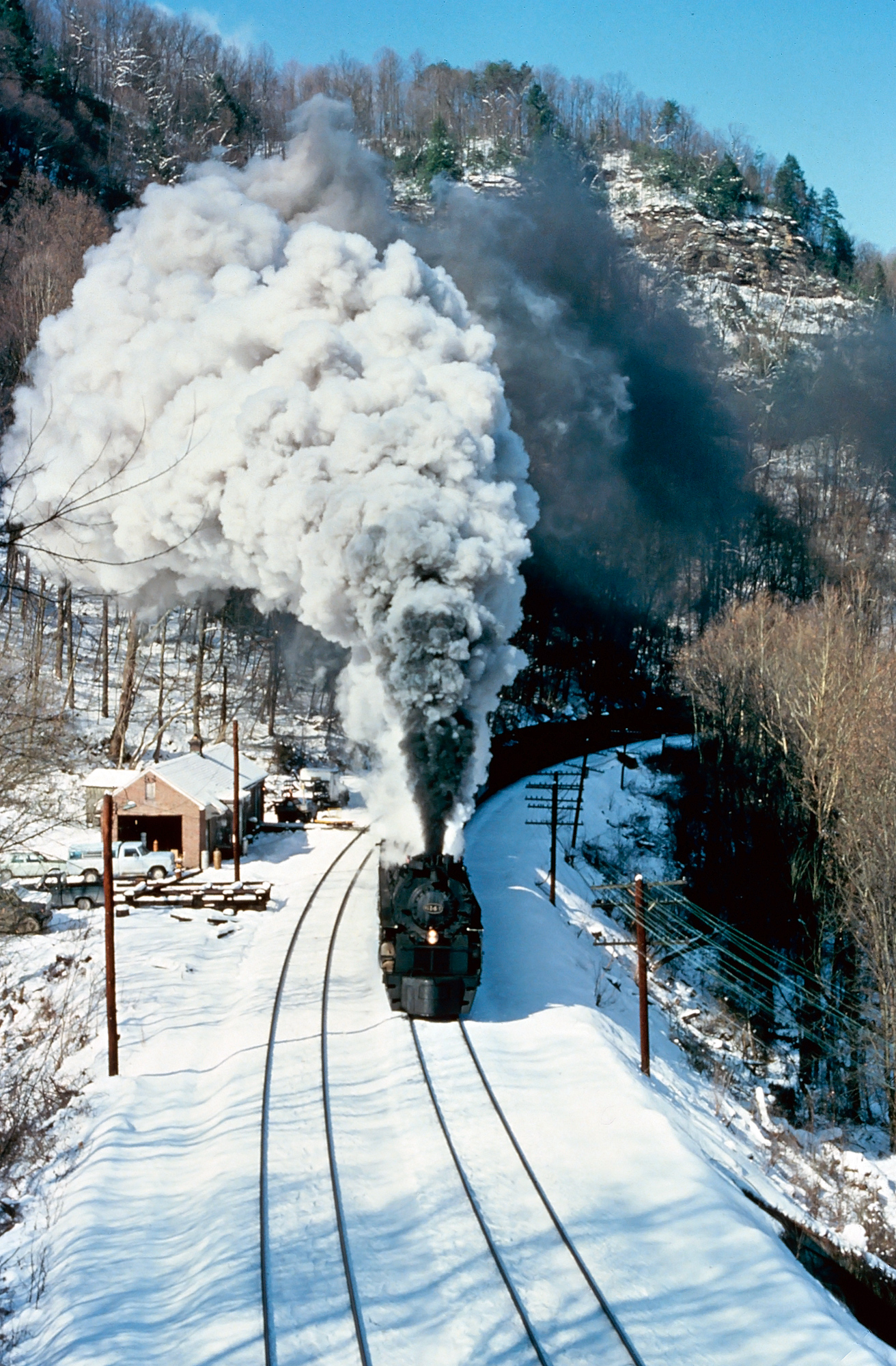 Chesapeake & Ohio 4-8-4 #614-T climbs the grade at Cotton Hill, West Virginia with eastbound loads of coal during the ACE 3000 tests in January, 1985. Mike Bledsoe photo. American-Rails.com collection.
While the B&O originated most of the coal in northern West Virginia, the state's southern half was a battle between the Norfolk & Western, Chesapeake & Ohio and Virginian Railways.
Even though the C&O and N&W were the first, and biggest, players in southern West Virginia the later-built Virginian Railway was much more efficient, had a main line built with easier grades and used electric power to move coal from tipple to tidewater.
While the much smaller Virginian Railway would eventually become part of the N&W system it was so well built that its original main continues to remain in constant use today under successor Norfolk Southern Railway.

The C&O's most endearing legacy in the Mountain State was perhaps its Greenbrier Division, a very long branch that extended north from Ronceverte to Bartow, West Virginia (just above Durbin).
The line was predominantly built to serve the growing timber industry in the Greenbrier and Pocahontas County regions.
This area was also where the state's celebrated logging railroads were located with names like the Meadow River Lumber Company and Mower River Lumber Company (the operation that is now Cass Scenic Railroad).
Although abandoned in the early 1970s due to ever-decreasing traffic volumes most the entire route south of Cass remains intact today as the popular Greenbrier Trail.  
While the Baltimore & Ohio Railroad's St. Louis main line no longer carriers on as a through route (with the Parkersburg Branch one casualty of the abandonment) and Western Maryland's main line north of Elkins and a large amount of excess branch lines have been abandoned, CSX and Norfolk Southern still move tons of coal from the state's rich deposits in the Appalachians. 
And NS, of course, is making its ex-N&W main line through southern West Virginia a major corridor, as the Heartland Corridor project is now under way with a planned intermodal facility to be built in Prichard (the railroad already has major facilities in Williamson).
Current Railroads
CSX Transportation


Norfolk Southern


South Branch Valley Railroad


Belpre-Parkersburg Industrial Railroad (Operates the old B&O's High Yard in Parkersburg and St. Louis main to Belpre, Ohio.  It also utilizes the B&O's former Ohio & Little Kanawha Branch from Belpre to Relief, Ohio.  This line used to reach Zanesville.)


Appalachian & Ohio Railroad (which operates CSX's Cowen Subdivision)


Durbin & Greenbrier Valley Railroad (which operates West Virginia Central Railroad over former WM-trackage in the Elkins region)
Little Kanawha River Railroad (Parkersburg)



West Virginia Line (RJ Corman operation that operates a revived C&O branch near Thurmond)
Wheeling & Lake Erie Railway
Winchester & Western Railroad

Today, West Virginia's railroads operate over 2,200 route miles, which is about 57% of its one-time total of nearly 4,000 miles in the 1920s.
---
Abandoned Railroads
The state of West Virginia has been hard hit by abandonments; while agriculture played a role here, most branch lines handled coal. 
In addition, in the very early days some iron mines were served.  As mentioned elsewhere in this article, most of West Virginia's abandoned rail lines can be found in central/north central regions of the state.
In particular, most of the Baltimore & Ohio's routes here have been removed aside from its St. Louis main line between Cumberland-Clarksburg, "Short Line Subdivision" (Clarksburg-New Martinsville), and Ohio River Branch (Benwood/Wheeling-Huntington).
The railroad's notable abandoned corridors here include:
Parkersburg Branch (Clarksburg-Parkersburg)


Fairmont, Morgantown & Pittsburgh, the "Sheepskin Line" (Fairmont/Morgantown-Connellsville)



All lines radiating out of Wheeling


M&K Subdivision (Rowlesburg-Morgantown)


Coal & Coke Branch (Gassaway-Charleston)


"Old Main Line" (Fairmont-Moundsville)
Other notable abandonments around the state include:
Western Maryland's Thomas Subdivision (Elkins - Wilson through the Black Fork Grade/Blackwater Canyon)


Pennsylvania's "Panhandle" main line through the Northern Panhandle (east and west of Weirton)


Chesapeake & Ohio's Greenbrier Branch (Ronceverte-Cass)
Western Maryland's Durbin Branch (Durbin - Bemis)
Finally, there are numerous interurbans abandoned throughout the state, including:
Parkersburg (Parkersburg & Ohio Valley Electric Railway)


Charleston (Charleston Interurban Railroad)


Fairmont/Clarksburg (Morgantown & Dunkard Valley Railroad)
---
Much of the state's loss of trackage has been the abandonment of coal branches and unprofitable secondary lines (like the C&O's Greenbrier Branch).  For more information on West Virginia railroads in terms of mileage over the years please refer to the chart below.

State Mileage Chart
First Railroad
* West Virginia's first railroad entered its borders decades before it officially became a state (June 20, 1863) when the Baltimore & Ohio arrived in Harper's Ferry, Virginia in January, 1837 (following a completion of a bridge spanning the Potomac River).
Financial troubles plagued the company as it sought to complete its charter to the Ohio River at Wheeling, Virginia.  However, its pioneering spirit and determination saw rails arrive at Cumberland, Maryland (along what later became West Virginia's Eastern Panhandle) in 1842 (construction on this segment began in 1839) and finally Wheeling ten years later. 
What later became known as the "Old Main Line" linked such communities as Grafton, Fairmont, and Moundsville.  The B&O came to dominant rail service across northern West Virginia as the carrier had no other competition in the region. 
It served all major towns/cities here including Clarksburg, Morgantown, Parkersburg, and New Martinsville along with those municipalities previously mentioned.  It was rolled into the new CSX Transportation conglomerate in 1987 which has since abandoned a great of its trackage across the Mountain State.

West Virginia railroads may no longer be home to the B&O's National Limited, Cincinnatian or the C&O's George Washington but Amtrak continues to operate the tri-weekly Cardinal between Washington, D.C. and Chicago via the ex-C&O main line.
Along with its history of coal perhaps what West Virginia railroads is most popular for these days is tourist railroads, like Cass and the recently started West Virginia Central.
State Map
Nothing quite compares to watching these historic Shays double-head up the mountain to Bald Knob. 

However, the increasingly popular WVC with its climate-controlled cars which travels along the scenic Tygrat River (aboard the New Tygrat Flyer) is another ride you may want to consider (and, it also calls to historic Elkins Station in the former WM Elkins Yard after service was restored following the rebuilding of the railroad bridge in the spring of 2007).
---
Lastly, located in Petersburg, a ride on board the Potomac Eagle will afford unique views of our nation's symbol, the Bald Eagle.
For more information about West Virginia railroads please click here to visit my good friend Dan Robie's personal website about trains in the Mountain State. The site is still a lengthy work in progress so please be patient as more material is added. 
In all, West Virginia railroads offer incredible views of Appalachia at its finest with operations ranging from passenger trains and main line freights to local short lines and popular tourist trains.
While awfully proud of my home state (for much more than just railroads) and not trying, or attempting to sound biased, I think I can safely say that what West Virginia has to offer is well worth the trip to see!