By being this country's first common carrier the railroad was instrumental in helping to build and grow not only our economy but also the country itself when the "west" meant the Ohio River. While never a wealthy railroad throughout its existence (when compared to the likes of its much larger and powerful northern competitors, the Pennsylvania [PRR] and New York Central [NYC] Railroads) its legacy will forever be remembered as a survivor and that it put customer service above all else. When the company's name and existence finally came to an end on April 30th, 1987 it had just celebrated its 160th birthday and witnessed the industry grow from nothing more than few scattered systems to a rail network consisting of tens of thousands of miles linking the country from coast to coast (it also outlived its wealthier northern competitors by over a decade). 

The B&O was largely created out of a great need by the city of Baltimore to compete with the creation of the Erie Canal which connected New York City with the Port of Albany at Buffalo and Philadelphia's plan to build a similar transportation system to the City of Pittsburgh on the western side of the state of Pennsylvania. Out of this need the B&O came into existence, being originally chartered on February 28th, 1827 and officially incorporated and organized on April 24th, 1827. By the Fourth of July that same year construction of the railroad began with the plan to link the B&O to the Ohio River (thus this is where the company inherited its official name). Reaching the Ohio River would be a very difficult task being that the Alleghenies lay in the way and political barriers restricted the company from taking an easier route through Pennsylvania (a route that the PRR would later take advantage of when that railroad was chartered by its namesake state, thus a main reason why it would forever have a superior advantage to the B&O).

However, by 1842 the railroad had reached Cumberland, Maryland (throughout the railroad's existence the city would be a major division point on the railroad) and ten years later in 1852 it had reached the City of Wheeling, Virginia (later West Virginia) along the Ohio River. At Grafton the Baltimore and Ohio began building west again and through a series of mergers and acquisitions the railroad had reached St. Louis by 1857 via Cincinnati, Ohio and Parkersburg, Virginia, thus linking eastern markets with the Mississippi River, and by 1874 the company had reached Chicago. At the B&O's peak the railroad served the markets of New York City, Philadelphia (although always at a disadvantage to the PRR and NYC which it later conceded these two markets in the 1950s), Baltimore, Pittsburgh, Chicago, Buffalo, Detroit, and St. Louis. 

The B&O was always the underdog in an eastern market dominated by the PRR and NYC. The company also had an on-and-off struggle of remaining independent as it once went into receivership in 1896 and later ownership by the PRR. However, throughout all of this it steadfastly remained independent. Despite its marginal financial situation the B&O holds many "firsts." It was quick to adopt the more efficient mode of diesel power in 1930s, and was the first to include air-conditioning in its passenger fleet. Other accomplishments include one of the fist railroads to use electric locomotives (through its Howard Street tunnel in Baltimore, the locomotives were developed by General Electric), streamlining its passenger trains to make them more appealing and including dome passenger cars in the eastern U.S. 

The B&O's financial situation would, however, catch up with it finally in the late 1950s during a recession that saw the company in a serious situation facing bankruptcy by the early 1960s. Perhaps as a blessing to the company (to find a means of survival through merger) the modern merger movement of today began all the way back in the 1950s when the Norfolk & Western Railway purchased the Virginian Railway, a coal hauler, which stretched from southern Virginia ports to the coalfields of southern West Virginia. During this time the Chesapeake & Ohio Railway (C&O) took an interest in the company and would later win a battle with the NYC for controlling interest in the B&O.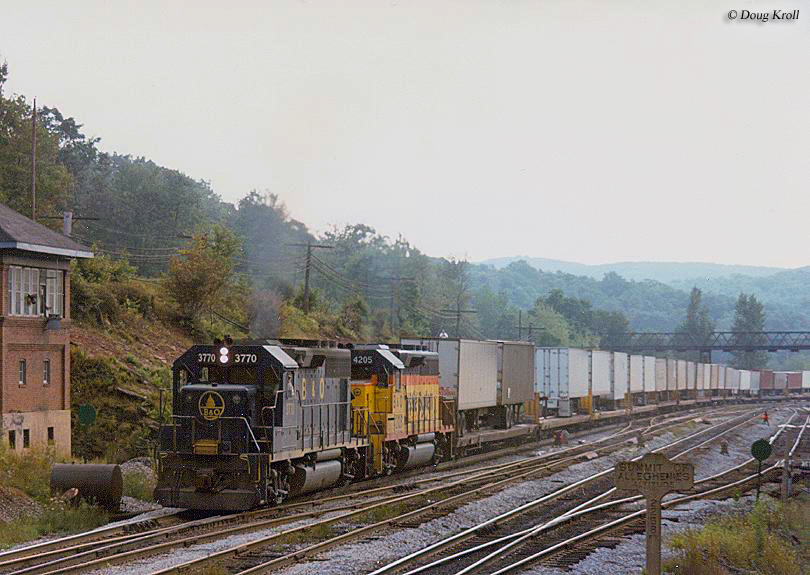 The B&O, however, was to suffer a better fate than the NYC and PRR, who would merge in the late 1960s to form the ill-fated Penn Central Corporation. The C&O, for several reasons, chose to leave the B&O almost entirely independent, only gradually merging the operational aspects of both companies. This finally changed in 1972 when the companies, which by then included B&O-subsidiary Western Maryland Railway, formed a new holding company called the Chessie System (which will forever be remembered for its brilliant yellow, blue, and vermilion paint scheme that featured the Chess-"C" silhouetting the C&O's famous Chessie the kitten napping on her pillow). 

The Chessie System, by far one of the best-loved railroads by railfans because of its dazzling livery, lasted only a short eight years before merging with Seaboard Coast Line Industries (which was a holding company for a number of southeastern railroads including the Seaboard Coast Line and Louisville & Nashville) in 1980 to form CSX Corporation (CSX Transportation as we know it today came into existence in 1987 when all railroads were finally merged into it). The creation of CSX, however, entered the B&O into its last of many long storied chapters. By now the company was merely a "paper" railroad (remaining in existence partly because of a tax exemption it retained in its home state of Maryland) and would be gone in only seven more years, being merged into CSX on April 30th, 1987 (the WM was merged just prior to this and the C&O followed that May). 

The 1980s were not a good time for the B&O. Not only was the railroad merged out existence during the decade but also CSX, in a short lapse of vision, abandoned the company's St. Louis main line, which extended from that point, east, to Baltimore. When the intermodal revolution began to gain momentum just after the 1985 abandonment, CSX was left without a market to move containers competitively until its acquisition of Conrail in 1999.    To research the history of the Baltimore & Ohio in greater depth please visit the B&O Historical Society's website.  They maintain a large collection of materials and can help you with whatever you might be interested in.  You can also visit historic artifacts and preserved equipment at the B&O Railroad Museum in Baltimore.

Diesel Locomotive Roster

The American Locomotive Company
| Model Type | Road Number | Date Built | Quantity |
| --- | --- | --- | --- |
| Boxcab | 1 | 1925 | 1 |
| S1 | 223-227, 250 | 1944 | 6 |
| S2 | 475-533 | 1943-1948 | 59 |
| S4 | 468-474, 534-545, 9078-9114 | 1953-1957 | 56 |
| FA-2 | 801-837 (Odds), 801A-837A (Odds) | 1950-1953 | 36 |
| FB-2 | 801x-817x (Odds), 817ax, 819x-837x (Odds), 837ax | 1950-1953 | 21 |
| FPA-2 | 809-817 (Odds), 809A-817A (Odds) | 1950-1951 | 10 |
| RS1 | 9185-9186 (Former C&O) | 1953 | 2 |
The Baldwin Locomotive Works/Lima Locomotive Works
| Model Type | Road Number | Date Built | Quantity |
| --- | --- | --- | --- |
| LS-1000 | 330-339 | 1949-1950 | 10 |
| DS-4-4-1000 | 376-399, 438-462 | 1948-1950 | 49 |
| VO-1000 | 413-437 | 1943-1945 | 25 |
| RF16 | 851-871 (Odds), 851A-865A (Odds) | 1950-1953 | 19 |
| RF16B | 851X-861X (Odds), 865X-871X (Odds), 867XA-871XA (Odds) | 1952-1953 | 13 |
| AS16 | 890-905 | 1952-1955 | 16 |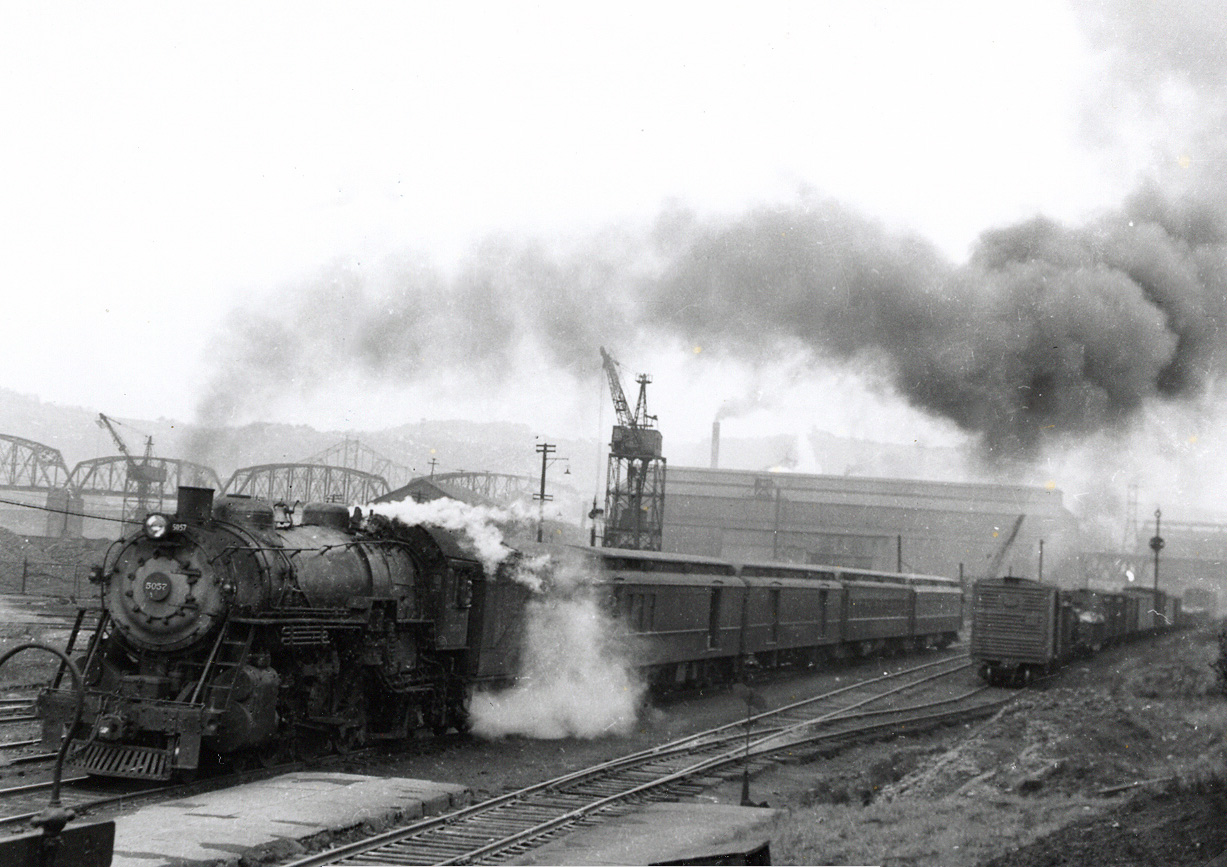 Electro-Motive Corporation/Electro-Motive Division
| Model Type | Road Number | Date Built | Quantity |
| --- | --- | --- | --- |
| SW | 2 | 1936 | 1 |
| Boxcab | 50 | 1935 | 1 |
Fairbanks Morse
| Model Type | Road Number | Date Built | Quantity |
| --- | --- | --- | --- |
| H10-44 | 300-309 | 1948 | 10 |
| H12-44 | 196-197, 310-319, 9722 - 9726 | 1951-1957 | 17 |
| H16-44 | 906-907, 925-927, 6705-6709 | 1952-1957 | 10 |
General Electric
| Model Type | Road Number | Date Built | Quantity |
| --- | --- | --- | --- |
| 44-Tonner | 19-20 | 1950 | 2 |
| 80-Tonner | 190 | 1943 | 1 |
Steam Locomotive Roster

| Class | Type | Wheel Arrangement |
| --- | --- | --- |
| A | Ten-Wheeler | 4-6-0 |
| A-1 Through A-10 | Atlantic | 4-4-2 |
| B Through B-58 | Ten-Wheeler | 4-6-0 |
| C | Switcher | 0-4-0/T |
| D Through D-44 | Switcher | 0-6-0 |
| E-1 Through E-60a | Consolidation | 2-8-0 |
| L | Switcher | 0-8-0 |
| EL-1/a Through EL-6/a | Articulated | 2-8-8-0 |
| EE-1 Through EE-2a (Ex-SAL) | Articulated | 2-8-8-2 |
| EM-1 | Yellowstone | 2-8-8-4 |
| F, G-18, H Through H-12, I Through I-5 | American | 4-4-0 |
| J | Camelback | 4-4-0C |
| J-1 | Jubilee | 4-4-4 |
| K Through K-20 | Mogul | 2-6-0 |
| KK-1 Through KK-5 | Articulated/Mallet | 2-6-6-2 (Most were former BR&P Class LL.) |
| KB-1/a | Articulated | 2-6-6-4 |
| KL-1 | Mallet | 2-6-8-0 |
| L Through L-4 | Switcher | 0-8-0 |
| LL-1 | Mallet | 0-8-8-0 |
| M Through M-6 | American | 4-4-0 |
| N-1 | Duplex Drive | 4-4-4-4 (#5600, named the "George H. Emerson.") |
| P Through P-19 | Pacific | 4-6-2 |
| Q Through Q-10 | Mikado | 2-8-2 |
| S Through S-1a | Big Six | 2-10-2 |
| T Through T-4 | Mountain | 4-8-2 |
| U | Switcher | 0-10-0 |
| V-1 Through V-4 | Hudson | 4-6-4 |
| Y | Decapod | 2-10-0 |
Baltimore Belt Railroad

The Baltimore Belt Railroad and Howard Street Tunnel project undertaken by the Baltimore & Ohio Railroad essentially kicked off electrified rail operations in the United States for main line systems in 1895. Of note, however, the actual first electrified railroad operations in the United States occurred in 1888 when General Electric successfully demonstrated the motive power on the Richmond Union Passenger Railway. In any event, the B&O's project was known as the Baltimore Belt Railroad, which was constructed to fill a gap to connect the railroad's New York-Washington (north-south) and Washington – Cumberland (east-west) main lines. Prior to this the railroad had to use a circuitous car ferry operation across Baltimore Harbor to reach the two lines, which made competing effectively with rival Pennsylvania Railroad nearly impossible. 

After the first successful demonstration in Richmond, which involved a lightly powered electric locomotive, the motive power began springing up on light rail, interurban, and trolley systems all across the country because of its clean, efficient, and reliable means of transportation. However, main line electric locomotives did not appear until 1895 when the Baltimore & Ohio Railroad opened a three mile stretch of electrified territory in Baltimore (to connect both its aforementioned main lines) that operated on a 600 volt direct current system with four gearless, 360 horsepower, locomotives (or "motors" as electrics are often called) for power, all of which was provided by General Electric. 

The primary reason for the B&O's electrification of the Baltimore Belt Railroad was to solve a safety issue with its 1.25-mile long tunnel situated under residential neighborhoods in Baltimore where smoke would become a health issue. However, by this time steam locomotive smoke in large urban areas, in general, was becoming a serious health and safety issue and by the early 20th century, particularly after a New York Central passenger train collided with a New Haven suburban train in January of 1902 in New York City (because of a smoke-obscured signal), many cities began passing ordinances banning steam from their city limits. 

In all the B&O's electrified system stretched three miles with initial power provided by General Electric that employed "steeple cab" electrics. First operated on May 1, 1895 the new line used steam locomotives fired by coke, which burned much cleaner than coal. Finally, the electrified system was completed about a month later and the first electrically powered train completed a test run on June 27th of that year. A few days later on July 1st the B&O introduced the revolutionary new mode of transportation to the public. Initially the B&O employed an overhead third-rail system, whereby "shoes" picked up power, similar to later overhead systems that used strung wires, or catenary. However, this system proved to be vulnerable to coal smoke and by 1900 a conventional third-rail system running near the ground was used. 

In all, the B&O employed six different classes of electric locomotives, which are listed below: 

· Class LE-1: B&O's first class of motors were delivered in 1895 and 1896 and were of a boxcab design totaling two units. 

· Class LE-2: B&O's second-class of motors were delivered between 1903 and 1906 by GE and were a boxcab design totaling four units. 

· Class OE-1: B&O's third-class of motors were delivered in 1910 by GE and were a steeple-cab design totaling two units. 

· Class OE-2: B&O's fourth-class of motors were delivered in 1912 by GE and were a steeple-cab design totaling two units. 

· Class OE-3: B&O's fifth-class of motors were delivered in 1923 by GE and were a steeple-cab design totaling two units. 

· Class OE-4: B&O's sixth, and final class of motors were delivered in 1923 by GE and were a steeple-cab design totaling two units. 

One other addition that came from the B&O's Baltimore Belt Railroad was the railroad's beautiful Mount Royal Station, which was constructed at the north end of the 1.25-mile Howard Street Tunnel. Today, the station remains in place and has been beautifully restored. While the building of the Baltimore Belt Railroad and its electrified lines helped significantly improve operations in and around the Baltimore region for the B&O, the project was extremely expensive and forced costly debt on the railroad that would drive into bankruptcy in 1896 (despite this setback the B&O eventually climbed out of receivership in the early 20th century, including a brief ownership by the Pennsylvania Railroad).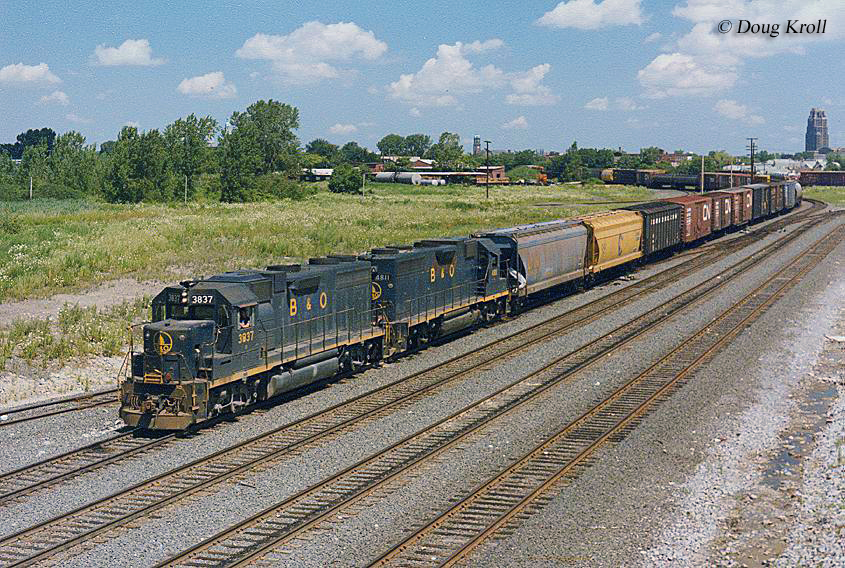 Even though the B&O updated its electric fleet between 1909-1912 and again between 1923-1927, with diesel-electric locomotives efficient and affordable by the mid-20th century the railroad shutdown its electric operations in the early 1950s. However, while electric operations have long since ceased over the line and the B&O itself is gone, today the original Baltimore Belt Railroad remains an important artery under the CSX Transportation banner. Perhaps Mike Schafer said it best, although the B&O was never a healthy and extremely profitable railroad it will forever be remembered for "its pioneer spirit, determination in the face of adversity, innovative technology, superior service, courteous employees, and aesthetic equipment," which made it beloved by so many throughout the years.

Related Reading You May Enjoy


Home

›

Fallen Flags

› Baltimore & Ohio