The Milwaukee Road, Route of the Hiawathas

The Chicago, Milwaukee, St. Paul & Pacific Railroad, commonly known as simply the Milwaukee Road, is best remembered for its Hiawatha passenger trains and electrified main line known as the Pacific Coast Extension or PCE. The fact that the great railroad is no longer with us is not as disheartening as knowing how and why its end came about. Its loyal and hardworking employees through the end were sadly cheated by upper management, which made a series of dumbfounding decisions beginning in the 1970s that ultimately ended in the railroad being sold to a rival in 1985. Today, what's left of the Milwaukee is cut up amongst different railroads and the best engineered rail line through the rugged Rockies and Cascades is but weeds and trails, a vital transportation artery no longer available to shippers and the American economy.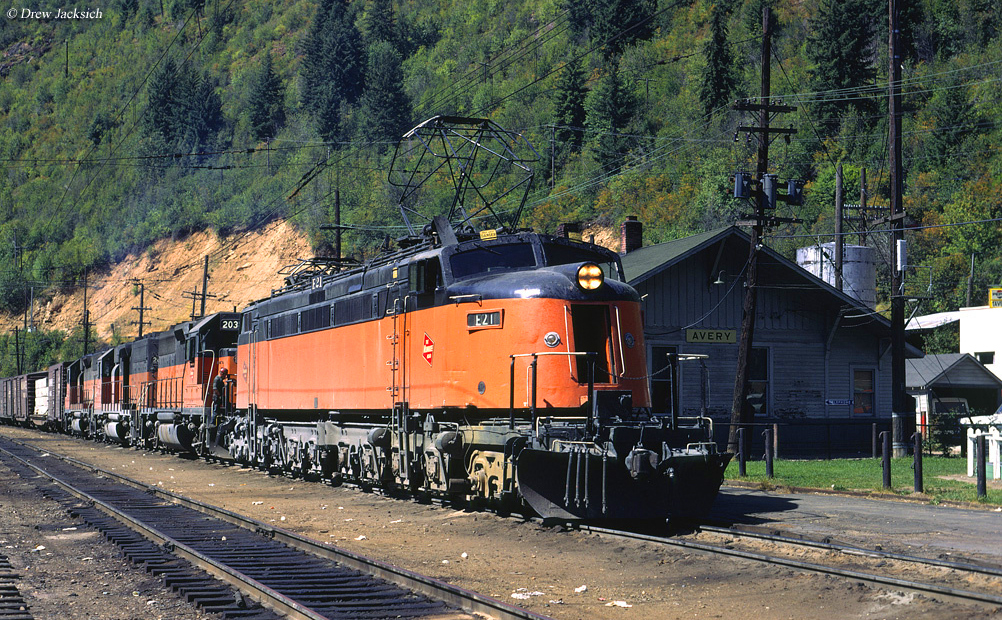 Little Joe #E21 sits along the western end of the railroad's electrified Rocky Mountain Division in Avery, Idaho during August of 1971 as it readies to depart with an eastbound manifest.
While the Milwaukee Road was another of several Midwestern granger roads (meaning that it served the heart of America's breadbasket in the Midwest and plains) it clearly distinguished itself from the many others by having a direct transcontinental line to the Port of Seattle, which competed with the likes of the western railroads, Great Northern (GN) and Northern Pacific (NP).  Like its name implies you can probably guess the CMStP&P's began in its namesake city Milwaukee, Wisconsin in 1847 as the Milwaukee & Waukesha Railroad but soon changed its name as the Milwaukee & Mississippi.  Operations commenced in 1850 when it connected its two original namesake cities (Milwaukee and Waukesha). After being renamed and then taken over by the Milwaukee & St. Paul the M&StP became known as the Chicago, Milwaukee & St. Paul when it reached Chicago.
After extending out through much of the Midwest serving the Heartland the railroad added "Pacific" to its name when it decided to build West (this was also due to a bankruptcy in 1925), all the way to the Pacific coast and Seattle, Washington which it reached in 1909.   The Milwaukee, just a few years later in 1915, electrified its Rocky Mountain and Coast Divisions between Harlowton, Montana and Seattle, Washington, including south through Tacoma, a distance totaling over 616 miles (there was a gab in this electrification between Avery, Idaho and Othello, Washington). The electrified lines would make the railroad a celebrity in the railfan community as few other freight railroads boasted such a project, or electrification at all!
The Milwaukee, though, was the very last to build a main line to the Pacific coast, a feat already completed years before by the NP and GN. In doing so it avoided larger cities en route to the coast, sacrificing traffic for speed. While foregoing traffic it accomplished its goal of speed as the Milwaukee boasted the shortest and best engineered route between Seattle and Chicago. When the piggyback revolution (i.e., truck trailers fixed directly to railroad flat cars) caught on in the 1950s and 1960s the railroad was one of the first to embrace it and began service in the mid-1960s. Because of its clear advantage of a direct route between Chicago and Seattle it soon dominated the market in the West.
Not only was the railroad famous for its electrification but also its Hiawatha passenger trains, especially those that operated through the heartland on its main line that reached the cities of Cedar Rapids, Iowa and Omaha, Nebraska. Featuring steam locomotives of the Hudson (4-6-4) and Atlantic (4-4-2) classes they could regularly reach speeds of over 100 mph across the flat plains along track that was virtually as straight as an arrow from Chicago to points West and their Reduce to 90 trackside signs are legendary.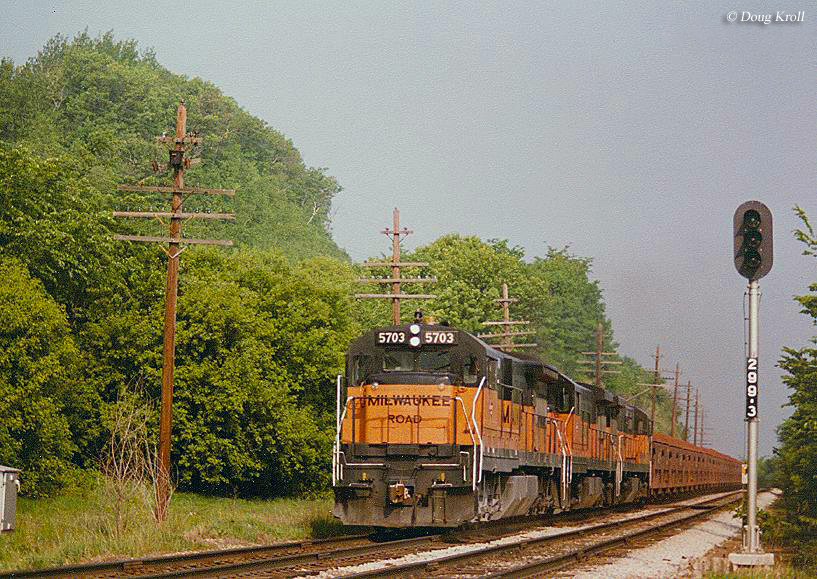 Interestingly, the Milwaukee purchased diesels from most builders but was never fond of GE products. Those which it did own were mostly used on its western lines, until the road shutdown that section of the property. Seen here are a trio of U33Cs led by #5703 as they power an ore train southbound near Homer, Minnesota on May 15, 1980.
As traffic began to drop throughout the 1960s, coupled with passenger trains that were draining profits even further, when Amtrak was created in 1971 the railroad was happy to rid itself of its long distance trains as well as its extensive commuter operations in the Chicago area, the latter of which was taken over by today's Metra, a regional public commuter service operated with public funds. (A common myth is that passenger trains earn profits, which is not true. Passenger trains rarely, if ever, earn a profit simply by passenger fare, and were able to be operated for so many years by the private railroads because freight revenues and contracts with the United States Postal Service offset the expenses.)
With its web of branch lines in the Midwest and several other railroads fighting for the same amount of traffic that could no longer support so many railroads, the Milwaukee Road found itself in a hopeless situation on the eastern half of its system (and it was unable, along with the other railroads, to abandon most of these unprofitable lines because government regulations did not allow for such until the 1980 introduction of the Staggers Act which deregulated the entire industry).
However, all was not lost for the Milwaukee. Its savior, for the time being, was its Pacific Extension. Even as the company's management began to make increasingly idiotic decisions during the 1970s (such as scrapping the electrification just as the oil embargo hit the nation) and defer maintenance across the entire system (which had actually begun after the cessation of passenger trains to the west coast in 1961), their main line to the Pacific Northwest continued to earn the company a healthy profit.
However, the company's fate was sealed when in another short lapse of vision management decided in the late 1970s to file for bankruptcy somehow determining that Lines West was the cause of their profitability issues. Soon after in early 1980 the PCE was abandoned and scrapped west of Miles City, Montana (some 1,100 miles of track!). While the results of this and other abandonment projects on the eastern side of the system worked to some degree in cutting costs the now much smaller railroad, which no longer competed for the lucrative traffic entering the Port of Seattle (which today is booming), made for a prime merger target and in 1985 the Soo Line Railroad purchased the company (it's unfortunate that the most profitable lines of the Milwaukee were abandoned while the eastern system with its many branch lines was the contributing factor to drains on bottom line earnings).
In truth the new "Milwaukee Road II" was never as profitable as management claimed it would be and former employees and others within the company have long stood by their testimony that Burlington Northern officials knew before even many within the company that the CMStP&P would file for bankruptcy. Still, while it has often been claimed the BN took part in some kind of conspiracy and sabotage against the MILW, from the much studying I have done this does not appear to be the case.
All signs of the Milwaukee's collapse in the 1970s point to simple management ineptness, top brass simply wasn't interested in operating a railroad and there are several interesting facts that seem to conclude that this is what happened. First, when BN was created in 1970 several stipulations of the newly merged western giant played right into the Milwaukee's hands giving it several new traffic interchange points. Perhaps officials never knew what they had but the railroad's profits skyrocketed after the merger.
For instance, the CMStP&P essentially controlled the Port of Seattle as it commanded nearly 80% of its originating traffic and also held roughly 50% of the total container traffic originating from the Pacific Northwest in general. In other words, the Milwaukee was completely dominating freight volume between Chicago and Seattle (it also didn't hurt that the railroad could shave almost a full day off transit times compared to that of the BN). Having said that, why would a railroad so completely controlling Pacific Northwest long-haul freight traffic so easily bow out? Anyone with a basic understanding of profit and loss would understand the lunacy of such a move yet this is exactly what Milwaukee Road management did.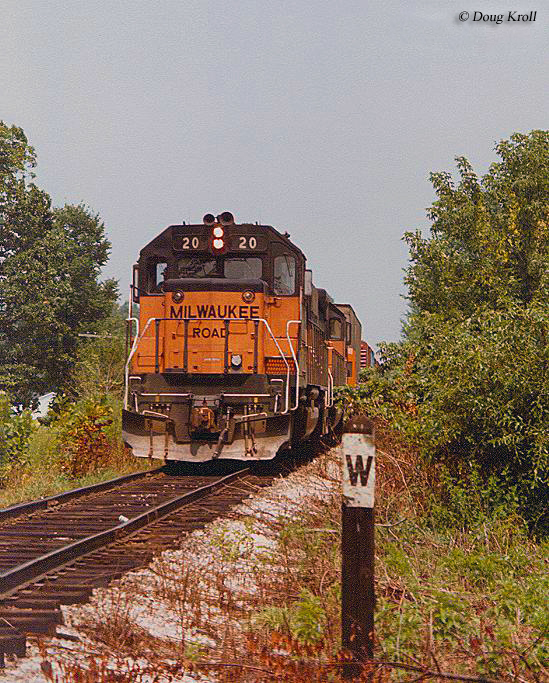 SD40-2 #20 is southbound through Jasonville, Indiana with its train on July 26, 1980. Before its abandonment of Lines West the Milwaukee boasted an end-to-end system stretching from Louisville, Kentucky (with trackage rights over the Louisville & Nashville) to Seattle, the furthest reaching railroad of all time prior to the mega-merger movement.
Second, for some reason, after the Pacific Extension was abandoned and ICC officials were reviewing the railroad's books they discovered expenses on the line had been double-entered. Needless to say ICC accountants were totally dumbfounded by this find and after obtaining correct figures on the route came to realize that even with the total loss of the efficient electrics after June of 1974 and virtually no maintenance done on the line during the entire decade of the 1970s, it still earned a profit!
A startling revelation of the railroad's bankruptcy is what actually caused it. Amazing as it seems, the railroad filed for bankruptcy due to the heavy volume of traffic over the PCE, which the line simply could not handle due to the extremely poor condition of the track and right-of-way (resulting from lack of maintenance). In other words, Lines West had literally been run into the ground...  And finally there is the story of top management attempting to sell the railroad to Burlington Northern, and if true (which is very likely from the many MILW historians' comments I have read, such as Rob Leachman who broke this story, which comes directly from BN executive at the time, Bob Downing) would make sense of why the railroad was left for dead from the early 1970s onward.
Around 1972 then Milwaukee chairman Bill Quinn was working hard to sell the railroad to BN. During one inspection trip over Lines West Quinn is said to have secretly offered the railroad to BN for absolutely nothing save for its heavy debt! No one, not even the vice-president or other top officers ever knew about this deal. BN was very intrigued and ultimately agreed but with the stipulation that until ownership was transferred the Milwaukee Road was to make no major capital investments or improvements.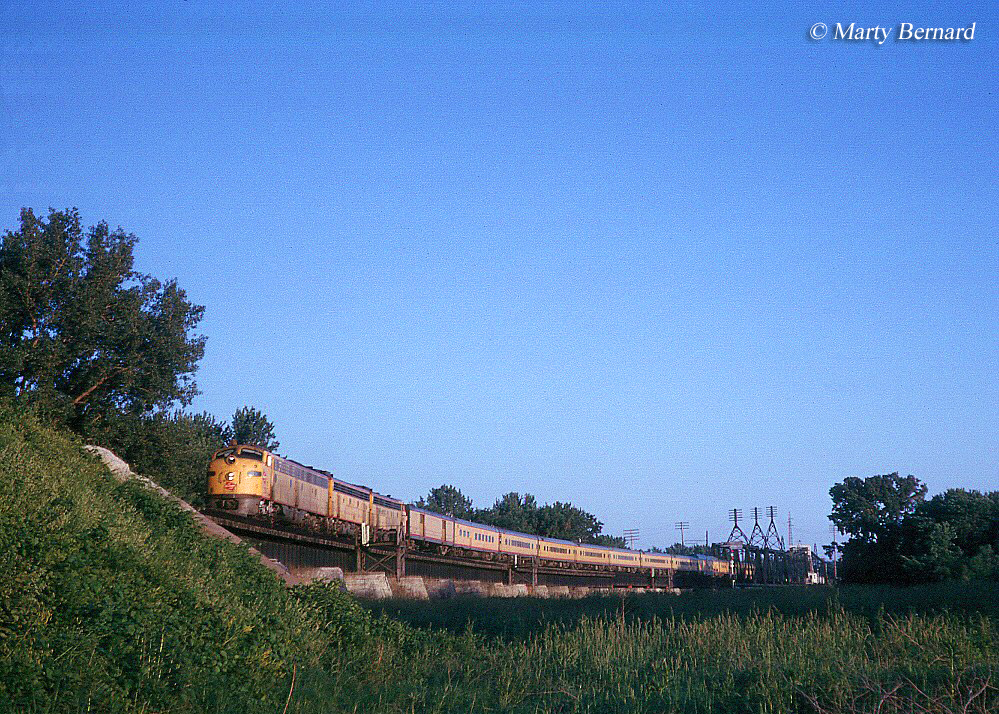 An A-B-A set of covered wagons led by E9A #33-A power the Morning Hiawatha across the bridge over the Mississippi River near Hastings, Minnesota as the train is just a few miles into its southward trip to Chicago on June 24, 1964.
Quinn then took the proposal to the Chicago-Milwaukee Corporation board (which owned the railroad). Since they wanted nothing more then to rid themselves from the railroading business they were very pleased with the deal. However, one member is said to have objected to one condition, that the Milwaukee Land Company, which owned vast timber property in the Rocky Mountains be sold and not given away for nothing. The price for the Milwaukee Land Company was set at $50 million but when advised of this change the BN did their own study and concluded the company was not worth such money and ultimately walked away from the entire offer (interestingly the Milwaukee would sell its timber holdings for $125 million).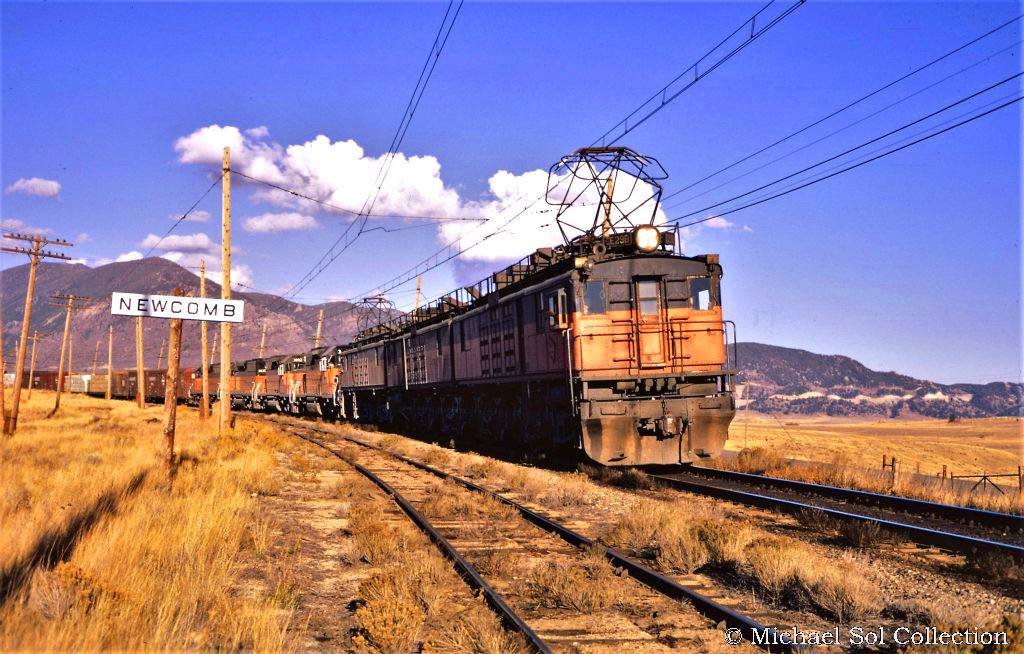 Steeple-cab motor #E80 performs its daily switching duties at the yard in Deer Lodge, Montana during August of 1971.
These are just a few of the interesting events that took place within the company as it crumbled away in the 1970s. With the evidence and history I have read, with the vastly superior Puget Sound main line and system which stretched from Kentucky to Washington state, if the Milwaukee would have had a competent management team who actually wanted to operate a railroad it very likely would still be in operation today. In any event, at the rate the railroad's management was making even the most common sense of mistakes along with a baffling double-entry on expenses it was simply a matter of time before the railroad fell apart. Perhaps the saddest part of all is that with the CMStP&P out of the way Burlington Northern had a virtual monopoly on Chicago-Seattle traffic, a scenario which holds true to this day. In any event, with the Soo Line purchase thus closed the book on one of our country's most interesting and dynamic railroads.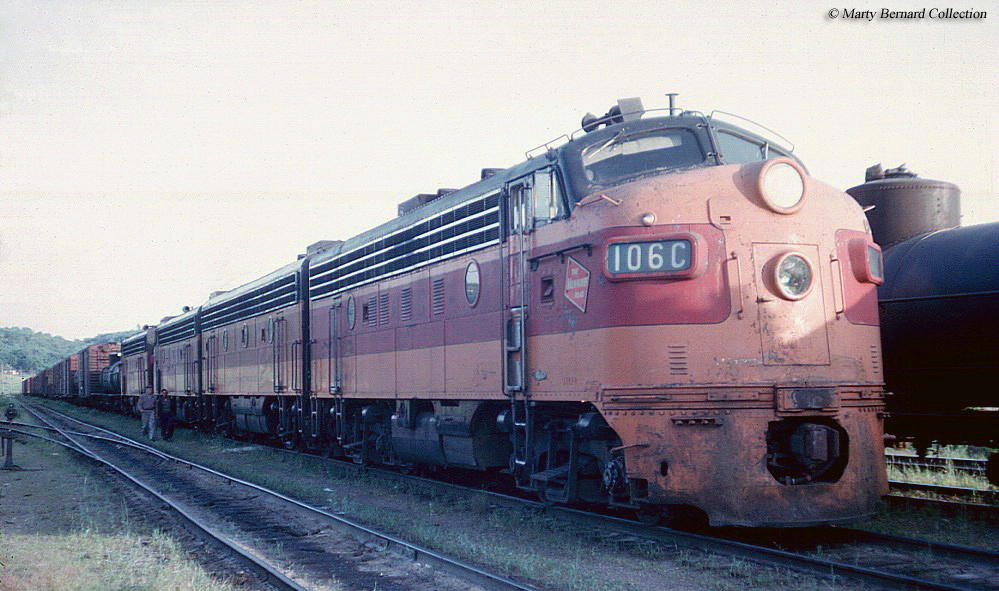 An A-B-A-A set of F7s led by #106-C awaits its crew at Pigs Eye Yard in St. Paul on the morning of June 4, 1964.
For further reading on the collapse of the Milwaukee in the 1970s and why it should have never abandoned its coast extension, the web resources below are quite interesting and very informative. Of particular note is an essay by Michael Sol detailing his experiences as part of an engineering team assessing the viability of the railroad's electrified lines:
Milwaukee Road In The 70's: What Really Happened?
Case Study: The End Of The Milwaukee Electrification, By Michael Sol
The Demise Of The Milwaukee Road, A Timeline, By Michael Sol
Thesis - This Train's Got The Disappearin' Blues: A Study Of The Milwaukee Road, By Sara Levitan
The Milwaukee Road Archives, A Database Of Historic Records
Today electrics no longer conquer St. Paul Pass on the Rocky Mountain Division and all is quiet over the famous Pacific Extension except for the sound of Mother Nature and the occasional hiker along a number of rail/trails. Likewise, Hiawathas no longer pace across America's Heartland and through Iowa. However, the sprinting Indian logo lives on with the Milwaukee Road Historical Association and Amtrak continues to operate a passenger train named after the famous Indian.
Diesel Locomotive Roster
The American Locomotive Company
| Model Type | Road Number | Date Built | Quantity |
| --- | --- | --- | --- |
| DL-109 | 14A, 14B | 1941 | 2 |
| RSC2 | 975-996 | 1946-1949 | 22 |
| RS1 | 961-963, 1676-1679 | 1941-1950 | 7 |
| HH-660 | 1600-1603 | 1939-1940 | 4 |
| S2 | 1657-1669, 1672-1679, 1850-1862 | 1940-1949 | 33 |
| HH-1000 | 1671 | 1939 | 1 |
| S4 | 1863-1896 | 1950-1954 | 34 |
| RSD5 | 2150-2155 | 1953 | 6 |
| RS3 | 2475-2495 | 1953-1955 | 21 |
The Baldwin Locomotive Works
| Model Type | Road Number | Date Built | Quantity |
| --- | --- | --- | --- |
| RS12 | 970-971 | 1951-1952 | 2 |
| VO-660 | 1635 | 1940 | 1 |
| VO-1000 | 1682-1691, 1860-1861 | 1940-1945 | 12 |
| DS-4-4-1000 | 1692-1697, 1901-1904 | 1948-1949 | 10 |
| S12 | 1905-1925 | 1950-1954 | 21 |
Electro-Motive Corporation/Electro-Motive Division
| Model Type | Road Number | Date Built | Quantity |
| --- | --- | --- | --- |
| FP45 | 1-5 | 1968 | 5 |
| E6A | 15A, 15B | 1941 | 2 |
| E7A | 16A-20A, 16B-20B | 1946 | 10 |
| SD40-2 | 21-30, 171-209, 3000-3040 | 1972-1974 | 90 |
| E9A | 36A-38A, 36C-38C, 200A-205A, 200C-205C | 1956-1961 | 18 |
| FTA | 35A-47A, 35D-47D | 1941-1945 | 26 |
| F40C | 40-54 | 1974 | 15 |
| FTB | 35B-47B, 35C-47C | 1941-1945 | 26 |
| F3A | 80A-83A, 80D-83D | 1949 | 8 |
| F3B | 80B-83B, 80C-83C | 1949 | 8 |
| F7A | 48A-50A, 48C-50C, 68A-89A, 84D-85D, 68C-79C, 87C-89C, 106A-111A, 109C-111C, 113A-121A, 113C-121C | 1949-1953 | 68 |
| F7B | 48B-50B, 68B-79B, 84B-85B, 87B-105B, 109B-111B, 113B-121B, 84C-85C | 1949-1953 | 48 |
| F9A | 81C-86C, 81D-86D | 1954-1955 | 12 |
| FP7 | 90A-105A, 90C-105C | 1950-1952 | 32 |
| GP40 | 153-199, 180 (2nd), 2011, 2027, 2037, 2047-2071, 2055 (2nd) | 1966-1969 | 72 |
| E9B | 200B-205B | 1956 | 6 |
| GP9 | 280-331, 2368-2443 | 1954-1959 | 128 |
| GP30 | 340-355 | 1963 | 16 |
| GP38-2 | 350-365 | 1973-1974 | 16 |
| GP35 | 360-371 | 1965 | 12 |
| MP15AC | 434-497 | 1975-1976 | 64 |
| SDL39 | 581-590 | 1969 | 10 |
| SW1 | 1610-1634 | 1939-1941 | 25 |
| SW1200 | 1637-1642, 2020-2061 | 1954 | 48 |
| SW9 | 1643-1645 | 1951 | 3 |
| SW7 | 1646 | 1950 | 1 |
| NW2 | 1647-1654 | 1939-1947 | 8 |
| TR2 | 2000A-2000B (Cow-Calf) | 1949 | 2 |
| TR4 | 2001A-2006A, 2001B-2006B (Cow-Calf) | 1950-1951 | 12 |
| SD7 | 2200-2223 | 1952-1953 | 24 |
| SD9 | 2224-2237 | 1954 | 14 |
| SD45 | 4000-4009 | 1968 | 10 |
Fairbanks Morse
| Model Type | Road Number | Date Built | Quantity |
| --- | --- | --- | --- |
| Erie-Built (A) | 5A-14A, 11B-14B | 1947 | 13 |
| Erie-Built (B) | 5B-10B | 1947 | 6 |
| CFA16-4 (C-Liner) | 23A-28A, 23C-28C | 1951 | 12 |
| CFB16-4 (C-Liner) | 23B-28B | 1951 | 6 |
| H10-44 | 1802-1825 | 1945-1950 | 24 |
| H12-44 | 1826-1847, 2300-2325 | 1950-1955 | 48 |
| H16-66 (Baby Train Master) | 2125-2130 | 1954-1956 | 6 |
| H16-44 | 2450-2469, 2500-2516 | 1954-1956 | 37 |
General Electric
| Model Type | Road Number | Date Built | Quantity |
| --- | --- | --- | --- |
| U28B | 130-135, 137-140, 380, 393-398 | 1966 | 17 |
| U25B | 380-391 | 1965 | 12 |
| U23B | 4800-4804 | 1973 | 5 |
| U30C | 5651-5658 | 1974 | 8 |
| U36C | 5800-5803 | 1972 | 4 |
| U30B | 6005-6009 | 1968 | 5 |
| U33C | 8000-8003 | 1968 | 4 |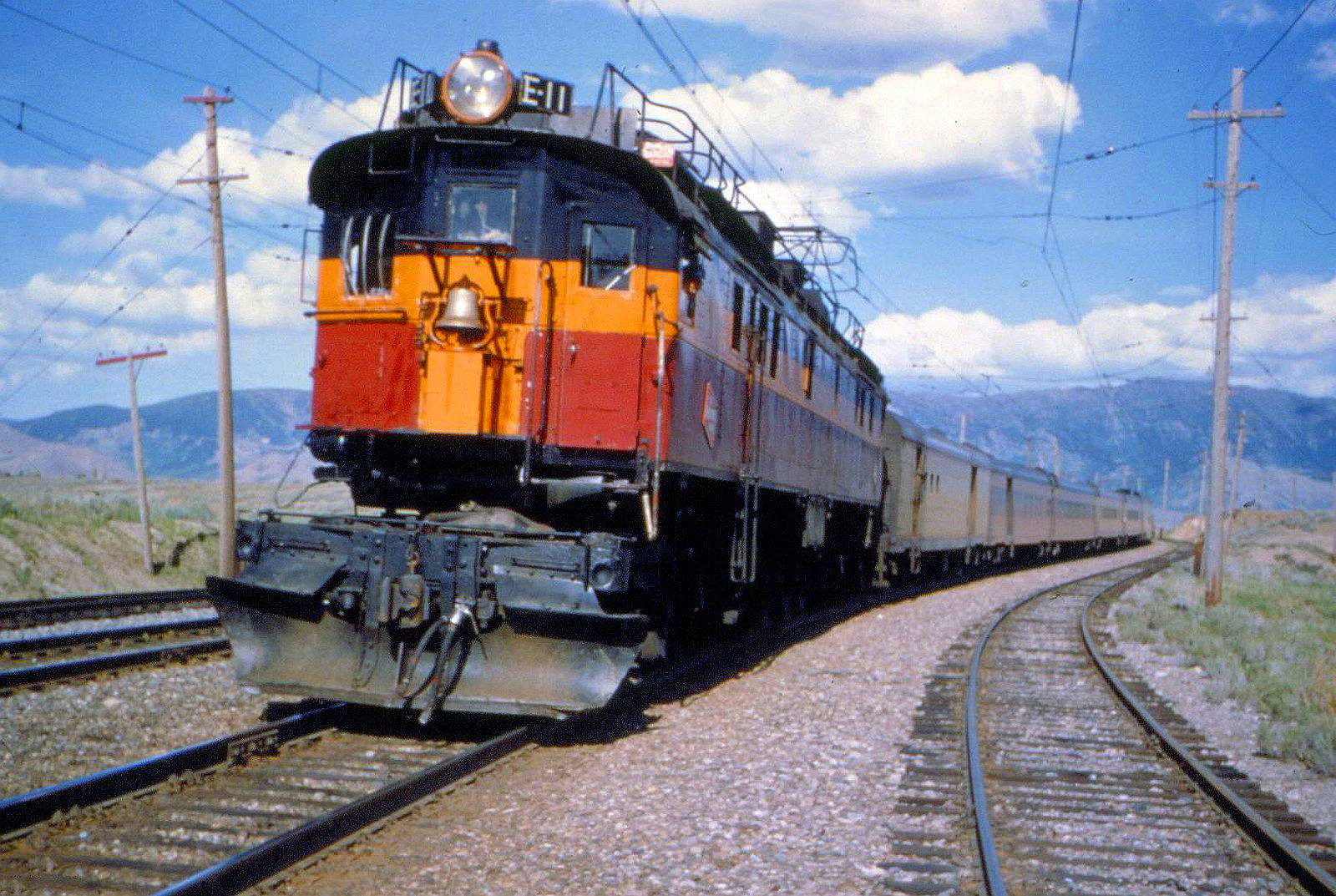 It seems that most focus on the Milwaukee is always on its western route, electric motors, or passenger trains but it also rostered some rather large steamers such as 4-8-4s and 2-6-6-2s. In this scene two of its Class F 4-6-4 Hudsons, double-head the Olympian into St. Paul on September 5, 1947.
Steam Locomotive Roster
| Class | Type | Wheel Arrangement |
| --- | --- | --- |
| A Through A4 (Various) | Atlantic | 4-4-2 |
| B1 Through B4 | Ten-Wheeler | 4-6-0 |
| C1 Through C5-a (Various), NC1 | Consolidation | 2-8-0 |
| F1 Through F5 (Various) | Pacific | 4-6-2 |
| F6, F7 | Hudson | 4-6-4 |
| G3 Through G7-s (Various) | Ten-Wheeler | 4-6-0 |
| H3 Through H7-b (Various), NG | American | 4-4-0 |
| I2 Through I6 (Various) | Switcher | 0-6-0/T |
| J2, J3 | Switcher | 0-4-0/T |
| K1, K1-as | Prairie | 2-6-2 |
| L2 Through L3 (Various) | Mikado | 2-8-2 |
| M2, NM1, NM2 | Mogul | 2-6-0 |
| N1/s, N2, N3 | Articulated | 2-6-6-2 |
| S1 Through S3 | Northern | 4-8-4 |
| X1 | Shay | 0-4-4-0T |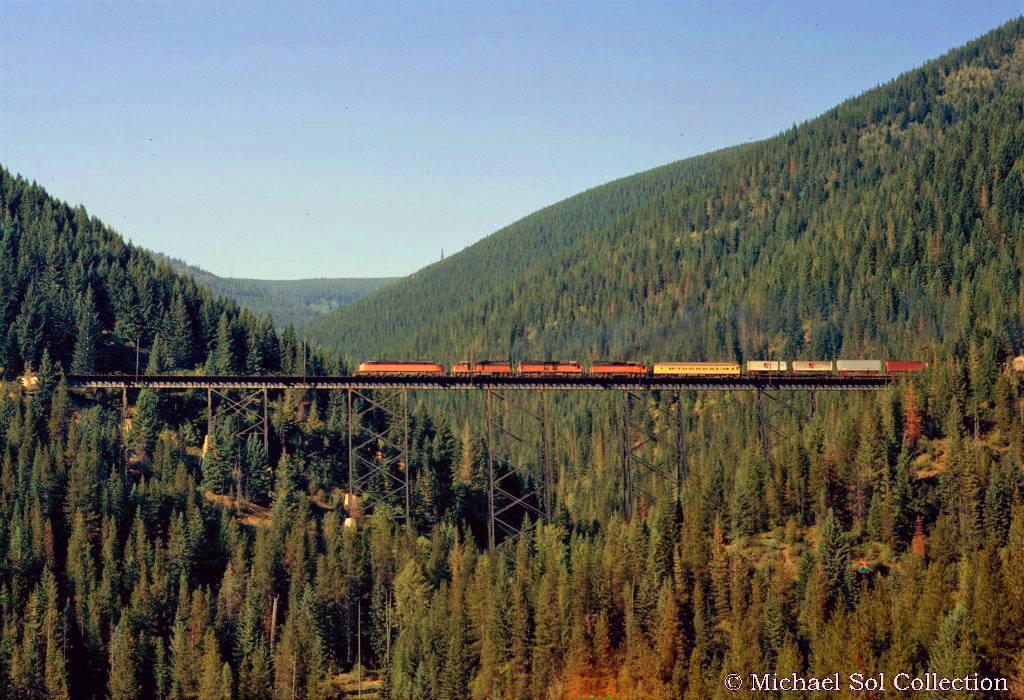 The Milwaukee's largest steam locomotives, the Class N3-s 2-6-6-2 Mallets; seen here is #9301 leading the eastbound Olympian out of Spokane, Washington during April of 1932.
Notable Passenger Trains
Afternoon Hiawatha: (Chicago - Milwaukee - Twin Cities)
Arrow: (Chicago - Omaha/Sioux Falls)
Chippewa-Hiawatha: (Chicago - Channing, Michigan)
Copper Country Limited: (Chicago - Green Bay - Calumet, Michigan)
Midwest Hiawatha: (Chicago - Omaha/Sioux Falls)
Morning Hiawatha: (Chicago - Milwaukee - Twin Cities)
North Woods Hiawatha:  (New Lisbon, Wisconsin - Woodruff/Star Lake, Wisconsin)

Olympian: (Chicago - Twin Cities - Seattle/Tacoma)
Olympian Hiawatha: (Chicago - Twin Cities - Seattle/Tacoma)

Pioneer Limited: (Chicago - Milwaukee - Twin Cities)
Sioux: (Chicago - Madison - Rapid City, South Dakota)
Southwest Limited: (Chicago/Milwaukee - Kansas City)
Tomahawk: (Chicago - Minocqua, Wisconsin)
Twin Cities Hiawatha:  (Chicago - Milwaukee - Twin Cities)

Varsity/Marquette: (Chicago - Madison, Wisconsin - Mason City, Iowa)
Notable Advertisements
---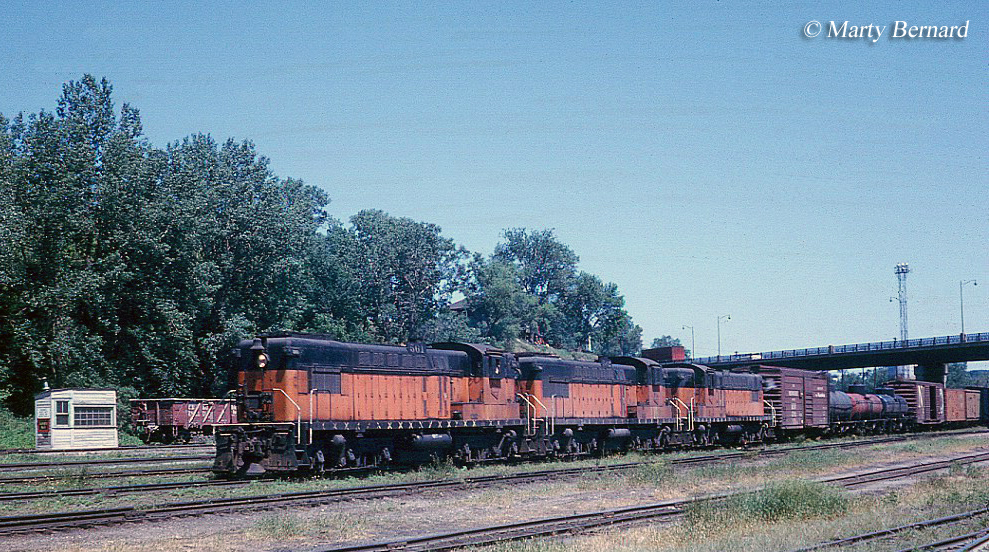 Three Milwaukee Road AS616s with #561 up front are moving through the yard in St. Paul with their train on June 10, 1964.
For more reading on the CMStP&P you might want to consider The Milwaukee Road from Tom Murray. Of course, being that the Milwaukee is a legend in the ranks of fallen flags, hundreds of publications (many quite good) have been written about it over the years detailing various subjects. However, this book is a superb publication and will at least give you a general overview and history of the CMStP&P (and it is filled with many, excellent, historical and colorful photographs) at which point you can decide if you are interested in further books of study on the railroad. Even if you are a historian and/or fan of the Milwaukee and have not seen this book I'm sure you will enjoy it!
Also, to learn more about the Milwaukee's famous Olympian Hiawatha and the other Hiawatha services consider purchasing a copy of The Milwaukee Road's Hiawathas from authors Brian Solomon and John Gruber. The 160-page book details the entire 36-year history of the trains from 1935 through 1971 and is filled with photographs. If you're interested in a general history and overview of the Milwaukee's premier passenger services you will definitely enjoy this book. If you're interested in perhaps purchasing either (or both) of these books please visit the links below which will take you to ordering information through Amazon.com, the trusted online shopping network.