4-8-8-4 "Big Boy" Locomotives

Last revised: May 11, 2023
By: Adam Burns

Few steam locomotives compare to Union Pacific's (UP) colossus 4-8-8-4 "Big Boy."  It was designed during the zenith of seam technology and earned celebrity status as soon as the first debuted in 1941. 

According to David P. Morgan's article, "Big Boy" from the November, 1958 issue of Trains Magazine, the locomotive was mentioned 521 times in newspapers within 45 different states! 
It was also highlighted in magazines and on television.  The 4-8-8-4 wasn't an experiment; it was designed specifically to handle heavy freight trains, daily, through the Wasatch Mountains. 
It did so admirably for nearly two decades.  This period also began UP's high horsepower era (which continued through the diesel age); an attempt to lower operating costs via massive, single unit locomotives.  
History
The Big Boy's arrived in two batches from American Locomotive, the first 20 were delivered in 1941 and the final 5 three years later.  The 4000's were retired in 1959 but a few remained stored into the early 1960's. 

Thankfully, eight of these magnificent beasts survive today.  On May 2, 2019, after a three year restoration, Union Pacific brought #4014 back to life where she operates as part of the company's official heritage fleet.

Photos
Union Pacific "Big Boy" #4009 steams out of Laramie, Wyoming on September 7, 1956. J.E. Shaw photo. American-Rails.com collection.
Background
By the time the first Big Boy, #4000, rolled out of American Locomotive's plant in Schenectady, New York during September, 1941 diesels were already the future in freight transportation. 
Electro-Motive had introduced its new FT demonstrator set in May, 1939 and sales immediately took off.  However, Union Pacific, and a handful of others (Norfolk & Western and Chesapeake & Ohio, in particular) elected to stick with steam's proven capabilities. 
Laying just a stone's throw from Ogden are Utah's Wasatch Mountains, a beautiful but rugged range that plagued UP since it first reached this location during the 1860's.  Its busy Overland Route main line boasted a ruling grade of 1.14%. 
In 1936 UP introduced its latest locomotive to tackle these steep grades, the 4-6-6-4 designed by A.H. Fetters.  Nicknamed "Challengers" they could produce a tractive effort of 97,350 pounds.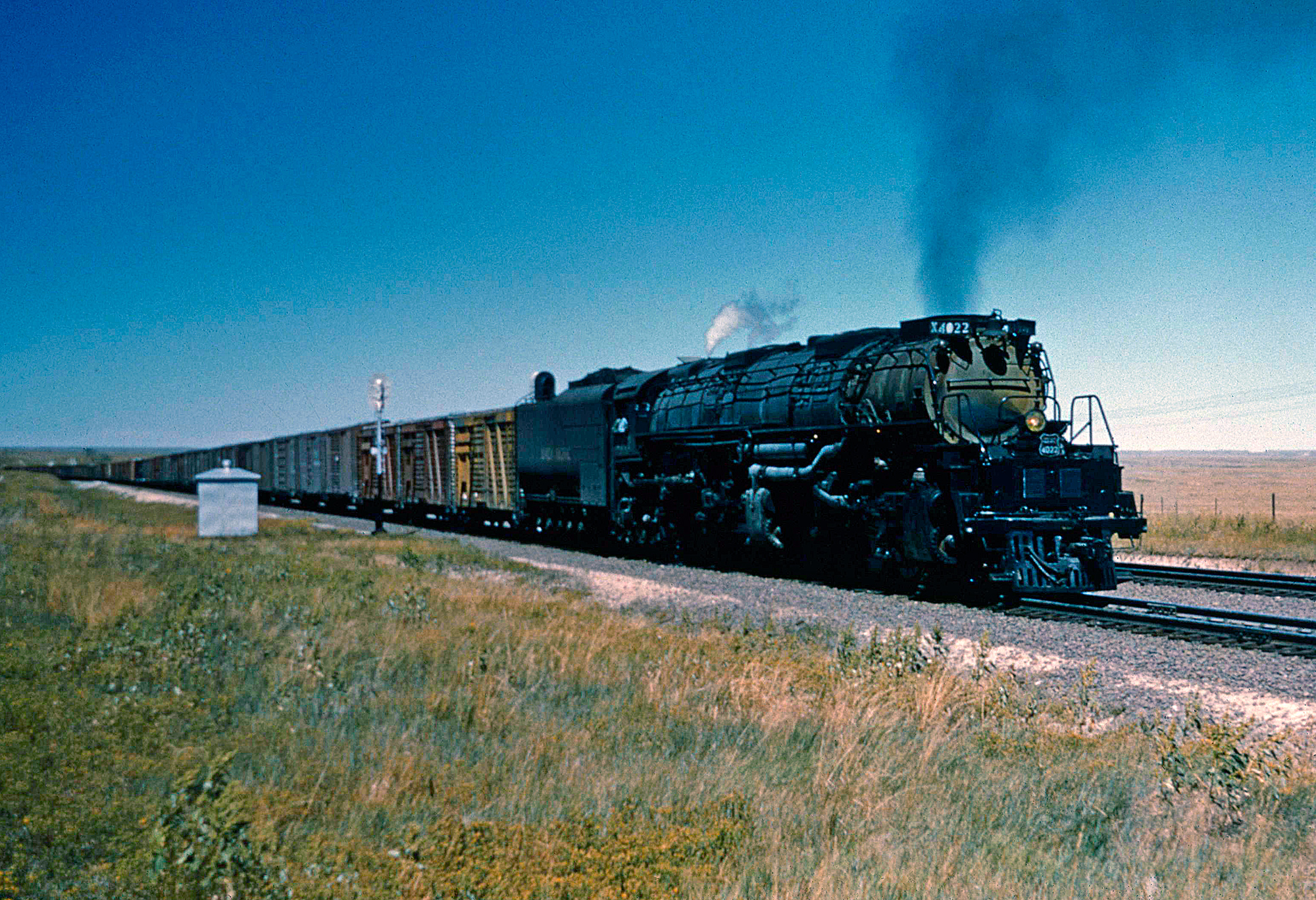 Union Pacific 4-8-8-4 "Big Boy" #4022 heads west at Speer, Wyoming on August 31, 1958. American-Rails.com collection.
However, even these powerful steamers still required helpers or double-heading to move a 3,600-ton train over the mountain. 
Looking for a single unit to do the job, UP's Department of Research & Mechanical Standards (DoRMS), led by Vice President Otto Jabelmann, came up with a new design that was not only powerful but also faster. 
Top Speed
In collaboration with the American Locomotive Company (Alco), Jabelmann and Fetters discovered that beefing up the current 4-6-6-4 design would achieve the desired results by increasing the firebox's size, lengthening the boiler, adding two additional sets of drivers, and shortening the driving wheels from 69 to 68 inches. 
Through these changes the new 4-8-8-4 offered tractive efforts exceeding 135,000 pounds and could operate at speeds up to 80 mph (although no Big Boys ever actually reached such in service).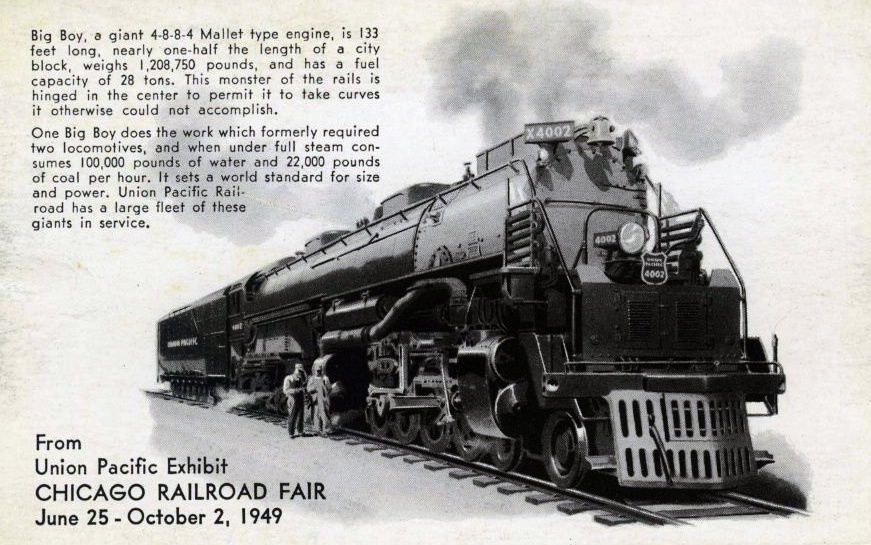 The locomotive needed to be powerful for good reason.  While the Wasatch Range was not nearly as challenging as other mountainous territory it was Union Pacific's primary east-west corridor with trains (both freight and passenger) typically traveling at speeds above 50 mph. 
To sustain such transit times a locomotive like the Big Boy was needed to move expedited fruit blocks and time freights quickly. 
The most challenging aspect of this territory was Wyoming's Sherman Hill which sat at 8,013 feet above sea level. In their book, "Union Pacific Railroad," authors Joe Welsh and Kevin Holland note this location was also the highest point on the system where westbound trains had to contend with grades of 1.55%. 
This difficult stretch was later improved when the railroad carried out a major line upgrade that reduced the westbound track's maximum gradient to 0.82%. 
Work on the project began in July, 1952 and was completed on February 16, 1953.  At a cost of $16 million it was 9.5 miles longer (42 miles) than the original corridor.  Nevertheless it was able to cut transit times by 15 minutes.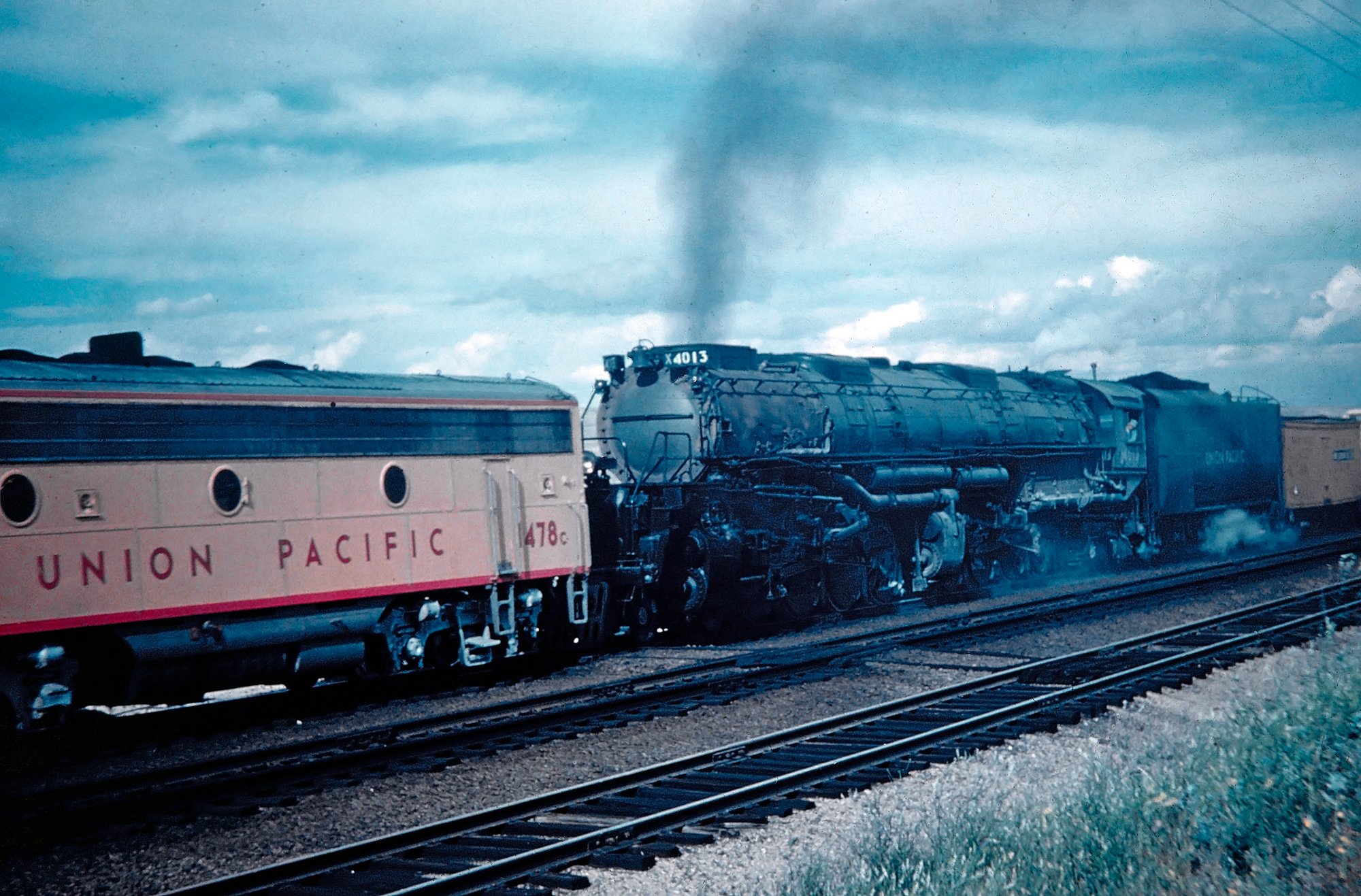 Union Pacific "Big Boy" #4013 and F7B #1478-C (and likely at least one more F unit out of picture) lead a westbound freight over Sherman Hill at Granite, Wyoming, circa 1957. Richard Wallin photo. American-Rails.com collection.
Specifications
Builder

American Locomotive Company (Schenectady Works)

Length

132 Feet, 9 7/8 Inches

Height

11.08 Feet (133 Inches)

Cylinders (4): Diameter & Stroke

23.75" x 32"

Total Engine Weight

762,000 Lbs

Total Engine and Tender Weight

1,189,500 Lbs (Class 1)

1,208,750 Lbs (Class 2)

Tender Capacity

25,000 Gallons/28 Tons (Coal)

Weight On Drivers

540,000 Lbs

Weight On Front Truck

97,000 Lbs

Weight On Trailing Truck

125,000 Lbs

Diameter of Drivers

68 Inches

Steam Pressure

300 psi

Firebox

19 Feet (Length)

Grate Area

150.3 Square Feet

Heating Surface (Evaporative)

5,889 Square Feet

Starting Tractive Effort

135,375 Lbs

True Horsepower

7,000-7,500*

Drawbar Horsepower

6,290**

Cab Width

10 Feet, 10 Inches

Cost

#4000-4019: $250,000/each

#4020-#2024: $319,600/each

Other Facts

Four 36-Point Mechanical Lubricators (To Serve 123 Oil Outlets), Roller Bearings On All Axles
Sources
Solomon, Brian. Alco Locomotives. Minneapolis: Voyageur Press, 2009.

"Big Look At Big Boy."  Trains Magazine. May, 1956: 31-39. Print.

"Union Pacific 4000 Series."  Trains Magazine. July, 1943: 24-27. Print.
"Famous Steam Locomotives 6: Union Pacific's Big Boy."  Trains Magazine. August, 1952: 58-59. Print.
Morgan, David P.  "Big Boy...That's What An Alco Workman Chalked On The Smokebox Of The World's Heaviest Locomotive Back In 1941, And No One Has Ever Seen Fit To Dispute The Name."  Trains Magazine. November, 1958: 40-51. Print.

"Union Pacific 4-8-8-4 "Big Boy" Locomotives in the USA."  SteamLocomotive.com.
*  Brian Solomon's notes in his book, "Alco Locomotives," that Alfred Bruce noted the Big Boy at 7,500 horsepower while the Trains Magazine article, "Union Pacific 4000 Series." mentioned it could produce 7,000 horsepower with a maximum speed of 80 mph.
** This was measured on April 3, 1943 when Union Pacific utilized Santa Fe dynamometer car #29 to test #4016's performance.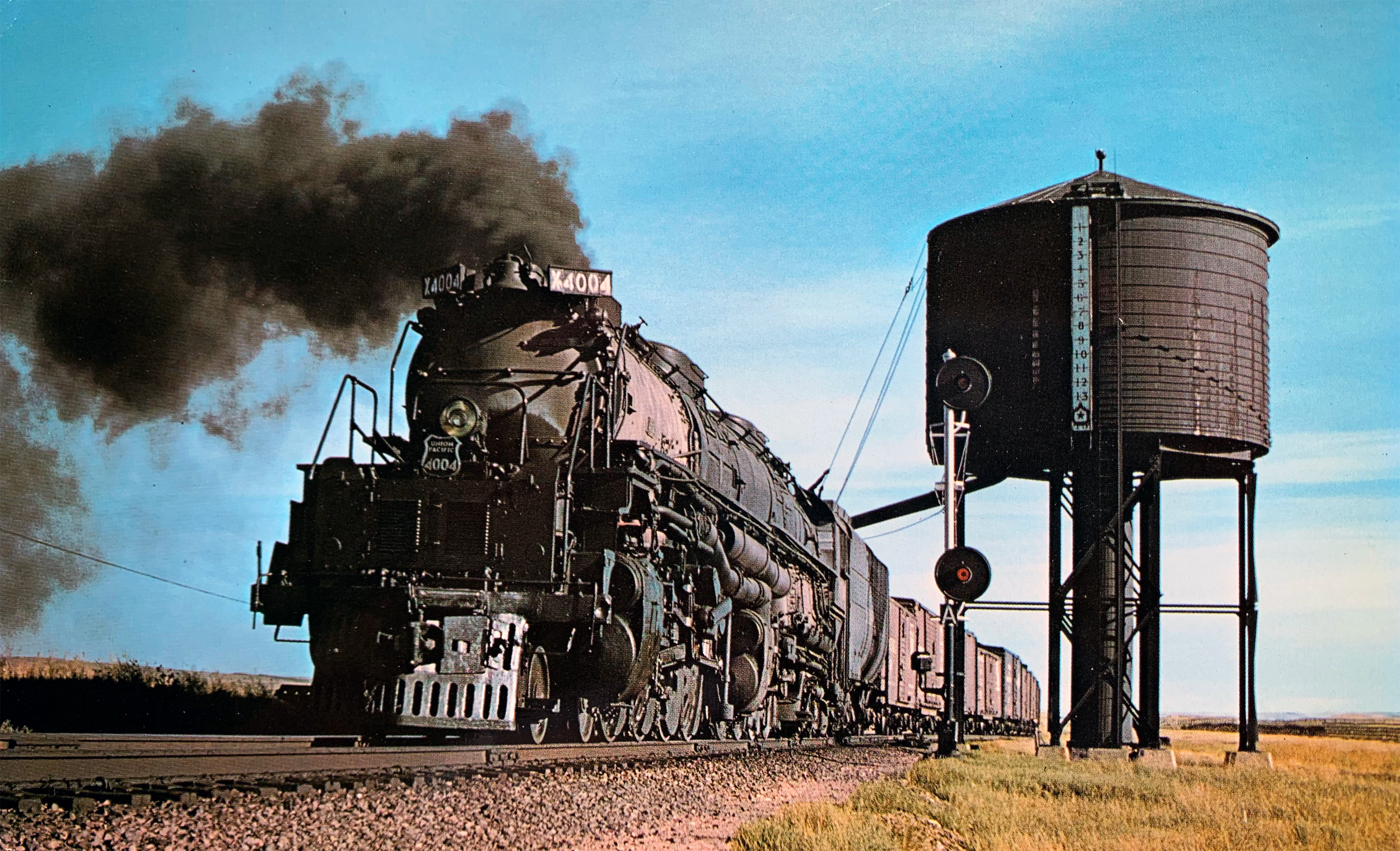 Union Pacific 4-8-8-4 #4004 stops for a drink at the water tank in Red Buttes, Wyoming at the base of Sherman Hill on August 30, 1958. James Ehernberger photo. Author's collection.
Suppliers
Railway Age Editor-In-Chief William C. Vantuono notes in his article, "Requiem For a Heavyweight" published on May 9, 2019 the following suppliers aided in the Big Boy's construction:
Adirondack Foundries & Steel
American Arch
American Brake Shoe & Foundry
American Throttle
Barco Manufacturing
Bethlehem Steel
Buckeye Steel Castings
Carnegie-Illinois Steel
Champion Rivet
Chase Brass & Copper
Elastic Stop Nut
Electro Chemical Engineering
Flannery Bolt Company
Franklin Railway Supply
Garlock Packing
Gatke Corporation
General Steel Castings
Gustin-Bacon Manufacturing
Hewitt Rubber
Homer D. Bronson Company
Johns-Manville Corporation
Jos.eph T. Ryerson & Son
Lunkenheimer Company
Masonite
Nathan Manufacturing
National Lock Washer
National Tube
New York Air Brake
Phelps Dodge Copper Products
Pittsburgh Plate Glass
Prime Manufacturing
SKF Industries
Standard Stoker
Superheater Company
Symington-Gould
Timken Roller Bearing
Tube-Turns Inc.
T-Z Railway Equipment
Ulster Iron Works
Union Asbestos & Rubber
U.S. Rubber
Waugh Equipment
Westinghouse Air Brake
W.M. Sellers & Company
Wilson Engineering
According to Brian Solomon's book, "Alco Locomotives," the first Big Boy (#4000) was delivered to Union Pacific at Omaha, Nebraska on September 4, 1941. 
As the story goes the locomotive's name came from an unidentified Alco employ who scrawled "Big Boy" on the smokebox door with a "V" for victory in World War II.  It entered service shortly thereafter lugging a train of more than 100 cars. 
Union Pacific would go on to roster two distinct classes of 4-8-8-4's listed simply as Class 1 (#4000-4019) and Class 2 (#4020-4024) with Alco delivering the final locomotive in 1944.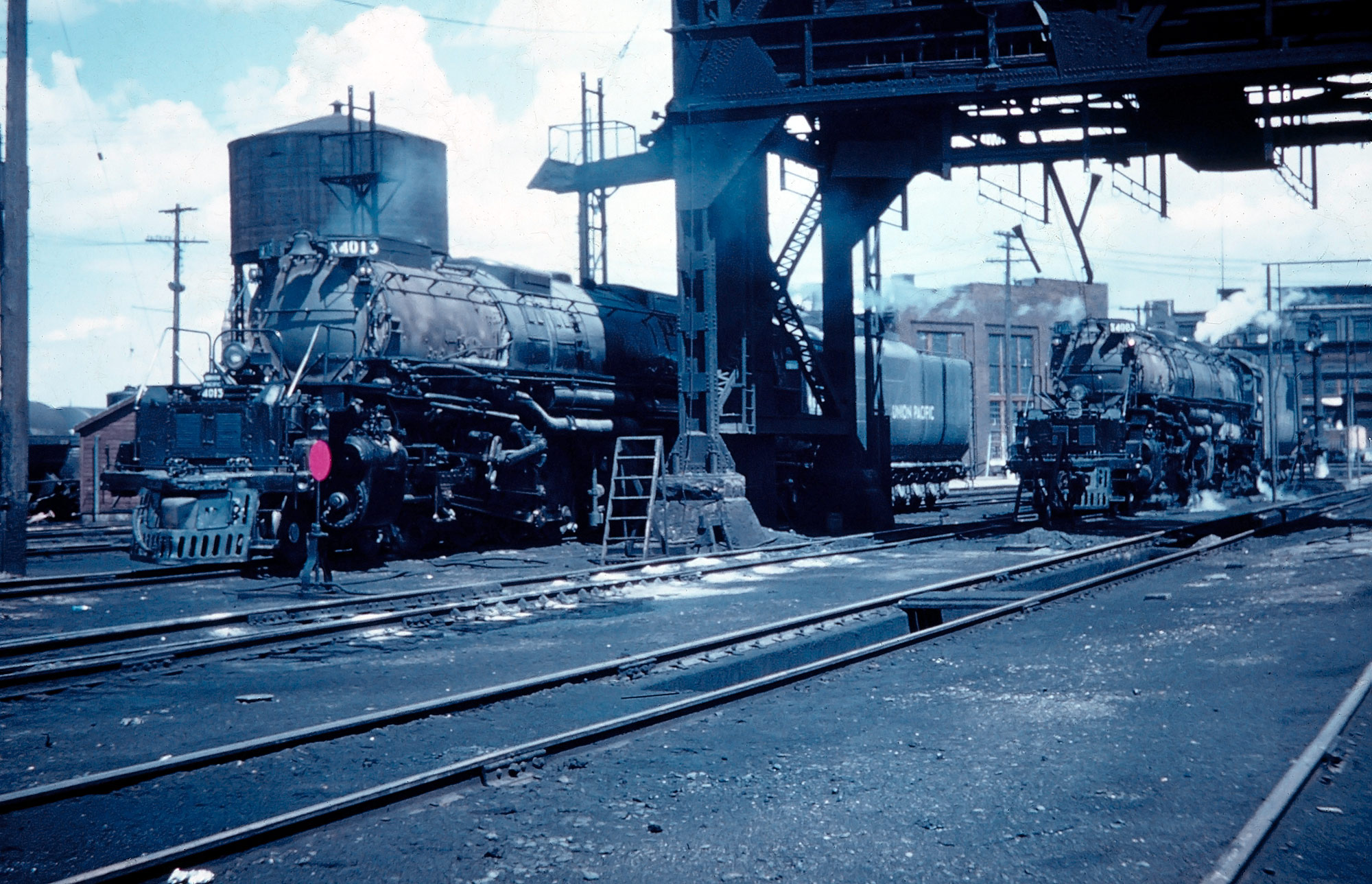 Union Pacific "Big Boys" #4013 and #4003 layover near the shops at Cheyenne, Wyoming, circa 1957. Richard Wallin photo. American-Rails.com collection.
Although oil was a commonly used fuel by the 1940's, UP elected to power its Big Boys with coal since the railroad owned several mines in Wyoming; interestingly, #4005 was tested briefly as an oil burner but the railroad was not satisfied with the results (with improvements in technology, #4014 has been converted to an oil burner). 
The Big Boys went on to tackle not only the grades east of Ogden but also worked the Wyoming Division over Sherman Hill east of Lamarie. 
Because the diesel was already proving itself during the Big Boy's development, the 4-8-8-4's enjoyed only a short service life.  In spite of this they performed faithfully and flawlessly for nearly two decades.
Negotiating Curves
With a length of more than 132 feet (Which prevented operation across much of the system due to lack of adequate turntables.  Only 135-footers were in service at Cheyenne, Laramie, Green River, and Ogden.) many wonder how a locomotive as large as the Big Boy could ever negotiate curves without derailing. 
The answer can partially be found in its articulation while American Locomotive explained the design challenges of the 4-8-8-4 due to its immense weight.  The solution was what the builder described as "lever control."  This engineering feat is mentioned in greater detail here. 
Essentially, it enabled Alco and UP to manufacture a large and powerful wheel arrangement by designing a three-point suspension that prevented the Big Boy's massive wheel base from binding in curves or lifting off the rails. 
It also tackled the issue of counterbalancing, always a tricky proposition, particularly as length and weight increases.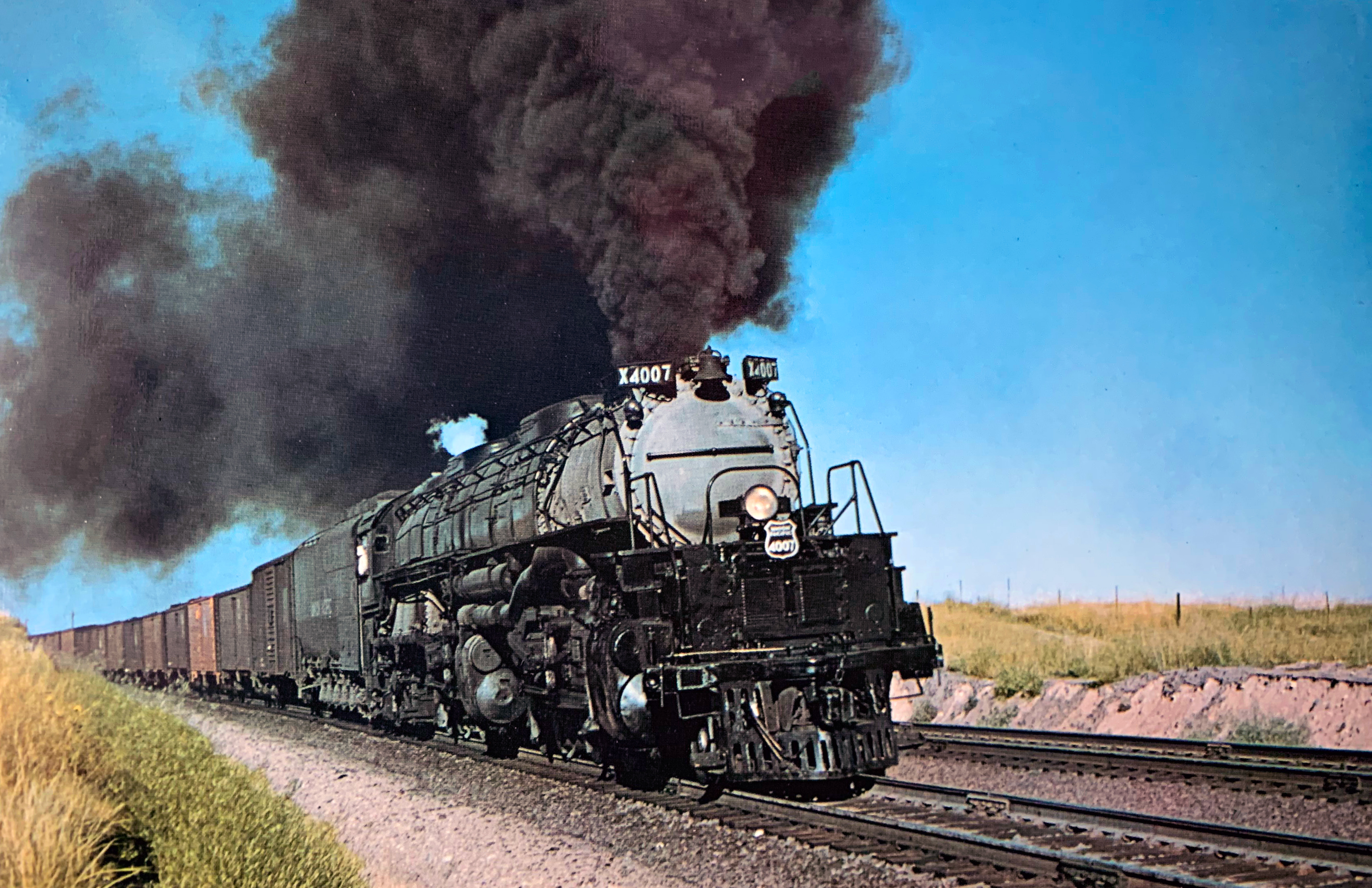 Pulled from retirement to handle a surge in freight business, Union Pacific 4-8-8-4 #4007 steams westbound as it climbs Sherman Hill on the new single-track, low-grade line west of Cheyenne, Wyoming on a late summer's afternoon in 1958. James Ehernberger photo. Author's collection.
The last revenue run of a 4-8-8-4 occurred on July 21, 1959.  Afterwards, the railroad stored four, serviceable at Green River, Wyoming until September, 1962.  The Big Boy is often mentioned as the largest steamer ever built; sometimes even the most powerful. 
In some respects this is true but not others.  For example, the Norfolk & Western's 2-8-8-2 Y6 Class and Chesapeake & Ohio's 2-6-6-6 Alleghenies (Class H-8) were themselves monsters, more powerful and larger than the Big Boy in the areas of tractive effort, weight, length and horsepower. 
While the argument among historians and enthusiasts of the "largest" and "most powerful" will likely for forever be debated what cannot is the locomotive's preservation; no fewer than eight Big Boys have been saved, currently scattered around the country on display.
They include numbers; 4004-4006, 4012, 4014, 4017, 4018, and 4023.   The #4014 has earned global attention since Union Pacific announced its restoration in 2012.
---
Union Pacific 4-8-8-4 #4020 leads an expedited freight of reefers westbound over Wyoming's Sherman Hill on October 4, 1957. American-Rails.com collection.
4014
This tantalizing news leaked on December 7th as the railroad contemplated restoring one to operational condition for the railroad's 150th celebration in 2019.  
After a few months of further discussions with the Southern California chapter of the Railway & Locomotive Historical Society of Pomona, California, which owned #4014, the locomotive was acquired in July, 2013. 
During early 2014 the massive 4-8-8-4 was moved from its long-time resting place at the Los Angeles County Fairgrounds, a spectacle widely documented by numerous media outlets. 
Finally, a major event occurred on the night of May 1, 2019 when #4014 moved out of the Cheyenne Roundhouse under its own power for the first time since making its final run on July 21, 1959.  The following day she stretched her legs by making a test run to Greeley, Colorado. 
On May 9th she, along with 4-8-4 #844, participated in the Transcontinental Railroad's sesquicentennial.  Today, she operates as part of UP's heritage fleet pool which includes 4-8-4 #844, DDA40X "Centennial" #6936, and a handful of "E" units to pull special excursions around the system.