Union Pacific 4-8-8-4 #4014

Last revised: October 20, 2023
By: Adam Burns

Since the last of Union Pacific's fabled Big Boys were retired during the early 1960's many have wondered if one might ever be restored.  They were immediate celebrities which instantly captured the public's imagination. 

Such prospects, of course, were incredibly slim considering the locomotive's size and girth; the cost was just too great for any historical organization to obtain the millions necessary in restoration costs.  Only a major railroad had the necessary capital to do so. 
In December, 2012 news came that this nearly unthinkable possibility may actually occur when Union Pacific announced it was looking to purchase and restore a 4-8-8-4 for its Heritage Program.  The announcement became official seven months later.  

On May 2, 2019, after three years of restoration, the big locomotive made its initial test run from Cheyenne to Greeley, Colorado. 
It went on an incredibly successful PR campaign throughout the 2019 season that saw more than 1 million folks come out to see the big locomotive. 
In some ways, though, it was a bittersweet return to service as #4014's rebirth led to 4-6-6-4 #3985's retirement.  The Challenger is currently stored at the Cheyenne roundhouse.

Pictures
Union Pacific 4-8-8-4 #4014 in service at Cheyenne, Wyoming, circa 1957. Today, she is UP's most famous PR piece, hosting special trips and dazzling the general public. Richard Wallin photo. American-Rails.com collection.
Background
Since Union Pacific's 4-8-8-4 Big Boy and Chesapeake & Ohio's 2-6-6-6 Allegheny made their respective debuts in 1941 debate has raged over which was more powerful. 
It continues into contemporary times.  One could also throw in Norfolk & Western's masterfully engineered Y-6 2-8-8-2's for title of "largest" and "most powerful." 
In any event, such discourse will not be discussed here. The Big Boy was developed by American Locomotive and the vice president of Union Pacific's Department of Research & Mechanical Standards, Otto Jabelmann to fulfill a need; a steamer that could not only conquer the Wasatch Mountains' stiff grades but do so at a high rate of speed. 
This was, after all, the railroad's Overland Route main line and maintaining schedules were of critical importance.  Initially, the 4-6-6-4 Challengers, unveiled in 1936, were developed for this task.
- Several railroads went on to operate the 4-6-6-4 wheel arrangement including the Clinchfield, Delaware & Hudson, Rio Grande, Great Northern, Northern Pacific, Western Maryland, Western Pacific, and Spokane, Portland & Seattle. -  
They proved quite adept (and UP continued purchasing more through 1944) but as tonnage and demand increased the railroad wanted something more; a single locomotive which could handle a heavy, 3,600-ton freight without assistance through this territory. 
Union Pacific's own team, in conjunction with Alco (both parties had also collaborated on the 4-6-6-4), significantly enlarged the Challenger to create the 4-8-8-4 Big Boy. 
The locomotive offered a tractive effort of roughly 135,000 pounds (37,650 pounds more than its smaller cousin) with speeds capable of 80 mph. 
According to Brian Solomon's book, "Alco Locomotives," the first Big Boy (#4000) was delivered to Union Pacific at Omaha, Nebraska on September 4, 1941. 
---
Whistle
Union Pacific employed Hancock Inspirator Company's whistles on many of its locomotives, including all 4-8-4's, 4-6-6-4's, and 4-8-8-4's.  #4014 was fitted with the Hancock Long-Bell 3-Chime.  To learn more about this whistle please click here.

---
Over the next few years the railroad acquired a fleet that totaled 25, #4000-4024.  During their short career that spanned only two decades the Big Boys were deemed a great success with many logging more than 1 million service miles. 
They were also beloved by crewman with one brakeman stating:
"After all's said and done, they're quite an engine.  Best mountain engine we ever had."  A fireman added this, "They can say all they want to about the diesels, but when it comes right down to it these s.o.b.'s are tough beat on the hill - put a little warm water in'em and they'll go."
Union Pacific 4-8-8-4 #4014 is seen here in freight service late in her career, circa 1957. American-Rails.com collection.
The #4014 was part of what was known as "Class 1," the first group of 4-8-8-4's delivered by Alco (her builder plate proudly displays the manufacturer and year she rolled out of the Schenectady, New York plant; September, 1941). 
In all these totaled twenty units, #4000-4019. (The second batch, #4020-4024 were listed as "Class 2" and slightly heavier although tractive efforts were the same.) 
During #4014's years of service it regularly muscled heavy freights over Wyoming's fabled Sherman Hill and across northern Utah, logging 1,031,205 miles in the process. 
Retirement
According to Union Pacific the locomotive saw its last major overhaul in 1956 and then logged another 41,000 miles before being officially retired in December, 1961.  By that time most of the Big Boys had met a similar fate with the final four remaining serviceable at Green River, Wyoming until September, 1962.

---
Negotiating Curves
Turning a locomotive of more than 132 feet and fine tuning its correct balance, not to mention enabling proper articulation through curves was quite a challenge for Alco engineers and Union Pacific's Department of Research and Mechanical Standards (DoRMS), led by Vice President Otto Jabelmann. 
To achieve the Schenectady manufacturer came up with what is described as "lever control." 
In his article, "Big Boy...That's What An Alco Workman Chalked On The Smokebox Of The World's Heaviest Locomotive Back In 1941, And No One Has Ever Seen Fit To Dispute The Name" from Trains Magazine's November, 1958 issue, author and historian David P. Morgan reprinted Alco's comments on the term: 
"Use of the term 'lever principle' arises from employment of a definitely selected pivot point in the locomotive wheelbase about which the mass of the locomotive rotates with respect to track as the locomotive passes around curves.
On an eight-coupled driving wheel base this is the rear pair of driving wheels in which no provision is made for lateral movement of the axle in respect to the engine bed.
The guiding wheels on the front engine unit (the front pair of truck wheels and the front pair of driving wheels) have provision for ample lateral movement against controlled resistance. 
The initial resistance of these wheels is about 17 per cent, increasing gradually as the movement progresses.  The second and third pair of driving wheels adjust themselves freely against a somewhat lower initial resistance and through a somewhat less range of lateral movement than that effective on the guiding wheels. 
Wheels back of the pivot pair control rear end movement of the locomotive against an initial lateral resistance somewhat lower than that of the guiding wheels.  All wheels are fitted to track gauge with a setting of 53 3/8 inches between backs of the tires.   
The effect of this arrangement is to produce a rigidly guided locomotive when on tangent track which adjusts itself freely on curves with a guiding force cushioned in its application.   
Locomotives...move around curves smoothly with complete absence of the succession of violent guiding oscillations characteristic of many existing steam locomotives.
In counterbalancing, advantage has been taken of absence of the tendency to nose brought about by lateral rigidity of the wheelbase on tangent track to keep down the overbalance which has been fixed conservatively at 28 1/2 per cent of the reciprocating weights. 
To relieve tendency of locomotives with long wheelbases to overload the driving springs when passing over concave vertical curves at summits and to underload them with corresponding overloading of the truck springs at the ends of the wheelbase when passing over a convex curve an usual degree of flexibility has been provided in the spring rigging by the employment of coil springs at all points of anchorage of spring rigging to the engine bed and trailer truck. 
Each of these cushion springs comprises two 8-inch double coils in tandem; they permit the elongation or shortening of what are customarily hangers of fixed length, and permit vertical adjustments throughout the entire wheelbase to conform to track with a minimum of distortion of the adhesion weight on the driving wheels... 
The locomotive as a whole has a three-point suspension.  All driving wheels of the front engine are equalized on each side and the two sides are cross-equalized at the front and to the suspension of the rear end of main equalizer beam, the front end of which bears in the Bissel type center pin of engine truck. 
Each side of the rear engine is equalized as a unit from front to back, including both trailer wheels."
---
Southern California Chapter of the Railway & Locomotive Historical Society 
Only a month after retirement, #4014 was donated to the Southern California Chapter of the Railway & Locomotive Historical Society where she arrived on January 8, 1962 in Pomona at the Rail Giants Train Museum. 
Naturally, the big articulated steamer became a prized attraction at the Los Angeles County Fairgrounds.  Over the years it was well cared for by volunteers and museum staff, allowing it to remain in relatively excellent condition (considering its age), which was also thanks to Southern California's dry, warm climate.
According to the website SteamLocomotive.com, even into the 2000's #4014 still appeared as if it could steam away at a moment's notice, a deciding factor in Union Pacific selecting it for restoration.  It seemed the Big Boy was destined to forever remain a tourist trap until the end of 2012.
On December 7th Trains Magazine broke a story that Union Pacific was studying the possibility of restoring #4014 as part of its Heritage Fleet based in Cheyenne, Wyoming. 
---
2024 Schedule
Not yet released.
---
UP Acquisition (2013)
During the next seven months rumor and innuendo swirled regarding what was to happen. 
Finally, the unbelievable occurred on July 23, 2013 when Union Pacific officially confirmed it had reached an agreement with the Chapter to purchase #4014 and restore the massive steamer back to operational status. 
This news not only caught the attention of the railfan community but also the mainstream media. 
During early 2014 the Big Boy moved from its long-time home and returned to Wyoming, which drew coverage wide and far during its long trip, particularly the initial move out of the fairgrounds (which required temporary track laid across the parking lot).
Specifications
| | |
| --- | --- |
| Builder | American Locomotive Company (Schenectady Works) |
| Serial Number | 69585 |
| Build Date | 9/1941 |
| Maximum Tractive Effort | 135,375 Lbs. |
| Wheelbase (Engine & Tender) | 117.5 Feet |
---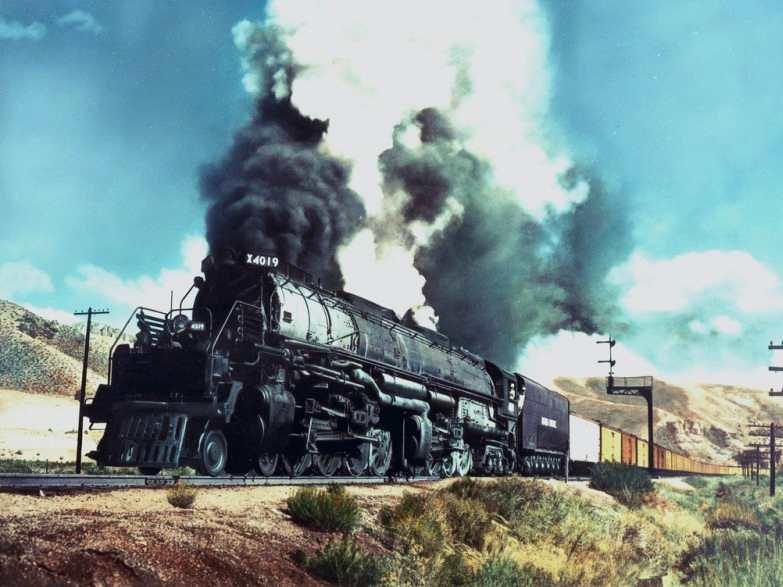 A company photo of Union Pacific #4019, which appears to be climbing Sherman Hill with a string of reefers probably during the 1940s.
Current Operations
After acquiring the Big Boy Union Pacific delayed its restoration until 2016 while the railroad overhauled stablemate #844.  That August the project was launched. 
Thankfully, over the following three years no major delays or issues were found; #4014 had been well preserved and maintained by the chapter and dry climate.  The only major change was upgrading her fuel from coal to #5 oil. 
It is not only cleaner but also greatly improved logistics.  Following a series of updates on the restoration, a major event occurred on the night of May 1, 2019 when Union Pacific moved the locomotive moved out of the Cheyenne Roundhouse under its own power for the first time since making its final revenue run on July 21, 1959. 
The following day she stretched her legs by undergoing a test run to Greeley, Colorado.  Over the next few days she made her way to Ogden to participate in the Transcontinental Railroad's sesquicentennial (May 9th). 
Following these festivities she will join UP's heritage fleet pool which includes 4-6-6-4 #3985, 4-8-4 #844, DDA40X "Centennial" #6936, and the streamlined "E" units to pull special excursions around the system.