California Interurbans and Streetcars
Published: May 18, 2023
By: Adam Burns

At its peak, California contained 1,295 miles of interurbans, ranking it third among all states in this category.  It also ranked first among all states located west of Indiana as George Hilton and John Due note in their book, "The Electric Interurban Railways In America."
Interestingly, the great Pacific Electric Railway system, a longtime subsidiary of Southern Pacific; its 700 route miles in the 1910s accounted for well over half the state's total mileage.  Most of the network was concentrated around San Francisco/Oakland and Los Angeles although there were outliers scattered elsewhere in California.  The information presented here briefly covers many of these systems.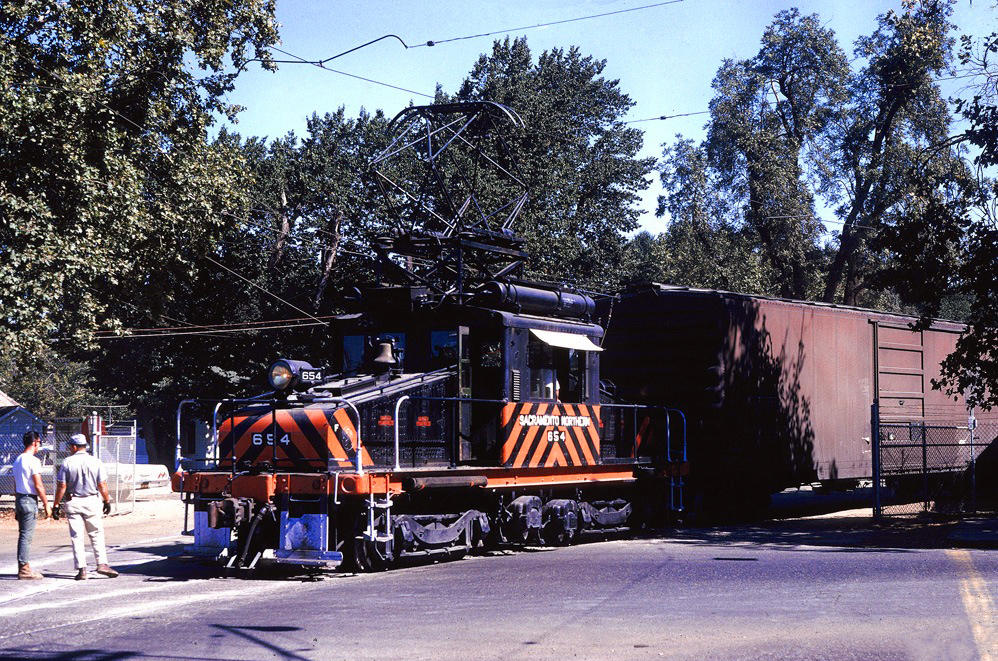 In this scene with steeple cab #654 the crew works the Del Monte plant in Yuba City pulling boxcars on August 4, 1964. Today, the author notes that this scene is no longer recognizable due to urbanization. Drew Jacksich photo.
Bakersfield & Kern Electric Railway
The Bakersfield & Kern Electric Railway dates back to 1902 and operated between the Atchison, Topeka & Santa Fe Railway's depot (located in Bakersfield) and Southern Pacific's station located in East Bakersfield.
After its purchase by the San Joaquin Light And Power Company in 1910 the interurban became one of the top-notch operations in the country with double-tracking spanning the entire line.
In 1933 the line was sold by San Joaquin Light and Power and nine years later in February of 1942 the operation was shifted entirely to bus service.
Interurban Electric Railway
The Interurban Electric Railway was a Southern Pacific company that served Berkeley, Oakland and San Leandro (the "East Bay" of the San Francisco Bay Area).

It began operations in 1911 and used large, heavyweight streetcars. Its routes included the California Street Line, Shattuck Avenue Line, Ninth Street Line, Ellsworth Street Line, Dutton Avenue Line, Alameda Lines, Horseshoe Line and 18th Street Line.
The IER operated until 1941 when the remnants of the interurban were taken over by the Pacific Electric Railway.
Pacific Cement & Aggregates
The Pacific Cement & Aggregates Company was actually a cement plant serving Davenport, California. It operated a short interurban operation as well as a freight system that moved its products to market using electric motors. The railroad remained in service until the 1970s.
Eureka Municipal Railway
The Eureka Municipal Railway was created in 1888 during the city's booming years. It updated to electric operation in 1903 and by 1915 the system was operating five different lines radiating out from the city. It lasted until early 1940 when the interurban system was replaced by buses.
Fresno Traction
Fresno Traction has its earliest roots dating back to early 1889 as the Fresno Street Railroad. In 1901 this railroad was taken over by the Fresno City Railway and after the system was electrified in 1902 its name was changed to the Fresno Traction Company.
At its peak the system was operating a 50-mile network. The interurban lasted until May 20, 1939 when it was converted to bus service.
Nevada County Traction Company
The Nevada County Traction Company was a short interurban operation serving Grass Valley and Nevada City. It was a short-lived operation lasting only until November 5, 1923.
Los Angeles Interurban Railway
The Los Angeles Interurban Railway or LAIU was one of several interurbans serving the city.

It began operations in 1903 and lasted until 1910 when virtually all of L.A.'s interurbans were folded into the "Great Merger" coming under the control of the Pacific Electric Railway, a Southern Pacific Railroad company.
Other systems included in the Great Merger included the Los Angeles Railway, Los Angeles Traction Company, California-Pacific Railway and the Los Angeles-Pacific Railway.
Tidewater Southern Railway
The Tidewater Southern Railway served, , Stockton and Modesto and was originally incorporated in 1910.

Later it also connected Turlock and Hilmar. The Tidewater Southern became a Western Pacific Railroad subsidiary in 1917 and while it was initially built as an interurban its passenger services were abandoned in 1932 entirely and became a freight-only operation.
The TS remained a mostly independent railroad until the 1960s when the WP mostly absorbed the system. Today, most of the railroad remains in service under Union Pacific, one of the few interurbans to still see most of its original property in service.
East Bay Transit
East Bay Transit, began serving Oakland in 1886 and is still operating today. The original streetcar service became the Key System in 1893, which ultimately would serve most of the surrounding communities.
In 1956 the Alameda-Contra Costa Transit District (AC Transit) was created to takeover the failing Key System, which began operations in 1960. The service remains an important transportation artery for commuters today.
San Francisco, Oakland & San Jose Consolidated Railway
The aforementioned Key System originally began as the San Francisco, Oakland & San Jose Consolidated Railway, which was incorporated in 1902.

It served downtown Berkeley and the nearby ferry pier. It changed its name to the San Francisco, Oakland and San Jose, Consolidated Railway in 1908 and again in 1912 to the San Francisco-Oakland Terminal Railway. The operation went bankrupt in 1923 and was then reorganized as the Key System.
Ontario & San Antonio Heights
The Ontario & San Antonio Heights was a predecessor of the Pacific Electric Railway becoming part of the PE's vast Northern District.
Petaluma & Santa Rosa Railroad
The Petaluma & Santa Rosa Railroad was an interurban operation serving Petaluma, Sebastopol, Forestville and Santa Rosa. It began operations in 1903 taking over a horse-powered operation which dated back to 1888. The line was taken over by the Northwestern Pacific Railroad in 1928 and rail service ended in 1933.
Riverside & Arlington Railway
The Riverside & Arlington Railway Company began in 1887 and in 1890 took over the operations of the Riverside Railway Company and then the Hall's Addition Railway in 1895. It eventually became part of the Pacific Electric Railway.
Pacific Gas & Electric Company
The Pacific Gas & Electric is an electric and gas utility still operating today but it got into the interurban and streetcar business in 1906 when it took over the operations of the ,Sacramento, Electric, Gas & Railway Company.

The interurban operated as the PG&E until 1943 when it was sold to the ,Sacramento, City Lines and later the National City Lines, which abandoned all rail operations on April 1, 1946.
San Francisco, Napa and Calistoga Railway
The San Francisco, Napa and Calistoga Railway began operations in 1905 and would ultimately serve Calistoga, Napa, Yountville and St. Helena with a system covering 43 miles.
It remained in service until 1937 when passenger operations ended and Southern Pacific picked up the line for freight services (which lasted until 1987). The SFN&C itself lasted until 1957 when it was dissolved.
Peninsular Railway
The Peninsular Railway served San Jose and Palo Alto (today's "Silicon Valley"). It began operations in 1906 as a subsidiary of the Southern Pacific. It reached its peak in 1920 covering 68 miles and today much of the railroad is operated by the Caltrain commuter service.
Northwestern Pacific Railroad
The Northwestern Pacific Railroad was a regional freight railroad serving the Redwood Empire of Northern California. However, until 1941 the NWP also operated an electrified interurban operation serving Marin County. The railroad itself lasted on paper until 1992 when it was dissolved into Southern Pacific.
Santa Cruz, Capitola & Watsonville Railway
The Santa Cruz, Capitola & Watsonville Railway was an interurban operation serving its namesake cities. It lasted only until 1905 when it became part of the Union Traction Company.
Central California Traction
This interurban was another of California's larger and better engineered systems with a profitable freight business, dating back to September, 1907.
It, too, served Sacramento where it connected with the SN and stretched south to Stockton and Modesto. Its branches served Lodi, Bellota, Manteca, and empire. Early on the system became a subsidiary of the Southern Pacific, Western Pacific, and Santa Fe.  In 1928 it was renamed as the Central California Traction Company.
It abandoned all passenger services in 1946 and scrapped electrified operations that same year. Today, the short line is still in service and remains jointly owned by Union Pacific and BNSF Railway. Today it still operates about 15 miles of railroad hauling freight and serving local ports.
Visalia Electric Railroad
The Visalia Electric Railroad was a subsidiary of Southern Pacific serving Tulare County. It began operations on April 22, 1904 and served as an interurban railroad until 1924 when passenger service was discontinued.

Its electric operations remained until 1933 when they too were shutdown. The freight services were carried on until 1992 when operations were discontinued altogether.
The Sacramento Northern was an interurban that dated back to the very early 20th century and was assembled by H.A. Butters and the Sloss-Lilienthal interest of San Francisco (Pacific Gas & Electric).

The company would grow into a system that stretched 183 miles serving Hamilton City, Chico, Marysville above Sacramento and reached Oakland/San Francisco to the south.
The interurban was one of the best engineered ever built although its profits did not mirror its high level of construction (and probably would not have survived without purchase by the WP).
It was renamed the Sacramento Northern Railroad in 1914 after entering bankruptcy. The SN essentially was formed through two systems; the Northern Electric Railway located above Sacramento (serving the area's mentioned above) and the original Oakland & Antioch (later Eastern was added and became known as the OA&E) to the south. The SN became an official subsidiary of the Western Pacific in 1922.
Sacramento Valley West Side Electric Railway
A poorly planned system meant to connect Dixon Junction with the OA&E, through Dixon and on to Marysville. Unfortunately, the system never made it any further north than Dixon a distance of 12 miles.
Operations began on January 1, 1915 and operated under contract by the OA&E but with Dixon only carrying a population of 1,000 there was never any profit potential and service was abandoned by August, 1917.
Pacific Coast Railway Company
This line began operations as a narrow-gauge freight system, changing over to electrified operations in 1908. At its peak it served San Luis Obispo, Santa Maria, and Los Olivos.

It later extended to Guadeloupe where it interchanged passenger, and some freight, with the SP. With little freight traffic service was abandoned by 1928 in favor of buses.
---
Watsonville Traction Company
Later known as the Watsonville Railway & Navigation Company its six-mile system between Watsonville and Watsonville Beach operated for just seven years until ending service by 1917.
At its peak the PE was the largest interurban ever built in the United States, operating a total of more than 1,000 miles of rails, with about 700 of these miles main line routes.
Glendale & Montrose Railway
This interurban began operations in 1908 serving its namesake towns as well as Eagle Rock and La Crescenta, and also reached the outskirts of Los Angeles via trackage rights over the UP. Service was abandoned in 1930.