B&O 2-8-8-0 (Class EL)
Last revised: May 19, 2023
By: Adam Burns

The Baltimore & Ohio was well-known for its prolific use of large, articulated, and Mallet steam locomotives which it used along the stiff grades of its West End main line in western Maryland, northern West Virginia, and western Pennsylvania. 

One of these wheel arrangements was the 2-8-8-0 Consolidation Mallet, which it listed as Class EL.  These locomotives, particularly later sub-classes, offered very high tractive efforts making them ideal for the drag service in which they were assigned. 
The B&O originally purchased the steamers new from its favored manufacturer, the Baldwin Locomotive Works, but as was so common with the railroad it overhauled and changed the 2-8-8-0s over the years. 
Many could still be found in service through the mid-1950s until they were finally supplanted by diesels.
If you were a railfan during the time these big compounds were operating they could typically be found anywhere in coal country, from northern West Virginia to the B&O-controlled Buffalo, Rochester & Pittsburgh in Pennsylvania. 
The railroad was a big proponent of big steam and utilized many large, articulated arrangements.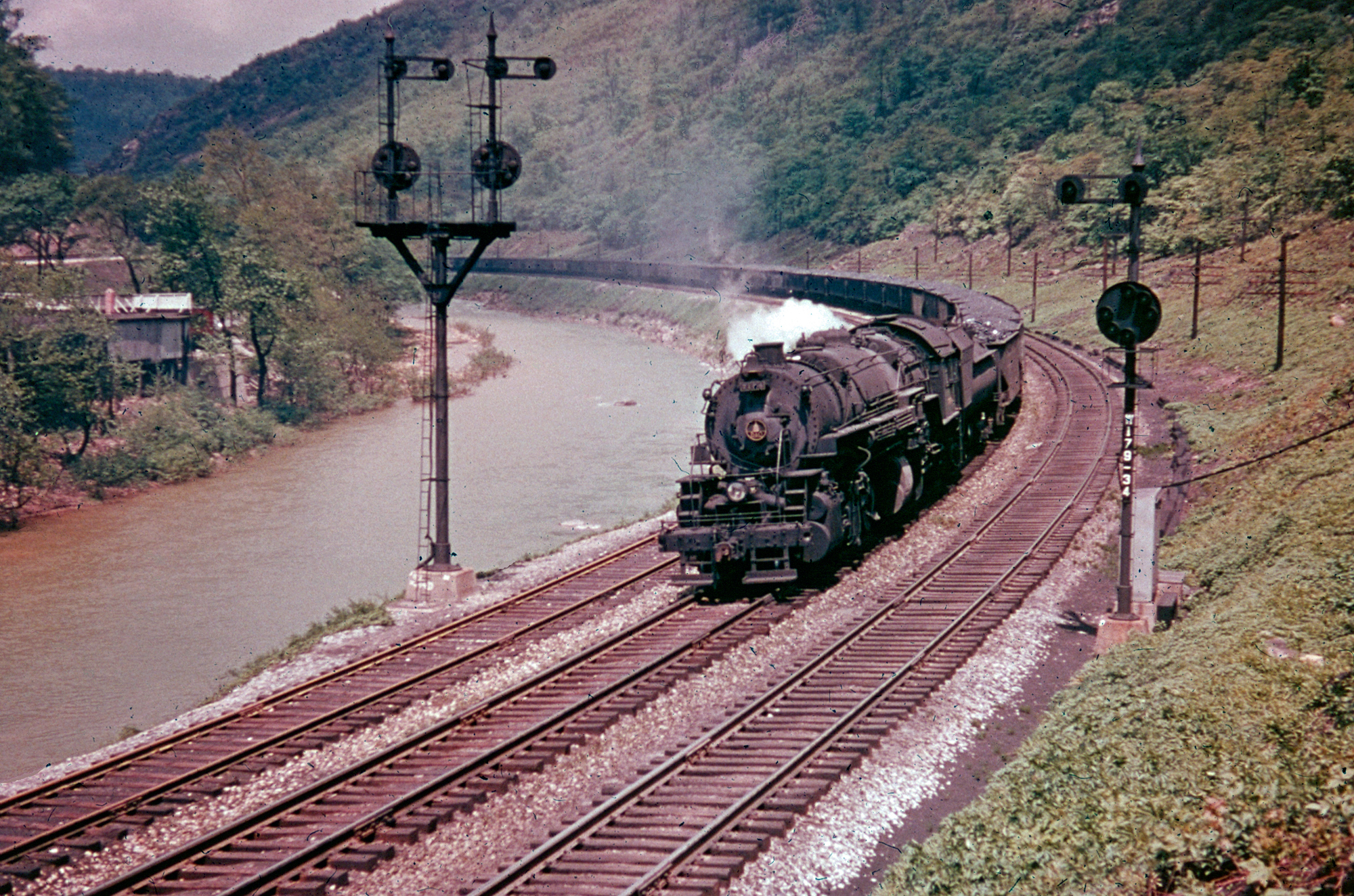 Baltimore & Ohio 2-8-8-0 #7154 leads an eastbound coal drag near Cumberland, Maryland on May 15, 1952. Bob Collins photo. Author's collection.
History
The Santa Fe seemingly had a hand in the development of many of the classic, large steam locomotive wheel arrangements from the 2-10-2 named after it to the 2-10-4 "Texas Type" it first tested during World War I. 
The railroad was constantly experimenting and tweaking setups to find more powerful and efficient locomotives.  The 2-8-8-0 "Consolidation Mallet" was another result of its innovative nature.  In 1911 the Santa Fe's own shop forces took a pair of standard 2-8-0s and combined them into a new 2-8-8-0 arrangement. 
The first example produced used number 3296 and eventually the railroad built four (through 3299).  However, it was never satisfied with the results and converted them back into 2-8-0s by 1923.
0-6-6-0 "Old Maude"
The B&O was the very first North American line to put an articulated steam locomotive into service, an 0-6-6-0 design built in 1904 (built by the American Locomotive Company) that was listed as Class DD-1 #2400 and given the name "Old Maude." 
The railroad was constantly looking to achieve more tractive effort from a single locomotive in an effort to move larger and heavier freight trains over its steep West End, at such locations as Sand Patch in Pennsylvania and Cranberry Grade in West Virginia where some grades reached more than 2%. 
First Examples
In 1916 it acquired its first 2-8-8-0s from Baldwin, and continued receiving them from the builder until 1920.  Eventually, the manufactured delivered eighty-six examples listed from Class EL-1 through EL-5.  

For the era in which they were built the B&O's 2-8-8-0s were impressive looking machines.  As originally delivered the locomotives weighed more than 462,000 pounds and offered nearly 92,000 pounds of tractive effort sporting 58 inch drivers. 
Additionally, with a wheelbase of greater than 82 feet they were then the largest locomotives the B&O rostered.  During 1923 the railroad added more 2-8-8-0s to its fleet; a year earlier it had acquired sixteen 2-8-8-2s from the Seaboard Air Line, which it classified as EE-1's. 
However, disliking their performance in service after only a year shop forces were tasked with removing the rear axle creating Consolidation Mallets.  After this conversion the locomotives were designated as Class EL-6a and numbered 7300-7315 (they also offered the greatest tractive effort of all of the B&O's 2-8-8-0s).

Class EL
| Model | Builder | Road Number(s) | Date Built | Disposition |
| --- | --- | --- | --- | --- |
| Class EL-1/a | Baldwin | 7100-7114 | 1916 | Scrapped, 1955 (?) |
| Class EL-2/a | Baldwin | 7200-7214 | 1916 | Scrapped, 1955 (?) |
| Class EL-3/a | Baldwin | 7115-7144 | 1917 | Scrapped, 1955 (?) |
| Class EL-4 | B&O | Former Class LL-1 0-8-8-0s | 1920 | Scrapped, 1955 (?) |
| Class EL-5/a | Baldwin | 7145-7170 | 1919-1920 | Scrapped, 1955 (?) |
| Class EL-6a | B&O | 7300-7315 (Former Class EE-1 2-8-8-2s) | 1922 | Scrapped, 1955 (?) |
Around the same time the B&O added ten more, also thanks to the work done at its Mount Clare Shops.  During 1913 the railroad had acquired thirty 0-8-8-0s from Alco numbered 7020-7049. 
In the early 1920s it took a third of them and rebuilt the locomotives as 2-8-8-0s, which were listed as Class EL-4.  Interestingly, they were the only class not converted from compound to simple expansion. 
In 1927 the B&O embarked on a rebuild program of the Mallets, changing most from the more complicated compound expansion system to simple as mentioned above. 
- To read more about compound steam and its differences in regards to simple expansion please click here. -
Once out-shopped the EL's designation was appended with an "a" to denote the locomotives' conversion to simple expansion.

---
Baltimore & Ohio Class EL-2a #7212 is seen here at the road's terminal in Cumberland, Maryland during 1951.
Final Years
Virtually all of the Baltimore & Ohio's fleet of large, articulated steam locomotives could be found battling the grades somewhere along the West End.  Many could still be witnessed in service here well after World War II and into the 1950s, giving railfans of this era a spectacular show. 
In David Mainey's book, "Baltimore & Ohio Steam In Color," photographers such as Bob Collins, Emery Gulash, and Don Ball all recorded these behemoths in action (many in color) allowing future generations to see steam during that era. 
As the B&O continued acquiring new diesels during the 1950s its steam fleet was slowly retired.  The Class EL's remained in serviced until at least early 1955.  Unfortunately, none were saved for posterity and all examples were eventually scrapped.