Florida Railroads In "The Sunshine State"

Last revised: October 11, 2023
By: Adam Burns

Florida railroads are as sunny and bright as the Sunshine State itself.  While Florida may feature a rather low-grade profile with little mountainous terrain, the state's interesting diversity of operations and usually fantastic weather make it worth the trip.

Florida also has had quite an interesting history trains as most of the South's classic lines operated there such as the Atlantic Coast Line, Seaboard Air Line, and the Florida East Coast.
In any event, whether you are interested in commuter trains, high-speed freight trains, or short line/regional railroads the state of Florida offers all of these today.
History
The FEC was the preeminent rail service along the Atlantic Coast, and remains so to this day.  It was one the only service to Miami and attempted to open a deep water port at Key West, a failed venture that can still be seen from Highway 1 today. 

The state has lost nearly half of its rail infrastructure over the years; most abandonments were branch lines or redundant routes which littered the state's interior. 
These were largely operated by the SAL and ACL.  Finally, just so that you are aware, the article here provides various links throughout, which will take you to other pages here at the site which are related to the state's rail history.
Photos
Seaboard Air Line E6A #3016 is seen here in Clearwater, Florida running southbound on East Street, circa mid-1950's. Photographer unknown/Warren Calloway collection/Tom Alderman colorization.
Florida railroads date back to nearly the beginning of the industry itself.
In 1834 the little mule-powered Tallahassee Railroad was chartered by the state of Florida to build a 22-mile line connecting Tallahassee (the then capitol of the Florida territory, before it was actually a state) with St. Marks, a Gulf Coast port town.
Two years later, by 1837 the line had been completed and was in operation.
The railroad would eventually become part of the Seaboard Air Line system and would remain in operation through the Seaboard Coast Line merger and even after the formation of the Seaboard System in the early 1980s.
Statistics
| | |
| --- | --- |
| First Railroad | Tallahassee Railroad (1837) |
| Peak Mileage | 5,212 (1920) |
| Current Mileage | 2,782 (2020) |
| Current Railroads | 16 |
| Originated Rail Tons (2019) | 38.2 million |
| Terminated Rail Tons (2019) | 62.3 million |
| Originated Carloads (2019) | 785,791 |
| Terminated Carloads (2019) | 1,202,452 |
However, in 1983 the Seaboard wished to abandon the line and today much of the route is preserved as the Tallahassee-St. Marks Historic Railroad Trail State Park.
In any event, not long after the Tallahassee Railroad opened, Florida's railroad network began to grow rapidly and by 1880 boasted over 500 miles of track.
During the industry's heyday, Florida was home to six major railroads, one of which is still operating.   For a more in-depth look at Florida in terms of rail mileage over the years please refer to the table below.
As you see, during the state's peak years with trains it featured a rail network consisting of more than 5,200 miles. However, today that number has fallen under 2,800 miles, or about a 45% decline.
This number is not that unusual and quite consistent with what many other states have lost since the golden years of the 1920s.

The Southern Railway's Florida operations were limited only to the northeastern corner of state where it reached Jacksonville (although it did extend as far south as Palatka).
Likewise, the Frisco and Louisville & Nashville only reached the extreme western regions of Florida.
---
Abandoned Lines
At its peak during the 1920's, Florida's rail network resembled a Midwestern state like Iowa, Kansas, or Minnesota; tracks crisscrossed in every direction and served the smallest town to largest city.
Even more surprising is that railroads were late to develop the state; while its first was the 5-foot gauge, mule-powered Tallahassee Railroad of 1837 it wasn't until Henry Flagler acquired the rickety Jacksonville, St. Augustine & Halifax River Railway in 1885 and subsequently modernized it via a new company, the Florida East Coast Railway of 1895.
While the FEC came to operate a very profitable regional system along the East Coast, most of Florida was served by the Atlantic Coast Line and Seaboard Air Line.
Most abandonments occurred after 1970 (over 1,700 miles) and were largely secondary or agricultural branch lines.  However, a few stand out, most notably the FEC's fabled Key West Extension.
While the line was heavily damaged by the Labor Day Hurricane of 1935 it was in severe decline prior to this time.
Key West never developed as a deep water port like Flagler had envisioned and it languished until it was knocked out by the hurricane.
Another key line removed was the ACL's Perry Cutoff; a very late addition it was completed in 1928 and allowed freight trains to travel direct from Thomasville, Georgia to Monticello, Perry, Wilcox, Dunnellon, Tampa and St. Petersburg. 
CSX elected to abandon part of the line in the 1980's and most has since been removed.
---
However, the Atlantic Coast Line, Seaboard Air Line, and Florida East Coast had extensive operations in the state and made up the majority of its trackage.
The FEC is the state's most well known railroad and still in operation as a Class II, regional.
It has not changed much since it began services in the late 19th century, operating a main line along the Atlantic coast between Jacksonville and Miami, which along the way served such well known locations as Daytona Beach, St. Augustine, Fort Lauderdale, and New Smyrna Beach.
State Mileage Chart
First Railroad
* Florida's first railroad was the 5-foot gauge, mule-powered Tallahassee Railroad, which opened 22 miles between Tallahassee and St. Marks, a port on the Gulf of Mexico, in 1837.
The railroad also once had a few small branches serving Benson Junction, East Palatka, and Lake Harbor (the latter of which is still in use).
It's most famous extension was to Key West via its Key West Extension. Unfortunately, the 1935 Hurricane ransacked this line and today what is left is mostly used as fishing piers.
State Map
The Atlantic Coast Line operated all over the south between Richmond, Virginia and Birmingham, Alabama. Its lines in Florida reached Jacksonville, Copeland, Naples, Lake Harbor, St. Petersburg, Gainesville, and numerous other western cities in the state.
Most of the ACL's lines were concentrated in central/western Florida and were thanks to its takeover of the Plant System in 1902.
This railroad was named for owner Henry Plant, who was the mastermind behind its creation.
It began with the Savannah & Albany Railroad, chartered on December 25, 1847 and later became the Savannah, Albany & Gulf Railroad in 1858.
The railroad would stretch throughout southern Georgia and northern Florida. After successfully purchasing several other smaller systems Plant renamed his company the Savannah, Florida & Western Railway.
The SF&W would likewise go on to purchase or control several smaller systems before itself was taken over by the ACL in 1902.
A pair of Florida East Coast ES44C4's have train #224 at St. Augustine, Florida on February 11, 2016. Warren Calloway photo.
The Seaboard Air Line was a smaller company than the ACL although it provided its counterpart stiff competition for many years.
Interestingly enough, the railroad dated back to the Portsmouth & Roanoke Rail Road of 1832, which was chartered to connect Portsmouth, Virginia with Wheldon, Virginia.
By the late 19th century the SAL reached Florida and would serve such cities as Jacksonville, Tallahassee, Miami, St. Petersburg, Fort Myers, Sarasota, and others.
Today, many of the former ACL and SAL lines continue to play an important role in the CSX system.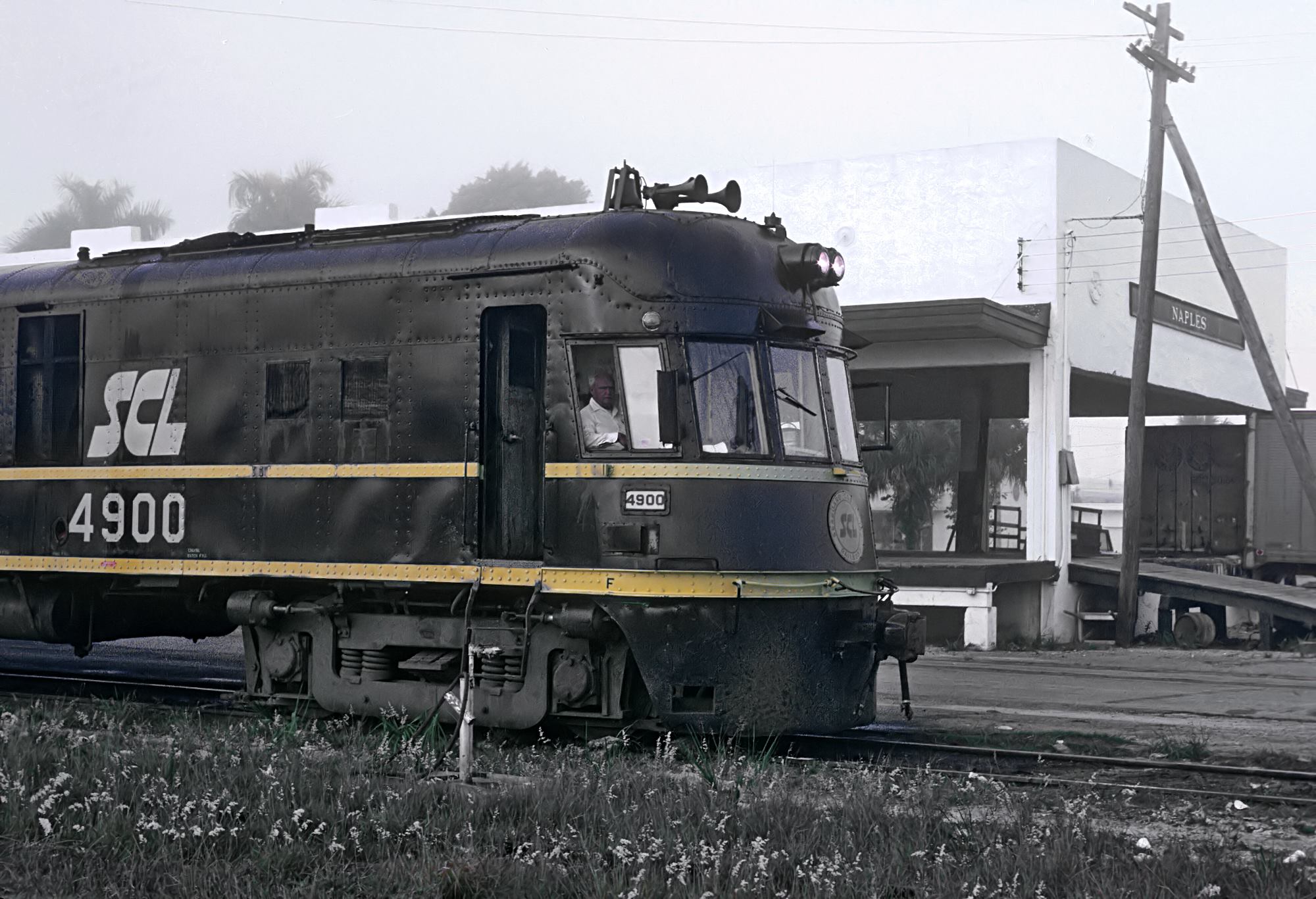 Seaboard Coast Line doodlebug #4900 has train #98, the "Champion," at Naples, Florida on March 14, 1971. Roger Puta photo.
Current Railroads
CSX Transportation


Norfolk Southern


Florida East Coast


Alabama & Gulf Coast Railway



AN Railway

Florida Central


Florida Midland


Florida Northern


Port of Manatee Railroad


Bay Line Railroad


First Coast Railroad


Florida West Coast Railroad


Georgia & Florida Railway


Seminole Gulf Railway


South Central Florida Express, Inc.


Talleyrand Terminal Railroad
Freight trains aside, Florida is also jumping on the commuter train bandwagon. Most recognized is Tri-Rail, a 72-mile commuter railroad that serves Miami, Fort Lauderdale, and West Palm Beach and currently dispatches 40 trains a day.
The railroad also connects with another commuter system, the Miami-Dade Transit Authority's Metrorail system which is a 22-mile system serving Miami.   

---
Less than a month since entering service, Seaboard Air Line DR-12-8-3000 "Centipede" #4500 is seen here between assignments at Jacksonville, Florida on January 6, 1946. Warren Calloway collection/Tom Alderman colorization.
Amtrak also has a significant presence in Florida. It's Silver Meteor and Silver Star trains terminate in Miami and Auto Train serves Sanford. 

Museums and Attractions
Passenger and freight rail aside Florida includes a host of museums and tourist lines. These include the:

Central Florida Railroad Museum


Flagler Museum


Florida Gulf Coast Railroad Museum


Gold Coast Railroad Museum


Largo Central Railroad


Railroad Museum of South Florida's Train Village 


Seminole Gulf Railway


Southwest Florida Museum of History


Tampa & Ybor City Street Railway Society


Winter Garden Heritage Museum
All in all, Florida railroads offer plenty in the way of variety for either the railfan or vacationer simply looking for something interesting to see and do.
Besides just the beaches, sunshine, shopping, and entertainment the Sunshine State is worth the trip to see its railroads.