The GE U36B began production in January, 1969 offering a hefty 3,600 horsepower (utilizing the builder's 4-cycle model FDL16 prime mover), one of the most powerful 4-axle road switchers any locomotive builder ever produced. As GE advanced its locomotive development the U36B, outwardly, began to resemble what would become newer locomotives like the "Dash 7" series, particularly with the flared rear radiator design which first appeared on the U33B. Today, this feature remains a classic GE trademark. In any event, the U36B was the second-to-last Universal series model to enter the company's catalog, as only the U36C was cataloged later in 1971. It was certainly the final four-axle U-boat to enter production as General Electric looked to only focus on six-axle designs, as its late model C-C U-boats sold very well (more than 1,000 were outshopped).
General Electric's Fleet Of "U-Boats"
The U18B, "Baby Boat" 

The First Production Model U-Boat, The U25B 

Following Up Its Predecessor, The U28B 

The 3,000 Horsepower, U30B 

The Fourth U-Boat Entrant, The Lukewarm U33B 

A Late-Era Six-Axle U-Boat, The U23C 

GE's First Six-Axle Design, The U25C 

The More Powerful But Unpopular U28C 

Building Success, The U30C 

Another Popular Six-Axle Model, The U33C 

GE's Final Standard Model U-Boat, The U36C 

The Experimental, 5,000 Horsepower Behemoth U50 

Another Experimental Model, Union Pacific's Enormous U50C 

While the flared radiator was a new feature on GE locomotives the U36B mostly still resembled earlier 4-axle road switchers with boxy carbody designs and straightforward engineering that allowed for generally ease of maintenance. As GE's last 4-axle Universal model the U36B sold relatively poorly with just 125 units built by the time production had ended in December, 1974. The Seaboard Coast Line purchased the most, 108, and the Auto-Train Corporation ordered another 13 (Conrail ordered 4 for use by Auto-Train but these were never delivered). One interesting note about the U36B, and all of GE's four-axle U-boats is that the company never elected to increase the tractive effort rating of the models even as it continued to build more powerful models.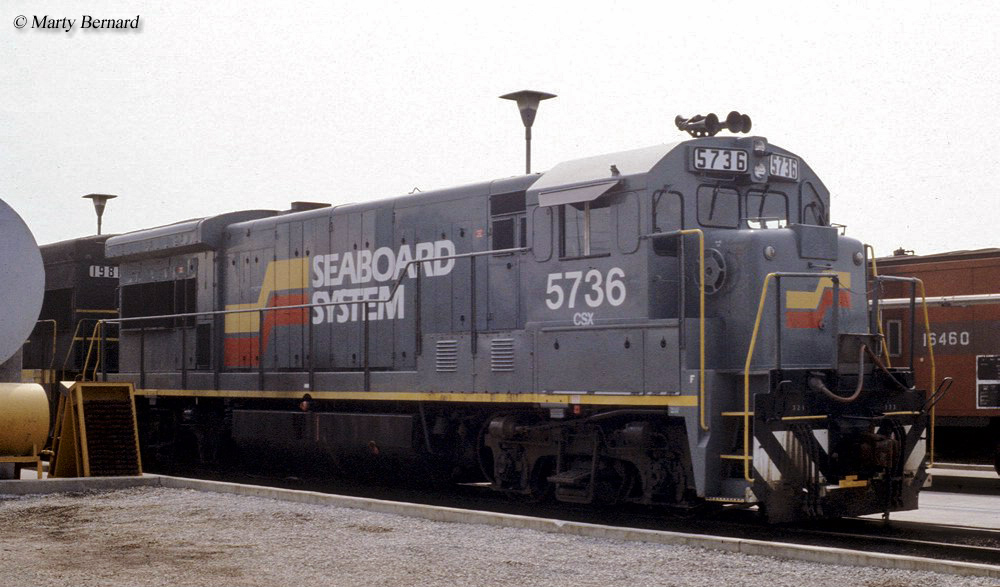 The Seaboard Coast Line's 103 models remained in use through the CSX Transportation merger of the 1980s. The company had mostly retired the fleet by the early 1990s and sold the units to various short lines (like those mentioned above). Interestingly, the Transkentucky, which owns the most U36Bs, also operates several units of GE's U28B design, one of the railroads to still employ the locomotive in freight service. In any event, as the remaining U36Bs continue to age some will probably find their way into museum collections for preservation.   Lastly, for more information about the GE U36B and total production numbers of units built please refer to the chart below.
GE U36B Production Roster
| Owner | Road Number(s) | Quantity | Date Built |
| --- | --- | --- | --- |
| Auto Train Corporation | 4000-4016 | 17 | 1971-1974 |
| Seaboard Coast Line | 1748-1855, 1776 (2nd) | 39 | 1970-1972 |
For more reading about GE's U-boat line the bookU-Boats: General Electric's Diesel Locomotive by author Greg McDonnell provides a complete history of the company's first production diesel models.  Also, noted historian Brian Solomon has authored a number of books covering the history and background of GE's locomotives.  Two, which provide a general but thorough coverage include GE Locomotives and GE And EMD Locomotives: The Illustrated History.  As with virtually all of Mr. Solomon's you can expect a well-written title with large, crisp, and sharp photographs. 


Home

›

Diesel Locomotives

› U36B