Jersey City/Communipaw Terminal

Last revised: April 28, 2023
By: Adam Burns

Jersey City Terminal (JCT), also sometimes called Communipaw Terminal (because it was built along Communipaw Cove) or Central Railroad of New Jersey Terminal, was CNJ's impressive station along the Hudson River waterfront.

Like other major terminals situated on the west side of the river, New York City's Manhattan skyline loomed just across the water.
JCT was also quite likely Jersey Central's most famous railroad station as it stood over three stories tall with a beautiful centered bell tower.
While the CNJ used the complex for its own trains allying roads like the Reading and Baltimore & Ohio also used the facility. Today, the station still stands and has been partially preserved as the Liberty State Park.
However, train service has long ago since ended (more than 40 years ago now) and today JCT is devoid of railroad tracks, save for its train sheds which still stand but are severely deteriorated and in serious need of repair and maintenance. There has been talk of reviving some service to the facility but no solid plans are currently in place.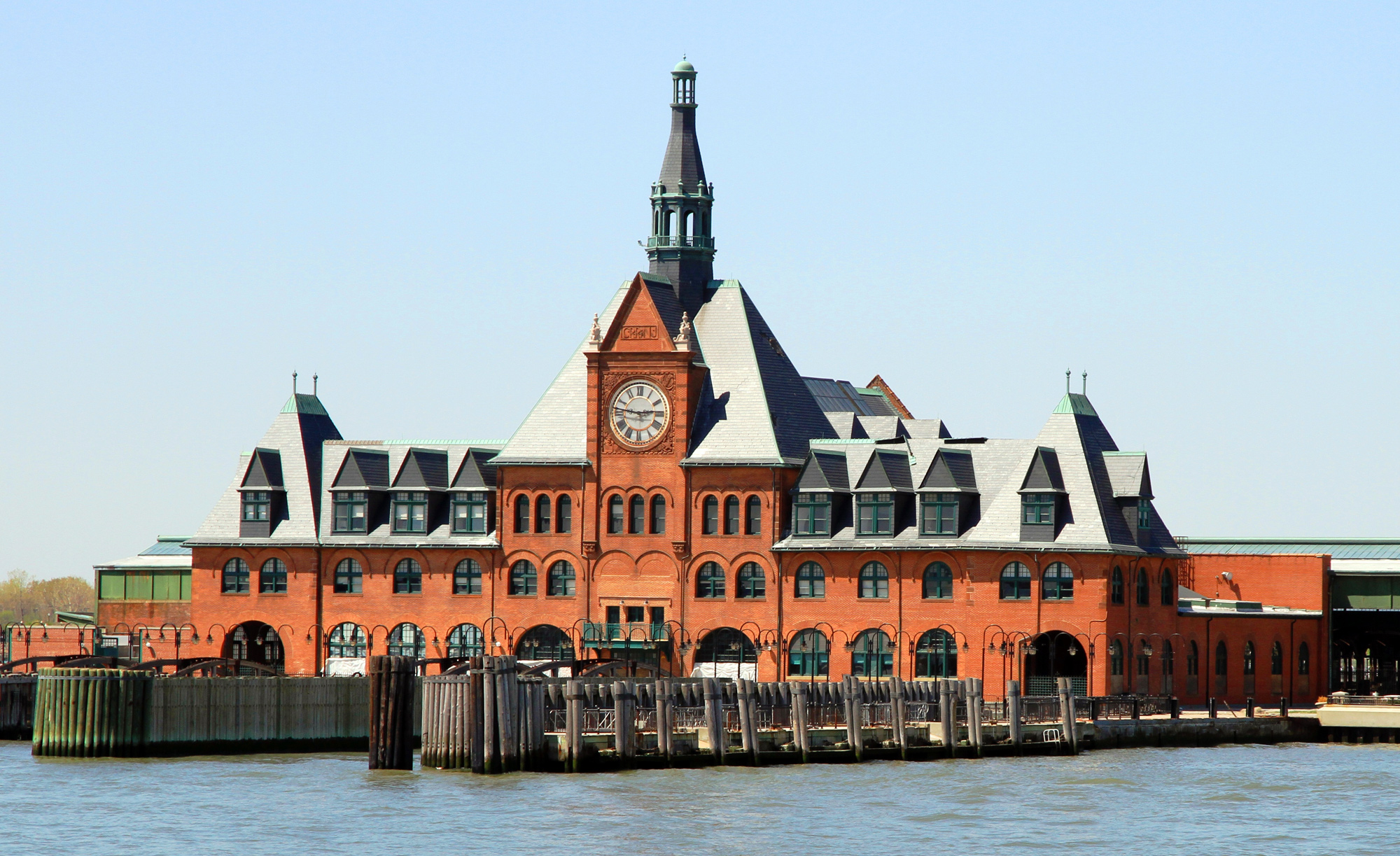 As seen from across the Hudson River is a present-day view of the Jersey City Terminal head house during October of 2013. The building is restored although the platforms are not. Photo by Wikipedia user, "Ingfbruno."
History
For many railroads, except the Pennsylvania Railroad and New York Central, the New Jersey waterfront was as close as they would be able to get to the downtown New York City area of Manhattan.
So, to reach the district several railroad seither built or shared terminals along shores of the Hudson River directly opposite Manhattan and used a fleet of ferries to transport passengers directly into the downtown area.
These included all of the major players during the early 20th century:
Delaware, Lackawanna & Western Railroad


Central Railroad of New Jersey


Baltimore & Ohio (through use of Jersey City Terminal), 


Erie


Pennsylvania


Lehigh Valley


New York Central
The railroad's new terminal would be built along an empty, open stretch of waterfront known as Communipaw Cove.
This marshy area was once quite an excellent fishing hole although in 1860 the state of New Jersey granted the CNJ access to the area to begin construction of a small yard and passenger terminal.
Terminal Map
Originally opened in 1864 this first station proved inadequate by the 1880s and the Jersey Central looked to expand the entire complex.
To do so it required the CNJ to bring in even more trash and fill to build up the waterfront and construct a larger terminal. Despite outcries and legal battles with local residents the railroad succeeded in further developing the location.

A handsome set of Reading FT's are seen here between assignments at Jersey Central's Communipaw Terminal, circa 1949/1950. The CNJ was a long-time Reading subsidiary.
The new terminal was to be constructed by architects Peabody & Stearns of Boston, Massachusetts and while the Jersey Central was never an extremely profitable railroad its new complex was quite stunning once completed in 1889.
Jersey City Terminal was designed in the Richardsonian Romanesque style, so named after famed architect Henry Hobson Richardson who sculpted buildings to mimic Medieval Europe castles and ancient structures.
As such, JCT, built almost entirely of red brick, featured arched windows along its three main floors, dormer windows, and steep pitched roofs.
Additionally, the building was accented with a central cupola and fine clock piece. The interior waiting room featured a balcony and cast iron trusses painted red and given a simple, but elegant starburst pattern.

The completion of Communipaw Terminal was not the only update the complex received.
The railroad also expanded the already massive yard complex to more than 1.5 miles from its main line connection to the west and included a roundhouse, marine repair yard, steamship piers, and freight piers.
This new yard not only was used for the many passenger trains using the terminal but also freight and, interestingly enough, immigrants arriving from nearby Ellis Island.
It is said that between 1890 and 1915 Jersey Central Terminal witnessed several million, mostly Italian and Irish, immigrants passing through the complex.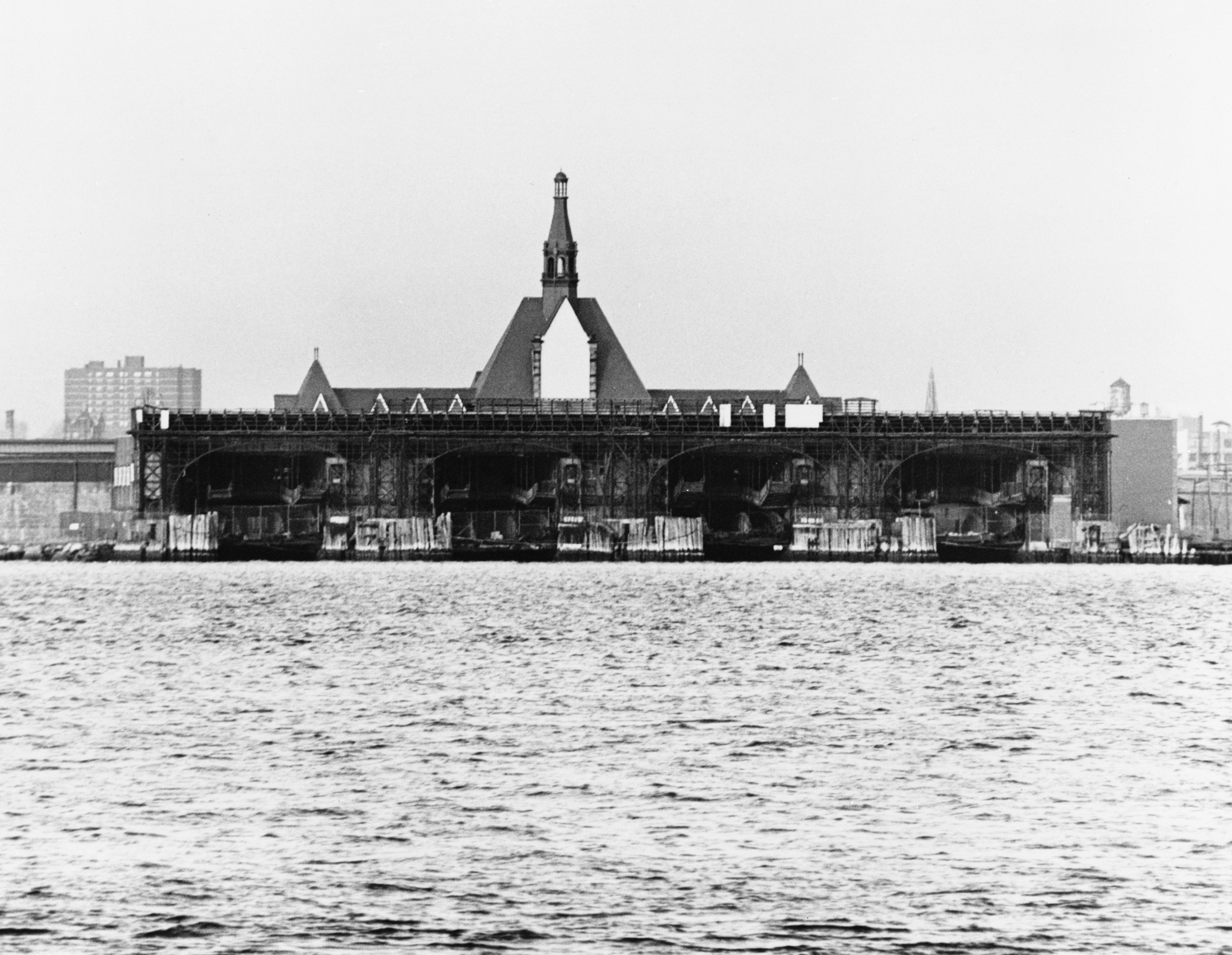 Jersey City Terminal's decaying ferry slips as they appeared during the 1970s. These have since been removed.
Jersey City Terminal was expanded in 1914 to include more ferry slips but perhaps the building's most impressive feature was its train shed that stretched over a football field in width by over two more in length (nearly 400 feet wide by over 800 feet long).
All in all, along with a substantial yard and staging tracks leading up to the station, Jersey City Terminal was a very beautiful building that one would have thought was built by a prominent railroad but the CNJ never reached more than a few hundred miles in length at its largest.
While the terminal played host to many commuter trains it never saw many well known passenger trains although it did serve:
The Blue Comet (the CNJ's regal passenger train)


Queen of the Valley (CNJ)


Raritan Clocker (CNJ)


Williamsporter (CNJ)


Hunterdon Commuter (CNJ)


Crusader (Reading)


Wall Street (Reading)


B&O's Royal Blue (Until 1958)
Today, save for the terminal herself and its train shed little evidence remains of the once sprawling railroad operations that went on along the Jersey City waterfront known as Communipaw Cove.
The tracks have long since been taken up and the terminal itself was purchased by the state in 1967 after the CNJ fell into bankruptcy after the Aldene Plan went into a affect on April 30th that year.
The idea meant to streamline passenger terminal services in New Jersey, moving all intercity and commuter trains to nearby Newark Penn Station.    To read more about the history of the Jersey Central please click here.

---
This resulted in the Communipaw Terminal to lose virtually all of its passenger traffic, although it did allow the Central Railroad of New Jersey some savings in operating the complex.
A few years later the CNJ pulled out of Jersey City altogether in 1974 due to stifling taxes imposed by the city.
Today, the track area of Jersey City Terminal is now an expansive lawn and golf course with the terminal part of the Statue of Liberty and Ellis Island park complex. 
Being that railroad tracks are still just nearby from the terminal it has been suggested that perhaps one day, particularly as highways become more congested and we look for "greener" ways to travel that commuter service will return to the terminal.
While this may never happen at least this beautiful building has been preserved for future generations to appreciate its architectural exquisiteness.