"Jet Rocket" (Train)
Published: November 10, 2023
By: Adam Burns

Despite the railroad's seemingly constant financial troubles, the Rock Island was a big proponent of streamliners and would eventually field an entire fleet of "Rockets" serving the far reaches of its system.
When Spain's newfangled lighweight TALGO design made its way to the United States during the 1950s, the Rock was quick to jump on board and purchased a set from American Car & Foundry.
Interestingly, the TALGO - an acronym for Train, Articulated, Lightweight, Goicoechea (the train's design), Oriol (the train's financier/business partner) - was a unique spin on an old concept. 
The lightweight trainsets harkened back to the early streamliners of the 1930s but were intended to reduce operating costs while not sacrificing ride quality.
Rock Island's one and only set operated in regular service for less than two years before the railroad transferred it to Chicago commuter service.  Here it remained for a few short years before being scrapped in 1965.
Photos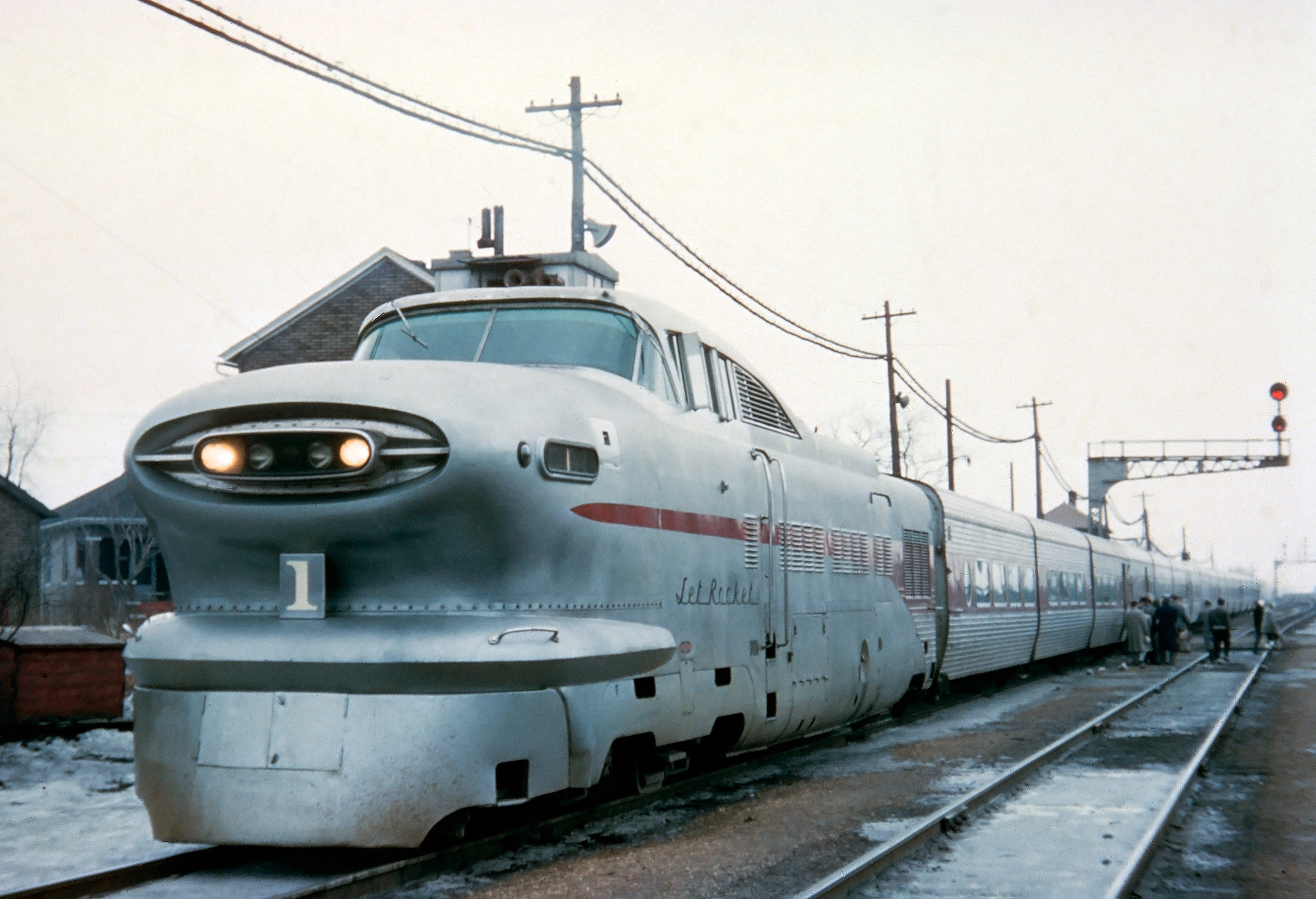 Rock Island's former "Jet Rocket" is seen here stopped in Blue Island, Illinois, circa 1958, after the trainset had been relegated to commuter service. The train carried a very similar appearance to the famous "Aerotrain" and was originally used on the Chicago-Peoria run. It was powered by an LWT-12 locomotive and cars manufactured by American Car & Foundry. The cars were slightly different than those utilized on the "Aerotrain." Nevertheless, it was not successful. The Rock kept its one and only set in service for less than two years (1956-1957) before transferring it to commuter service. American-Rails.com collection.
TALGO
The TALGO project was a Spanish design dating back to the late 1930s and early 1940s invented by Spanish engineer Alejandro A. Goicoechea. 
The articulated trainset, featuring an ultra-lightweight trainset (aluminum), and tubular carbody (equipped with a frame composed of low-alloy, high-tensile steel), was intended to reduce maintenance and operating costs while not sacrificing passenger comfort.
In addition, instead of sporting conventional swivel trucks it utilized individual wheel pairs.  The low-profile concept was intended to reduce wheel wear while also enabling higher speeds through curves.  The ability to perform the latter was one way in which TALGO was designed to reduce operating costs.
At A Glance
Route

Chicago - Peoria

Travel Time

2 Hours and 35 Minutes (1957)

Service History

February 11, 1956 - August 20, 1957

Train Numbers

501 (westbound)

502 (eastbound)

Distance

161 Miles

End Terminals

LaSalle Street Station (Chicago)

Rock Island Depot (Peoria)
Another weight-savings measure was the use of interior plastics.  Today, such measures are viewed as somewhat cheap and tacky although at the time were regarded as a new, revolutionary material.
Finally, TALGO was equipped with an on-board generator that produced three-phase AC power for lighting and heating/cooling.
In Spanish, the TALGO acronym meant; Tren, Articulado, Ligero, Goicoechea-Oriol.  Oriol was short for José Luis de Oriol y Urigüen who was Goicoechea's business partner in the project.
Consist
American Car & Foundry
In 1949, American Car & Foundry was contracted to produce TALGO trainsets for the Spanish National Railways (Red Nacional de los Ferrocarriles Españoles, or Renfe) and was also licensed to build a demonstrator set to test in America.
At the time, streamlining was all the rage in the United States and the new lightweight sets were viewed as a means of reducing costs while also not sacrificing either ridership or passenger comforts. 
Interestingly, American lines had tested very similar semi-articulated sets back in the 1930s and came away dissatisified with the design.
The lack of redundancy meant the cars non interchangeable and if an issue developed with a single car - or the power car - the entire trainset was sidelined.
Rock Island
The Rock Island had shown much interest in the TALGO design following the ACF test train which operated on the Lackawanna between Hoboken and Dover, New Jersey in 1949.  
Interestingly, it was seemingly the only American road to do so as no orders were taken at that time.  In 1954 ACF carried out another test train that was more heavily marketed throughout the U.S.
In June, 1954 Rock Island placed an order for a TALGO set at a cost of $600,000, which was to be led by one of Electro-Motive's new streamlined LWT-12 diesels.  With a price tag of around $188,000, the entire trainset cost $788,000 according to Time Magazine.
The LWT-12 was a unique and fascinating streamlined locomotive that had a classic-1950s futuristic appearance.  The cab was raised over the carbody and featured a long nose, similar to General Motors' automobile styling from that era.
The diesel was powered by one of EMD's 12-cylinder, model 567 engines which could produce 1,200 horsepower.  It was believed the smaller prime mover could still handle the lightweight trainset while also reducing fuel and operating costs. 
Interestingly, the LWT-12 (which stood for Lightweight, 1200 horsepower) was also used to power GM's Aerotrain concept which had debuted at around the same time.   The use of this locomotive on both sets has led to some confusion between the two.
Rock Island's TALGO, dubbed the Jet Rocket, entered service between Chicago and Peoria on February 11, 1956.  The corridor was only 161 miles and required under three hours to complete. The train's services were nevertheless very respectable and included reclining seat coaches, a beverage lounge, and even a full diner.
The Rock hosted an entire fleet of "Rockets," the railroad's trademark name for its top trains in the streamlined era.  The name not only invoked speed but was also a nod to history.  The railroad's first locomotive, the 4-4-0 Rocket, led the road's first train between Chicago and Joliet on October 10, 1852.  
Its nother notable streamliners included the Rocky Mountain Rocket, Choctaw Rocket, Corn Belt Rocket, Des Moines Rocket, Kansas City Rocket, the Peoria Rockets, Texas Rocket, Twin Star Rocket, Quad Cities Rocket, and the Zephyr Rocket.
Decline
The Jet Rocket was, without question, the most eye-catching if not necessarily the most beloved. The traveling public became accustomed to the quiet and smooth ride of traditional American-built "lightweight" streamlined cars from Pullman, Budd, and American Car & Foundry.
These cars were also very spacious and open, especially the roomy domes that were offered in a variety of layouts and provided guests with unparalleled views.  As a result, the TALGO sets - versions of which also were operated by the Boston & Maine and New Haven - were rejected by travelers due to their cramped space, glaring "road" noise, and jarring ride quality.
---
The Rock Island retained the Jet Rocket in regular service for just over eighteen months.  On August 20, 1957 it was replaced with conventional equipment and the TALGO set, along with its LWT-12 locomotive, was demoted to Chicago commuter service.
Interestingly, GM's pair of similar Aerotrains - after going unsold despite extensive testing on the New York Central, Pennsylvania, and Union Pacific - were also purchased by the Rock in 1958 for commuter service.
These sets, with their identical LWT-12 locomotives, remained in use until 1965 while the Jet Rocket was subsequently scrapped.  The Aerotrains are both preserved and one set each can be seen at the Museum of Transportation in St. Louis as well as the National Railroad Museum in Green Bay, Wisconsin.
Sources
Kelly, John.  Rock Island Railroad, Photo Archive:  Travel On The Rockets.  Hudson:  Iconografix, 2010.
Schafer, Mike and Welsh, Joe. Streamliners, History of a Railroad Icon. St. Paul: MBI Publishing, 2003.
Solomon, Brian.  Streamliners:  Locomotives And Trains In The Age Of Speed And Style. Minneapolis:  Voyageur Press, 2015.