Building The Northern Pacific Railway
The Northern Pacific is an old tale involving great hardship and struggle.  Many individuals came together in seeing this railroad's completion. Although its account is not as widely known as original Transcontinental Railroad's it was nonetheless instrumental in opening another segment of the country to new opportunities.  Following its completion the state's of North Dakota and South Dakota (November 2, 1889), Montana (November 8, 1889), Washington (November 11, 1889), and Idaho (July 3, 1890) all joined the Union.  As these former territories were settled and their cities grew, an ever-increasing volume of freight and passengers flowed over Northern Pacific's rails.  The company's great debt as a result of its construction strained its finances and it was not until the James Hill, the "Empire Builder," gained control was its future secured.  At its peak the NP owned roughly 6,700 route miles connecting the Twin Cities, Duluth/Superior, Spokane, Seattle, Portland, and other points.  In later years it operated a fine fleet of trains, like the North Coast Limited, and whisked patrons to and from Yellowstone National Park.  Interestingly, its immediate heritage can be traced all the way back to the very early 19th century and a very important event in American history, Lewis and Clark's expedition to the west coast. 
The Northern Pacific's route ultimately closely followed the journey they undertook when they departed St. Louis in May of 1804.  The two individuals responsible for this historic endeavor included Captain Merriweather Lewis and Lieutenant William Clark, both from Virginia.  According to the book, "The Northern Pacific, Main Street Of The Northwest: A Pictorial History" by author and historian Charles R. Wood, President Thomas Jefferson commissioned the men to document the newly acquired western lands from France (the Louisiana Purchase) to, "explore the Missouri River, and such principal stream as, by its course and communication with the waters of the Pacific Ocean, whether the Columbia, Oregon, Colorado, or any other river may offer the most direct and practicable water communication across the continent for the purpose of commerce."  They returned to St. Louis on September 23, 1806 and while their journey yielded invaluable information about this region of the continent the thoughts of a railroading being constructed here was still decades away.  That all began in the spring of 1853 when Secretary of War Jefferson Davis (who later became president of the Confederate States of America) initiated the task of surveying western routes to the Pacific Coast. There were eight different options put forth running along various parallels from north to south.  These included the 49th, 47th, 42nd, 41st, 39th, 38th, 35th, and 32nd.
There were pros and cons for each although the primary matter concerned the ongoing issue of slavery.  Tensions between northern and southern states reached a crescendo when Abraham Lincoln was elected president on November 6, 1860.  Only weeks later, South Carolina formally seceded from the Union (December 20, 1860); soon afterwards several others followed, Confederate forces opened fire on federal troops stationed inside Fort Sumter in Charleston Harbor on April 12, 1861, and the Civil War was upon the nation.  With the country in turmoil the North now had the freedom to choose whichever route it wished and settled on the central option along the 42nd parallel.  Afterwards, stirrings to construct a northerly corridor also gained momentum.  These efforts were led largely by senators from northern states and, in particular, Josiah Perham an eastern railroad promoters.  Following a great deal of work he was eventually able to secure a rare federal charter for the Northern Pacific Railroad Company.  This bill later passed both houses of Congress and was signed into law by President Abraham Lincoln on July 2, 1864.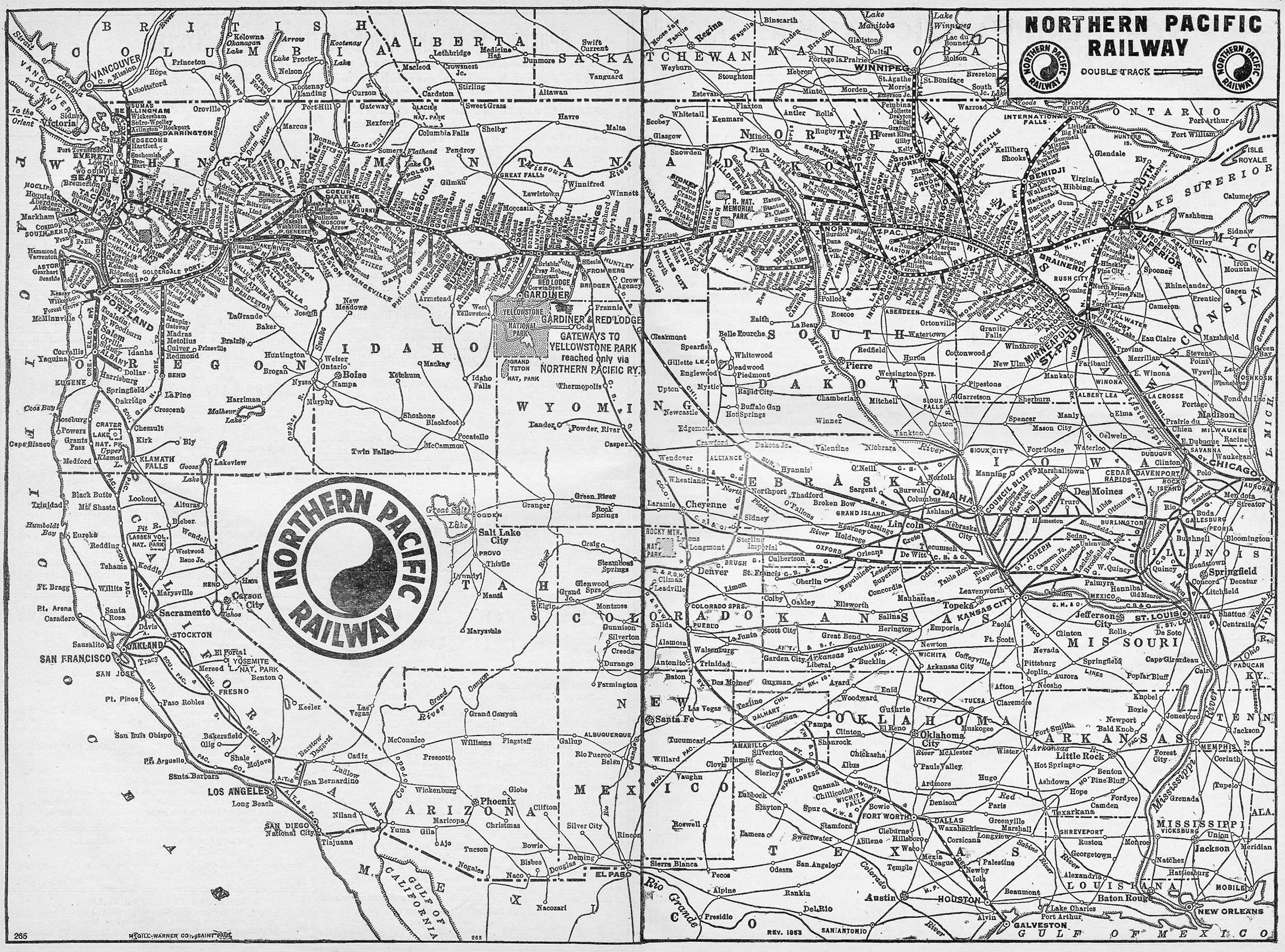 Unfortunately, despite their best attempts neither Perham nor other politicians from the northern states could garner enough support in securing governmental loans or other financial assistance.  While the railroad was awarded land grants, if the Northern Pacific was to be built it would have to be done through the private sector alone.  In addition, the railroad was precluded from mortgaging the property to procure needed construction funds.  In the end, Perham's efforts went no where and the charter lay dormant over the few years.  A new individual then stepped into the picture, J. Gregory Smith.  He tried to secure federal loans and after this failed attempted to interest prominent Eastern/Midwestern railroaders to invest in the venture.  They also were not particularly engrossed with the scheme.  Smith's efforts did, however, garner two important changes to the NP charter; extension of its completion date (July 4, 1877) and an ability to mortgage the property which meant $100 million in bonds could be immediately sold for the endeavor.  The project now had some merit which saw Jay Cooke and his banking firm, Jay Cooke & Company, arrive on the scene.  
He had been very successful at selling bonds in the United States and Europe during the Civil War.  Because of this he was tapped for the same purpose at Northern Pacific in hopes of selling the entire $100 million.  Through this process his banking company, in essence, gained control of the NP charter.  In the summer of 1869 more surveyors were put to work on a route extending west from Lake Superior.  It would pass through the Twin Cities area and head through the territories of Dakota and Montana before reaching the city of Spokane.  The line would then head southwestward, following the Columbia, and arrive in Portland.  Finally, a so-called "Cascade Branch" would be built due west through Washington to penetrate the Puget Sound region.  The entire project was estimated to cost slightly more than $85 million.  The railroad began construction due west from Thomsons Junction, slightly west of Duluth, on February 15, 1870.  At this point the NP met another Cooke-controlled subsidiary, the Lake Superior & Mississippi, which was opened to St. Paul/Duluth via a southwesterly corridor.  Within two years, Cooke had managed to sell an impressive $30 million and by 1872 the NP was opened to Bismarck, Dakota Territory (450 miles) in the east with another segment complete in the west between Kalama and Tacoma (roughly 100 miles).
It seemed for a moment that the entire scheme would finally be pushed through to completion.  However, by 1872 the steady flow of bond sales slowed to a trickle and Gregory Smith, then NP's president, resigned that August.  This decision, however, failed to improve the situation as both Jay Cooke's firm and Northern Pacific entered bankruptcy on September 18, 1873 as a result of that year's financial panic.  With little hope of ever seeing an improvement to the railroad's monetary outlook and a traffic base woefully inadequate it appeared the company's fate was sealed.  As officials fought off Congressional attempts to revoke NP's land grant status they managed to complete a short western branch from Tacoma to Wilkeson where coal was discovered.  This extension was financed entirely from the road's earnings back east.  The railroad was reorganized in 1875 and came under the control of eastern capitalists.  As Mike Schafer notes his book, "More Classic American Railroads," these new owners paved the way for much of the remaining financing needed to see Northern Pacific completed with $40 million in bonds.  As the economy slowly recovered by decade's end so did the railroad's earnings power; it soon completed a direct link between Sauk Rapids and Brainerd through a subsidiary known as the Western Railroad Company of Minnesota.  This corridor provided a through route from those points into St. Paul.
Under new ownership a great priority was placed on seeing the railroad through to completion since the latest Congressional extension only granted the company until July 4, 1879 to see that happen.  If it was not the government had the authority to cancel Northern Pacific's charter.  While the railroad ultimately failed to meet this deadline, revocation of its charter proved extraordinarily difficult and was never successful.  In the meantime, work resumed on all fronts and by 1880 it appeared the project would, at long last, be finished.  However, there were powerful interests attempting to block or stall the endeavor.  These parties, such as the Union Pacific, managed to preclude the NP from obtaining further extensions on its deadline while Henry Villard, who owned the Oregon Railway & Navigation Company (OR&N), attempted to keep the railroad out of the Pacific Northwest.  At the time, Villard's OR&N (incorporated on July 13, 1879), controlled trade along the Columbia River utilizing steamboats and his railroad.  When it appeared increasingly likely he would be unable to stop the Northern Pacific from completing its charter, the wealthy businessman purchased control of the railroad in 1881 through a new holding company he had formed, the Oregon & Transcontinental Company.
Villard's ownership, however, did not amend NP's outlook as he continued pressing towards in completion, which still involved constructing more than 900 miles of new railroad.  The biggest change involved NP's western approach into the Puget Sound.  Instead of building its own line, Villard's OR&N was utilized along the Columbia River.  As NP's progress continued from the east, it breached Bozeman Pass within Montana's Belt Mountains utilizing a 3,610-foot tunnel completed on October 28, 1882.  Less than a year later, rails arrived in Helena during June of 1883.  There was more difficulty ahead with the rugged profile of western Montana and northern Idaho to tackle.  Some of the impressive feats of engineering needed to conquer this region included O'Keefe's Canyon Trestle (1,800-feet long and 112-feet high), the Marent's Gulch Trestle (860-feet long and 226-feet high), and the 3,850-foot tunnel over Mullan Pass.  The Northern Pacific, like all of the major transcontinental projects, witnessed incredible difficulty during its construction.  But those in charge persevered and saw it through to completion.  Crews from the east and west met in Hell Gate Canyon, somewhat west of Helena, on August 23, 1883.  A final spike ceremony was held in Gold Creek, Montana on September 8th where a number of high ranking dignitaries, some as far away as Europe, were on-hand to see the railroad's completion. 

The Modern Northern Pacific Railway
This event marked another major milestone in American history as the country now enjoyed another area of the West opened to greater means of trade and travel.  However, the Northern Pacific was not actually finished although rails now did link Lake Superior with the Puget Sound.  It still utilized the OR&N and needed direct service to Tacoma over its own tracks to officially meet the requirements of its charter.  In addition, Villard resigned in 1884 and the OR&N would eventually wind up under rival Union Pacific's control by 1887.  Grading on the so-called "Cascade Branch," a 248-mile corridor running due west to the coast, began from Pasco, Washington on July 1, 1884.  It headed in a northwesterly direction away from the Columbia River and enjoyed relatively gentle grades until the line neared Ellensburg.  The formidable Cascade Mountains proved quite a challenge and required a number of impressive engineering feats.  The most impressive was the tunnel over Garfield Pass, later known as Stampede Pass which sat an elevation of 2,852 feet.  The completed bore was 1.8 miles in length and was finally completed on May 27, 1888.  By this time work had already been finished across the remainder of the branch and the Northern Pacific finally enjoyed a direct route to the Puget Sound.
Following the railroad's opening it began expanding to increase traffic volume although the company's independence was short-lived.  In 1893, James J. Hill, the "Empire Builder," had finished his new Great Northern to the Puget Sound which provided the region with its second transcontinental carrier linking the Midwest.  As his portfolio continued to expand the book, "The Great Northern Railway, A History," by authors Ralph W. Hidy, Muriel E. Hidy, Roy V. Scott, and Don L. Hofsommer notes that he acquired control of rival, Northern Pacific, in late 1900.  He then added the Chicago, Burlington & Quincy in late 1901 for through service into Chicago.   The NP later regained a direct routing into Portland when subsidiary Spokane, Portland & Seattle Railway opened between its namesake cities in 1908.  At its peak size Northern Pacific's network stretched just over 6,800 miles; it contained 2,831 main line miles and 4,057 miles of secondary (branch) lines.  As with all the "Hill Lines," NP was a well-managed railroad that generally enjoyed successive years of profitability.  It retired its final steam locomotive from main line service in January of 1958.  It modernized its network over the years in other ways with computers, microwave, and installed its first segment of centralized traffic control (CTC) in 1947.  
Diesel Locomotive Roster
American Locomotive Company

| Model Type | Road Number | Date Built | Quantity |
| --- | --- | --- | --- |
| S4 | 42-45 (NP Terminal), 713-724 | 1951-1954 | 16 |
| S2 | 107-118, 150-152, 711-712 | 1941-1949 | 17 |
| HH-660 | 125-127 | 1940 | 3 |
| S1 | 131 | 1945 | 1 |
| RS1 | 155-158 | 1945 | 4 |
| S6 | 750 | 1955 | 1 |
| RS3 | 850-863 | 1953-1955 | 14 |
| RS11 | 900-917 | 1958-1960 | 18 |
Baldwin Locomotive Works

| Model Type | Road Number | Date Built | Quantity |
| --- | --- | --- | --- |
| VO-1000 | 108-109, 111-112, 119-124, 153-154, 160-174 | 1941-1945 | 27 |
| VO-660 | 128-130 | 1940-1942 | 3 |
| DRS-4-4-1500 | 175-176 | 1948 | 2 |
| DRS-6-6-1500 | 177 | 1948 | 1 |
Electro-Motive Corporation/Electro-Motive Division

| Model Type | Road Number | Date Built | Quantity |
| --- | --- | --- | --- |
| NW | 100 (First) | 1938 | 1 |
| SW900 | 100 (Second) | 1957 | 1 |
| NW2 | 101-106 | 1940-1941 | 6 |
| SW7 | 107-114 | 1949 | 8 |
| SW9 | 115-118 | 1952-1953 | 4 |
| SW1200 | 119-177 | 1955-1957 | 59 |
| GP9 | 200-375 | 1954-1958 | 176 |
| GP18 | 376-384 | 1960 | 9 |
| GP7 | 550-569 | 1950-1953 | 20 |
| SD45 | 3600-3629 | 1966-1968 | 2 |
| FTA | 6000A-6010A, 6000D-6010D | 1944-1945 | 22 |
| FTB | 6003B-6010B, 6003C-6010C | 1944-1945 | 16 |
| F3A | 6500A-6506A, 6503C-6506C, 6011A-6017A, 6011D-6017D | 1947-1948 | 25 |
| F3B | 6500B-6506B, 6500C-6506C, 6011B-6015B, 6011C-6015C | 1947 | 24 |
| F7A | 6007A-6020A, 6007D-6020D, 6507A-6508A, 6500C-6502C, 6509A-6515A, 6507C-65013C | 1949-1951 | 47 |
| F7B | 6007B-6020B, 6007C-6020C, 6050, 6510B-6513B, 6550 | 1949-1952 | 34 |
| FP7 | 6600-6601 | 1952 | 2 |
| F9A | 6700A-6704A, 6700C-6704C, 7000A-7014A, 7000D-7014D, 7050A | 1953-1956 | 41 |
| F9B | 6700B-6701B, 7000B-7014B, 7000C-7014C | 1954-1956 | 32 |
General Electric

| Model Type | Road Number | Date Built | Quantity |
| --- | --- | --- | --- |
| 44-Tonner | 98-99 | 1943-1946 | 2 |
| U25C | 2500-2529 | 1964-1965 | 30 |
| U28C | 2800-2811 | 1966 | 12 |
| U33C | 3300-3309 | 1969 | 10 |
Steam Locomotive Roster
| Class | Type | Wheel Arrangement |
| --- | --- | --- |
| A Through A-5s | Northern | 4-8-4 |
| B Through B-2, C-1 Through C-33 | American | 4-4-0 |
| D Through D-9, K, K-1 | Mogul | 2-6-0 |
| E Through E-8, P Through P-3, R, S (Various) | Ten-Wheeler | 4-6-0 |
| F Through F-8, Y Through Y-5 | Consolidation | 2-8-0 |
| F-2, F-5, G Through G-2 | Switcher | 0-8-0 |
| H, H-1, H-3 | Switcher | 0-4-0/t |
| H-2 | Saddle Tank | O-4-2T |
| H-4 | Saddle Tank | O-4-4T |
| H-5 | Porter | 2-4-0 |
| I-1, I-2, K-1, K-2, L Through L-10 | Switcher | O-6-0 |
| M | Decapod | 2-10-0 |
| N, N-1 | Atlantic | 4-4-2 |
| Q Through Q-6 | Pacific | 4-6-2 |
| T | Prairie | 2-6-2 |
| V | Shay | 0-4-4-4-0T |
| V-2 | Heisler | 0-4-4-0T |
| W Through W-5 | Mikado | 2-8-2 |
| X | Twelve-Wheeler | 4-8-0 |
| Z, Z-1 | Mallet | 2-6-6-2 |
| Z-2, Z-3, Z-4 | Chesapeake | 2-8-8-2 |
| Z-6, Z-7, Z-8 | Challenger | 4-6-6-4 |
There had been several attempts to merge the "Hill Lines" into a unified network dating back to the James Hill era at the turn of the 20th century.  In 1955 talks had been launched again between the three allying railroads about merging the "Hill Lines." This led to a formal application filed with the Interstate Commerce Commission on February 17, 1961 which would bring together the Northern Pacific, Great Northern, and Chicago, Burlington & Quincy into the previously-named conglomerate.  It would comprise 24,500 miles and include leasing the Spokane, Portland & Seattle for a period 10 years before its absorption into the parent company.  In typical ICC fashion the process was slow and tedious.  Finally, on March 31, 1966 the agency surprisingly voted against the merger in a 6-5 decision.  Undeterred the three railroads continued to push forward.  A great hurdle was cleared when they worked out an agreement with the Chicago, Milwaukee, St. Paul & Pacific whereby their only transcontinental competitor was afforded eleven new western gateways. This strategic opportunity provided the Milwaukee Road bountiful new sources of interchange traffic, particularly in conjunction with the Southern Pacific at Portland.  With this issue resolved the ICC reopened hearings on January 4, 1967.  Later that year, on November 30th, the merger was approved by an 8-2 vote.   As the process the railroad's name was formally changed to Burlington Northern, Inc. (BNI) during April of 1968.  After overcoming a bit more legal work and objections the four railroads finally became one at 12:01 AM on March 2, 1970.
Books Featured In This Article
---
Home

›

Fallen Flags

› Northern Pacific