The Sierra Madre Express
(Train)
Last revised: March 21, 2023
By: Adam Burns

Trains as tourist attractions through northwestern Mexico date back to the early 1960's when a rail route was finally completed by the Mexican government. 

What became the Sierra Madre Express was launched in the 1980's, utilizing streamlined equipment originally built for various American railroads. 
First class rail service through the stunning Sierra Madre Occidental, and the Copper Canyon in particular (which is more expansive than Arizona's Grand Canyon!), has been a hit and miss affair. 
It has included everything from dome service to full course meals.  The latest incarnation is known as the Chepe Express, which operates over trackage currently owned by Ferromex but via a slightly different corridor. 
- This route is technically still a component of Ferrocarril Chihuahua al Pacífico, once owned by the government but now a division of Ferromex.  
At one time, American lines were involved with this property, including the Southern Pacific and Atchison, Topeka & Santa Fe. -
The information here provides a brief history of the corridor as well as the lifespan of what was formerly the Sierra Madre Express.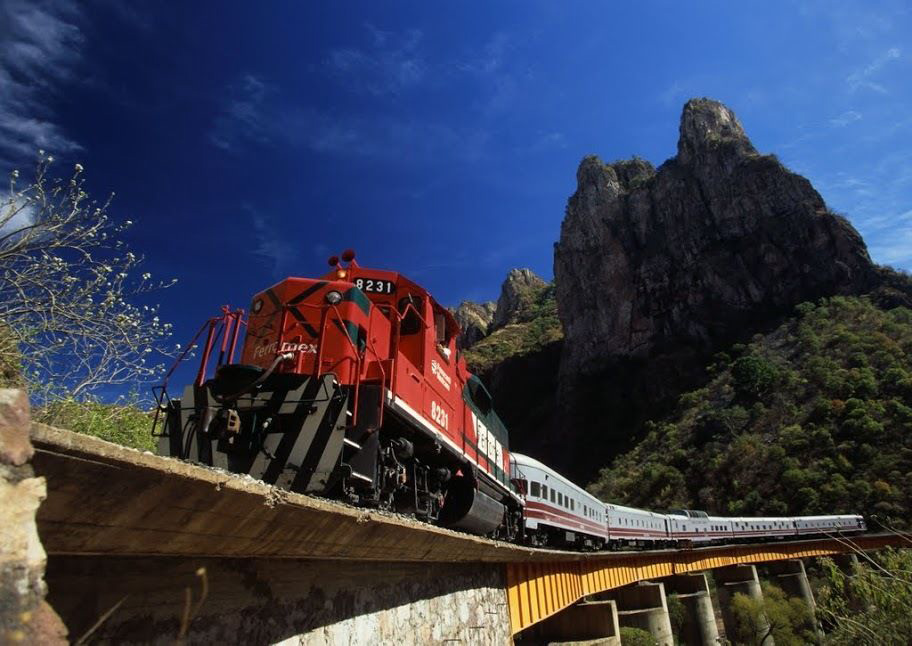 The route utilized by the Sierra Madre Express is a fascinating tale involving the highly successful Atchison, Topeka & Santa Fe Railway and Arthur Stillwell's dream; the Kansas City, Mexico & Orient Railway ("The Orient Route"). 
It all began with the AT&SF, which constructed the Nogales-Guaymas segment.  In his authoritative book, "History Of The Atchison, Topeka & Santa Fe Railway," author Keith Bryant, Jr. points out William Barstow Strong, an individual who drove Santa Fe's great expansion in the late 19th century, sought a major port along the Pacific coast. 
His vision was a route that would circumvent rival Southern Pacific and be much shorter.  On March 8, 1881 the two railroads completed a connection at Deming, New Mexico, thus enabling through trains to reach Southern California from Kansas City. 
The connection proved largely redundant as SP's Collis P. Huntington wanted no part in losing his Golden State monopoly and thus refused to send AT&SF freight over his railroad. 
Realizing this even before the Deming connection's completion, Strong turned his attention elsewhere.  He eyed Guaymas, Sonora (Mexico) as a potential deep water port. 
It was several hundred miles shorter than SP's and Strong badly wanted control of the so-called "China trade."  To build through Mexico, the Sonora Railway was formed on October 14, 1880 and tasked with constructing 260 miles from Nogales to Guaymas.  
---
History
For a time, the Sierra Madre Express (SME) was not the only tourist train running through the Copper River Canyon.  There was also another known as the South Orient Express, operated by the Denver Railway Car Company, owned by Randy Parton. 
It began service in 1993 and named for its more well-known European counterpart (a similarly-named train once operated in the U.S., the American Orient Express).  Each spring and fall it hosted a five-day excursion from Chihuahua to Los Mochis, running a route similar to today's Chepe Express. 
It easily rivaled SME featuring two former California Zephyr, dome coaches manufactured by the Budd Company (Silver Colt and Silver Stirrup), a round-end observation of New York Central heritage (also built by Budd), and dome-diner Maroon Bells of Missouri Pacific heritage (built in 1948 by Budd). 
Since all of the cars featured Budd's patented stainless-steel carbodies, they were quite a sight attached to the rear of FNM trains.
---
To reach the former, Santa Fe built a short branch from the border (Nogales) to Benson, Arizona.  Beyond, it obtained trackage rights over the SP to Deming, New Mexico. 
The Sonora Railway was finished on October 25, 1882, providing the Santa Fe an impressive 1,700-mile main line from Kansas City to the Pacific coast, then the world's longest under a single management.  Unfortunately, the Mexican route proved a dismal failure as business never materialized and the port never blossomed. 
It failed to earn a profit and following 1893's financial panic the Sonora Railway was leased to Southern Pacific in 1897 (later sold in 1911) in exchange for SP's Mojave-Needles, California corridor.
Under SP management the property was known as Ferrocarril Sud-Pacifico de Mexico (Southern Pacific of Mexico) and connected with its Los Angeles-New Orleans "Sunset Route" at Tucson, Arizona via a 66-mile branch line from Nogales.  The SP subsequently extended the property down the Gulf of California and Pacific coastline to Guadalajara, Jalisco. 
Like the Santa Fe, SP lost interest in the affair and solid out to the Mexican government in 1951.  It then became known as Ferrocarril del Pacific (Pacific Railroad), a division of the state-owned Ferrocarriles Nacionales de México.  Today, the route is a component of private operator Ferromex.
Kansas City, Mexico & Orient Railway, "The Orient Route"
From a historical standpoint, the Sierra Madre Express's most interesting segment was the Sufragio-Creel section, which boasted stunning views of the Copper Canyon. 
This line had been another American endeavor, the dream of Arthur Edward Stilwell, who helped charter the Kansas City, Mexico & Orient Railway (KCM&O) on May 1, 1900 (incorporated a day earlier on April 30th). 
He had recently been involved with a project aimed at opening the shortest rail route from Kansas City to the Gulf of Mexico at Port Arthur, Texas.  Despite 1893's financial panic he was able to see its completion on September 11, 1897.  Known as the Kansas City, Pittsburgh & Gulf Railroad it eventually did succumb to financial troubles in 1899, emerging in 1900 as the Kansas City Southern Railway. 
Ironically, KCS remains one of the seven American Class I railroads still in operation, with a significant Mexican presence.  Stilwell believed a similar endeavor linking Kansas City with Topolobampo would also prove successful stating:
"I have designed a railroad 1,600 miles long which will bring the Pacific Ocean 400 miles nearer to Kansas City than any other present route.  Not only that but it will be 1,600 miles nearer to Central and South America than San Francisco is.
As with any project of such magnitude, funding proved elusive.  He managed to secure backing from some Kansas City businessmen and English partners, allowing for completed segments between Kansas, Oklahoma, Texas, Chihuahua, and Sinaloa. 
These included Emporia, Kansas-San Angelo, Texas; Hormigas-Arapanapochic, Chihuahua; and Laguna-Topolobampo.  Altogether, the KCM&O operated 735 miles in America and another 320 in Mexico. Unfortunately, funding for the remainder could not be secured and the project struggled, eventually entering receivership in 1912. 
The bankruptcy persisted for over a decade until the Santa Fe became interested during the 1920's.  The KCM&O's fortunes by that time had improved somewhat thanks to petroleum; in 1927 roughly 50% of its freight traffic was derived solely from oil. 
The Santa Fe saw this business as lucrative, which would not only bolster its operations in Texas but also prevent a competitor from potentially opening another transcontinental corridor.  It acquired the KCM&O in 1928 for $14 million. 
The AT&SF was disinterested in the Mexican property, however, selling it to Benjamin Francis Johnson, a sugar plantation owner based in Sinaloa, for $600,000, which included a $900,000 mortgage.  He was unable to pay the remainder, and the Mexican government acquired the property in 1940.
Equipment
| Original Owner | Original Name | Original Type | Builder | Date Built | SME Type | SME Name |
| --- | --- | --- | --- | --- | --- | --- |
| Northern Pacific | Arizona | 4-Double Bedroom/1 Compartment Sleeper-Lounge-Observation | Pullman-Standard | 1948 | Sleeper-Lounge-Observation | Arizona |
| Chicago, Burlington & Quincy | Sperry Glacier | 16-Duplex Roomette/4 Double Bedroom Sleeper | Pullman-Standard | 1947 | Diner/Roomette | Chile Verde |
| Union Pacific | Ing. Ballesteros | Baggage-Dormitory | American Car & Foundry | 1949 | 8-Stateroom Sleeper | Ing. Ballesteros |
| Union Pacific | Divisadero | Observation | American Car & Foundry | 1949 | 8-Stateroom Sleeper Observation | Divisadero |
| Union Pacific | Tucson | Dome/Diner | American Car & Foundry | 1955 | Dome/Diner | Tucson |
* The original names of these cars may not all be accurate.
For its part, the AT&SF quickly completed the disconnected American segments, notably the last remaining section from Alpine to Presidio, Texas along the Rio Grande River.  The Mexican government finished its portion too, although it took more than three decades. 
The $88 million program was finally launched in 1958 under the direction of new Mexican president Adolfo Lopez Mateos and finished on November 20, 1961. 
The Santa Fe and then-Ferrocarril de Chihuahua al Pacifico (part of Mexican National Railways, or FNM) did interchange some freight through the Presidio gateway (no longer active today) although it never proved the major transcontinental corridor Stilwell had hoped. 
In an interesting twist, a new source of business sprang up as the line's breathtaking scenery began attracting an increasing number of tourists. 
In his article entitled, "A Copper Canyon Odyssey: Aboard Classic Postwar U.S. Passenger Cars, Travelers Experience Mexico's Most Spectacular Train Ride," author Karl Zimmermann notes the Sierra Madre Express was launched in 1986. 
It boasted privately owned cars of American heritage, geared towards upscale clientele.  The equipment included sleepers, a lounge-observation, staterooms, dome lounge, and dome diner. 
As Mr. Zimmermann notes, the train did not operate as a separate consist; instead, the cars were typically attached to the rear of FNM trains. 
---
The SME offered week-long adventures during select months of the year; these trips also included overnight hotel stays.  Fares, as of 1997, ran as high as $2,540 (which covered most meals and hotel stays). 
The views were worth it for many; trains departed from Nogales and wound their way southward along the coast, reaching Guaymas before arriving in San Blas, slightly northeast of Topolobampo. 
The train then entered the stunning Copper Canyon, a canyon system actually comprised of six separate canyons formed by six different rivers. 
These waterways drain into the Fuerte River which empties into the Gulf of California.  The deepest crevasse drops nearly 6,200 feet. There are numerous natural and man-made wonders along the way. 
Many of the 86 tunnels and 36 bridges can be found on the Creel and Sufragio segment such as the El Lazo loop, the horseshoe-curved La Pera tunnel, the Chinipas Bridge soaring 335 feet over its namesake river, the 1,637-foot Agua Caliente Bridge crossing the Rio Fuerte River (the line's longest), and Tunnel 86 (bored through over a mile of solid bedrock). 
The Sierra Madre Express was discontinued in 2009 but you can still experience the Copper Canyon by rail on the Chepe Express, which runs via Chihuahua.