James Hill was one of the most influential and successful tycoon during the great age of railroad construction.  Unlike some moguls who simply grabbed more companies to further expand their power, the "Empire Builder" remained focus on two areas; connecting Chicago with the Puget Sound and increasing traffic density.  To the former he pieced together one of America's noteworthy railroads, the Great Northern, which had opened between the Twin Cities and Seattle by 1893 then added the Chicago, Burlington & Quincy in 1901 to gain access into the Windy City.  Finally, one-time rival Northern Pacific was added in 1900.  Hill carried a number of initiatives to increase freight business, such as taking over small feeder lines or building branches but his greatest endeavor in this arena was construction of the Spokane, Portland & Seattle Railway.  According to the book "The Great Northern Railway, A History" by authors Ralph W. Hidy, Muriel E. Hidy, Roy V. Scott, and Don L. Hofsommer, he believed that doing so was the only way to effectively sustain long-term success.  The NP held the status as the first to reach the Pacific Northwest but originally only enjoyed such thanks to a connection over Henry Villard's Oregon Railway & Navigation Company.  In 1888 it completed its own route directly into Seattle/Tacoma but lost its through connection to Portland, via Spokane, after Villard resigned the NP presidency in 1884 (the OR&N would eventually wind up under rival Union Pacific's control by 1887).
Resources About The Spokane, Portland & Seattle
The NP still enjoyed access into Portland but only using a roundabout, non-competitive routing from Spokane, west to Tacoma, and then south to the Columbia River.  When James Hill took command he recognized the need to reestablish a direct route into Portland.  To do this, he eyed a railroad along the Columbia River's northern periphery which would essentially parallel Union Pacific's OR&N occupying the south bank.  According to the book, "North Bank Road: The Spokane, Portland & Seattle Railway" by author John T. Gaertner, the earliest heritage of a transportation route along the river's northern shore can be traced back to a tramway built by F.A. Chenowith in 1851 (this system later became part of the OR&N).  In 1880, the Northern Pacific seriously considered building a railroad on the Washington-side of the river, and even completed some grading work near The Dalles before being convinced by Villard to utilize his railroad instead.  Next was the The Farmer's Railway, Navigation & Steamboat Portage Company incorporated on December 9, 1885 for the purpose of constructing a railroad between The Dalles and Celilo Falls.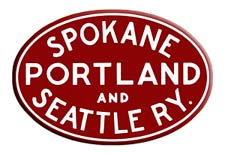 The SP&S has its roots dating back to 1900 when James J. Hill, owner of the Great Northern Railway, Northern Pacific, and Chicago Burlington & Quincy (by then all three railroads had stretched from Chicago to Seattle and nearly all major Northwestern markets in between), sought to create a new railroad, known as the Portland & Seattle, to connect his former railroads at Spokane, Washington with Portland, Oregon. A lengthy battle would ensue with Edward Harriman's Southern Pacific (which extended from Portland southward through Oregon and California) and Oregon-Washington Railway & Navigation (a subsidiary of the Union Pacific which extended from Portland through Oregon, Washington, and Idaho).  The railroad magnate, which had battled with Hill for years over preeminent control of rail lines serving the Pacific Northwest, attempted to use both of his properties and all resources available to prevent his adversary from constructing his new railroad to the Pacific Coast. Despite his best efforts the line was completed in 1908 and renamed the Spokane, Portland and Seattle Railway. In the end the two rivals would settle their differences and realized the benefits of working together by setting up operating agreements to serve the Columbia River valley. Interestingly, they also fought a similar battle in northern Idaho and eastern Washington, eventually forming the Camas Prairie Railroad which would be jointly operated by both of their properties (in this case the UP and Northern Pacific).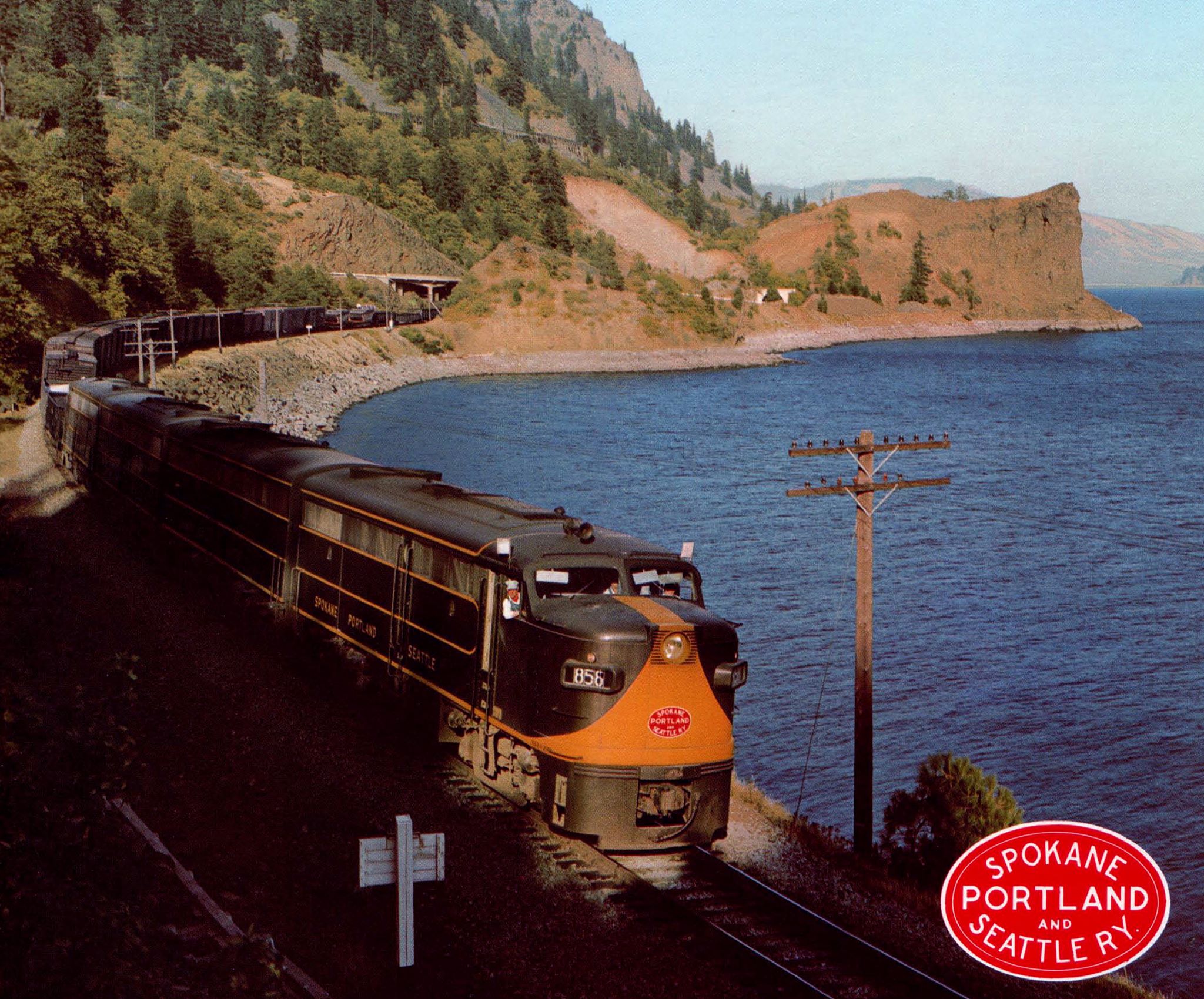 After the SP&S completed its main line to Spokane in 1909 the railroad was extended down into Oregon when it acquired the interurban Oregon Electric Railway in 1910 giving it access to the state capital of Salem. The OE would be completed as far south as Eugene after a few years of the takeover (along with a few short branches) and provided the SP&S with significant carload freight traffic albeit the road was never a particularly profitable operation, which was partly blamed by unfavorable interchange rates with connecting lines like the Espee (which paralleled the OE's main line to Portland much of the way). Following other acquisitions (which included another interurban, the United Railways which served areas west of Portland) and construction of new railroad the SP&S reached points in Oregon such as Eugene, Bend, and the Pacific Coast at Seaside and Hammond giving it entry into the lucrative lumber and timber traffic of the region.
Notable Passenger Trains
Empire Builder: (Chicago - Seattle:   GN's flagship hosted from Spokane to Portland by the SP&S.)

North Coast Limited: (Chicago - Seattle:  NP's flagship hosted from Portland to Spokane by the SP&S.)
Columbia River Express: (Portland - Pasco - Spokane/Via Northern Pacific Train #5 And #6)
Oriental Limited:  GN's train which connected Chicago to Portland, via the SP&S between Spokane and Portland.
Mainstreeter:  NP's train which connected Portland to Chicago, via the SP&S between Spokane and Portland.
Western Star:  GN's train which connected Portland to Chicago, via the SP&S between Spokane and Portland.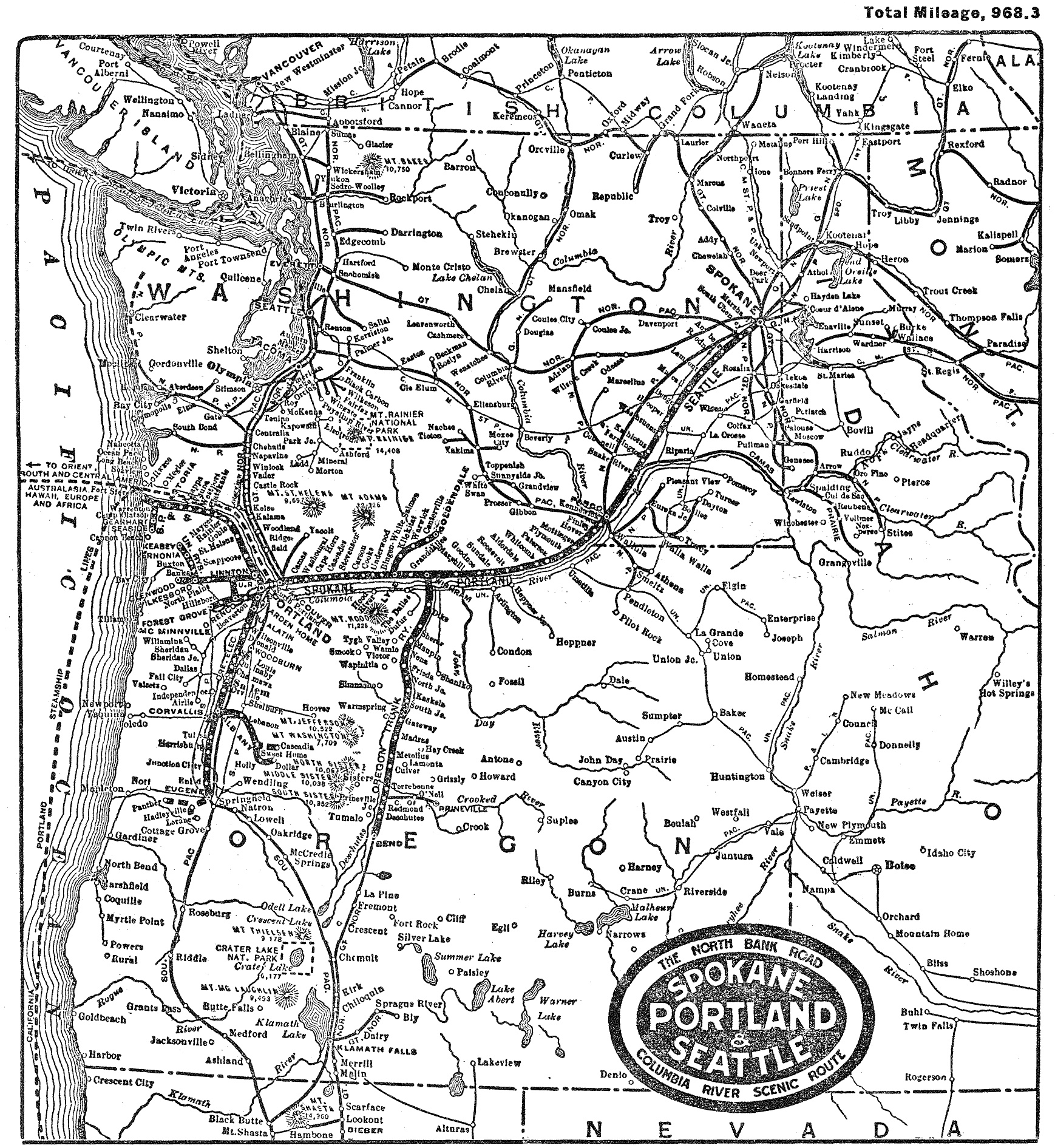 While the SP&S only operated less than 1,000 miles of trackage it was a key link to the future Burlington Northern, and later BNSF Railway empires. Aside from the online and bridge freight traffic the SP&S hauled, it also handled many of its parents' passenger trains, including the premier North Coast Limited and legendary Empire Builder.  Unfortunately, the SP&S was treated mostly like an unwanted step-child by its parents for much of its life.   For instance, obtaining freight cars for service could be a like pulling teeth sometimes and the railroad almost always got second-hand equipment from the Great Northern and Northern Pacific (whatever was left over as GN and NP always took the good stuff). The SP&S did, however, finally receive new motive power in 1937 when it was given six massive Class Z-6 4-6-6-4s from a Northern Pacific batch of 21 ordered from Alco.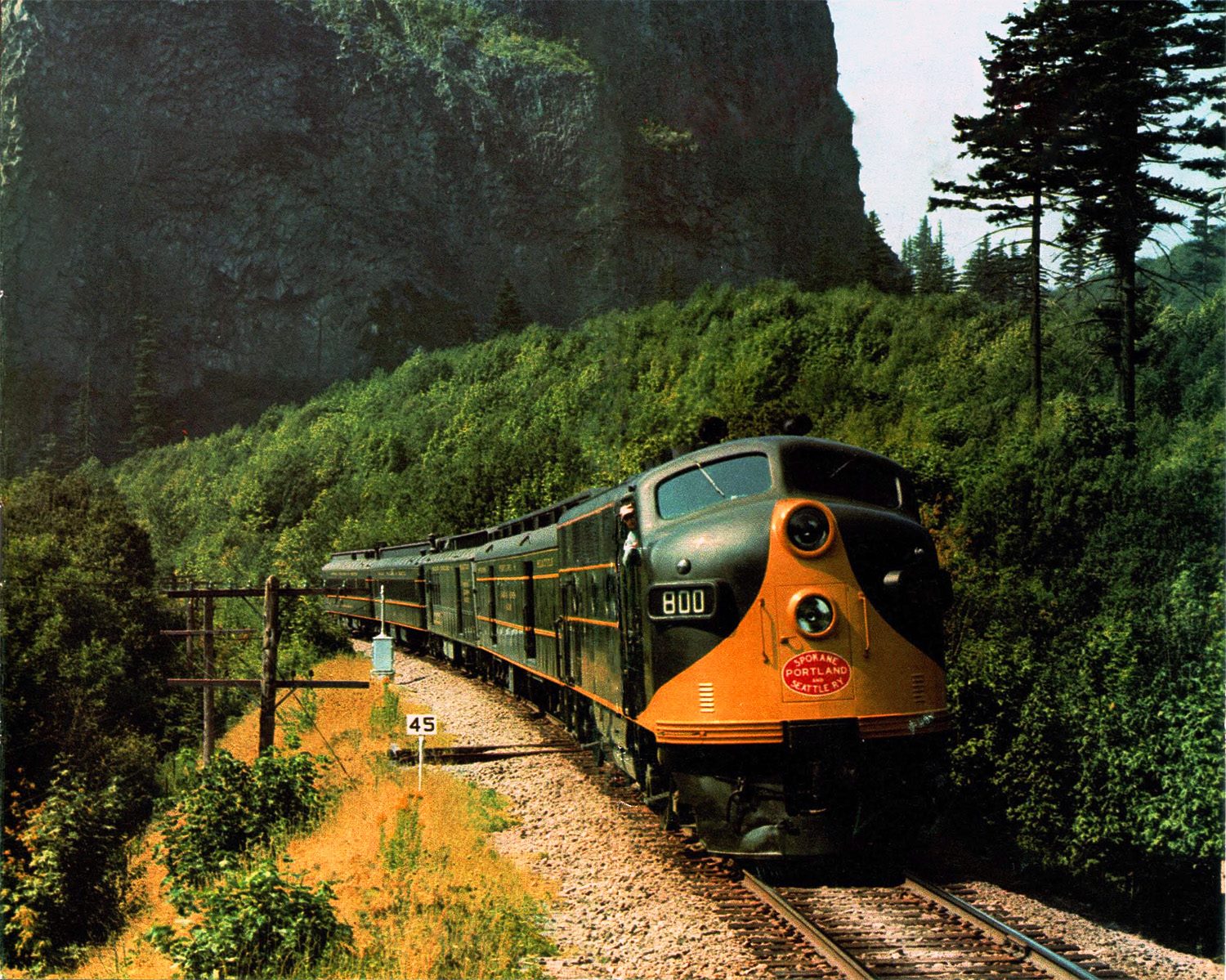 Diesel Locomotive Roster
American Locomotive Company
| Model Type | Road Number | Date Built | Quantity |
| --- | --- | --- | --- |
| S1 | 10-11 | 1941 | 2 |
| S2 | 20-28 | 1940-1943 | 9 |
| RS1 | 50-51 | 1945 | 2 |
| RS2 | 60-62 | 1949-1950 | 3 |
| RS3 | 65-98 | 1950-1955 | 34 |
| C415 | 100-101 | 1968 | 2 |
| C424 | 300-306 | 1964 | 7 |
| C425 | 310-327 | 1965-1966 | 18 |
| C636 | 330-335, 340-343 | 1967-1968 | 10 |
| FA-1 | 850A1-860A1 (Evens), 850A2-860A2 (Evens), 866A1, 866A2 | 1948-1950 | 14 |
| FB-1 | 856B1-860B1 (Evens), 856B2-860B2 (Evens), 866B1, 866B2 | 1948-1950 | 8 |
| FA-2 | 868A1, 868A2 | 1950 | 2 |
| FB-2 | 868B1, 868B2 | 1950 | 2 |
Electro-Motive Division

| Model Type | Road Number | Date Built | Quantity |
| --- | --- | --- | --- |
| NW2 | 40-42 | 1948 | 3 |
| SW9 | 43-45 | 1951 | 3 |
| GP9 | 150-155 | 1956 | 6 |
| E7A | 750 | 1948 | 1 |
| F3A | 800A1-800A2, 802 | 1947 | 3 |
| F7A | 803-806 | 1953 | 4 |
Steam Locomotive Roster
| Class | Type | Wheel Arrangement |
| --- | --- | --- |
| A-1 | Switcher | 0-6-0 |
| C-1 | Atlantic | 4-4-2 |
| D (Various) | Ten-Wheeler | 4-6-0 |
| E-1 | Northern | 4-8-4 |
| F-1/s | Prairie | 2-6-2 |
| H-1 | Pacific | 4-6-2 |
| L-1 | American | 4-4-0 |
| M-1, M-2 | Mogul | 2-6-0 |
| N (Various) | Consolidation | 2-8-0 |
| O-1 Through O-4 | Mikado | 2-8-2 |
| Z-6, Z-8 | Challenger | 4-6-6-4 |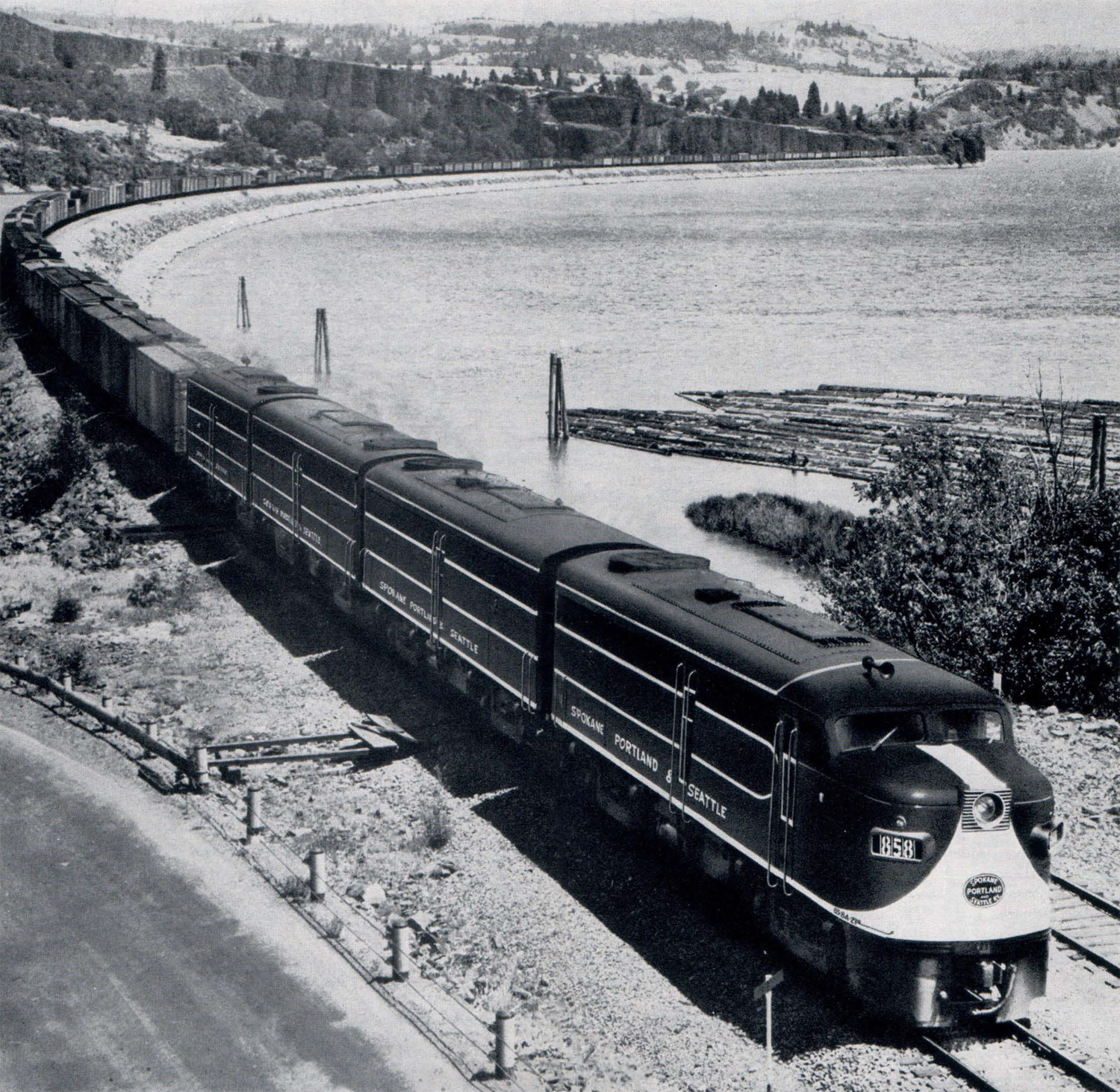 Later, beginning in the 1940s, the railroad began receiving new diesels from EMD and Alco, the latter locomotives of which how many fondly remember the railroad, as large Century 424s, 425s and 636s along with FAs led many long SP&S freight trains through Washington and western Oregon.  Following the arrival of the new diesels and Challengers the Spokane, Portland and Seattle Railway had little financial trouble for the rest of days (the influx of traffic brought on by World War II sure didn't hurt any either). While the SP&S's life was, perhaps, not as interesting or long-lived as other classic fallen flags, its lines were key routes to points like Seattle, Portland and northwestern Oregon that continue to serve as important arteries in the BNSF Railway System today.
Related Reading You May Enjoy


Home

›

Fallen Flags

› Spokane, Portland & Seattle