The Shasta hit the rails in the spring of 1949, twelve years after the SP had started its Daylight. In that amount of time the Daylight fleet was a national sensation and the SP soon realized that it had another hit with the Shasta. The train operated between Oakland/San Francisco and Portland, a distance of a little over 700 miles and just like the regional Daylights the Shasta featured spectacular scenery along its entire route. Also just like the original Daylights the Shasta was clad in the "Daylight" livery of red, orange, and black and hauled by either EMD E-series or Alco PA diesels (the PA is arguably the most beautiful diesel-electric ever built).  Listed as Trains #9 and #10 on the Southern Pacific's official timetable the Shasta Daylight departed Portland, Oregon at 7:45 am heading south towards California.
(The below Shasta Daylight timetable is dated effective August of 1950.  For additional timetable and consist information please click here.)

Read Down Time/Leave (Train #9)
Milepost
Location
Read Up
Time/Arrive (Train #10)
7:45 AM (Dp)
0.0

Portland, OR (Union Station)

11:15 PM (Ar)
9:00 AM
53

Salem, OR

9:56 PM
9:29 AM
80

Albany, OR

9:26 PM
10:10 AM (Ar)
124

Eugene, OR

8:42 PM (Dp)
10:13 AM (Dp)
124

Eugene, OR

8:39 PM (Ar)
2:13 PM (Ar)
318

Klamath Falls, OR

4:41 PM (Dp)
2:23 PM (Dp)
318

Klamath Falls, OR

4:31 PM (Ar)
4:50 PM (Ar)
425

Dunsmuir, CA

2:06 PM (Dp)
5:00 PM (Dp)
425

Dunsmuir, CA

1:56 PM (Ar)
6:30 PM
482

Redding, CA

12:26 PM
7:15 PM (Ar)
526

Gerber, CA

11:40 AM (Dp)
7:20 PM (Dp)
526

Gerber, CA

11:35 AM (Ar)
9:04 PM (Ar)
639

Davis, CA

9:52 AM (Dp)
9:06 PM (Dp)
639

Davis, CA

9:49 AM (Ar)
9:49 PM
683

Martinez, CA

9:05 AM
10:26 PM
709

Berkeley, CA (University Avenue)

8:30 AM
10:35 PM
712

Oakland, CA (16th Street Station)

8:23 AM
10:45 PM (Ar)
714

Oakland Pier, CA

8:23 AM (Dp)
10:55 PM (Dp)
714

Oakland Pier, CA (Ferry)

8:15 AM (Ar)
11:15 PM (Ar)
718

San Francisco, CA (Ferry Building)

7:45 PM (Dp)
After a stop in Martinez, California to pick up/drop off passengers connecting to or from Los Angeles the train continued on to Oakland and arrive at San Francisco just after 11 pm the same day (if one continued on to Los Angeles they could expect to arrive there by later morning the following day).  Along the way the train passed through beautiful northern California and then through the Cascades along the way passing locations like Mount Hood, Odell Lake, Crater Lake, and other spectacular features of the Pacific Northwest. What the made the trip even that much more memorable was the extra large windows built into the Pullman-Standard cars for maximum sightseeing and outdoor viewing. Overall the train could average about 46 mph during its trip and complete the journey in under 16 hours.

Inside the train was no less spectacular. Featuring diners, lounges, and parlor-observations that were stylized for the local regions the train served, a trait that most certainly increased the train's popularity. However, the Shasta's most striking feature was an articulated, two or three-car diner-tavern-lounge that offered open, unimpeded space between all three cars due to a new design feature from Pullman-Standard (whom the Southern Pacific purchased all of their passenger equipment from) which removed the bulkheads between cars and created an open walkway space between them to look as if all three were one. As with the rest of the Daylight fleet the Shasta was completely air-conditioned, still a rather uncommon accommodation when the train debuted in the late 1940s.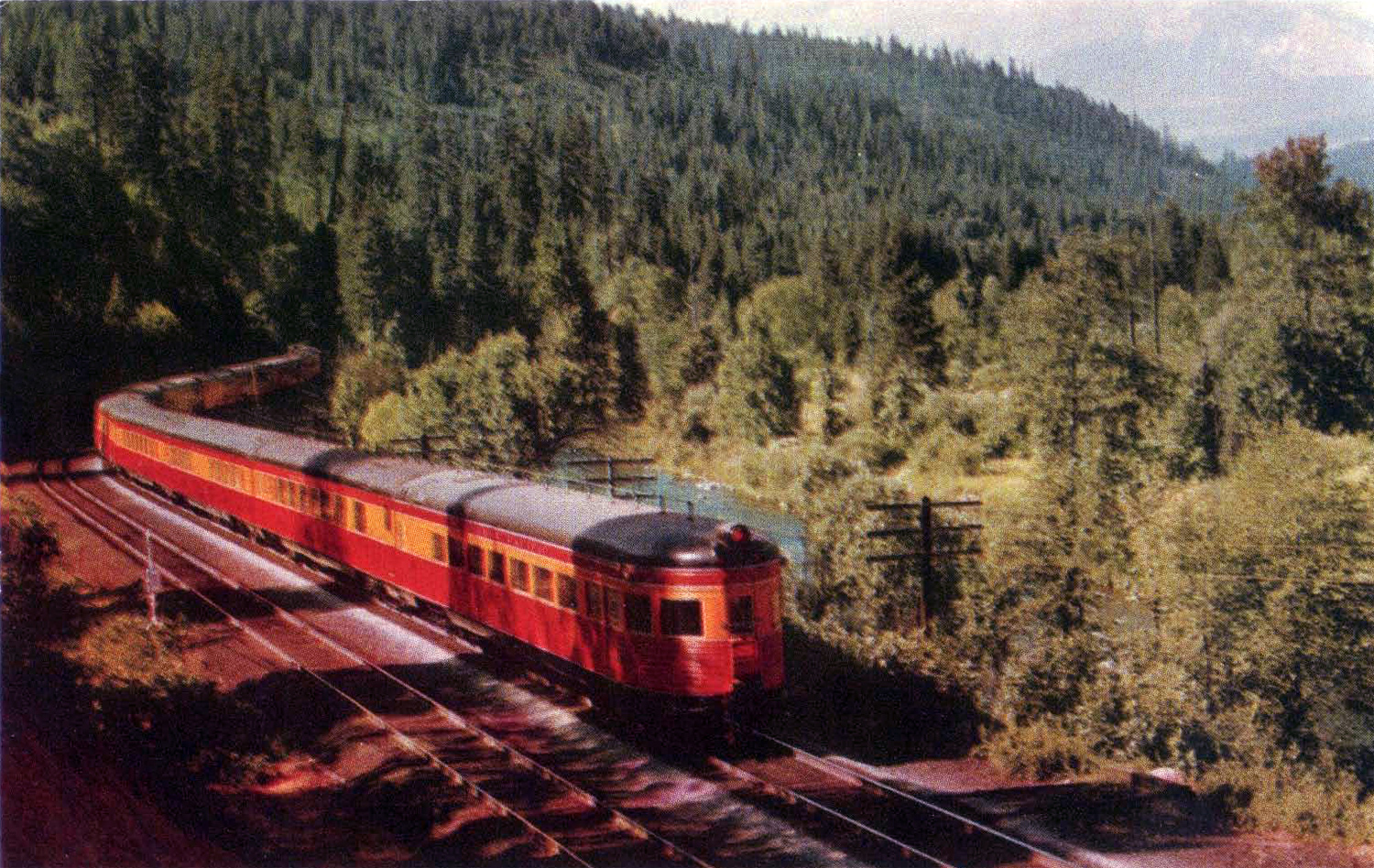 The Daylight fleet remained very successful through the early 1960s but even the Southern Pacific with its vast array of popular and extravagant passenger trains just could not compete with the age of the automobile and super-fast jet airliner. Most of the SP's Daylight fleet had disappeared by the time of Amtrak in 1971, although its original, now named the Coast Daylight remained and was initially kept under Amtrak although was eventually terminated in favor of the Coast Starlight. This new train now operates over the Southern Pacific's old tracks between LA and Portland, following virtually the same route as the Shasta Daylight and is today one of Amtrak's most popular trains.
Related Reading You May Enjoy


Home

›

Fallen Flags

›

Southern Pacific

› Shasta Daylight