Pennsylvania Train Rides

Pennsylvania train rides offer just about everything you can imagine.  It is one of the most densely populated with tourist and excursion trips, ranging from the upscale to less noteworthy.  The second most popular excursion in the country can be found at the Strasburg Railroad in Lancaster and many of the tourist lines operate historic steam locomotives to pull their trains. You can catch trolley rides at the Pennsylvania Trolley Museum, Electric City Trolley Museum and the Rockhill Trolley Museum, all of which use restored, period equipment. If you are interested in something a little more elegant, such as an on-board, prepared meal, the Tioga Central Railroad, in particular, offers dinner trains. In any event, if you are interested in a riding a train you cannot find a much better selection than what Pennsylvania has to offer.  Please note!  This guide information covers Pennsylvania train rides related to vacation/tourism destinations-only.  If you are interested in long-distance rail travel please visit Amtrak's website, our nation's passenger rail carrier.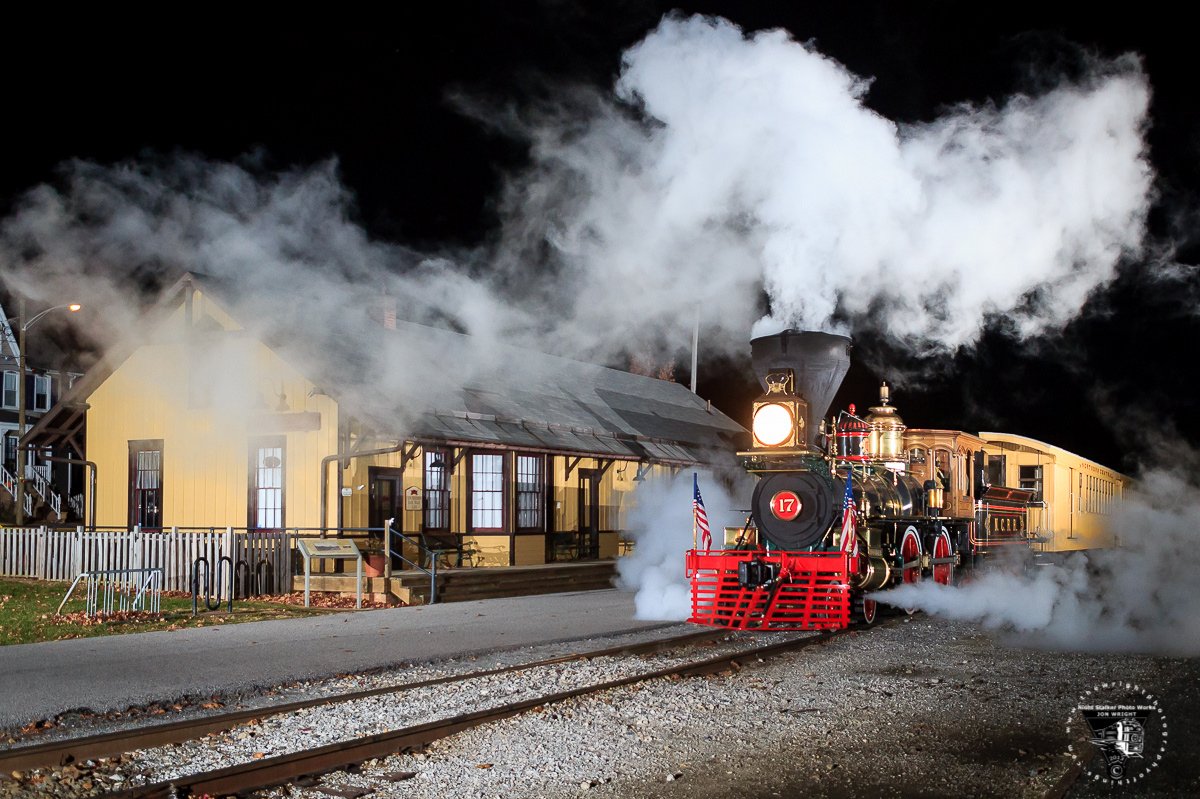 Pennsylvania's history with trains dates back to the same year that the Baltimore & Ohio was chartered. In 1827 the tiny Mauch Chunk Switchback Gravity Railroad was built to haul local coal at Mauch Chunk (Jim Thorpe). As anyone with a passing interest in railroad history is aware, the state's own railroad became legendary for its size, power, and iconic passenger trains like the Broadway Limited. While Pennsylvania was home to several classic railroads' main lines it also became important for its reserves of anthracite coal with names like the Reading, Lehigh Valley, Jersey Central, and others building hundreds of miles of branch lines to tap these seams.  As such, the state was home to thousands upon thousands of miles of railroad allowing for numerous tourist railroads to pop up during the second-half of the 20th century. Today, Pennsylvania train rides like the historic Strasburg Railroad, Middletown & Hummelstown Railroad, New Hope & Ivyland Railroad, and others all look to preserve the state's history with trains and also offering guests several different excursion options.  Finally, if you are interested in Pennsylvania train rides that pertain to specific events, such as "The Polar Express," Halloween, Thomas the Tank Engine excursions, or fall foliage events please visit the main tourist trains section of this website.

Guides To Tourist Train Rides And Railroad Museums In Surrounding States
Pennsylvania Train Rides And Railroad Museums, 2018 Guide
Allegheny Portage Railroad National Historic Site

The Allegheny Portage Railroad National Historic Site is located in Gallitzin, Pennsylvania and tells the story of the first railroad constructed through the Allegheny Mountains in central Pennsylvania.

Bellefonte Historical Railroad 

This organization looks to tell the history of railroading in Bellefonte and Centre County, Pennsylvania. They are housed inside the PRR's restored depot and also operate several excursions throughout the year using a collection of equipment on-hand. To learn more please visit their website. 

Catawissa Railroad Company 

The Catawissa Railroad Company, located in Catawissa, is actually a collection of restored cabooses painted in their original company colors, some of which can be rented overnight. Also be sure to stop by and see the town's preserved depot. 

Connellsville Canteen Museum

This museum, a non-profit organization operated by the Fayette County Cultural Trust, is located in the once-busy railroad town of Connellsville.  Their overall mission is to preserve the history of Fayette County's World War II soldiers and veterans, and the sacrifices they made during that conflict.  In addition, they also feature a very nice model train layout known as the Great Indian Creek Valley Railroad, designed and built by Harry Clark.  If you're hungry also be sure and stop by their cafe for either breakfast or lunch.  To learn more, plan a visit, and see all of their displays please visit their website.

Train Rides In PA At A Glance
As you can see from the information presented here there are numerous train rides in PA to choose from, all thanks to the state's rich railroading heritage.  During the 1920's it ranked third in total mileage with rails crisscrossing its borders in every direction.  While the use of railroads, even in their most rudimentary form, can be traced back to the 1820's it was the Pennsylvania Railroad's (PRR) opening of its main line from Harrisburg to Pittsburgh in late 1852.  The PRR would eventually grow into a Goliath system as the most powerful railroad in the country with  more than 10,000 miles stretching from New York to Chicago.  Its trackage was heavily concentrated in its home state although many other fabled systems would also serve Pennsylvania such as the Lehigh Valley, New York Central, and the Erie Railroad.  In January, 2007 Trains Magazine published a nearly cover-to-cover piece on all 50 states' history with railroads.  It was entitled  "Great Railroading: State-By-State."  There was a great deal concerning Pennsylvania, which spoke about its far-reaching operations from magnificent steam locomotives grinding up Horseshoe Curve to small 3-foot, narrow-gauge systems.  The state was also once home to considerable streetcar and interurban operations.  
As a whole, train rides in PA do a fine job of highlighting the memory of these operations, and many others.  In few other states can you ride behind, or peruse, rail equipment which includes steam locomotives, diesels, and trolleys.  No other attraction quite provides the level of authenticity as the Strasburg Railroad.  It features a fine collection of preserved steam locomotives which take passengers on a 4.5-mile journey through beautiful Lancaster County.  Trips are enjoyed within restored, wooden cars which range from simple coach class to a full-service dining experience.  The charm is only furthered by Pennsylvania's popular Amish Country setting.  If you're after more than just a train, however, consider visiting one of the premier museums in the country right nearby, the Railroad Museum of Pennsylvania just outside of Lancaster.  There is also the Steamtown National Historic in Scranton which maintains an impressive collection of steam locomotives.  In all, train rides in PA offer a little of everything and definitely are worth considering!

The Choo Choo Barn ("Traintown")

Located in Boyertown in Lancaster County this attraction is very near the Strasburg Railroad.  It features a 1,700-foot train layout display for visitors to enjoy.  This is certainly worth a visit if you are planning a trip to ride at Strasburg!

Colebrookdale Railroad 

A relatively new tourist railroad, the Colebrookdale Railroad, also known as the Secret Valley Line, began hosting train rides in 2014, operating 8.6 miles between Boyertown and Pottstown. The trackage was originally built by the company with the same name and later operated by the Reading Railroad. For more information please visit their website. 

East Broad Top Railroad (Out Of Service) 

The East Broad Top Railroad historically is known for hauling coal on a line that connected Mt. Union to Woodvale, dating back to its charter in 1856.  For many years the organization hosted one of the most popular of all Pennsylvania train rides but these were sadly discontinued in 2011.  The railroad is currently out-of-service as the property remains in limbo with the current owner attempting to sell it.  The EBT is a National Historic Landmark.

Electric City Trolley Museum 

Not all Pennsylvania train rides are pulled by traditional steam or diesel locomotives.  The Electric City Trolley Museum based in Lackawanna County and looks to preserve the interurban heritage of eastern Pennsylvania. In doing so the museum also hosts excursions, using restored trolley cars, along a section of the Lackawanna & Wyoming Valley "Laurel Line" third-rail interurban right-of-way which begins its operating season each May. 
Franklin Institute Science Museum 

This large, well-known museum, located in Philadelphia, has a wing dedicated to railroad history including a handful of rolling stock. One particular noted piece is Baldwin 4-10-2 #60000, historically significant as the 60,000th locomotive the company manufactured. It was meant to turn the tide in favor of steam power over diesel, featuring many new technologies at the time but ultimately was unsuccessful in this endeavor. 

Greenville Railroad Park & Museum 

This museum, located in Greenville, features a collection of rolling stock including Union Railroad 0-10-2 #604, a 1936 product of Baldwin. The museum is open from May through October and admission is free. 

Harris Switch Tower Museum 

This small museum, located in Harrisburg, is located inside the former PRR interlocking tower built in 1929. The facility is owned and operated by the Harrisburg Chapter of the National Railway Historical Society. Inside you can view historic artifacts and displays as well as see how an interlocking tower once functioned. It is also a good location to watch passing trains! 

Horseshoe Curve National Historic Landmark 

This famous feat of engineering located near Altoona has been a marvel to witness since it first opened on February 15, 1854. A small museum/train watching located near the base of the shoe first appeared in 1879 and has steadily grown since. To learn more about visiting this location please visit the Railroaders Memorial Museum's website. 

Lake Shore Railway Museum 

This museum is located inside the restored Lake Shore & Michigan Southern (NYC) depot at North East. The building itself houses several displays while outside the facility is a collection of rolling stock to peruse. The museum is open from April through October. 

Lehigh Gorge Scenic Railway 

The Lehigh Gorge Scenic Railway is based in Jim Thorpe, operating train rides from the restored former Lehigh Valley railroad station. The train itself is operated by the Reading & Northern, a regional freight railroad, and it covers about 16 miles (roundtrip) following the Lehigh River, operating on trackage once owned by both the LV and Jersey Central. 

Ma & Pa Railroad Heritage Village 

This attraction is located on 31 acres in York and is home to a collection of historic buildings as well as the role the small, but notable Maryland & Pennsylvania Railroad (the "Ma & Pa") played in the region. They also host short excursion rides. For more information please visit their website. 

Middletown & Hummelstown Railroad 

The Middletown & Hummelstown Railroad is a freight railroad which connects its namesake cities. Along with freight operations the M&H also offers train rides over 11 miles of its railroad, which runs from May through October. They offer a number of different events with their excursions throughout the year and perhaps best of all is their fully operational former Canadian National 2-6-0 #91! 

National Toy Train Museum 

This facility is located in Strasburg near the Strasburg Railroad. The museum, open since 1977, features several large, operating train layouts in a variety of scales ranging from HO to S gauge. It is open on select days throughout much of the year. To learn more please visit their website. 

New Hope & Ivyland Railroad 

The New Hope and Ivyland Railroad is a very popular shortline/excursion carrier located in east-central Pennsylvania. Today the NHRR operates roughly 16.5 miles of railroad with a connection to CSX at Ivyland. While the railroad does have freight operations (which pays the bills!) it is perhaps best known for its steam locomotives and vintage railroad cars, which carry thousands of visitors annually. 

Oil Creek & Titusville Railroad 

The Oil Creek & Titusville Railroad, based in Titusville, operate train rides on about 14 miles of track normally using a traditional diesel locomotive for power. Along with their standard excursions the OC&T also hosts murder mystery dinner trains throughout the year. 

Pennsylvania Trolley Museum 

The Pennsylvania Trolley Museum, based in Washington, looks to preserve the history of interurbans in western Pennsylvania. In doing so they operate a short stretch of trackage using vintage trolley cars between May and August, seven days a week. 

Pioneer Tunnel Coal Mine & Steam Train 

The Pioneer Tunnel Coal Mine & Steam Train, located in Ashland, serves a dual purpose of helping to preserve Pennsylvania's rich mining heritage as well as feel what it was like to ride trains powered by steam as well. The steam trains operate on about a 1-mile section of track using retrofitted mine cars to haul passengers behind an 0-4-0T steam locomotive. 

Portage Station Museum 

This museum is located inside the Pennsylvania Railroad's restored depot at Portage. It is operated by the Portage Area Historical Society and houses artifacts as well as an operating model layout. The facility is also not far from the Gallitzin Tunnels and Horseshoe Curve. 

Railroad Museum Of Pennsylvania 

Located in East Strasburg next to the popular Strasburg Railroad the state's official railroad museum features an impressive collection of rolling stock and noted locomotives, housed both indoors and outside. There are also numerous displays and exhibits around the grounds. Most of the pieces relate to the state's rich history with trains. This one is well worth the visit! 

Railroaders Memorial Museum 

Located in the part of the PRR's expansive repair and maintenance shops, locomotive construction facility, and test department in Altoona. The museum vividly shows how railroads operated years ago and the people who kept them running. The complex is also not far from the fabled Horseshoe Curve located just nearby. 

Reading Railroad Heritage Museum 

This museum is operated by the Reading Company Technical & Historical Society, which does a fine job keeping alive the memory of the fabled Reading Railroad. It is located in Hamburg and features a collection of displays and rolling stock. They are open most weekends throughout the year. 

Rockhill Trolley Museum 

The Rockhill Trolley Museum, based in Rockhill Furnace, is the state' oldest such museum which looks to preserve the region's interurban history. In doing so they also operate a short stretch of trackage using one of their many operable trolley cars. 

Steamtown National Historic Site 

The Steamtown National Historic Site is a railroad museum complex operated by the National Park Service in Scranton, Pennsylvania. Today, they feature a wide collection of historic equipment in their restored roundhouse as well as offer guests short steam and diesel rides on the nearby rail line that runs through Scranton. 

Strasburg Railroad 

The most popular of all Pennsylvania train rides hosting more than 400,000 riders annually, the Strasburg Railroad is located in the heart of Pennsylvania's Amish community.  It is also the country's oldest railroad still in operation dating back to 1832. It handles both freight and passengers but is also an operating history book featuring historic steam locomotives with restored, period passenger cars (dating to the 1800s). They provide guests everything from dinner train service to an open bar car for adults. 

Tioga Central Railroad 

The Tioga Central Railroad is one of Pennsylvania's most popular tourist train rides, operating on trackage which once belonged to the New York Central railroad. Today, excursion trains operate on a section of line, which travels through the beautiful rolling hills of north-central Pennsylvania, owned by the Wellsboro & Corning Railroad, a freight line which also uses the tracks. Along with standard excursions the TCRR also hosts numerous seasonal and special trains during their operating season. 

Tunnel Park & Museum 

This museum is located near the famed Gallitzin Tunnels, another PRR engineering feat. Aside from the displays to peruse check out the restored PRR Class N5C caboose or simply watching the passing action of Norfolk Southern freight trains. To learn more please visit their website. 

Wanamaker, Kempton & Southern Railroad 

The Wanamaker, Kempton & Southern Railroad is based in Kempton, in eastern Pennsylvania, operating a unique blend of steam and diesel locomotives. Along with their standard excursions the WK&S also offers chartered train rides.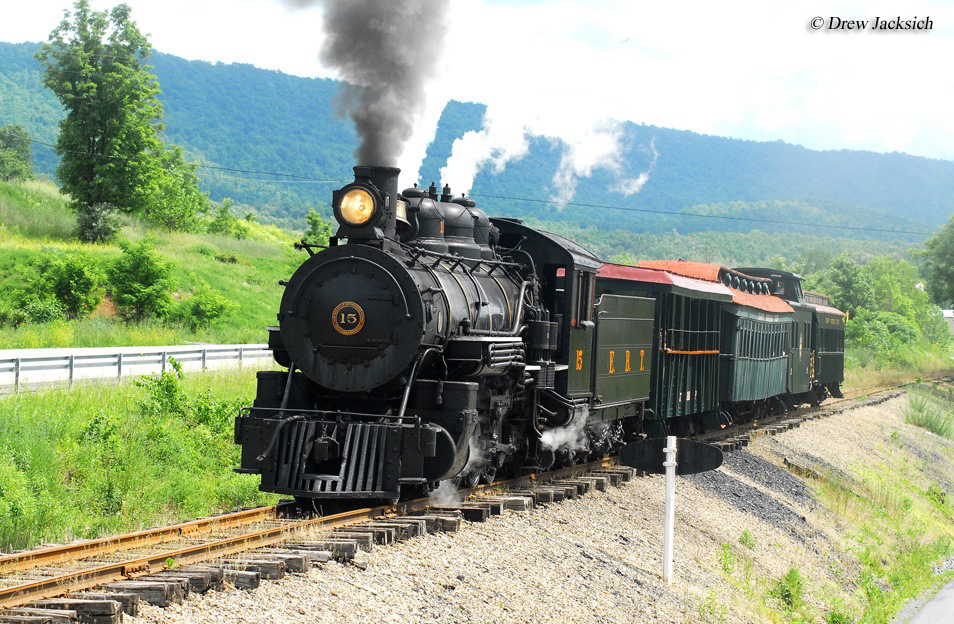 West Chester Railroad 

The West Chester Railroad offers Pennsylvania train rides found very close to the greater Philadelphia region (about 36 miles from the city's downtown area).  As a result, this tourist attraction is quite popular. It operates on trackage originally owned by the Pennsylvania Railroad, as remnants of the PRR remain everywhere, including over your head as the line was once electrified and the catenary poles still stand today. The 90-minute train ride offers three stops as historic stations which still stand, restored along the route (Westtown, Cheney, and Glen Mills).
Home

›
Tourist Train Information
› Pennsylvania