Chesapeake & Ohio 4-6-2 (Class F)
Last revised: May 4, 2023
By: Adam Burns

What was arguably the Chesapeake & Ohio's most famous steam class included its fleet of 4-6-2's.  These Pacifics, ranging from the F-15's of 1902 to the powerful F-19's of the mid-1920s, were the mainstay of passenger assignments across the railroad's system.   

The heavy Pacifics are often touted as the best ever built and remained in service until the C&O slowly retired steam from its roster during the 1950s.  Alas, despite the railroad's often forward thinking in preserving steam, none of the F-19's or others were ever saved for posterity.  
However, one example of the railroad's Class L-1 4-6-4s does survive, #490, which was rebuilt from a Class F-19.  Today, the locomotive is preserved indoors (after a long-display outside on the parking lot) at the Baltimore & Ohio Railroad Museum in Baltimore, Maryland.

The following is only a brief synopsis of the C&O's fleet of Pacifics.  If you are interested in studying these locomotives in much greater detail two resources are strongly suggested.
First and foremost is the authoritative title on the railroad's motive power fleet during much of the 20th century, "C&O Power: Steam And Diesel Locomotives Of The Chesapeake And Ohio Railway, 1900-1965" by authors Philip Shuster, Eugene Huddleston, and Alvin Staufer.
The other is "Chesapeake & Ohio Heavy Pacific Locomotives" by noted C&O historian Karen Parker who has penned a number of publications over the years thoroughly covering the company.  

Her book not only offers a fine collection of written information and photos but also features charts, diagrams, and specific aspects of the various Pacific classes.
The C&O's involvement with the 4-6-2 wheel arrangement began in 1902 when it took delivery of its first examples classed F-15.   Ms. Parker notes in her book the Pacifics, products of the American Locomotive Company's Richmond Works, arrived only a few weeks after the Missouri Pacific's first examples making the C&O's the second-ever to enter service.  
They were assigned to passenger trains along the railroad's more rugged territory, the Allegheny (Hinton, West Virginia - Clifton Forge, Virginia) and Mountain (Clifton Forge - Charlottesville, Virginia) Subdivisions.  Proving quite adept at this task with drivers of 72 inches and tractive efforts ranging around 32,000 pounds the railroad was quite impressed; it eventually rostered a fleet of 27 examples by 1911, all of which were products of Alco.
However, it wasn't long before the C&O was in need of larger, more powerful designs as car sizes and weight increased.  After testing out the first examples of a 4-8-2 "Mountain" the railroad returned for more Pacifics in 1913, this time from the Baldwin Locomotive Works.  
These 4-6-2s, classed as F-16's, also featured 72-inch drivers but were significantly heavier than the F-15's, offering tractive efforts of nearly 44,000 pounds.  It seems that between 1910 and 1920 the C&O was constantly struggling to find designs powerful and efficient enough to meet needed demands.  
Only a year after the F-16's entered service an even heavier class arrived in 1914; the F-17's.  For this batch the C&O returned to Alco; far heavier than any previous Pacific the railroad operated the F-17's weighed 312,065 pounds, offered tractive efforts of 46,500 pounds, and provided greater steaming capacity.
In all the F-17's totaled six units, #470-475, and proved good, reliable engines which could handle the stiff grades and heavier cars with an ability to maintain 25 mph on inclines of 1.51%.  
However, with drivers of only 69 inches the F-17's couldn't offer the same speeds of earlier Pacifics.  Ms. Parker points out their arrival allowed the C&O to transfer fifteen older F-15's for other assignments.  
The F-17's were later rebuilt by shop forces in 1934 into F-17a's with such improvements as 74-inch drivers for higher speeds, greater steaming capacity, slightly more tractive effort, roller bearings, increased boiler pressure (200 psi), and a general cleaner exterior appearance. 
It was not until the mid-1920s that additional 4-6-2s entered service when the F-18's arrived in 1923 from Alco.  These six examples, originally numbered 188-193 (later changed to 480-485 in January of 1925), arrived between June 26th and July 7th that year.
The new power was quite similar to the earlier F-17's but weighed a bit more (321,000 pounds) with tractive efforts of 49,000 pounds, 69-inch drivers (intended for the western grades), and a boiler pressure of 195 psi as opposed to 185 psi.   
From an outward appearance it was tough to tell the difference between the two classes although astute observers would note that the F-17's utilized Alligator crossheads while the F-18's featured Laird crossheads.  
During the F-18's rebuild in 1931, being reclassed as F-18a's, they received similar upgrades as the F-17's with 74-inch drivers, a boiler pressure increase to 200 psi, Baker Valve Gear, smaller cab, new Duplex stoker, increase in weight (334,420 pounds), and the now-classic "Flying Pumps" situated on the smokebox giving the locomotive's a "beefier" appearance.  

And then there was the most famous class of all, the fabled F-19's.  Once again the C&O stuck with Alco, receiving these latest heavy Pacifics, #490-494, between February 22nd and February 26th, 1926.  
The locomotives weighed 331,500 pounds (the heaviest the C&O ever operated until the F-18's were rebuilt), featured tractive efforts of 46,900 pounds, and 74-inch drivers.  
As a late-era design they were also equipped with some of the latest technologies such as Elesco feedwater heaters and roller bearings.  Their exterior appearance evoked clean lines and an almost streamlined-like appearance with a rounded tender that nearly sat flush with the cab roof-line.  
They also looked powerful sporting the longest wheelbase of any C&O Pacific (more than 36 1/2 feet) and the "Flying Pumps" (air pumps) situated on the smokebox.
This look became a common identifying feature of C&O steam locomotives.  With 74-inch drivers the F-19's were intended for low-grade, high-speed service and they excelled at this quite well.  
Over the years the C&O rebuilt or overhauled most of their Pacifics, some to a greater degree than others, which has only been briefly covered here.  Thanks to these efforts the railroad never retired any of its 4-6-2s until steam left the roster between 1951 and 1955.  
As for the F-19's, they were rebuilt between 1947 and 1948 into the Class L-1 streamlined Hudsons, meant for service on the new Chessie (Washington - Cincinnati).  This train was ultimately mothballed before ever entering service but the L-1's nonetheless found a variety of assignments to remain on the roster until 1955.
---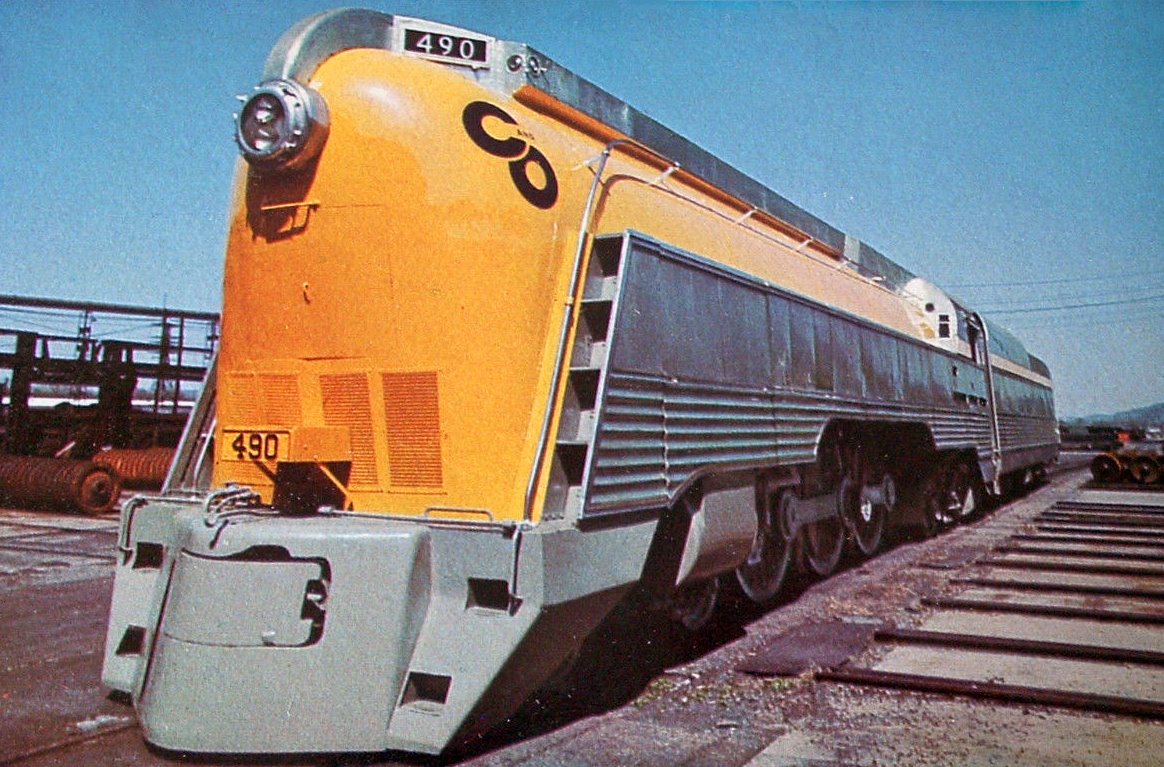 Chesapeake & Ohio 4-6-4 #490 (L-1) at Huntington, West Virginia on April 17, 1971. These streamlined Hudsons (five in all) were rebuilt from F-19 Pacific's during the late 1940s for service on the never-launched "Chessie." John Corns photo.
And finally, there was the class of Pacifics often forgotten, the F-20's.  These locomotives were not actually C&O designs; with passenger traffic still up following World War II the railroad felt it needed additional power to meet demand and so purchased four examples from the Richmond, Fredericksburg & Potomac.  
These locomotives were 1927 products of Baldwin weighing 342,600 pounds with 48,250 pounds of tractive effort and 75-inch drivers.  On the RF&P they were numbered 325-328, which was changed to 486-489 under the C&O and re-classed as F-20's.  
They were certainly capable machines but as Ms. Parker points out, externally looked nothing like a C&O Pacific with a high-mounted headlight, no "flying pumps," and a traditional, square tender among other differences.  They usually found assignments between Ashland and Louisville, Kentucky remaining in service until 1951.