Chesapeake & Ohio 4-6-4 (Class L)
Last revised: February 22, 2022
By: Adam Burns
The Chesapeake & Ohio was a big proponent of steam power and if it had the choice would have remained an all-steam road long after popularity grew for main line diesel power.  
The railroad utilized virtually all of the late-era, Super Power designs in both passenger and freight assignments including the popular 4-6-4 "Hudsons."  Interestingly, while the C&O sometimes changed the name of a wheel arrangement to better reflect its region of operation it kept the Hudson designation.  
The first examples entered service during the early 1940s and the last later that decade; some were even rebuilt from older 4-6-2 Pacifics.  All were retired by during the mid-1950s and today one survives, streamlined #490, originally built for the never-launched "Chessie." 
The C&O is not as well known for its late-era passenger service since the railroad did not invest heavily in lightweight, streamlined equipment.  Its most prominent train, the Chessie, was canceled before entering service.  Despite this, the road did field a handsome group of streamlined steam, the L-1 class, pictured below.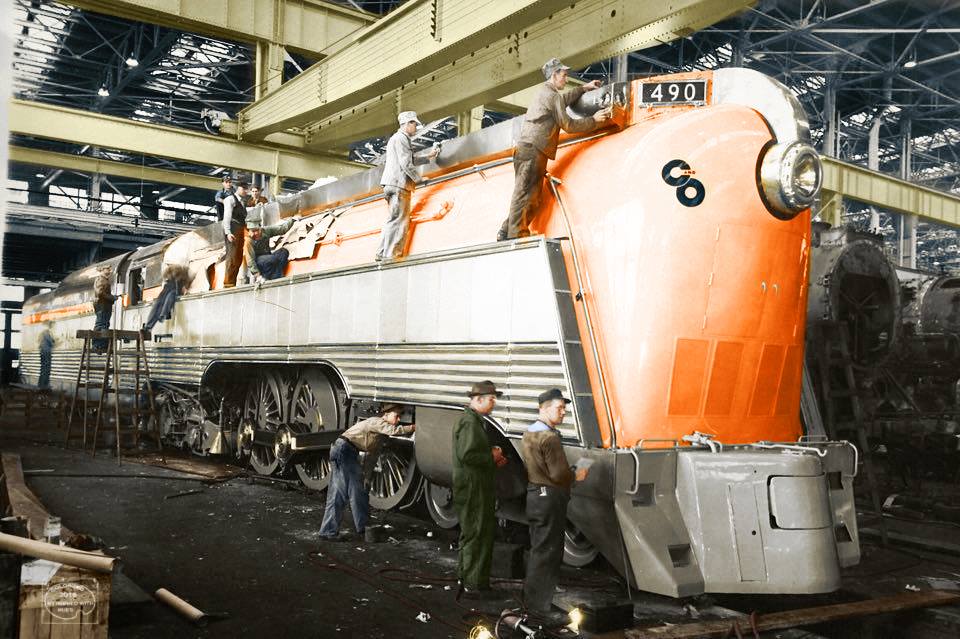 Chesapeake & Ohio 4-6-4 #490 (L-1) receives attention at the heavy repair shops in Huntington, West Virginia during 1947. Photo colorized by Patty Allison.
The C&O's steam-era stars in passenger service included its large fleet of Class F Pacifics, locomotives it first utilized around the turn of the 20th century.  These 4-6-2s could be found roaming the system far and wide ahead of its most well-known trains; their high drivers offered ample speed while the locomotives were powerful enough to handle the heaviest grades.  
The most famous were the Class F-19 heavy Pacifics introduced during the mid-1920s.  During the late steam-era, however, other wheel arrangements were put into service including 4-8-4 "Greenbriers" (here again, the C&O chose to go with its own name for a wheel arrangement often regarded as a "Northern"), 4-8-2 Mountains, and 4-6-4 Hudsons.
Interestingly, the C&O's first order of Hudsons, a batch of eight acquired from Baldwin in 1941-1942 (#300-307), were actually delivered a few years after its first 4-8-4 Greenbriers had arrived.  
According to Thomas Dixon, Jr.'s book, "Chesapeake & Ohio Passenger Service:  1847-1971," the Class L-2's were the most powerful and heaviest Hudsons ever built with tractive effort ratings above 50,000 pounds and weighing 631,000 pounds (engine and tender).  They could also cruise at high speed with large, 78-inch drivers!  
Given the time period in which the Hudsons were manufactured they utilized a number of contemporary features such as roller bearings on all axles (in addition, #300, was equipped with roller bearings on its side and main rods).  In 1948 the C&O went back to Baldwin for five more which were numbered 310-314 and sub-classed as L-2-A's.  
Chesapeake & Ohio 4-6-4 #490 (L-1) on display at the Baltimore & Ohio Railroad Museum in Baltimore, Maryland.
They were the last passenger service steam locomotives ever built (by a manufacturer) for an American railroad.  While this distinction seems noteworthy it's not terribly surprising given the C&O's affinity to steam.  
Alas, it ran into the same problem as the Norfolk & Western, another proud proponent of steam well into the 1950s; as the diesel locomotive market took hold the auxiliary steam market faded away making it increasingly difficult (and expensive) to keep such locomotives serviceable.  
The railroad's did recognize, to a degree, the advantages diesels offered but this issue, perhaps more than any other, eventually forced the N&W and C&O into retiring their remaining fleets by the late 1950s.
As Mr. Dixon notes in his book the Hudsons were often assigned west of Hinton, as far as Cincinnati and Detroit, where they powered such trains as the Sportsman (Washington/Newport News - Cincinnati/Detroit), Fast Flying Virginian/F.F.V. (Washington/Newport News - Cincinnati/Louisville), and George Washington (Washington/Newport News - Cincinnati/Louisville). 
They remained in regular service until the mid-1950s.  There was also another class of C&O Hudsons and they are perhaps the most interesting thanks to their visual appeal.  Beginning in 1947 the railroad took steps to rebuild its five, widely-regarded Class F-19's into 4-6-4s for the purpose of powering the company's all new streamliner, the Chessie (Washington - Cincinnati).
This train was the brainchild of new C&O president Robert R. Young who believed the railroad should have a robust and expansive passenger department.  The new Chessie was boasted as the most luxurious all-coach service ever launched and was designed to be all-steam powered.  To do this meant streamlined locomotives would also be needed.  
The train's main power was to be a trio of radical new, streamlined steam turbines that were listed as Class M-1.  The new Hudsons were given Class L-1 and numbered 490-494.  While regarded as overhauled F-19's, noted C&O historian Karen Parker points out that in reality the L-1's were virtually new utilizing only the fireboxes from the older locomotives.  
In some respects these Hudsons were even more advanced than the L-2's with roller bearings on all axles and rods although they featured slightly smaller drivers (74 inches) and less tractive effort. Their streamlining was beautifully carried out and somewhat resembled the New York Central's legendary Class J-3a's, styled by Henry Dreyfuss, which powered the 20th Century Limited.  
---
---
One of Chesapeake & Ohio's non-streamlined 4-6-4's, #311 (L-2a), is seen here at the 21st Street shops in Detroit, Michigan circa 1949. This locomotive was a 1942 product of Baldwin.
The L-1's were adorned with fluted, stainless-steel skirting and a forward angled nose which gave the appearance of a speeding bullet.   The nose, and preceding boiler jacket were both painted what the C&O termed "Federal Yellow," ending as a stripe under the cab and along the trailing tender.  
Finally, narrow, stainless-steel streamlined shrouding sat above the boiler running from the cab and tapering away at the nose to provide a clean roofline.  Because of their yellow paint the locomotives were referred to as "Yellowbellies" by C&O crews. 
Ultimately, the Chessie was never launched due to sagging postwar ridership and neighboring Baltimore & Ohio's poor ridership of its Cincinnatian streamliner along the same corridor, which proved too lightly populated to support a high profile service. However, the L-1's were not discarded.  
 During April of 1953 the first pair of L-1's were retired followed by the remainder in 1955.  While no L-2's were preserved, thanks to the C&O's recognition of history one example of the streamlined L-1's were saved.  Today, #490 is on display, under roof, at the Baltimore & Ohio Railroad Museum.