Chesapeake & Ohio 4-8-4 "Greenbrier" (J-3/a/b)
Last revised: February 26, 2023
By: Adam Burns

The Chesapeake & Ohio's second "Super Power" locomotives to enter service were its 4-8-4's, termed "Greenbriers."  The first examples arrived from the Lima Locomotive Works in 1935 and the C&O would eventually roster some twelve examples. 

The company became fond of Lima's Super Power designs ever since it acquired its first 2-10-4's in 1929 and predominantly stuck with the builder for these locomotives.  
The Greenbriers were powerful, graceful machines that often found themselves working passenger assignments in mountainous territory thanks to their high drivers and solid tractive effort.  Today, one example of the class is preserved, J-3a #614 that has pulled excursions as recently as the 1990s.
History
The locomotive also became famous during test trials in 1985 when then-Chessie System allowed Ross Rowland, #614's owner, to test the viability of steam as a renewed source of main line power. 
The big Greenbrier successfully lugged several loads of coal along the Chesapeake & Ohio main line in southern West Virginia but the experiment failed to produce the desired results.
Photos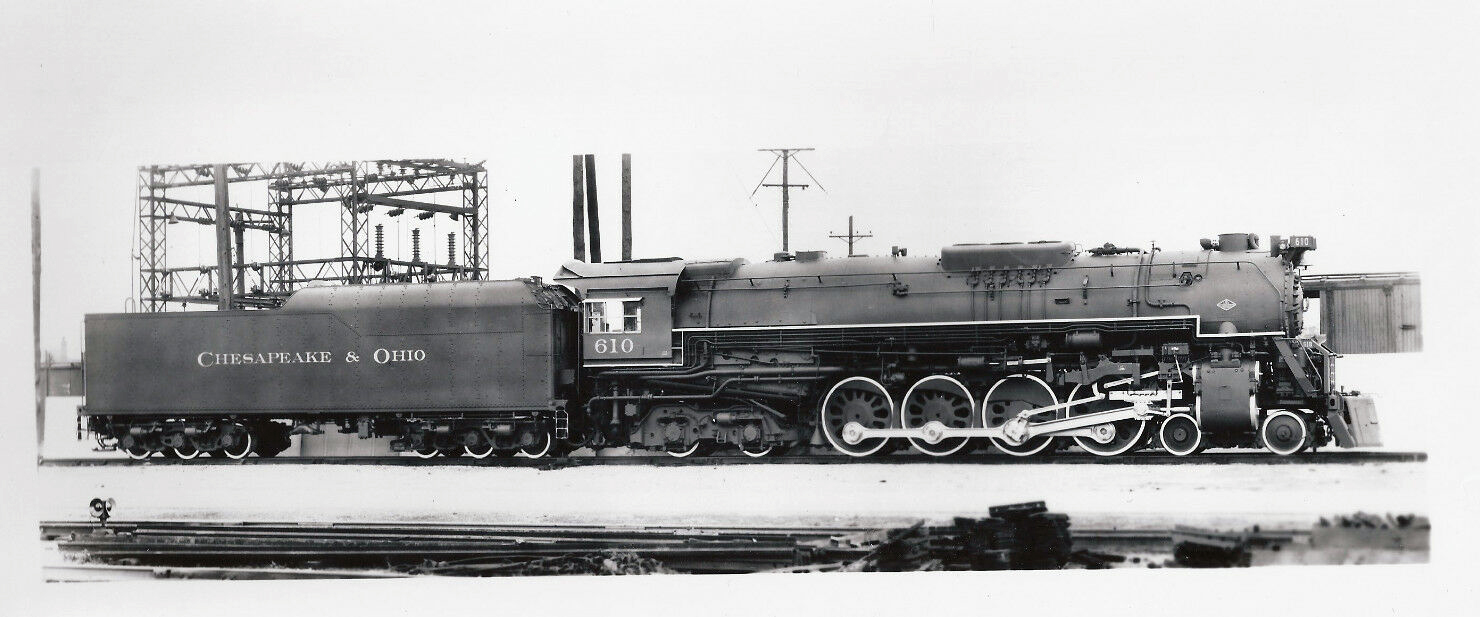 A Lima Locomotive photo featuring recently completed Chesapeake & Ohio 4-8-4 #610 (J-3a) at the manufacturer's Lima, Ohio plant in 1948.
The C&O's first taste of Super Power steam came in 1929 when it placed an order with Lima Locomotive Works for a batch of 40 new 2-10-4 "Texas" type locomotives.  
These machines, numbered 3000-3039 and classed T-1, arrived on the property in 1930 and were a culmination of testing carried out by the Advisory Mechanical Committee (AMC).  
The AMC was an oversight body created in 1929 to improve and standardize steam designs across the Van Sweringen-owned properties which along with the C&O included the Erie, Nickel Plate Road, Hocking Valley Railway (a later C&O subsidiary) and Pere Marquette.  
The  C&O's T-1s were essentially enlarged 2-8-4's, utilizing an additional driving axle and based from the Erie's Class S models which first entered service in 1927.   The 2-10-4's often found themselves handling 160-car heavy freights, usually coal, in the C&O's western territory between Russell, Kentucky and Toledo, Ohio.  
The success of these locomotives immediately sold the railroad on the benefits of Super Power technology.  As a result, virtually all of its future purchases were for such designs and many came from Lima.   
This included its 4-8-4's, all of which were outshopped by the Ohio manufacturer.   By the mid-1930s the C&O was in need of larger and more powerful designs to handle passenger assignments on the rugged mountain grades between Charlottesville, Virginia and Hinton, West Virginia. 
Through the AMC the new 4-8-4 was born, based from the earlier success of the 2-10-4s.  The first arrived between December, 1935 and early January, 1936; listed as Class J-3 they were numbered 600-604.

While 4-8-4's are often regarded as "Northerns," a name derived from where the wheel arrangement first saw service on the Northern Pacific in 1926, the C&O chose to call theirs "Greenbriers."  
This designation referenced a river, followed by a subdivision of the same name in the Appalachian Mountains of eastern  West Virginia.  It also referred to a state county and the regal Mountain State resort still open today.  
In addition the railroad named individual units after prominent Virginia statesmen, perhaps because the locomotives would be ahead of the company's most highly regarded trains such as the George Washington and Sportsman (the naming of units included only the J-3's and first batch of J-3a's).  
The Greenbriers were some of the heaviest and largest 4-8-4's ever built; the original J-3's weighed 477,00 pounds (engine only) while the first batch of J-3a's (#605-606) weighed 506,300 pounds.  The second batch of J-3a's (#610-614) weighed somewhere in between at 482,200 pounds. 
Roster
| Class | Number | Name |
| --- | --- | --- |
| J-3 | 600 | "Thomas Jefferson" |
| J-3 | 601 | "Patrick Henry" |
| J-3 | 602 | "Benjamin Harrison" |
| J-3 | 603 | "James Madison" |
| J-3 | 604 | "Edmund Randolph" |
| J-3a | 605 | "Thomas Nelson, Jr." |
| J-3a | 606 | "James Monroe" |
| J-3a | 610-614 | No Name |
These weights provided the locomotive's with substantial tractive efforts, above 66,000 pounds, while 74-inch drivers offered high speeds (reaching nearly 80 mph). The ruling grades on the Allegheny and Mountain Subdivisions reached 1.52% but the J-3's could nevertheless pull thirteen heavyweight cars without much effort.  
According to Thomas Dixon, Jr.'s book, "Chesapeake & Ohio Railway:   A Concise History And Fact Book," the Greenbriers of 1935 were the first locomotives built by Lima following the Great Depression.  
As late-era designs the J-3's were equipped with several new technologies including trailing truck boosters (increasing tractive effort), large tenders capable of handling 22,000 gallons of water and 25 tons of coal, and Timken roller bearings on front and rear trucks (J-3a's).
The C&O's first batch of J-3a's arrived in 1942 and were similar to their earlier counterparts save for the heavier weight as previously mentioned.  Perhaps most surprising is that the C&O went back for more after World War II, purchasing a second-batch of J-3a's in 1948.  
It has been argued by some historians that the C&O spent far more money and time than it otherwise should have on late-era steam technology when it was inevitable that diesels would prevail.  As C&O historian Eugene Huddleston notes:
"[It is] simply amazing the expenditure of so much money to produce a 'state of the art' locomotive in the waning days of steam. It seems nothing was sacrificed to equip the new Greenbriers with the latest features and best appliances. Enthusiasm was still the word in 1947, as this writer well recalls from being told about the order for five more Greenbriers from Lima Locomotive Works by locomotive engineer Vince Hiltz."
---
Preservation
Perhaps it is true the company overspent on late-era steam designs although the C&O was wholly-dedicated to the motive power until the end.  As a major coal shipper, just like the Norfolk & Western, Chessie believed fervently steam was just was good, if not better, than diesel technology for main line service.  
The two railroads may have proven this true if given the time but the secondary steam market for parts and supplies rapidly disappeared as diesels took root making it increasingly expensive to continue operating the motive power.  By the early 1950s new models from Electro-Motive began replacing steam on passenger assignments.  
Incredibly, as Mr. Dixon notes in his book, the J-3a's of 1948 saw just three years of service here before they were bumped into secondary roles.  By 1956, all of the Greenbriers had been retired and only one was saved, #614.  It is currently owned by Ross Rowland and pulled excursions through the 1990s but is currently not operational.