Regional Passenger Trains

Last revised: July 12, 2023
By: Adam Burns

While Amtrak is best known for its many long-distance trains such as the Capitol Limited, Empire Builder, Sunset Limited, California Zephyr, and others the carrier also provides many regional services. 

Outside of the Northeast most are state-sponsored or subsidized and some, such as North Carolina and California, have spent heavily to develop such alternatives for commuters. 
This effort has paid off over the years as ridership by rail has steadily risen over the past few decades in these states while others have mulled implementing similar services.  Covered here are brief overviews of many regional Amtrak trains from the Golden State to New England.
Amtrak California
Amtrak California is actually a brand name developed by both Amtrak and California to provide stable and reliable rail service to the state (it even has its own reporting marks, CDTX).
The service has been in operation since the early 1990s providing commuters and regional travelers the ability to reach all of California's largest cities such as Sacramento, San Francisco, Oakland, Los Angeles, San Diego, and others (overall, there are three primary trains that connect these cities).
Today, despite the fact Amtrak's future always seems to be in limbo, train services continue to grow in demand; this is especially true as gas prices seem to constantly be rising and California implements ever more environmental laws.
There are only a few state-sponsored passenger rail operations affiliated with Amtrak which sport their own livery, and California is one of them (the other is North Carolina and interestingly, both state's lead the way in developing rail travel services for their respective regions).
Along with being one of the leading states in this field, California was also one of the first to providing its own funding.
This originally started in 1976, just five years after Amtrak began operations.
With only limited funding from the federal government at the time and losing patience with infrequent and unreliable service, California began helping the national carrier through monetary assistance to improve operations.
In doing so the state created the Caltrans Division of Rail, at the same time forming the brand name Amtrak California.
There are three primary routes which make up Amtrak California; Pacific Surfliner in the southern regions of the state, the Capitol Corridor between San Francisco and San Jose, and finally the San Joaquin with service to the Bay Area and points south.
As funding increased the trains began receiving their own paint scheme, which is now based on a version of Amtrak's Phase V livery; a combination of silver and blue along with a few other colors.
Today, California owns several locomotives, which totals 17 units (15 EMD F59PHIs and two GE P32-8WHs), along with a fleet of passenger cars (which primarily consist of retrofitted and updated Superliners) and other equipment all of which are painted in either state colors or the Pacific Surfliner scheme.
It should also be noted that Amtrak California provides many connecting services via a fleet of buses it operates.
As the only service in the Golden State with its own, separate livery (of silver, bright blue, and white trim) the Pacific Surfliner has been running since its opening day on June 1, 2000.
Its corridor links California's southern oceanside cities of San Diego, Los Angeles, Santa Barbara, and San Luis Obispo on trackage once owned by both the Southern Pacific and Atchison, Topeka & Santa Fe (Santa Fe).
The route is 350 miles in length and someone traveling the entire distance can expect to do so in about 5 hours and 45 minutes.
As only a regional train the Pacific Surfliner's amenities include standard coach class as well as business class (a consist usually includes a business class car, coach-café, two standard coaches, and a baggage-coach).
Typically, track speeds on the route are between the standard 60 and 79 mph with twelve round trips completed on a daily basis.
Amtrak's second-busiest service (the Pacific Surfliner is the most traveled) is the Capitol Corridor, which runs between San Jose, Oakland/San Francisco, Sacramento, and Auburn on trackage once owned by the SP (overall, it serves sixteen different stations).
It is the most northern regional route available to residents of the state and sees nearly 1.6 million riders annually.
The service first began in December of 1991 and the length of the corridor is 168 miles with the entire route covered in about 3 hours and 15 minutes (these short jaunts allow for numerous round trips on a daily basis).
The on board amenities are fairly basic with only coach service and a café car available.
Additionally, the Capitol Corridor offers connecting service to area commuter agencies such as the San Francisco Bay Area Rapid Transit District (BART) and Caltrain.
Finally, there is the San Joaquin, which serves much of central California. This train operates over primarily former SP lines as well and serves San Francisco, Oakland, Stockton, Fresno, and Bakersfield (overall, it serves eighteen different stations) covering a distance of 315 miles in 6 hours and 15 minutes one way.
The San Joaquin is also the oldest Amtrak California operation dating back to 1974 when it was inaugurated that March. On most trips the train carries three or four cars including coaches, a café, and a baggage compartment.
All three trains that are part of Amtrak California operate in a push-pull fashion with a lead F59PHI and a cab car on one end.  While the San Joaquin sees the fewest riders of the trio it still hosts numbers approaching one million annually.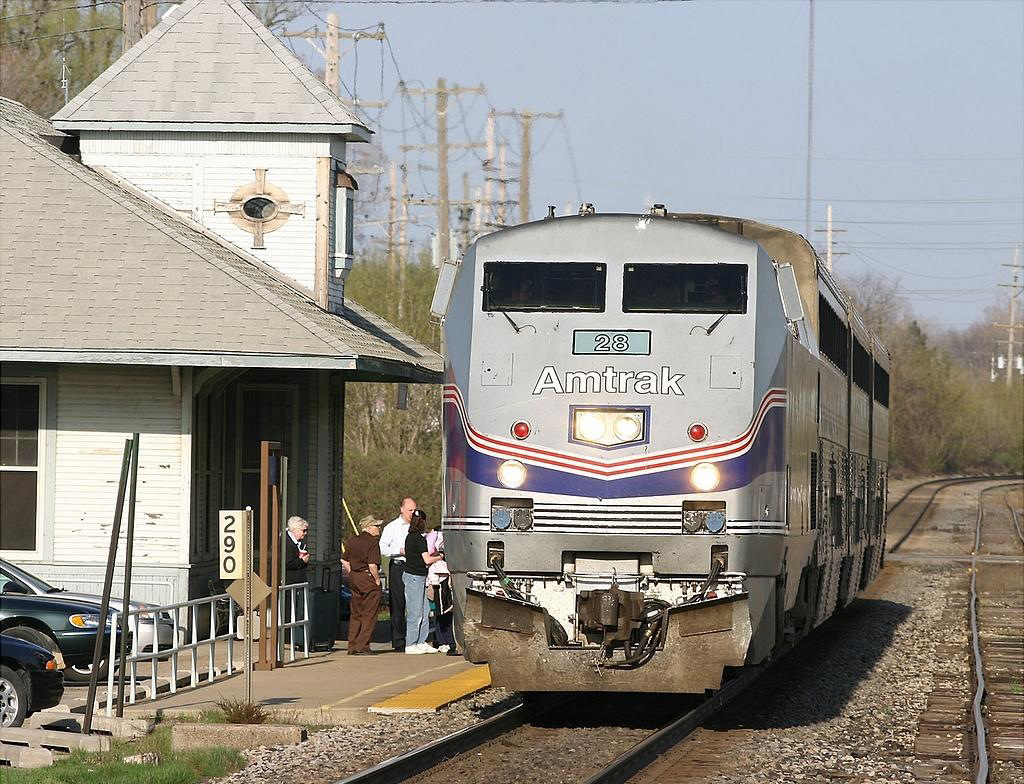 Amtrak P42DC #28 is stopped at Lapeer, Michigan with the "International" on April 18, 2004. The wooden depot, at 73 Howard Street, was built by the Grand Trunk Western in 1900. Today, the tracks are part of Canadian National's system. Wade Massie photo.
Capitol Corridor
After Amtrak began operations in May of 1971 it was not given a particularly large source of funding from the federal government.
As such, service could be unpredictable and unreliable at best, a fact not lost on California. Looking for better reliability the state began subsidizing service in its own state after 1976, which eventually transformed into a number of commuter and regional trains implemented, one of which was the Capitol Corridor.
This service was also one of three that provided passengers the ability to ride a train from the Bay Area to the southern tip of the state via a branded service known as Amtrak California.
Today, the equipment used for these trains are entirely state-owned and even feature their own livery (with Amtrak providing logistics and operations).
Since it began in the early 1990s the Corridor currently is one of the busiest train routes along Amtrak's entire network and continues to grow on an annual basis.
The history of the Capitol Corridor dates to December of 1991 when funding from California allowed for a second sponsored passenger train to operate in the state (the first being the San Joaquin established in 1974).
With this new service (at first it was known only as the Capitols but later changed to its current name to avoid confusion with similar Amtrak services, notably the Capitol Limited) available the Golden State now offered regional rail connections from Auburn and Sacramento to Oakland/San Francisco and San Jose on a corridor that was 168 miles in length.
Travelers also had the ability to continue southward to Stockton, Fresno, and Bakersfield via the San Joaquin. In 2000, things were further expanded with the addition of the Pacific Surfliner serving the state's southern coastal cities like Los Angeles, San Diego, and San Luis Obispo.
As with all Amtrak California trains the Corridor was funded by Caltrans Division of Rail and is currently managed between the Capitol Corridor Joint Powers Authority Bay Area Rapid Transit.
The tracks used for the Capitol Corridor were originally owned by the vast Southern Pacific system (California's best remember railroad since it reached virtually every important area of the state) and today these are part of the Union Pacific with small sections around the Bay Area being state owned.
Since much of the trackage the corridor uses remains an important freight artery for UP keeping a good working balance between both operations is paramount (an issue that keeps passenger trains from operating south of Bakersfield to offer a through system to LA/San Diego, the freight trains are simply too many).
When the Corridor service began in 1991 it featured little in the way of noteworthy services and was not particularly attractive.
Trains used secondhand equipment that had been purchased from Amtrak such as EMD F40PH diesel locomotives and dated Amfleet cars, which date to the 1970s and have a tubular appearance (the cars actually look quite similar to the old Pennsylvania Railroad Silverliners).
The only thing new at the time were two General Electric P32-8WHs, a four-axle diesel designed for use in passenger service and capable of producing 3,200 horsepower (the locomotive, externally, looked virtually identical to its freight counterpart).
During the mid-1990s the state finally purchased a fleet of new locomotives, EMD F59PHIs, and refurbished several more Superliner, double-decked passenger cars. 
These retrofitted cars, along with another roster of café cars, were reclassified as California Cars and are named after geographic locations around the state.
Today, a typical consist for a Corridor train includes a café car, coaches, and a baggage car that has the ability to haul bicycles (which, interestingly enough, is a growing trend).
Someone looking to ride the full length of the route can expect to do so in about 3 hours and 15 minutes if there are no delays or other extraordinary activity, such as maintenance work.
Currently, there are sixteen trains dispatched over the line daily with train numbers including 518, 520-549, 551, 553, 720, 723-724, 727-729, 732-734, 736-738, 741-749, and 751.  
Not surprisingly, as funding and services have improved, so has demand, which has more than tripled since just 1998. As of 2010 ridership was reaching nearly 1.6 million annually, a number that will likely continue to grow in the coming years (the demand has also forced the state to add more trains to the line).
If you are interested in riding the Corridor station stops along the route include Auburn, Rocklin, Roseville, Sacramento, Davis, Suisun City, Martinez, Richmond, Berkeley, Emeryville, Oakland (two stations), Hayward, Fremont, Santa Clara, and San Jose. Additionally, as with all Amtrak California trains (which now offer free Wi-Fi on board) there are connecting bus services available.
Empire Service
Today, Amtrak's Empire Service continues to grow in popularity and now carries more than one millions passengers annually along its corridor between New York City and Niagara Falls, with intermediate connections to Buffalo, Syracuse, and Albany.
If you are a history buff those names probably sound familiar as the train uses the former New York Central's main line on its 700+ mile trip that features multiple trips daily.
The national carrier continued this route's passenger services, which was one of the few services that Penn Central had retained until the end.
Currently, the Service also offers connecting trains via other regional Amtrak trains like the Maple Leaf and Lake Shore Limited. Additionally, the state of New York hopes to have this route upgraded to speeds topping 100 mph soon.
Because Amtrak's Empire Service operates along the ex-NYC's main line the railroad once hosted numerous named trains serving the same corridor, the most famous of which between New York and Buffalo was the Empire State Express.
However, some of the other trains to serve this route included:
The iconic 20th Century Limited


Lake Shore Limited (still operated today by Amtrak) 


Numerous Mercuries (which served numerous cities)


Pacemaker


Commodore Vanderbilt


The Empire State Express was one of the railroad's oldest names trains, having been first inaugurated by predecessor New York Central & Hudson River Railroad in 1891.
Back then, of course, equipment consisted of early 4-4-0 American Type steam locomotives and wooden Pullman cars.
The train was upgraded twice prior to the streamliner era, first in 1905 with more modern equipment although it still utilized 4-4-0s (albeit more powerful); then in 1920 it was updated again with all-steel, "heavyweight" Pullman cars and non-streamlined J Class 4-6-4 Hudsons.
A typical run for the train to cover the 436 miles between New York and Buffalo, even during its early years, was just over seven hours.
In 1941 the Empire truly came of age when the NYC decided to completely streamline the train with new equipment from the Budd Company.
Using its patented fluted stainless steel the equipment included mostly coaches but also offered new amenities like air-conditioning.
The Empire State Express was officially christened as a streamliner on Sunday, December 7, 1941 and unfortunately, as the NYC would soon learn the company could not have chosen a worse date to inaugurate the train.
While the Japanese bombing of Pearl Harbor in Hawaii completely overshadowed the Empire's inauguration it went on to remain a successful dayliner for the New York Central.
The train lost its name in 1967 and many of the high class amenities that made it popular during its heyday. After this time it was simply known as the Empire Service by successor Penn Central, which continued to operate it until the start of Amtrak on May 1, 1971.
While Amtrak retained this corridor it briefly no longer offered any service west of Buffalo to other key cities like Detroit, Cleveland, and Chicago.
In 1975, this was restored via the Lake Shore Limited. Additionally, Amtrak reestablished connections to cities that had lost rail service in the 1960s such as Niagara Falls and Schenectady. 
Today, the Service runs a corridor that is 460 miles in length and offers station stops (from east to west) at:
Penn Station (New York)


Yonkers


Croton-on-Hudson


Poughkeepsie


Rhinecliff


Hudson


Rensselaer/Albany


Schenectady


Amsterdam


Utica


Rome


Syracuse


Rochester


Depew,


Buffalo


Niagara Falls
Even though it is a very long route for what is technically a regional train (requiring more than seven hours of travel time) it runs numerous trains daily including numbers 230, 232, 233-239, 241-245, 250, 252-256, 258, 261, 263, 280-281, 283-284, and 288.
The accommodations the Empire Service currently offers includes coach and business classes, a snack/café car, and even free Wi-Fi (Internet) on board (a feature that is becoming more common with Amtrak's trains every passing year).  
The train is normally equipped with a General Electric Genesis series diesel locomotive for power and Amfleet cars.
Due to the intermediate to large markets the Service connects, ridership is naturally quite high with more than one million passengers hosted in 2011.
The state of New York is working feverishly to upgrade this corridor to speeds at or above 110 mph. The funding has been secured by construction has yet to begin.
The purpose of this is not only to increase speeds and lure more folks to travel by train but also to improve the economic conditions of western New York, especially the region around Buffalo which has been downtrodden for years.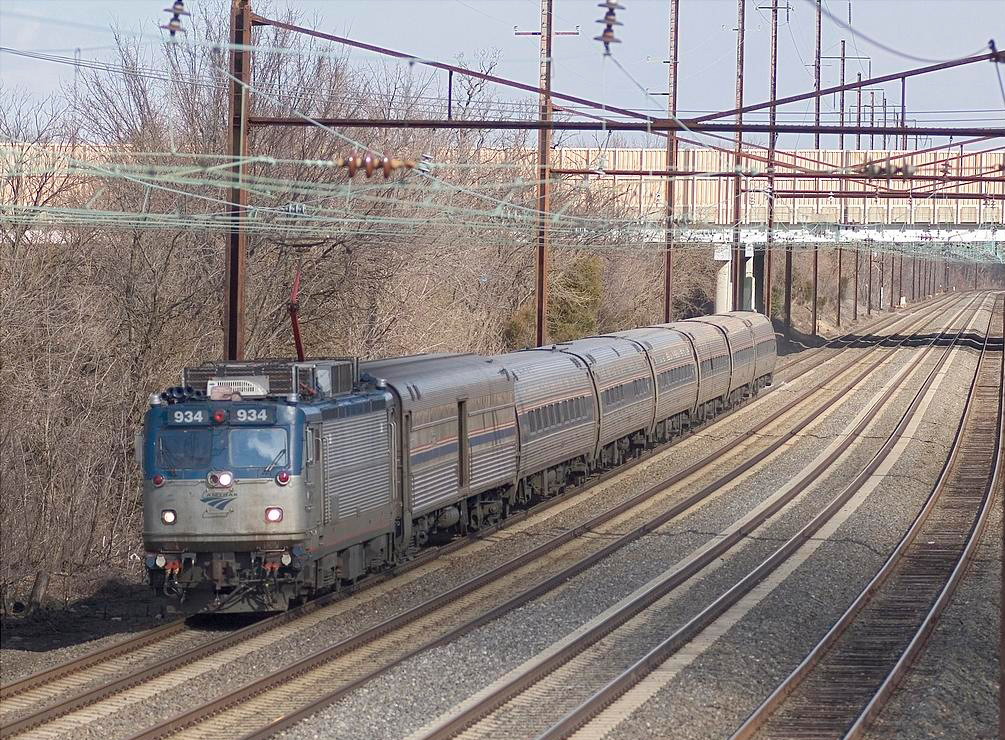 An Amtrak AEM-7 is showing its age as it leads train #79 along the Northeast Corridor at Halethorpe, Maryland on February 26, 2006. Wade Massie photo.
Keystone Service
In recent years Amtrak's Keystone Service has exploded in popularity as the carrier has upgraded the route with full electrified capability which not only as increased train speed but also required less transit times as trains do not have to switch motive power.
In a typical year, Amtrak now sees its ridership over this nearly 200-mile stretch of track top out well over one million easily putting it within the company's top-ten corridors around the country.
The history of the route dates back to the carrier's earliest years with the Keystone, a train that operated across Pennsylvania, as well as the Silverliner Service. Today, a version of the former is known as the Pennsylvanian and operates alongside the current Keystone Service.
It is quite likely that the success of the New York to Harrisburg route will continue well into the future consider the electrified service and large metropolitan region the trains serve.
The history of the current New York-Harrisburg corridor can actually be traced long before there ever was an Amtrak.
With the Pennsylvania Railroad's main line to both Chicago and St. Louis slicing directly through the heart of the Keystone State (which split at Pittsburgh) the company ran numerous named trains between the Steel City, Philadelphia, and New York such as:
The flagship Broadway Limited


St. Louisan (New York/Washington - St. Louis), 


Duquesne (New York - Pittsburgh)


Pittsburgher
The latter two trains, of course, served the Steel City and by the time Penn Central was created in 1968 only regional Keystone Corridor trains remaining included the Duquesne (originally named after Fort Duquesne in Pittsburgh) and Silverliner Service (Philadelphia - Harrisburg).
Both of these survived until Amtrak began on May 1, 1971. The Duquesne was retained by the carrier until Amtrak's first official timetable was released on November 14, 1971 when it was renamed as the Keystone, trains #42 and #43.
This lasted until 1979 when the Keystone was dropped in favor of today's Pennsylvanian in 1980. Interestingly, due to its regional nature the Silverliner Service was always a relatively popular train even under Penn Central.
It first entered service on the PRR around 1963 when the railroad took delivery of new Silverliner cars (thus the name) from the Budd Company.
They carried the classic Budd stainless steel appearance and also sported a look similar to the company's popular Rail Diesel Car (RDC) save for the fact that they could operate electrically. 
The PRR came to own 38 Silverliner cars for service on the Keystone Corridor with funding provided through the new Southeastern Pennsylvania Transportation Authority (at the time the railroad was in far too much financial trouble to pay for the equipment itself).
When Amtrak began it also kept this operation and it remained relatively unchanged over the next decade.
However, in 1981 it was renamed as today's Keystone Service and extended to New York City.
In an effort to avoid confusion between the New York - Harrisburg and Philadelphia - Harrisburg along the Keystone Corridor individual named trains were used including Big Apple, Harrisburg Express, Susquehanna, and Valley Forge.
For more streamlined operations and better efficiency, however, Amtrak ended this practice in 1995 when all trains were listed as simply the Keystone Service (that year also spelled the end for the iconic Broadway Limited). 
Today, the train remains a rather simple, regional train with few on board amenities and consist that usually includes just five Amfleet standard coaches with both no business class or café service.
The train's 195-mile corridor typically requires a 3.5-hour trip one way. Overall, there are forty-six train numbers that accompany the service including 600, 601, 605, 607, 609-612, 615, 618-620, 622, 637, 639-656, 658, and 660-672.
This, along with the large metropolitan cities the train serves is the significant reason why it sees so many travelers/commuters on an annual basis, which now tops out at nearly 1.5 million.
Throughout the mid-1990s, when Amtrak began receiving General Electric's new Genesis diesel locomotives for use in standard service to replace aging EMD F40PHs, they could almost always be found powering the Keystone Service west of Philadelphia. 
For many years the Harrisburg to Philly main line was electrified by the PRR although it was shutdown some years ago.
Finally, in the mid-2000s Amtrak received funding, $145 million between the state of Pennsylvania and federal government, to restore the electricity, reopening it to through electrified traffic in October of 2006.
This allowed track speeds across the entire corridor to be increased to 110-mph, which further grew demand. Today, trains are usually powered by Amtrak's trusty AEM-7 motors, a Swedish locomotive that has been in service since the late 1970s and early 1980s.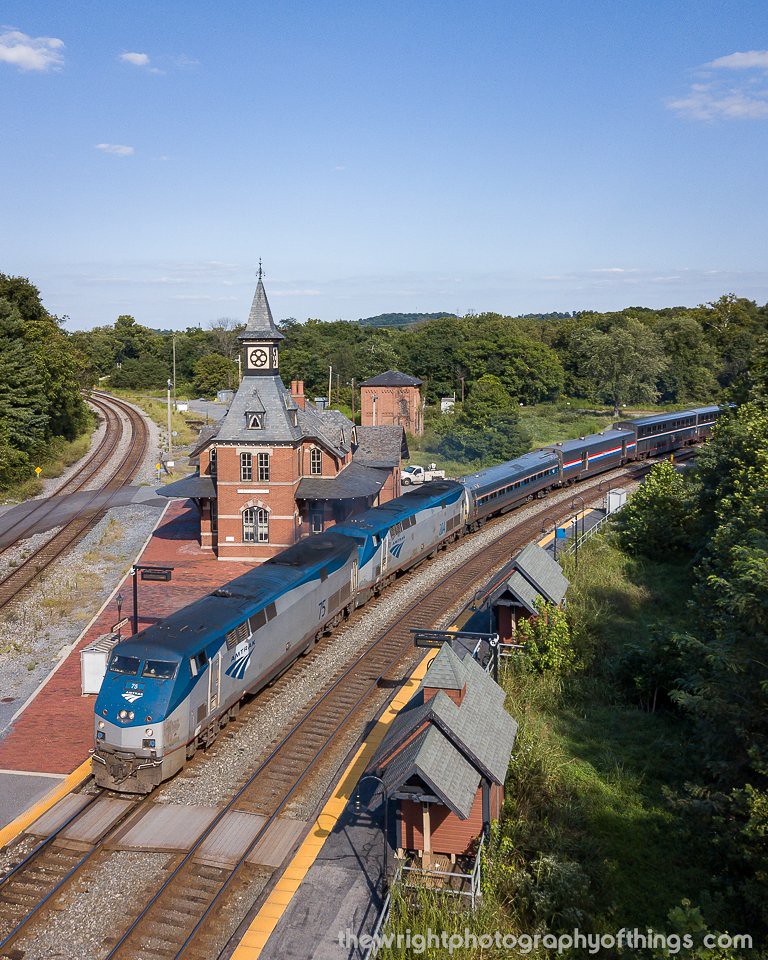 Amtrak's westbound "Capitol Limited" rolls past the historic Baltimore & Ohio station in Point of Rocks, Maryland on August 24, 2018. Jon Wright photo.
Michigan Services
As in Illinois, California, and a few other regions Amtrak uses the brand name Michigan Services to describe a series of regional trains which connect Chicago with several cities in Michigan.
These trains include the Wolverine, Pere Marquette, and Blue Water and have were put into service after Amtrak began between the mid-1970s and 1980s.
All three are historically significant and either were actually operated by a fallen flag railroad or its regional route is still in use (such as in the case of the Grand Trunk Western).
Many years ago Michigan was home to several regional passenger trains thanks to its heavy industrial base and the once vitally important city of Detroit.
Today, Amtrak's three trains are all that remains of this network. However, along with continuing growth in ridership there is hope that these trains will be upgraded to high speed, 110 mph service in the near future.
Before there was today's Michigan Services operated by Amtrak the state boasted several regional and long-distance trains.
Railroads like New York Central (in particular, it alone operated numerous named trains through Michigan), Baltimore & Ohio, Grand Trunk Western, Pennsylvania, Wabash, Pere Marquette, and others connected many of the Wolverine State's cities.
These trains included such names as the Red Arrow, Ambassador, Cincinnatian, Michigan, Wolverine, Twilight Limited, Pere Marquette, Wabash Cannon Ball, Detroit Limited, Maple Leaf, and several others.
During the "Golden Age" of the railroad industry Detroit was extremely important due to its heavy industrial base alone and automobile manufacturing in particular (a lucrative traffic source).
Additionally, there were other important cities such as Lansing, Grand Rapids, Kalamazoo, Durant, and the car ferry docks at Muskegon, Grand Haven, and Ludington.
When Amtrak began on May 1, 1971 there were only five railroads still serving the state; the B&O, C&O, Grand Trunk, Penn Central, and Norfolk & Western which still operated some twelve various trains.
However, all of these were abolished by Amtrak save for two former PC runs, which did not carry a name until the carrier issued its first timetable on November 14, 1971 naming them the Wolverine and the St. Clair (the latter train lost its name in the early 1980s but survived as part of the Lake Cities until 2004).
The former has been the one train that has stood the test of time and has not been extended but is also now partially funded by the state of Michigan (as are all Amtrak services in the state).
Interestingly, Amtrak at first had high hopes in the state. In 1975 it began operating French-built Turboliner trainsets via the Wolverine.
Unfortunately, with Penn Central in bankruptcy and deferring maintenance they could never operate at the intended speeds of 100+ mph and were relocated to other corridors in the early 1980s.
Today, as with most regional Amtrak trains the current Wolverine, which has been expanded from Detroit northward to Pontiac, provides fairly light accommodations on its 304-mile trip between Detroit and Chicago; typically you will find two General Electric P42s for power (one on each end to avoid turning), three Horizon Fleet coaches, and an Amfleet café-club car.
Despite these rather mundane services the train's ridership has steadily grown and now see more than a half-million passengers annually.
The Pere Marquette has a history that dates back to its predecessor railroad, the Pere Marquette Railway. Under the PM the train operated between Detroit and Grand Rapids as a regional run with service Monday through Saturday.
In 1947 the railroad was purchased by the Chesapeake & Ohio, which retained the train but would expand it to serve three different corridors; Detroit-Grand Rapids, Chicago-Grand Rapids/Muskegon, and Detroit-Saginaw.
Interestingly, the Pere Marquettes as they were known survived serving these routes through end although when Amtrak began on May 1 it initially did not retain the name.
However, thanks to state support the name was revived on August 5, 1984 as a Chicago-Grand Rapids service, which continues through today.
As a regional run the train offers a bit more than you might expect as three Superliner coaches typically make up a consist.
Finally, there is the Blue Water which serves Chicago and Port Huron, for some years known by Amtrak as the Blue Water Limited from 1975 to 1982.
The route the carrier uses was originally part of the Grand Trunk Western, a Canadian National subsidiary, who once field such trains on the line as the Maple Leaf, International Limited, the Inter-City Limited and LaSalle all of which connected to Toronto.
From 1976 through 1981 Amtrak equipped its new Turboliner high-speed trainsets over the line although because they were never able to operate at true high speeds were pulled in 1981.  
A year later the Blue Water name was dropped in favor of the old International Limited when the train was extended to Toronto.  
However, lagging demand forced Amtrak to truncate this back to Port Huron in 2004, returning the train to its original name as the Blue Water.
Today, the corridor is approximately 319 miles in length and requires nearly six hours to complete a trip. The train's standard power today is a GE P42DC with up to eight cars consisting of a Horizon Fleet/Amfleet coaches and the same used as a cafe-business car.
Pacific Surfliner
Amtrak California's Pacific Surfliner is the newest member in the state's family of intercity passenger rail services.
Begun only relatively recently in 2000 the train has quickly become California's most popular, seeing more than two million riders annually on its route that runs the southern Pacific coast between San Diego and San Louis Opisbo.
The service is also the only one featuring its own, unique, paint scheme different from even the standard Amtrak California livery of dark blue and silver.
Much of the line the Surfliner uses was once owned by the Atchison, Topeka & Santa Fe (Santa Fe) and the railroad's heritage can still be found in many places, such as a number of the depots that remain in use and built in the classic Spanish Mission style.
If you are hoping to rider the Surfliner service expansions over the years have increased its station stops to more than two dozen with multiple trips ran daily!
As the busiest route that is subsidized by California it took the state many years to see the Pacific Surfliner a reality.
After the Santa Fe discontinued passenger trains along its "Surf Line" between Los Angeles and San Diego on April 30, 1971, Amtrak continued to use the San Diegan when it began operations the next day.
In general, the carrier received although worn out equipment from mots railroads (both locomotives and passenger cars) which made reliable scheduling very difficult.
However, things were a bit different in the case of the AT&SF which handed Amtrak a tired, but quite usable roster of equipment as the railroad did a much better job of maintaining its fleet right through the end.
The state of California, which was hoping to see improved and more reliable intrastate passenger rail service began subsidizing Amtrak's operations in 1976.
This led the Amtrak California brand name and Caltrans Division of Rail, which both managed and funneled monies to the national carrier.
At that time, two trains still provided intercity rail services in the state the aforementioned San Diegan and the San Joaquin, an upstart of 1974 between Oakland and Bakersfield.
Both of these operations began to see significant improvement with increased funding as well as new equipment, such as the far more reliable EMD F40PHs of the late 1970s. I
n December, 1991 the Capitol Corridor debuted between Oakland, San Jose and Auburn giving the state three regional trains serving its largest cities.
Then, on June 1, 2000 Amtrak and California re-inaugurated the San Diegan as a through train from San Diego to San Luis Opisbo via Santa Barbara.
This routing, north of Los Angeles used former Southern Pacific trackage and to better market the new corridor the name Pacific Surfliner was chosen (quite appropriate, considering trains skirt the coast much of the way, making for a breathtaking backdrop as swimmers can literally watch trains pass from the beach).
With its increased range the entire route covers some 350 miles and takes about 5 hours and 45 minutes to ride the entire line (not including a return trip).
Current train numbers dispatched now include 562, 564-67, 571-573, 577-580, 582-583, 587, 589-592, 595, 597, 763, 768, 769, 774-775, 784-785, 792, 796, and 798-799.
In the early 1990s Amtrak California began purchasing new equipment such as upgraded Superliners (now known as California Cars) and EMD F59PHIs.
For use on the Pacific Surfliner are what are known as Surfliner Cars.
These look quite similar to Amtrak's double-decked Superliners although they were specially built by Alstom (with the primary differences being on board amenities such as Wi Fi, power outlets, and general deign as well as sporting the special Surfliner livery).
Of course, as demands ebb and flow considering the train is one of Amtrak's busiest with more than 2.6 million riders annually, traditional cars from the fleet will be used (sometimes to the chagrin of passengers).
However, typically a consist will include an F59PHI, business car, coach-café, two or more standard coaches (as needed), and a coach-baggage-cab car (for push-pull operations since there is never a location to turn the entire train making things much more efficient).
Additionally, as with all Amtrak California services there are available connecting buses to other cities; in the case of the Surfliner these include Solvang, Buellton, Atascadero and Paso Robles.
Finally, California's busiest passenger route offers treasures that many who ride it probably pay little attention, the restored depots of the Santa Fe and Southern Pacific that still serve in their original capacity.
Today, the Pacific Surfliner features 30 station stops and of those San Luis Obispo (SP), Santa Barbara (SP), Glendale (AT&SF), Los Angeles (Union Station), San Juan Capistrano (AT&SF), and San Diego (AT&SF) all still use their original depots to serve passengers. 
---
A pair of Amtrak F40PH's pass a CSX Transplantation freight train at the east end of Cumberland Yard in Cumberland, Maryland on July 17, 1994. Wade Massie photo.
The Tarheel State has big plans for its future rail service as it hopes to establish high speed operations throughout its borders from Asheville to Wilmington.
While the North Carolina Railroad has its owns website to truly learn about the state's incredible plans of passenger and commuter rail services you need to visit the North Carolina Department of Transportation's dedicated website to such called Bytrain.org.
This website not only give you the latest scoop concerning ongoing initiatives and plans relating to North Carolina's railroading operations it also informs about the state's steps to preserve right-of-ways for future rail use and keeping industries planted in its borders by providing rail access.
All in all, the entire site is the best resource on the Internet to learn about North Carolina's rail industry, from passenger to freight usage.