Pennsy's New York landmark, however, would survive a mere 57 years (and in many ways would be the spinning image of the rise and fall of the railroad industry itself through the 1970s), as the PRR was desperate for cash during the 1960s and ordered its demolition to sell off the property and air rights. While many other buildings would meet a similar fate between the 1950s and 1970s, the loss of Penn Station signaled a change in this country's attitude towards its historic structures as the outrage in the aftermath of its loss triggered a movement to preserve these buildings (the result of which thwarted later efforts to demolish the New York Central's breathtaking Grand Central Terminal, also located in New York City). 

Magnificent & Renowned Railroad/Train Stations
Union Stations

Quaint Depots
While the large terminals like those previously mentioned often receive the best remembered and garner the most attention in books and historical writings today, the smaller depots that served smaller towns and cities all across the country were much more than just buildings to load and unload passengers. For years until the automobile became a reliable means of transportation the depot was the center of life for these towns as it was the only means to the outside world for most folks. Not only did you use the building to board and de-board your train it also usually always delivered the goods you purchased.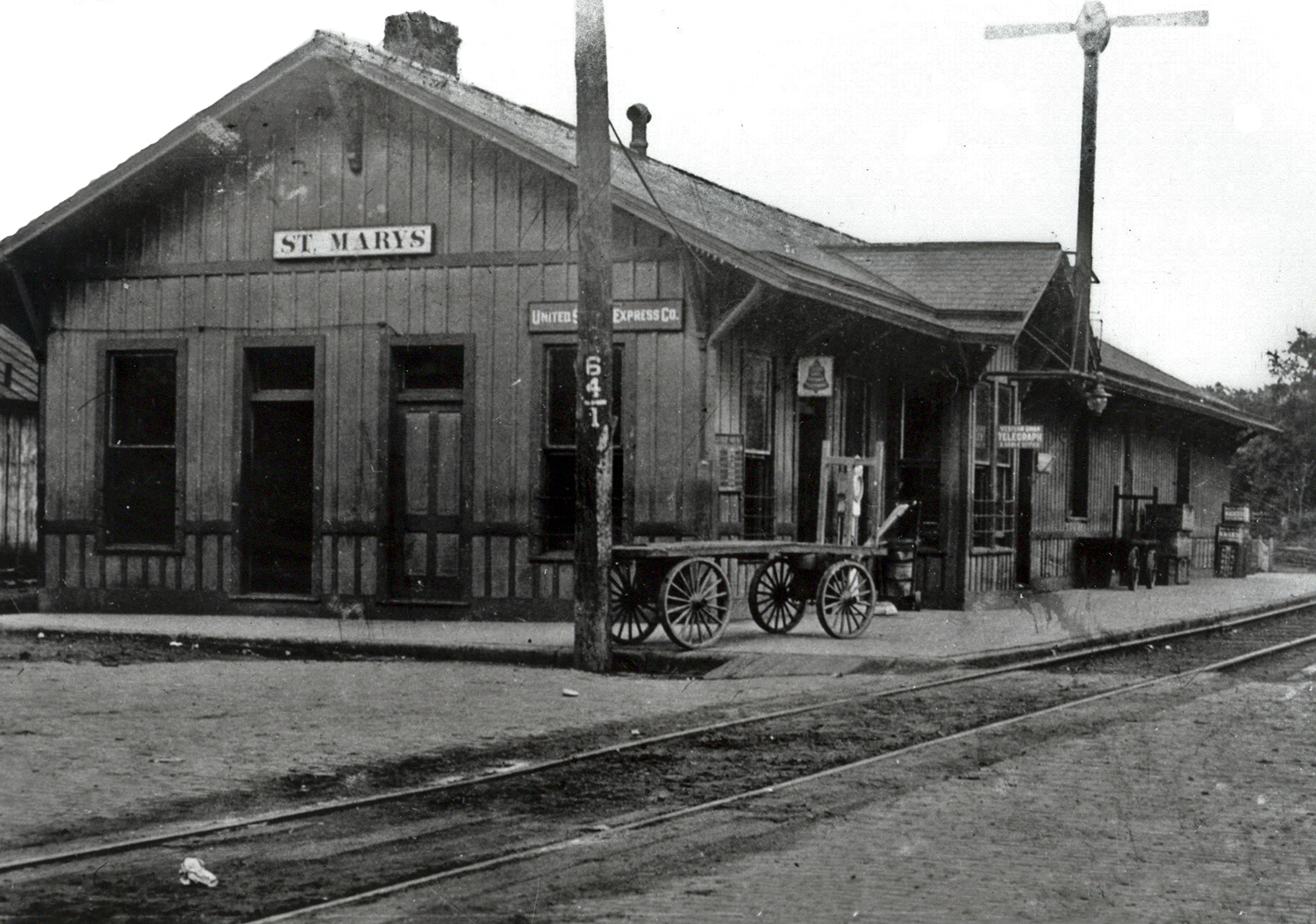 The structures built during the 19th and early 20th centuries were true works of art, many with designs which reflected the Victorian or Roman eras as well as being constructed many times from the very same materials such as marble and crystal, which is a big reason why many are preserved and so coveted today. Even depots from the same time period built from wood and/or brick were likewise constructed with beautiful designs in mind (many of these were also from the Victorian era), which is why those smaller towns and cities who have preserved theirs take such pride in them (and many times these buildings are the centerpiece efforts in revitalizing their downtown areas, whether the railroad tracks still remain in place or not). 

Classical Architectural Styles
During the 19th and early 20th centuries architecture was very different from today's largely geometric buildings.  Back then style, elegance, and appearance were equally as important as the building's function and purpose.  This was especially true with railroad stations, both large and small, where the public regularly glimpsed these buildings and used them on a daily basis.  The largest and most spectacular terminals also boasted a railroad's general wealth and power, often found in the biggest metropolitan areas such as New York, Buffalo, Philadelphia, Washington, Seattle, and Los Angeles.  Alas, many would meet the wrecking ball but some have been beautifully restored to their original appearance and carry just as much grandeur today as when they first opened generations ago.  Included here is a listing of the most common architectural styles used in their construction.
Beaux Arts:  Perhaps the most common style was the Beaux Arts design, which could be found on the most famous of all terminals, New York's Pennsylvania Station and Grand Central Terminal.  Many other facilities also carried the architecture.  It was popular throughout the early 20th century after the 1893 World's Colombian Exposition held in Chicago that year.  According to Hans and April Halberstadt's book, "The American Train Depot And Roundhouse," the style was named for the French School of Design, once known as the Nationale Ecole des Beaux Arts (National School Of Fine Art).  Stations built in the Beaux Arts style featured enormous arches, colonnades, domes, and columns to draw attention and awe.
Chateau:  This style dates back to the Medieval period of France when many castles and stately buildings were erected with ornate stonework, steeply pitched roofs, and spiral peaks.  In terms of railroad architecture it was often employed as an addition or added feature, usually not as the primary design.  The preeminent terminal built in the Chateau style was St. Louis Union Station the work of firm Link & Cameron.  It still stands today, one of the city's featured attractions.
Colonial:  The Colonial design is a general designation usually referring to depots which had some type of intricate woodwork or decoration.  Historians technically refer to Colonial styles (French, Spanish, American, Dutch, German, etc.) as those built before 1800 but are occasionally used to describe small stations dressed in this manner, usually found in New England or the Northeast.
Gothic:  Another style borrowed from the Medieval period stations built in Gothic Revival resembled grand, fortified castles and cathedrals with steeples, sharp roof lines, spiraling peaks, and towers.  The larger facilities were dressed in stone while smaller depots carried decorative woodwork.  It was most often used in the 19th century.
Greek Revival:  In large stations this style was usually employed as touches incorporated into another overall design, such as Beaux Arts, but many small depots carried the architecture throughout.  It was meant to evoke the importance of Greek architecture, such as the magnificent Parthenon, and endures today.
Italianate:  The true Italianate style has largely disappeared today as no railroad structures of its kind survive.  However, those of the Victorian Italianate design have persevered, providing a glimpse of this subtle but ornate architecture.  The Italianate style was first used by English architect John Nash in 1802 and borrowed from the designs of the 16th-century Italian Renaissance architecture.  Its prominent features included an overall rectangular appearance with a flat roof line.   However, the windows were normally arched with beautiful trim work featured throughout, including the roof.  It first gained appeal in the United States prior to the Civil War and again at the turn of the 20th century (then classified as Victorian Italianate).
Mission/Mission Revival:  This style was exclusive to the West and Southwest calling upon the region's history with Mexico and Central America.  Specifically, stations carrying this architecture were modeled after the California missions built along the El Camino Real by Franciscan missionaries between 1769 and 1823.  Their prominent features included a stucco, plaster, or adobe exterior with roofing made from curved tiling.  In addition, prominent archways adorned all aspects of the building and usually at least one quatrefoil window was used.  The interior usually included some type of ceramic tiling with wood trim not uncommon.  Finally, the more prominent stations featured at least one grand bell tower, such as the Santa Fe's gorgeous facility in San Diego, opened in 1915.  The AT&SF and Southern Pacific most often constructed mission style depots.
Revival:  A very general term, "Revival" often refers to a reused architectural style many decades or centuries after it was first employed.  Most styles mentioned here are technically revivals from an earlier period.
Romanesque:  Another popular style during the heyday of station construction was Romanesque, sometimes referred to as Romanesque Revival.  It called upon the ancient Roman's stonework architecture that often carried arches adorned by a centered keystone at the top; Domes were also widely used and everything was clad in grand stonework as the base material.  Henry H. Richardson was usually commissioned by railroads for smaller depots but he employed the Romanesque theme so often a variant style was named after him, Richard Romanesque.
Victorian:  The last great archteictural style used in railroad construction was the Victorian theme, named after England's Queen Victoria when she ruled from 1837 to 1901.  These depots were characterized by their grand peaks, tall clock towers, arched windows, and stone/brick masonry.  The style was similar to Gothic and also hailed from the Medieval period of great castles and cathedrals.  Smaller depots were often built partially or entirely of wood while also carrying the steep roof lines and ornate decorative touches that defined Victorian designs; the so-called "Gingerbread House" look.
As the automobile came of age, however, and our highway infrastructure became much better the local depot fell from importance and no longer was the most essential building in towns and cities. As the 1950s came so went the local depot in most smaller towns and cities where the car or truck was much more accessible and reliable for the short to medium distances folks usually traveled (it was also a huge financial drain on the railroads to maintain these smaller depots where the little passenger traffic there quickly dried up after World War II, so they were very happy to discontinue these trains and shutdown the depots if possible). And, by the 1960s even the larger and more prominent terminals were not immune to closure or demolition.   The information listed above is a compilation of many such buildings which still survive across the country, broken down by state. Please note that unless otherwise noted the building mentioned that is still standing refers to a passenger depot (i.e., "originally built by..."). I realize that there may be corrections/additions to any of the above lists. If you may know of any please let me know (either through e-mail or simply make a post below to the Facebook comments) and I will work to get the information up-to-date. Many thanks in advance for any bit of help you may have! 

Noted Architects And Their Styles
There were several architects or firms that designed train stations during the 19th and early 20th centuries.  Individuals such as E. Francis Baldwin were known for their beautiful smaller facilities while Mead, McKim & White conceived arguably the great terminal ever built in Pennsylvania Railroad's spectacular Pennsylvania Station on Manhattan Island.  Included here is a brief look at many and the prevailing styles they employed, from the classic Beaux Arts to the ornate Romanesque Revival.
Bradford Lee Gilbert (1853-1911):  Gilbert was a native of Watertown, New York and held a solo practice in New York City.  He is credited with scores of depots, large terminals, and related railroad facilities.  Two of his most notable projects included redesigning New York Central's Grand Central Station in Manhattan before it was later replaced with Central Terminal as well as drawing up Illinois Central's beautiful Central Station in Chicago.  He began his railroad work at the age of 23 when hired as the New York, Lake Erie & Western's (Erie Railroad) chief architect in 1876.  Over the years he was commissioned by many railroads such as the New Haven, Reading, Boston & Maine, Jersey Central, Ontario & Western, and Pere Marquette among others.  
Daniel Hudson Burnham (1846 - 1912): An accomplished architect, Burnham predominantly designed buildings outside of the railroad industry such as Chicago's Masonic Temple Building, one of the country's first true skyscrapers.  He became partners with John Wellburn Root as the firm Burnham & Root.  After Root's death in 1891 the business  was renamed as D.H. Burnham & Company.  Burnham largely worked in the Beaux Arts style with Greek and Roman themes.  His most famous work was collaborating with William Pierce Anderson in designing Washington Union Station which opened in 1908.  The facility remains an important passenger terminal today.
Ephraim Francis Baldwin (1837 – 1916):  The Baltimore & Ohio hired Baldwin in 1872 as its head architect and he went on to design numerous depots, shops, and related buildings for the railroad over the next few decades across Maryland, West Virginia, and southwestern Pennsylvania.  Arguably his most famous work was at Point of Rocks, Maryland where he conceived a beautiful Victorian/Gothic station located at the point where the B&O's new and old main lines met.  With its high bell tower, decorative trim, and ornate windows it held the appearance of a bucolic church.  
Graham, Anderson, Probst & White:  This Chicago firm was the successor to D.H. Burnham & Company through Burnham's surviving partner Ernest R. Graham and his sons, Hubert Burnham and Daniel Burnham, Jr.  It was originally founded in 1912 as Graham, Burnham & Company and changed to Graham, Anderson, Probst & White in 1917 when Burnham's sons left to form their own practice.  They are best known for working in the Beaux Arts style and designing Chicago Union Station.  However, they were also commissioned by other railroads such as the Burlington and Chesapeake & Ohio.
Fellheimer & Wagner:  Based in New York City this firm was the partnership of Alfred T. Fellheimer and Steward Wagner.  The two are credited with designing Cincinnati Union Terminal and New York Central's Buffalo Central Terminal, both designed with Art Deco touches during the final years in which grand stations were constructed.  They, and/or other partners, conceived a number of additional facilities such as Utica Union Station, Erie Union Station (Pennsylvania), Macon Terminal Station (Georgia), and Burlington Union Station (Vermont).
Francis Hatch Kimball (1845–1919):  Kimball studied architecture in England and his best known works were in New York City where he designed Fifth Avenue Theatre, the Montauk Club, and Corbin Building among others.  His one notable railroad project was designing the Philadelphia & Reading's largest passenger facility, Reading Terminal in downtown Philadelphia.  It still stands today, beautifully restored although no longer handles trains.

Frank Furness (1839 - 1912):  Frank Furness had a prolific career in architecture and life itself; he is credited with more than 600 building designs and as a captain in the Civil War was a Medal of Honor recipient for heroism.  He attended the École des Beaux-Arts-inspired atelier of Richard Morris Hunt in New York between the years of 1859 and 1861, returning to finish his studies in 1865 after the war.  He was the longtime chief architect of the Philadelphia & Reading designing some 130 stations and buildings for that company alone.  He also designed stations for the Baltimore & Ohio in Wilmington, Delaware; Frenchtown, Maryland; Pittsburgh; Chester; Morrisville; Edgewood; and its beautiful facility at Chestnut Street in Philadelphia.  Finally, the Pennsylvania Railroad often hired Furness for its depots with his most notable project being the redesign and upgrade of Philadelphia's Broad Street Station before it was later demolished and replaced by 30th Street Station.
Henry Hobson Richardson (1838-1886):  Richardson was a prominent architect who studied at Harvard College and Tulane University, later attending the École des Beaux Arts in Paris.  He designed many buildings in the U.S. ranging from libraries and homes to churches and commercial structures.  His train stations were largely concentrated in the Northeast where he was commissioned by the Boston & Albany.  The architect worked so often in the Romanesque style that a version was named after him, Richardsonian Romanesque. 

Jarvis Hunt (1863 - 1941):  While Hunt designed many buildings outside of the railroad industry he has several terminals credited to his name such as Kansas City Union Station, Joliet Union Station, Dallas Union Station, and Union Pacific's headquarters in Omaha, Nebraska.  He often worked in the Beaux Arts style and trained at Harvard University as well as the Massachusetts Institute of Technology' school of architecture.
Link & Cameron:  A firm based in St. Louis it included the team of Thomas C. Link and Edward B. Cameron.  Their most famous terminal was the beautiful St. Louis Union Station designed in the French Romanesque style meant to resemble a stunning chateau along the Loire River in France.  The facility is fully restored today and a popular city landmark.
Mead, McKim & White:  One of the most successful firms throughout the early 20th century the group was headed by Charles Follen McKim (1847–1909), William Rutherford Mead (1846–1928) and Stanford White (1853–1906).  They are credited with designing numerous buildings across New England, usually centralized around New York City where their business was based.  They were also commissioned for projects across the country and even performed work in Cuba, Italy, and Canada.  Their most famous project was Pennsylvania Railroad's iconic Pennsylvania Station in downtown Manhattan, later razed in the 1960s.
Reed & Stem:  This firm, based in St. Paul, was the partnership of Charles A. Reed (1858–1911) and Allen H. Stem (1856–1931).  They designed numerous passenger terminals, many quite famous and was often commissioned by the Northern Pacific.  Notable facilities include Grand Central Terminal, Grand Central Terminal (New York), King Street Station (Seattle), Michigan Central Station (Detroit), and Tacoma Union Station.
While Penn Station is no longer with us its loss was, again, a wakeup call, and besides Grand Central Terminal a number of other large and prominent facilities across the country have since been saved and preserved as well (many are also still in used as they were originally intended, as a place to pick up and drop off rail travelers). Finally, please be aware that the links to the individual state pages are PDF files and provide the latest information that I currently have on standing and/or restored buildings. Much of this information was researched through the Railroad Station Historical Society's database. If you have any questions about surviving depots or know of any to add to the lists please feel free to get in touch. 

Related Reading You May Enjoy


Home

› Stations And Depots