Canadian National Jobs

Last revised: May 4, 2023
As another one of the seven, large Class I systems, Canadian National operates across its home country from coast to coast while also stretching down the Heartland of the United States at the Gulf Coast.  
Its railroad jobs and careers can vary widely depending on what field you are most interested.  As one of Canada's two large systems, CN's has a unique history that traces back only to the World War I era (relatively new for a railroad).  
It was created as a government entity and only since 1995 has the company been a privately-owned corporation.  In addition to its rail operations CN once oversaw many other subsidiaries within various industries from steam boats to radio networks.  
Please let me stress that this website is neither a hiring service nor has positions for hire; the information provided here is to help job searchers in the process of finding employment.
Salary
The railroad industry has always offered excellent pay and benefits; among Class I's entry level positions as part of the train crew (conductor) typically start out in the $50,000's while an engineer can make considerably more.  
After one has worked for several years it is not uncommon to earn at, or over, $100,000 annually. Senior-level and skill positions (such as trainmaster, roadmaster, and signal maintainer) also routinely make six-digits or close to that figure.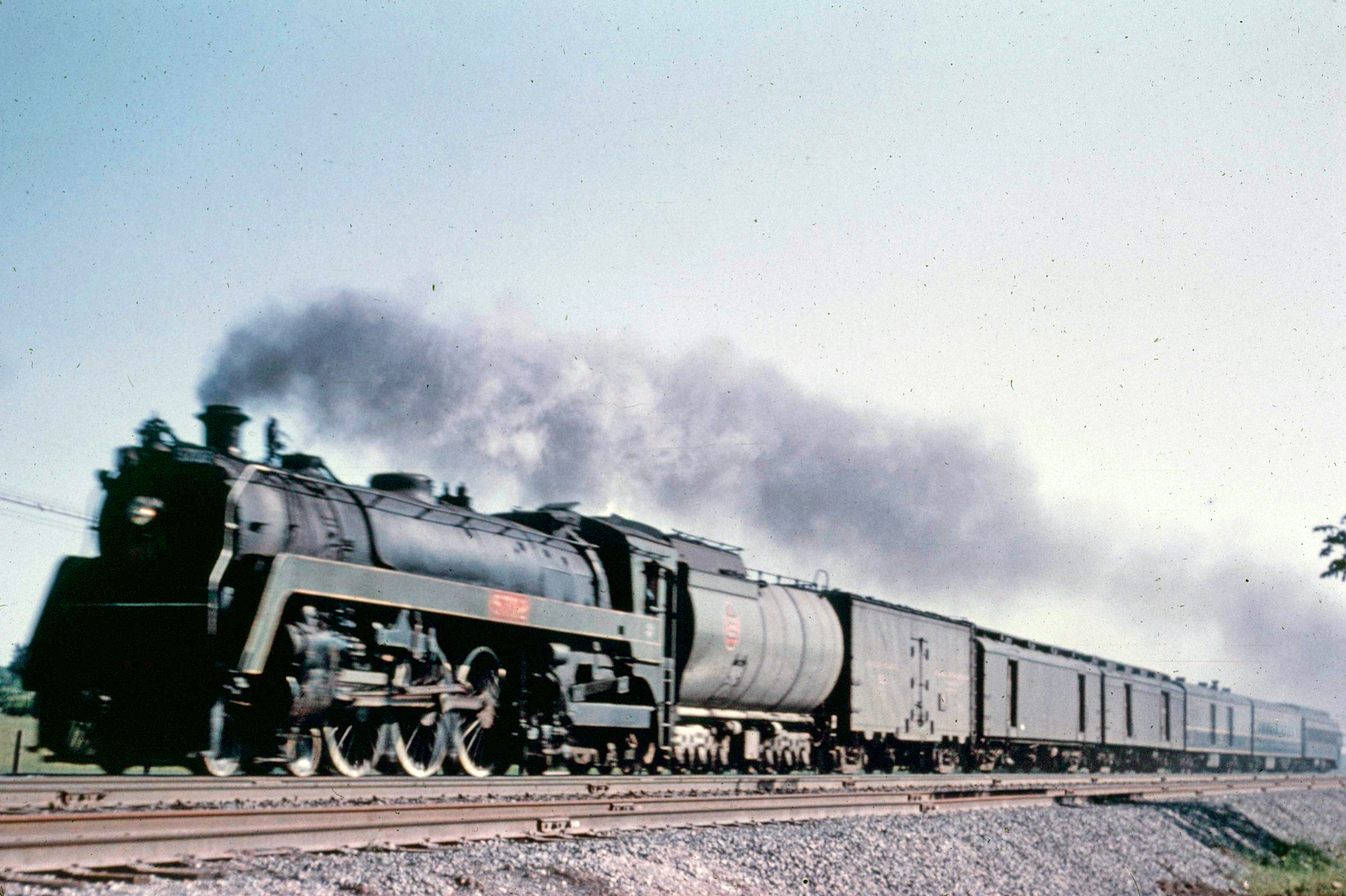 Canadian National 4-6-4 #5702 has train #77 running at about 80 mph through Bronte, Ontario during the 1950's. Paul Meyer photo. Author's collection.
History
To provide a brief history and background concerning Canadian National it was initially incorporated on June 6, 1919 by the national government as a means of combining several small, bankrupt lines into one (these systems had been using the Canadian National name, unofficially, since December 20, 1918).
 Its earliest predecessor traces back to 1852 and in total, CN's lines comprised some 214 different railroads!  By contrast its main and current rival, Canadian Pacific, could boast a transcontinental network as early as the 1880s, three decades before CN was created!   
In a move that would violate antitrust laws in the United States, for decades Canadian National operated subsidiaries in other transportation sectors as well as communication companies.  
Under the government's directive, companies to carry the CN name included CN Telegraph, CNR Radio, CN Hotels, Trans-Canada Air Lines, and the Canadian National Steamship Company.
 Beginning in 1977 CN began divesting itself of these, which enabled it to focus exclusively on rail transportation.
The move also greatly benefited its bottom line as the company began consistently reporting strong profits year after year.  
Its next major change came in the late 1970s when thousands of miles of excess/redundant secondary lines were abandoned.  
In 1995 CN finally gained its independence when the government sold its remaining shares to private investors that fall.  
Following this event the Class I set about expanding its network through acquisition; in the U.S. this included the takeover of the classic Illinois Central system in 1998, providing it access down the Midwest to New Orleans and the Gulf Coast.  
A few years later it purchased regional Wisconsin Southern, a very successful railroad that had been formed in 1987 via, ironically, ex-Soo Line and Milwaukee Road trackage in Wisconsin and Michigan's U.P. which was slated for sale or abandonment.  
Canadian National 4-8-4 #6145 readies to pickup a Hamilton-bound freight at Niagara Falls, Ontario during the 1950's. Paul Meyer photo. Author's collection.
Its next major takeover was the Elgin, Joliet & Eastern Railway, a storied Chicago belt line that provided CN with a relief valve around the Windy City bottleneck.  
Thanks to these purchases, and others, CN stretched  all of the way across southern Canada from Halifax, Nova Scotia to Prince Rupert, British Columbia and also reaching down the heart of the continental United States to New Orleans, connecting Memphis and Chicago along the way.  
Today, CN's network totals more than 20,000 route miles with some 24,000 employees.  
Among the top seven it currently ranks fifth in annual revenue at $9 billion, slightly ahead of Canadian Pacific and Kansas City Southern.  
As one of the largest seven Northern American railroads CN offers a wide range of career opportunities from in-the-field jobs (including maintenance and transportation) to office and management positions).  
Canadian National 4-8-4 #6233 heads east through Bayview, Ontario with Detroit-bound train #83 during the 1950's. Paul Meyer photo. Author's collection.
While the railroad stretches from ocean to ocean and the Gulf of Mexico, it actually serves only a very narrow market devoid of considerable branch or secondary lines.
For instance, its main line between Chicago and New Orleans is quite confined serving only Memphis along the way. Similarly, its main line across Canada reaches only the largest markets.  
If you are interested in Canadian National careers in the fields maintenance and/or transportation please keep in mind that operating across borders makes the railroad unique.
As a US citizen you can only be assigned to CN's American lines, anywhere between Minnesota and Louisiana while as a Canadian citizen you can only be assigned to its Canadian territories.
It's interesting that when approaching borders CN trains change crews from Canadian to American and vice-versa. To give you an idea of what it means to be a "Class I" railroad, it terms those very few companies which are the largest in terms of both size and profits.
Aside from CN they include Canadian Pacific, CSX Transportation, Kansas City Southern, Norfolk Southern, Union Pacific, and BNSF Railway. 
Canadian National's careers website does not layout its various fields as well as some of the other Class I's.  
However, it nevertheless provides a great deal of information concerning available openings and provides background material for college students/graduates dealing with internships, co-ops, and scholarship programs. 
For those searching potential job openings CN provides a listing of many and locations where these positions are based.  There are only three fields the railroad highlights; train conductor, intermodal, and information technology (IT). 
The former is the one which most are familiar, operating and overseeing the movement of trains.  In today's industry most railroads require a new employee to first work as a conductor and then later learn the skills as a locomotive engineer.  As CN notes, train crews on today's Class I's earn a handsome income in the high five-digit range.
---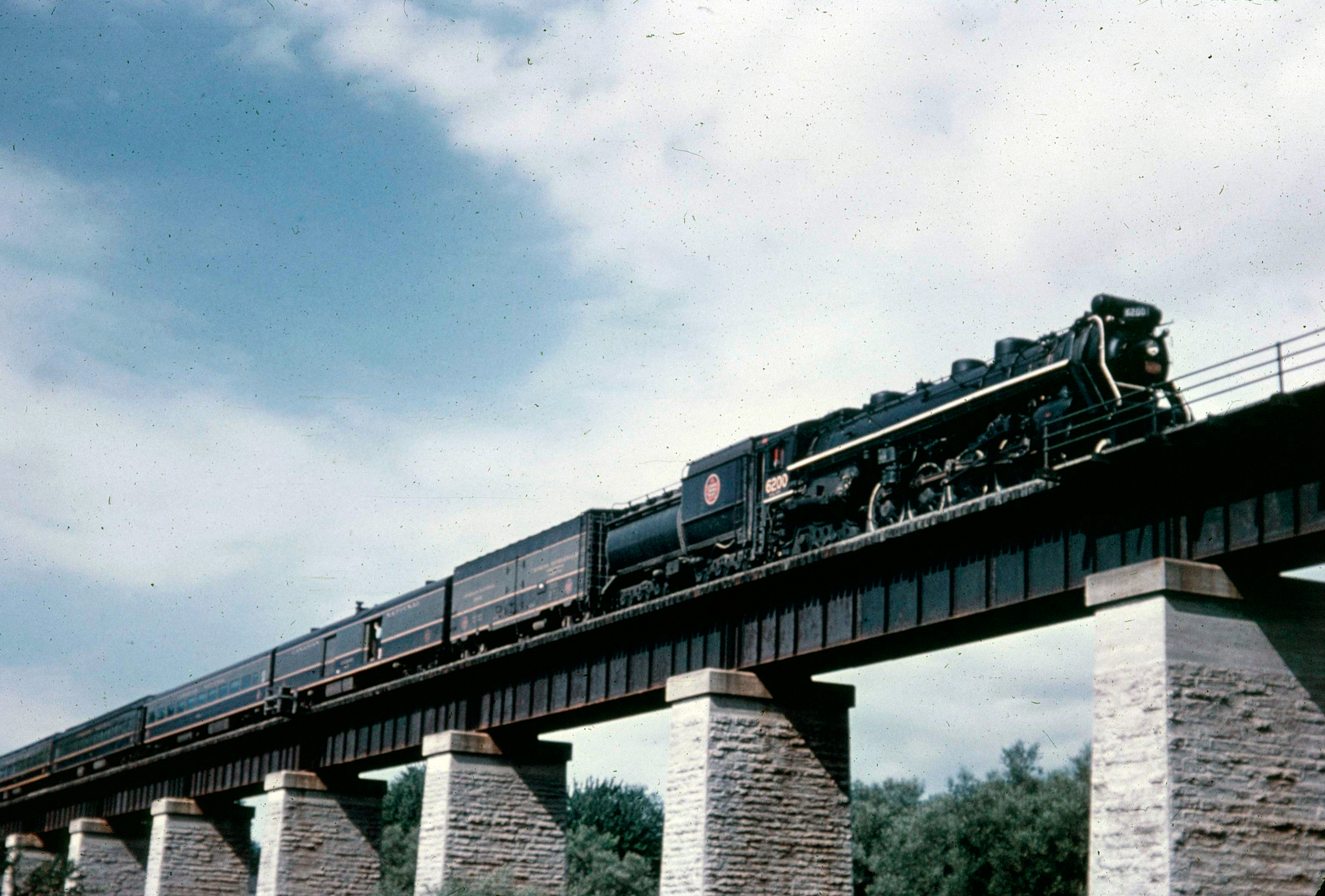 Canadian National 4-8-4 #6200 crosses the high trestle over Kin Park in St. Marys, Ontario with eastbound train #111 (Toronto-Stratford-London) during the 1950's. Paul Meyer photo. Author's collection.
Another area highlighted is intermodal.  Only a few generations ago this type of freight, which includes the movement of international shipping containers and truck trailers, was nearly unheard of.  
However, today it is one of the most important sources of traffic for all of the major Class I carriers.  
CN provides information concerning the many different jobs in this sector from heavy equipment operator and mechanic to customer service clerk and management positions.  The last area covered is IT.  
This growing field is essential to any large corporation, railroads or otherwise, doing business in this modern age of technology and fast-paced markets.  
For CN, it has a number of different positions in this area from information manager to business analyst. Finally, if you are a veteran of the armed services (U.S. or Canada) you might wish to consider working for CN or the industry at large.
With a very military-friendly environment and hiring process railroads offer excellent pay and benefits.   CN is no different and provides information on its careers page for veterans.