CSX Transportation Jobs

Last revised: May 4, 2023
By: Adam Burns

If you are interested in learning more about CSX jobs and careers the information provided here offers a brief overview of the company, its history, and how to learn more about how to apply. 

The railroad's complete name is CSX Transportation, or CSXT; this company is actually the railroading division of CSX Corporation and has been in operation since 1987.  
It is one of the seven major Class I railroads in North America, currently ranking third in terms of overall size/mileage and annual revenue.  
If you are interested in a career at CSX the railroad has a range of different positions from the more traditional fields, such as conductors and engineers, to the corporate level.  
Please keep in mind that you do not necessarily need a college degree to attain a great paying job with excellent benefits. 
The railroad industry has been long known for such traits and this continues to hold true today.  
Finally, please let me stress that this website is neither a hiring service nor has positions for hire; the information provided here is to help job searchers in the process of finding employment.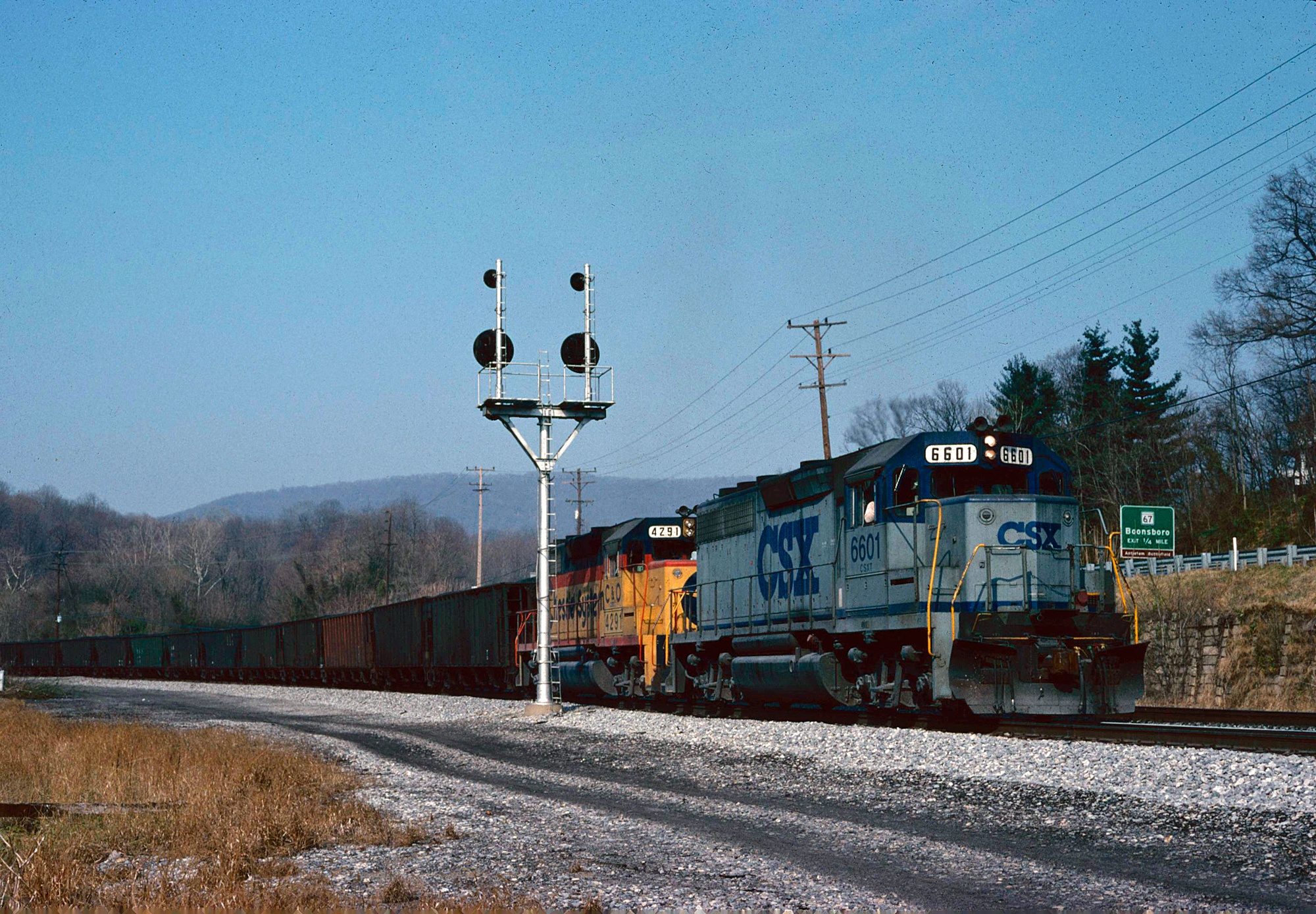 CSX GP40 #6601 and GP39 #4291 lead a string of coal drag eastbound over the ex-Baltimore & Ohio along US 340 at Knoxville, Maryland on March 26, 1989. Alan Tillotson photo. American-Rails.com collection
Salary
The railroad industry has always offered excellent pay and benefits; among Class I's entry level positions as part of the train crew (conductor) typically start out in the $50,000's while an engineer can make considerably more.  
After one has worked for several years it is not uncommon to earn at, or over, $100,000 annually. Senior-level and skill positions (such as trainmaster, roadmaster, and signal maintainer) also routinely make six-digits or close to that figure. 
History
Of all the current North American Class I's, none have such an interesting background as CSX Transportation, even before it acquired Conrail (which itself was comprised of numerous classic lines).
The company can trace its heritage back to our country's first common-carrier railroad, the Baltimore & Ohio.
Founded in early 1827 the B&O boasted a 10,000 route-mile system during its peak years serving thirteen states stretching from New York to Missouri.
Today, much of its network has since been sold off or abandoned although some segments remain an integral part of CSX today.
The B&O later became a division of the "Chessie System" family which comprised the Chesapeake & Ohio and Western Maryland.
These three roads ultimately formed CSX's northern lines. Its southern property comprised an even more eclectic make up of predecessors.
Its most notable included the Seaboard Coast Line (itself formed through the merger of Atlantic Coast Line and Seaboard Air Line), Louisville & Nashville, Clinchfield, and West Point Route (a marketing term for the Western Railway of Alabama, Atlanta & West Point, and Georgia Railroad).  
All of these railroads later became loosely affiliated as the "Family Lines Systems" during the 1970s and formally were merged into the Seaboard System in 1982.  
This conglomerate lasted only a few years before it, too, disappeared into CSX.  The Chessie System railroads officially disappeared as corporate entities in 1987.
The very "X" of CSX stands for the many railroads which make up its current network.  
For more than a decade the Class I remained unchanged until 1999 when it split up Conrail with rival Norfolk Southern, providing access into the lucrative Northeastern markets.  
It's complete history is far too complex to cover here but the railroads which created it formed the largest railroad in the east which now stretches from Massachusetts to Florida and as far west as Illinois and New Orleans.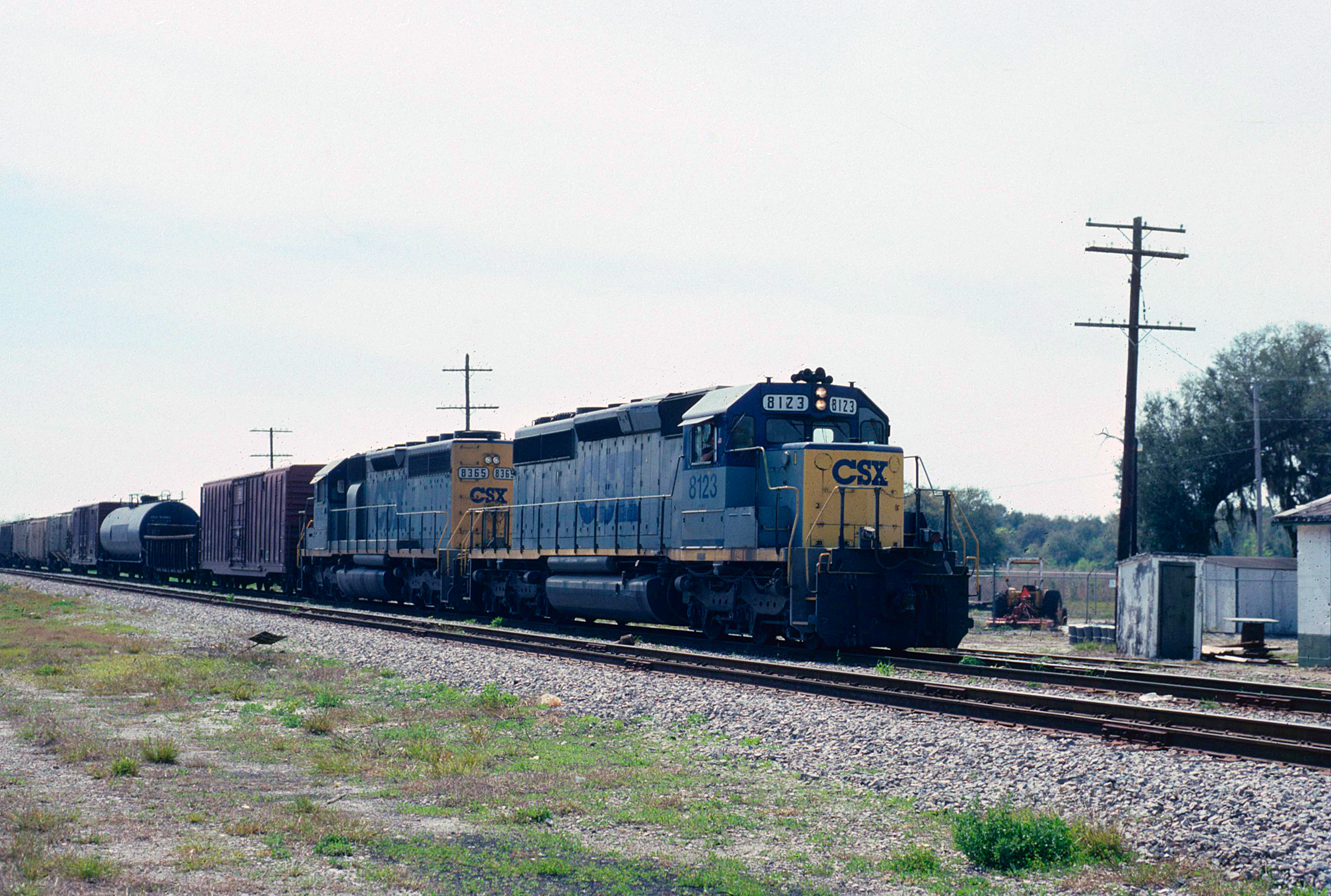 CSX SD40-2 #8123 is on the former Seaboard Air Line at Wildwood, Florida on March 2, 1993. W.F. Schnaiter photo. American-Rails.com collection.
Basically, the railroad serves every state east of the Mississippi River.  Today, its system comprises some 21,000 route miles with more than 36,000 employees.  
It ranks third among Class I's with $11.81 billion in annual revenue as of 2015.  As mentioned before, because of this careers at CSX Transportation are quite diverse.
However, please understand that if your interest is in the more traditional fields of transportation or maintenance your base of operations will be wherever the railroad's needs are at that time.  
This means you could find yourself in sunny Florida or the colder areas of the Northeast.   To give you an idea of what the term "Class I" entails, it is basically a categorical description given by the Association of American Railroads (AAR) for the largest railroads in North America by revenue.  
The other Class I's not mentioned include Northern Southern, Canadian National, Canadian Pacific, and Kansas City Southern. 
The CSX corporate culture has historically been known to be laid back to some extent, in comparison to how Norfolk Southern has been perceived.
However, the railroad has changed in one significant area recently, management.  Since Michael J. Ward became CEO the railroad has turned around dramatically and today boasts a historically low operating ratio and record profits.  
Hiring
Of all Class I's, CSX provides perhaps the most robust and detailed careers page with information pertaining to everything from job openings to its many different job fields.
From its main page you can peruse the following categories; job openings, working at CSX, job overviews, their hiring process, employment policies, and FAQs (Frequently Asked Questions).
For purposes of this site we will provide a brief overview of the railroad's various employment fields.
A pair of CSX C40-8's, led by #7575, have trailers in Florida during May of 1992. American-Rails.com collection.
Clerical

The clerical sector has long been an important part of any railroad, performing several day-to-day office tasks in keeping the trains moving.  
CSX lists these job titles within the field:
Crew Dispatcher (tasked with assigning crews their specific train)


Field Clerk (transport crews to their trains if needed, perform janitorial service, and carry out other duties as requested)


Jacksonville Clerk (working from the main CSX office you will perform typical office support tasks); Janitor Messenger (general janitorial services and related duties)


Purchasing/Materials Clerk (perform inventory duties by keeping such stocked, resupplied, and maintained as needed)


Stevedore (this unique job requires operating new vehicles on and off autoracks, rail cars which transport automobiles)
Corporate

The corporate level of any large company can be a stressful and a hectic career choice.  
However, it can also be very rewarding if you enjoy such a fast-paced work environment and general the tasks of business development.
Today, most corporate positions require some form of college education and/or previous work in the field.  CSX lists the following opportunities within this sector:
Administrative


Aviation


Communication & Public Affairs


Customer Service


Engineering


Finance And Accounting


Human Resources


Information Technology


Intermodal Operations & Support


Labor Relations


Leadership Development Programs


Legal; Management Training


Mechanical Operations


Operations Planning/Logistics


Operations Safety


Process Improvement


Public Safety & Risk Management


Real Estate


Sales, Marketing & Services


Transportation Operations & Support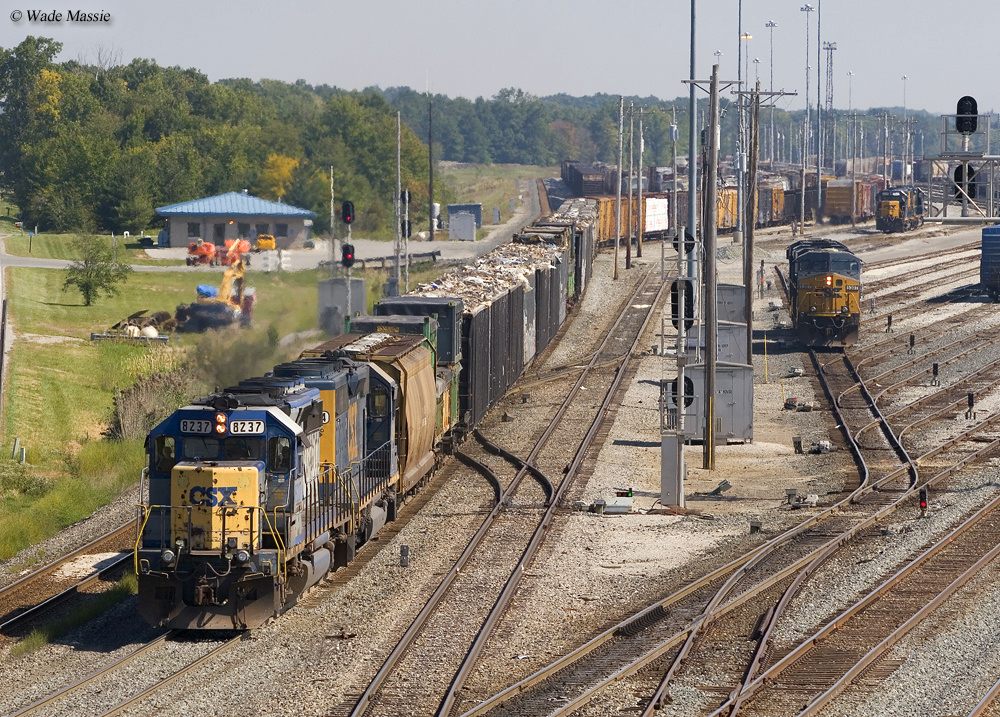 Engineering

This sector should not be confused with the train crew position of engineer, the person responsible for the locomotive and train's safe operation between two points.  
The Engineering field in this instance refers to the railroad's infrastructure and maintaining it to proper standards.  CSX lists several job titles within this field including:
Assistant Signal Worker/Construction


Assistant Signal Worker (Maintenance/Construction)


Bridge Mechanic


Bridge Tender


Communications Maintainer


Electronic Signal Specialist,


Heavy Equipment Operator


Road Electrician


Roadway Mechanic


Sheet Metal Worker


Track Worker


Welder Helper
Intermodal
A type of freight nearly unheard of just a few generations ago, today intermodal comprises a very important revenue component for the seven major Class I's as well as some smaller railroads.  
The term intermodal describes freight transported within either international shipping containers or over-the-road truck trailers.  
The industry has even constructed special freight cars to efficiently transport these devices including spine cars (trailers) and well cars (containers).  
CSX lists the following positions within the intermodal field including Chief Yardmaster (a great deal of responsibility is required for this role whereby you will oversee the daily, safe operations of the yard and that trains are originating and leaving with the correct lading), Assistant Yardmaster, Intermodal Service Worker, and Service Representative.
Internship Programs
If you are working towards a four-year college degree and are interested in a railroad internship, CSX offers a robust program.  
You will work during the summer months at company headquarters in Jacksonville, Florida. According to CSX, the following departments are open to potential interns:
Finance


Controller's Group


Properties Group


Information Technology (IT)


Public Affairs/Legal (Law)


Corporate Communications


Network Modeling


Sales/Marketing


Operations


Corporate Citizenship


Human Resources


Labor Relations


Procurement & Supply Chain


Intermodal
Training/Leadership Development
At all levels of a corporation, railroad or otherwise, management positions are required to lead the company forward and oversee the efficient operations of various departments.  
According to CSX it has leadership and management training programs within the following fields: 
Transportation


Engineering


Mechanical


Intermodal


Customer Service/Network Operations


Controller's Group


Finance


Sales/Marketing


Information Technology (IT)


Purchasing


Police Department
Mechanical
All railroads need an experienced and well-qualified team of mechanics and related personnel to keep their fleets of locomotives and rolling stock in service.  
If you are interested in this area many are part of a labor union.  
According to CSX it hires the following positions in this field:
Boilermaker


Carman


Diesel Mechanic/Coal Pier


Pier Technician


Sheet Metal Worker/Pipefitter


Toledo Dock Electrician


Utility Worker
Transportation
The sector with which most are familiar, "Transportation" involves the operation and handling of trains.  
Freight conductor is the entry level position and your responsibilities entail knowing what your train carries, where it's going, and that it safely arrives at its destination.  
The conductor is the ultimate authority on the train although the engineer is the senior position, attained only after one has spent a great deal of time as the former.  
Today, most Class I's carry dual-qualified crews for redundancy and safety.  Other positions within the transportation field include longshoremen and train dispatchers.
---
Some final thoughts regarding working within the railroad industry, especially if you are interested in the transportation or maintenance fields.
A career in the railroad industry can be quite tough, especially if you ever have or plan to have a family as you will spend many hours away from home.  
While the physical challenges of the job still hold true to some extent perhaps the toughest part of it all is fatigue and simply being away from home so much.
Of course, there are also plenty of positives by working in the industry including great pay, excellent benefits, and a very nice retirement.
It will be up to you to decide whether the benefits of working for the railroad outweigh the negative aspects and if a career in the industry suits you.  
Finally, if you are a military veteran and think you may be interested in a railroading career please visit the CSX jobs page here.  
The industry has long been known for its friendly stance towards hiring those from the military branches.