Gulf & Ohio Railways Jobs
Last revised: May 31, 2023

Gulf & Ohio Railways is a short line holding company established in the mid-1980s following the industry's deregulation.  
Its first railroad was the Mississippi Delta Railroad in 1985 and slowly grew during the next decade to hold more than a half-dozen operations across the southeastern United States.  
Since then the company has sold and acquired a various collection of properties and today operates just four railroads handling nearly 40,000 annual carloads with around 225 miles of track.  
Its headquarters is currently in Knoxville, Tennessee.  If you are interested in a career with Gulf & Ohio please visit their website for more information. 
Finally, please let me stress that this website is neither a hiring service nor has positions for hire; the information provided here is to help job searchers in the process of finding employment. 
The railroad industry has always offered excellent pay and benefits although Class I railroads pay the most with starting salaries for train crewmen typically in the $50,000's. 
By performing a quick Google search using the box below you can find available job openings either directly through CSX or via major job search websites.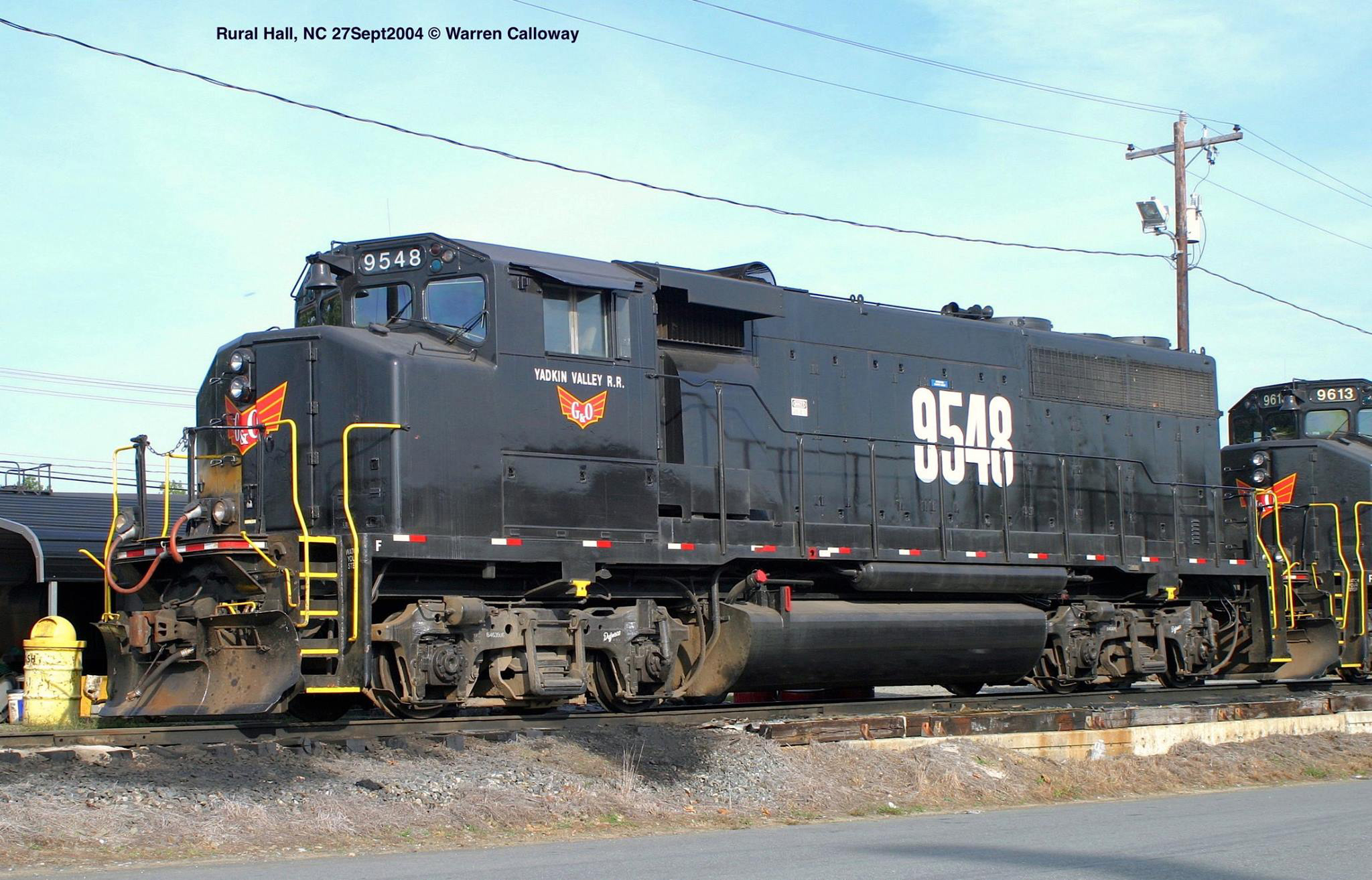 Yadkin Valley GP40-2LW #9548 at Rural Hall, North Carolina on September 27, 2004. This unit was built as Canadian National #9548. Warren Calloway photo.
The Gulf & Ohio Railways got its start thanks to the vision of Herman Peter Valentine Claussen II.  
The 1980s were a turbulent time for the industry as railroads attempted to regain their footing following the dark days of the 1970s and decades of choking regulations which had helped force many into bankruptcy.
After 1980 legislation greatly eased these restrictions many of the large Class I's began abandoning or selling off large segments of trackage they deemed redundant.  
As a result, the present-day short line was born and many sprang up during this time, including holding companies such as Watco, Pioneer Railcorp, Patriot Rail, and Gulf & Ohio Railways.  
As a lawyer Mr. Claussen well understood the intricacies of the business world.  In addition, he had spent more than a decade working for the Tennessee Valley Authority before launching the G&O in 1985.
Career Information With Other Short Line Families
Rio Grande Pacific Corporation
As mentioned above the company's first acquisition was the Mississippi Delta Railroad (reporting mark MSDR), which acquired 60 miles of the former Illinois Central between Swan Lake and Jonestown, Mississippi.  
The property had originally been built by the Louisville, New Orleans & Texas Railway and Mobile & North Western between 1879 and 1884; both companies fell under the control of the Yazoo & Mississippi Valley before its takeover by IC in 1892.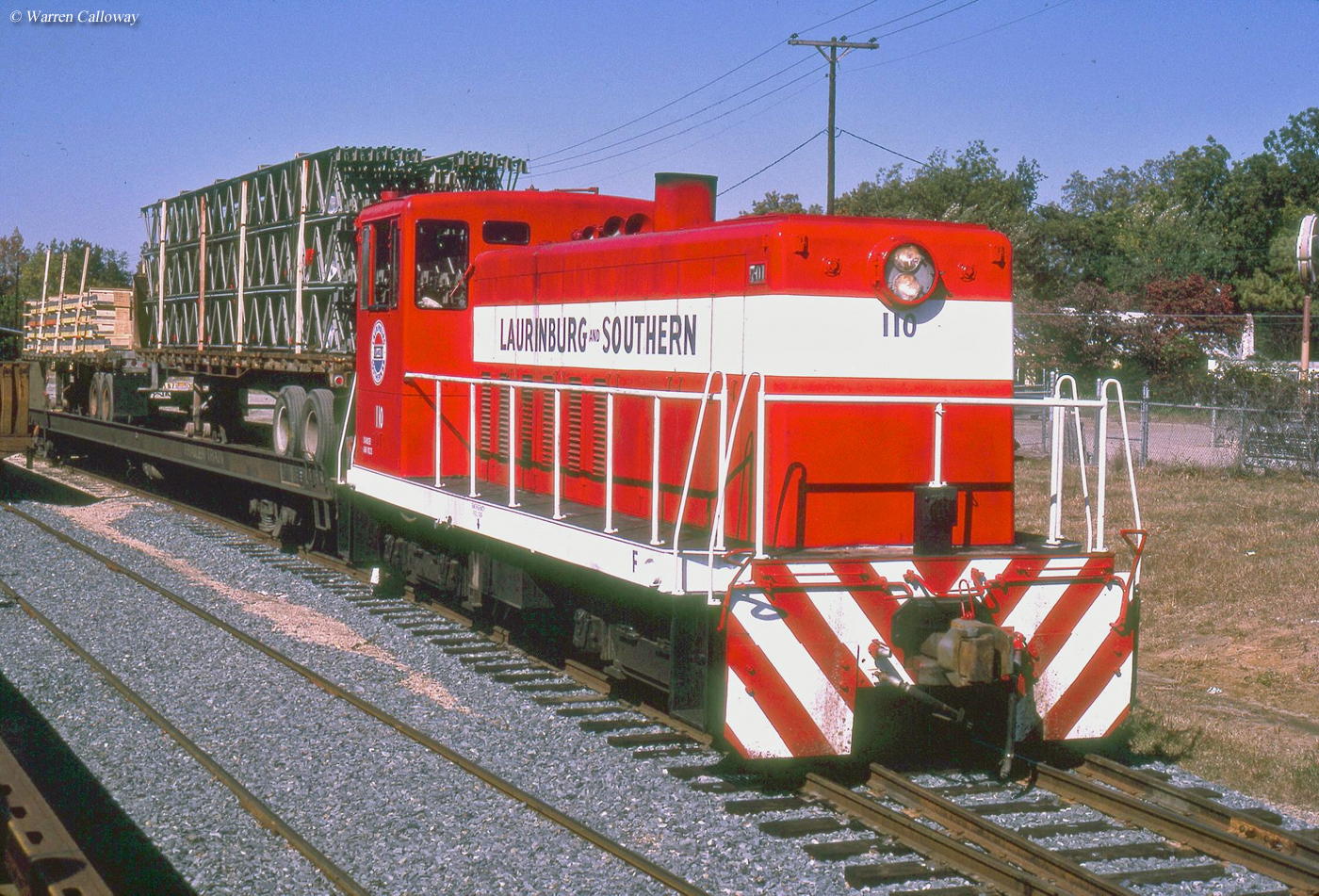 One of the Laurinburg & Southern's 70-tonners, built as Norfolk Southern #701 in 1948. Warren Calloway photo.
During the early 1980s the then-Illinois Central Gulf was siphoning off thousands of miles of its network in hopes of reducing stifling deficits.  
This move resulted in many short line creations, including G&O's Mississippi Delta operation.  It handled a variety of traffic from agriculture and propane to rubber and carbon black.  
With declining traffic by the late 1990s the line was sold to Coahoma County and a new operator was found in 2001.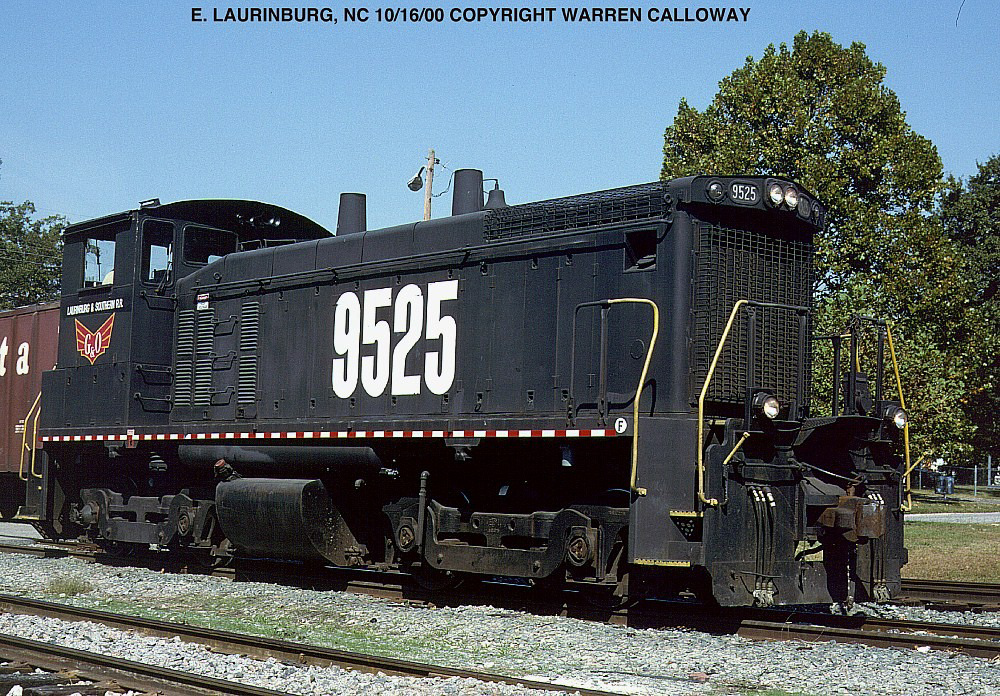 Laurinburg & Southern SW1500 #9525 at East Laurinburg, North Carolina on October 16, 2000. The unit began its career as Penn Central #9525 in 1972. Warren Calloway photo.
In general, however, the 1990s were a good era for the G&O as it acquired several new holdings including the 
Atlantic & Gulf (Started in 1991 on 77 miles of ex-ACL trackage between Thomasville and Sylvester, Georgia.  Sold in 1999 to North American RailNet.)


H&S Railroad (A 1992 acquisition of a 6-mile segment of the original Hartford & Slocomb Railroad serving the Hartford, Alabama area.  Sold to Genesee & Wyoming in 2006.)


Nash County Railroad (Launched in 1994 over former ACL trackage between Rocky Mount and Nashville, North Carolina.  Sold to the NC Department of Transportation in 2006.)


Georgia & Florida (A 1995 acquisition operating in southern Georgia and northern Florida.  Sold to OmniTRAX in 2005.)


Acquired the historic Laurinburg & Southern short line in 1994 along with its subsidiary, the Yadkin Valley Railroad (both located in North Carolina).


Lexington & Ohio (A 1996 acquisition of a former Southern route between Lexington and Versailles, Kentucky.  Sold to RJ Corman in 2003.)


Knoxville & Holston River Railroad (began operations in 1998 over a former Southern branch between Knoxville and Marbledale, Tennessee)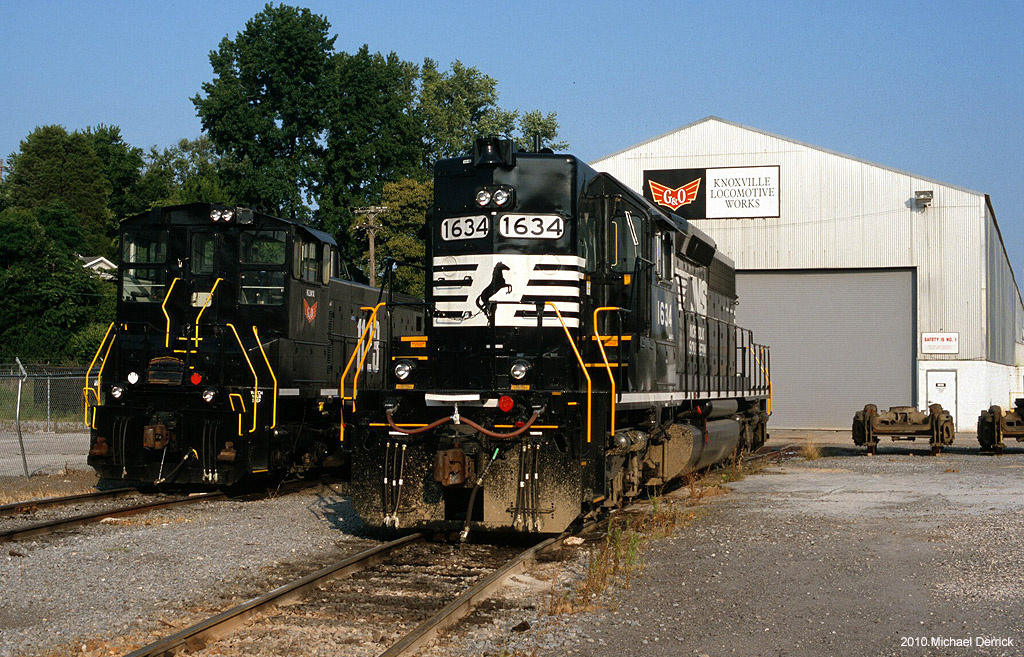 A view of Gulf & Ohio's Knoxville Locomotive Works in Knoxville, Tennessee on July 11, 2010. This facility maintains the company's locomotives and also provides contract services for customers. Michael Derrick photo.
Into the 2000s Gulf & Ohio Railways has continued to acquire and sell portfolios including:
Southern Alabama Railroad (a 2001 acquisition operating between Troy and Goshen, Alabama on the former L&N it was renamed by the G&O as the Conecuh Valley Railroad.  It was subsequently sold to RailAmerica in 2011.)


Chattahoochee & Gulf Railroad (a 2003 takeover operating ex-Central of Georgia trackage it was sold to Genesee & Wyoming in 2006)


Morehead & South Fork Railroad (Leased in 2005 to provide switching services to the port of Morehead City, North Carolina and Radio Island.  In 2010 a new contract was awarded to the Carolina Coastal Railway.)


In November of 2010 G&O took over the historic South Carolina short line Lancaster & Chester Railway, which it still manages today.
---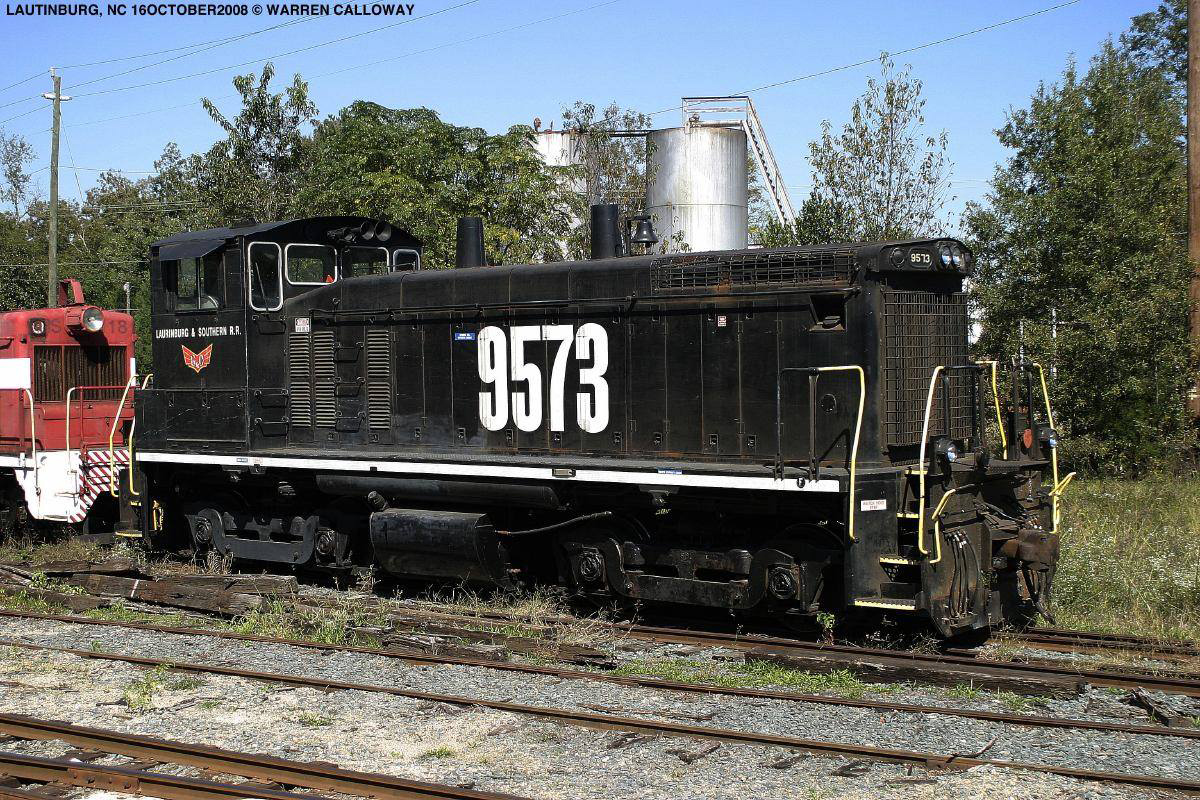 Laurinburg & Southern SW1500 #9573 at the yard in Laurinburg, North Carolina on October 16, 2000. The unit began its career as Penn Central #9573. Warren Calloway photo.
In all, G&O maintains four current short line properties and along with freight operations provides public excursions on the "Three Rivers Rambler" over the Knoxville & Holston River.  
These popular trips, pulled by either historic steam locomotive or diesels at times, take folks on a 90-minute ride eastward out of downtown Knoxville following the Tennessee River for much of the way.
The railroad hosts a number of different specials throughout the year with most trips running from the spring through fall months.  
If you enjoy the public service industry, helping folks, and are perhaps interested in working for the Rambler please visit their website for information regarding job openings.  
Finally, if you are interested in working for one of Gulf & Ohio's short lines please visit the company's main website listed at the top of this page.