Norfolk & Western 2-6-6-4 (Class A)

Last revised: May 8, 2023
By: Adam Burns

The 2-6-6-4 wheel arrangement found a home only on a few lines outside of the Norfolk & Western including the Pittsburgh & West Virginia and the Seaboard Air Line (later sold to the Baltimore & Ohio).  
But it was the N&W which made them famous, manufacturing more than 40 of its own design during the mid-1930s.  

They were fabulous machines which carried practically every known late-era advancement of the day and were as much at home handling fast passenger trains as they were in heavy freight service.   
The A's were the only articulated locomotive N&W built exclusively as simple-expansion designs and remained in service until the last days of steam during the late 1950s.  

During the 1980's the last surviving example, #1218, was returned to operation as part of Norfolk Southern's original steam program.  It witnessed a great deal of fanfare during its time leading excursions. 
Sadly, the locomotive was hastily reassembled after NS canceled steam operations without warning in 1994.  Today, #1218 remains partially reassembled (internally) and on display at the Virginia Museum of Transportation in Roanoke.
Photos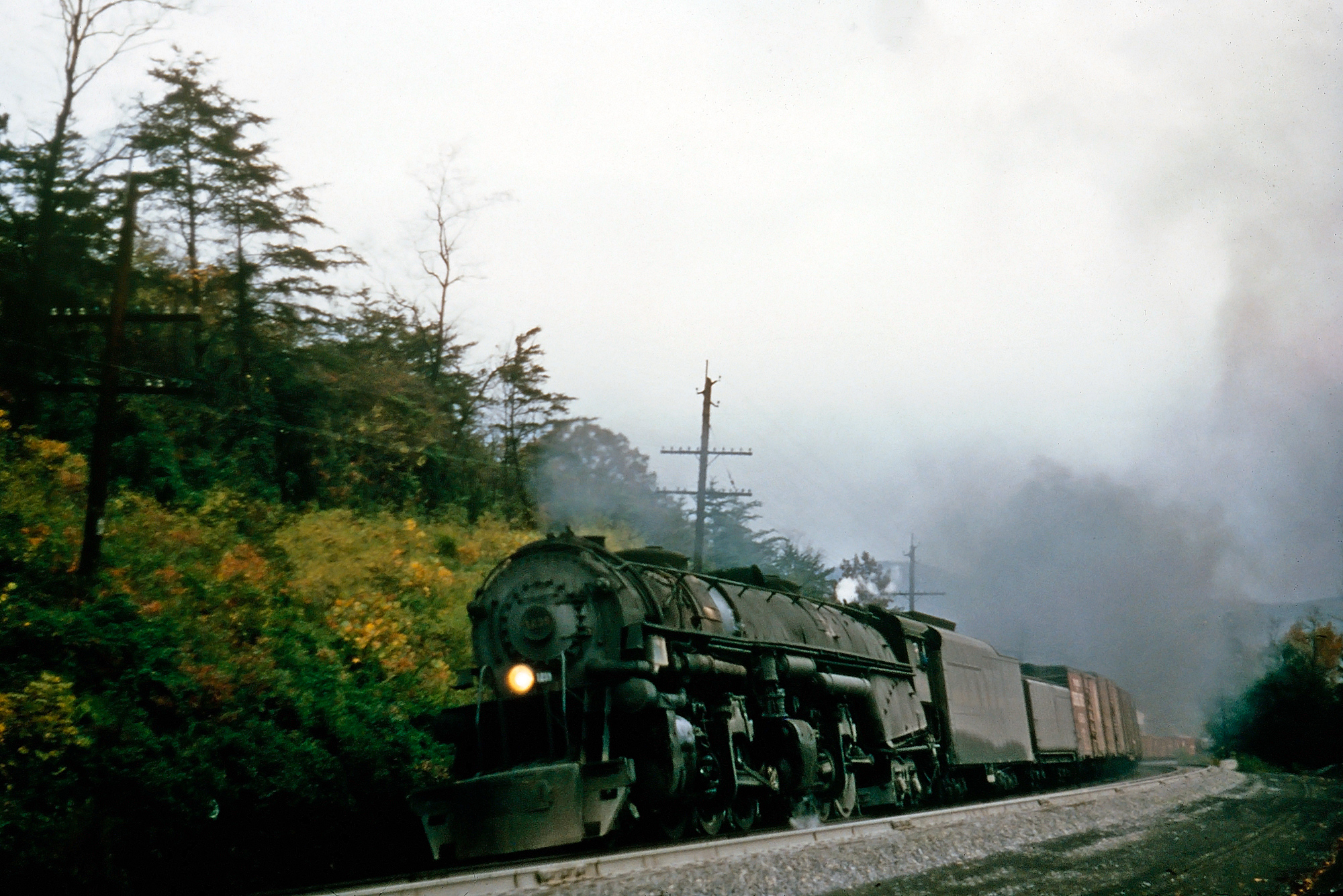 Norfolk & Western 2-6-6-4 #1239 (Class A) works a westbound freight over the stiff, 1.3% Blue Ridge Grade east of Roanoke, Virginia, circa 1957. American-Rails.com collection.
History
The 2-6-6-4 was first put into service by the P&WV in 1934 when Baldwin built three for the small road that served the Steel City.  It ultimately wound up with seven examples (some of which were originally destined for the Erie), equipped with low drivers to handle heavy coal and coke trains.  
Just  a year later the Seaboard acquired five examples (also from Baldwin) with an additional five in 1937, largely intended for high-speed freight service.  They performed well on the SAL but were sold to the Baltimore & Ohio in 1947 to fulfill a power shortage.  
There, they again found work on relatively light grades where the big articulateds could stretch their legs.   In general, most railroads shied away from the 2-6-6-4 wheel arrangement believing the lead truck, with its single axle, did not provide enough stability on such a large frame.
Purpose
Thomas Dixon, Jr. notes in his book, "Norfolk & Western Steam:  The Last 30 Years," it's not entirely clear why the N&W elected to go with 2-6-6-4 arrangement.  
However, their purpose was quite clear; during the late steam era the N&W was looking for wheel arrangements to fulfill a specific role; its 2-6-6-2's and 2-8-8-2's performed exemplary in heavy drag service while the J's, first outshopped in 1940, could handle heavy passenger trains at high speed.  
The 2-6-6-4 would be used in high-speed freight service and the railroad built its first 2-6-6-4's in 1936.  By that time the road was well-known for its ability to produce fine steam locomotives.  Prior to the Class A's introduction the railroad had always utilized compound technology for its articulated designs although the N&W proved just as able to produce high-quality simple expansion locomotives.  
Data Sheet and Specifications
| | |
| --- | --- |
| Builder | Norfolk & Western (Roanoke Shops) |
| Class | A |
| Road Numbers | 1200-1242 |
| Date Built | 1936-1937, 1943-1944 |
| Driver Wheelbase | 24' 7" |
| Engine Wheelbase | 60' 4" |
| Overall Wheelbase (Engine + Tender) | 108' 3" |
| Engine Weight | 573,000 Lbs |
| Tender Weight (Loaded) | 378,600 Lbs |
| Weight on Drivers | 432,350 Lbs |
| Total Weight (Engine + Tender) | 951,600 Lbs |
| Tender Water Capacity | 22,000 Gallons |
| Tender Fuel Capacity | 26 Tons |
| Drivier Diameter | 70" |
| Boiler Pressure | 300 psi |
| High Pressure Cylinders (Diameter x Stroke) | 24" x 30" |
| Tractive Effort | 125,897 Lbs |
| Horsepower | 5,400 |
| Top Speed | 70 mph |
| Factor of Adhesion | 3.43 |
| Retirement | 1958-1959 |
Until the Class A's introduction the railroad had utilized 4-8-2 Mountains for duel-service assignments although as traffic surged they were simply not powerful enough to move the larger and heavier trains.  The first two Class A's (#1200-1201) left Roanoke in May and June of 1936.  
During testing N&W officials were very impressed with their performance as the A's were capable of handling 4,800 tons at 25 mph on a 0.5% grade and 7,500 tons at 64 mph on level track while exerting between 6,000-6,300 horsepower.  
Their tractive effort rating was also quite high at 104,500 pounds while 70-inch drivers enabled them to reach speeds of 70 mph.  The 2-6-6-4's were designed with the Lima's "Super Power" concept in mind, which utilized a very large firebox to produce near infinite and sustainable volumes of steam to the cylinders while in service.
Operation
During the rest of 1936 N&W tested the new locomotives and was satisfied to the point it added eight more in 1937.  To meet the World War II flood of traffic N&W hurriedly continued expanding the fleet by outshopping 15 in 1943 and 10 others in 1944. 
Interestingly, while these 25 examples were somewhat more powerful than the original 10 (weighing 573,000 pounds instead of 570,000 pounds with tractive efforts of 114,000 pounds) and sported larger fuel tenders (holding 30 tons of coal as opposed to 26 tons although they held 2,000 less gallons of water) the railroad would never subclass its 2-6-6-4's; all were simply referred to as Class A. 
One notable feature all A's had in common was N&W's prolific use of Timken roller bearings.  Virtually all of their late-era locomotives featured these cost-saving devices on all axles and the A's were no different, greatly reducing wear and maintenance.

---
Mr. Dixon notes during the war 2-6-6-4's were commonly assigned to freights west of Williamson, West Virginia where it worked manifests and other movements to Columbus and Cincinnati, then N&W's furthest western connections.
However, while often thought of as freight haulers their power and speed made them just as adept in passenger service where they were used as needed (during the war A's often moved heavy troop trains).  They were so versatile a reasonable argument could be made the A's could have been assigned specifically to passenger service.  
Between 1948 and 1950 the N&W added eight more 2-6-6-4's to its fleet, citing demand for their need.  In all, the company wound up with 43 Class A's, numbered 1200-1242.  They hold the distinction of being some of the last main line steam locomotives ever put into service.

Sources
Dixon, Thomas W. Norfolk & Western Steam:  The Last 30 Years.  Forest:  TLC Publishing, 2013.
Grenard, Ross and Krause, John. Steam In The Alleghenies. Carstens Publications.
Solomon, Brian.  Majesty Of Big Steam, The.  Minneapolis:  Quarto Publishing Group, 2015.