B&O's 2-8-0 Locomotives
Last revised: September 20, 2023
By: Adam Burns

Like most railroads the Baltimore & Ohio found the ubiquitous and rugged 2-8-0 Consolidation very useful in all types of applications from heavy freight service to pulling secondary passenger trains. 

The wheel arrangement offered just the right blend of speed and power to find work just about anywhere. 
If you were a railfan in the 1940's or 1950's exploring the railroad's secondary and branch line there is a very good chance you would have found one of these locomotives in operation.
The B&O went to on roster hundreds either purchased new, rebuilt, or acquired by taking over other railroads.  

As David Mainey points out in his book, "Baltimore & Ohio Steam In Color," the B&O had an odd way of classifying its Consolidations; sometimes a lower subclass was actually a newer and more advanced design. 
Such characteristics only added to the B&O's already confusing system that was often a dizzying array of rebuilds, additions, or some other type of change.  Alas, no examples of the railroad's Consolidations were preserved.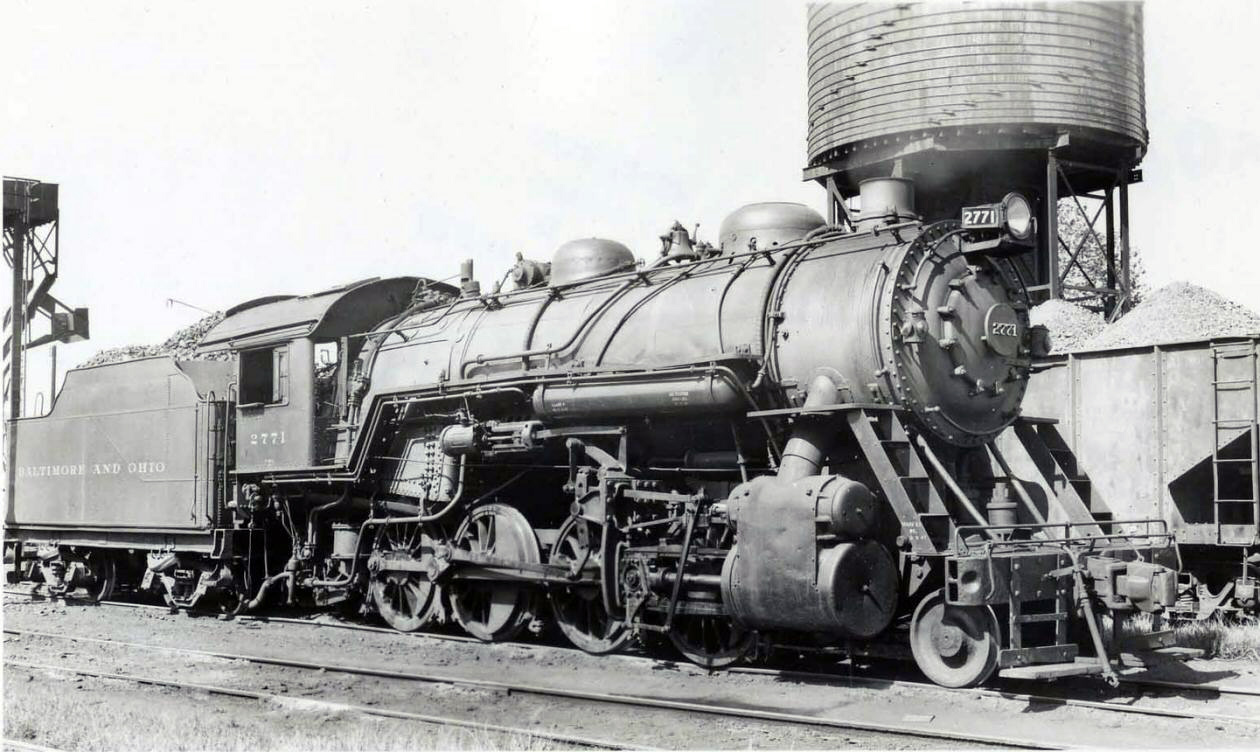 One of Baltimore & Ohio's husky Class E-27b's, #2771. These Consolidations could be found in all types of freight service.
History
The B&O's 2-8-0 fleet is far too large to cover in detail here and only a brief overview will be provided.  The Consolidation was quite a step up in power for the industry following its introduction in 1865 as its heavier frame and larger boiler allowed for a greater increase in tractive effort and horsepower. 
The B&O took delivery of its first 2-8-0 in 1873 and quickly found them ideal for freight assignments.  Up until that time the railroad had relied on any number of the then-common wheel arrangements for some type of freight service (4-6-0s, 2-6-0s, and 4-4-0s) although its preferred locomotive was the the 0-8-0 "Camel." 
Class E
It would go on to roster more than 130 examples before these were replaced by the Consolidation.  In 1884 the B&O began using a simplified classification system for its locomotives and the 2-8-0s fell under Class E.  This system remained in use until steam ended on the railroad in 1958. 

By the 1890s the B&O had dozens of 2-8-0s in service either purchased new or by converting older 0-8-0s.  Some of these earlier designs seem rather puny compared to beefier and more robust late-era examples the B&O fielded. 
For instance, the first Consolidations weighed in the 100 to 120-ton range, carried 57-inch drivers, and with tractive effort ratings of anywhere from 25,000 to 35,000 pounds.  However, as car sizes grew and freight demand increased the B&O fielded much more powerful models by the early 20th century. 
Its last 2-8-0s built from the 19th century through World War I weighed anywhere from 150 to 175-tons, sported up to 63-inch drivers, and offered tractive effort ratings of 40,000 to 50,000 pounds.  Most of the B&O's Consolidations came from either Alco or Baldwin although a few arrived from other manufacturers.

Predecessor Units
The B&O also acquired many Consolidations from predecessors roads including lines like the Buffalo & Susquehanna; Buffalo, Rochester & Pittsburgh; Cincinnati, Hamilton & Dayton; Coal & Coke; and the Morgantown & Kingwood. 
The size, girth, and outward appearance of these locomotives was across the board, not surprisingly, making them difficult to tell apart due to their various backgrounds unless one was a studious follower of B&O steam. 
However, for the more-general observer or railfan the B&O's own 2-8-0s were much easier to pick out; they tended to sport a larger wheel base, bigger boiler, and larger drivers. 
The railroad's most advanced 2-8-0s included its Class E-27's built between 1905 and 1910 by Alco.  (The table below does not include the B&O's many classes of articulated steamers.)

Steam Classification System
| Designation | Wheel Arrangement | Type |
| --- | --- | --- |
| Class A | 4-4-2 | Atlantic |
| Class B | 4-6-0 | Ten-Wheeler |
| Class C | 0-4-0 | Switcher |
| Class D | 0-6-0 | Switcher |
| Class E | 2-8-0 | Consolidation |
| Class F, G, H, I, J | 4-4-0 | American |
| Class K | 2-6-0 | Mogul |
| Class L | 0-8-0 | Switcher |
| Class M | 4-4-0 | American |
| Class N | 4-4-4-4 | Duplex |
| Class O | 0-6-6-0 | Mallet |
| Class P | 4-6-2 | Pacific |
| Class Q | 2-8-2 | Mikado |
| Class R | 2-4-4 | Forney |
| Class S | 2-10-2 | Santa Fe |
| Class T | 4-8-2 | Mountain |
| Class U | 0-10-0 | Switcher |
| Class V | 4-6-4 | Hudson |
| Class Y | 2-10-0 | Decapod |
These were the largest single class of Consolidations the B&O ever owned (more than 300) and they required 80+ pound rail to operate, featured 62-inch drivers, and carried tractive efforts of nearly 41,000 pounds. 
The B&O would later rebuild some of these into Class E-27ca's that could produce an even better 50,934 pounds of tractive effort, almost as much as a Class Q Mikado.  After 1911 the railroad began upgrading its motive power fleet with even more rugged 2-8-2s. 
The Mikado was well-liked by the B&O and it tended to handle most road assignments throughout the late steam-era.  However, Consolidations continued to find their niche in branch and yard work. 
Even through the 1950s one could find them shunting cars in Chicago or handling coal trains on branch lines tucked away within the West Virginia hills.

---
Color photographs of 2-8-0s in service are rare but Mr. Mainey's book provides a nice section of these locomotives during their final years of service.
Perhaps it was because the B&O just owned so many Consolidations that some saw service until the end of steam operations. 
The 1950s found the railroad rapidly retiring its remaining steamers, replaced by newly arriving diesels.  In 1956 the B&O renumbered its remaining fleet to a three-digit system in effort to make room for the new motive power. 
Mr. Mainey's notes that just 26 Consolidations made the cut although as the author points out its unknown how many actually saw service after this time. 
Today, just one 2-8-0 survives, an early Class E-8, #545, named the A.J. Cromwell.  The railroad constructed the Consolidation at its own Mt. Clare Shops in 1888 and it is preserved at the B&O Railroad Museum.