2-8-8-4 "EM-1" Locomotives

Last revised: May 8, 2023
By: Adam Burns

While Baltimore & Ohio's EM-1's were not the most powerful of the large designs built during steam's twilight, they were nevertheless exceptionally built machines that were well-liked by train crews.

Not only were the EM-1s capable of holding their own on steep grades but the big 2-8-8-4s were arguably one of the most aesthetically beautiful of the large articulated designs.
Ironically, had the B&O been allowed, the railroad would have simply purchased new diesels.  But the War Production Board forbade the move with World War II still ongoing.
As a result, and needing more power to meet wartime demand, the B&O tapped Baldwin for the new steams.
Like most late-era designs, the 2-8-8-4's saw less than 20 years of service.  Sadly, none were preserved.  However, even more unfortunate is that one was actually slated for posterity and displayed at the B&O's own museum in Baltimore. 
The railroad was well-known, even in that era, for retaining noteworthy locomotives and equipment (it would likely have saved even more if not for financial issues).  For reasons unknown, a mix-up caused this lone EM-1 to fall to the scrapper's torch.

Photos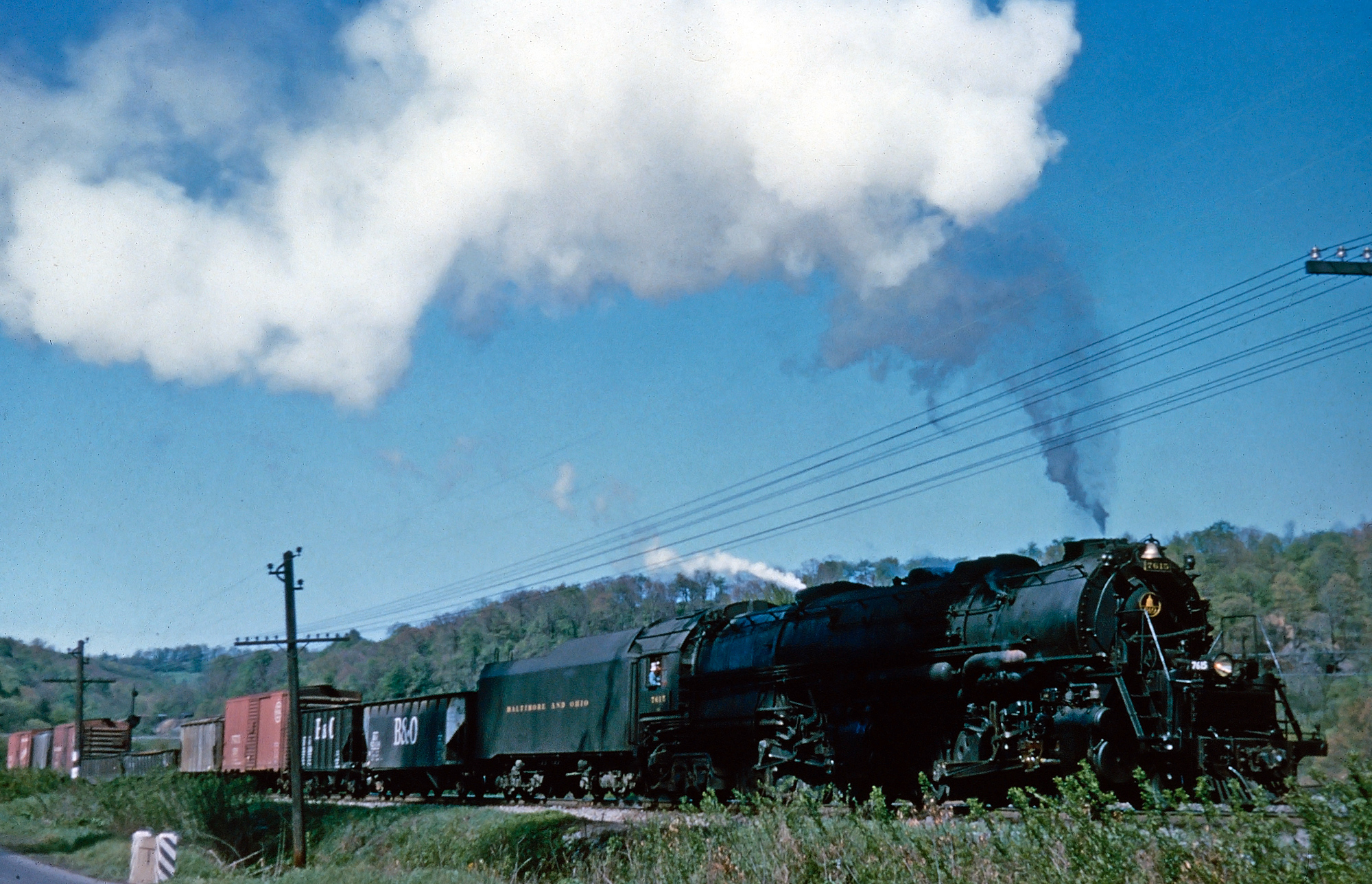 Baltimore & Ohio 2-8-8-4 #7615 (EM-1) leads a general manifest along the East End/Cumberland Division near Hancock, West Virginia, circa 1955. American-Rails.com collection.
History
The EM-1 class was a variant of the Yellowstone design, first put into service on the Northern Pacific in 1928. The NP wanted a powerful articulated that could not only move heavy freights through the Northern Plains of the Dakotas but also at relatively quickly.
Ultimately, however, only two other lines aside from the B&O (which as the last to buy the 2-8-8-4) purchased Yellowstones; the Missabe (DM&IR) acquired 18 (Class M-3/M-4) in 1941 to pull heavy ore trains and Southern Pacific picked up 12 in 1939 (Class AC-9).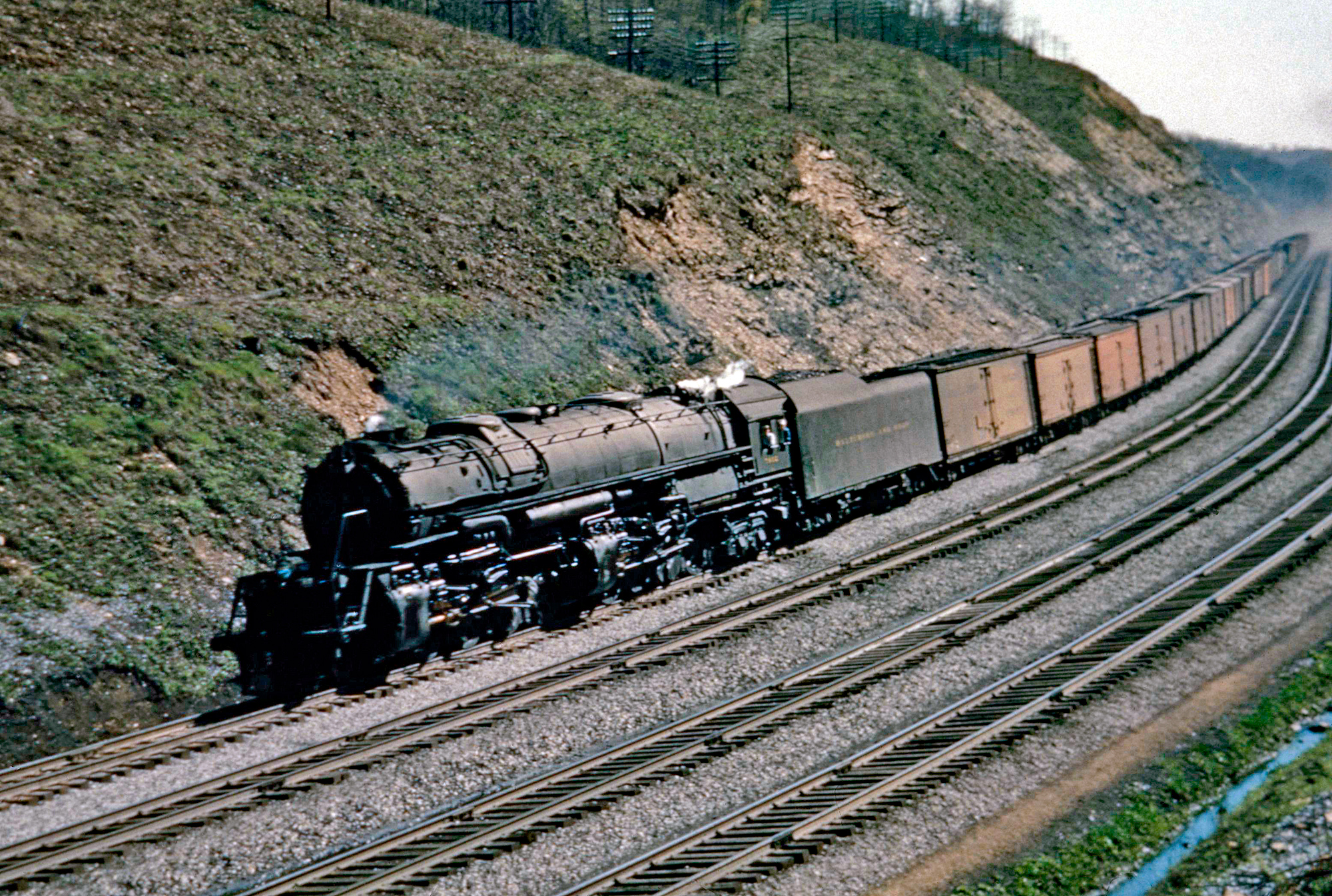 A Baltimore & Ohio EM-1 rolls west downgrade at Doe Gully, West Virginia along the Magnolia Cutoff during the early 1950s. American-Rails.com collection.
Development
The EM-1 was developed during the very end of the steam era and, accordingly, would carry the latest technology available. Thirty of these locomotives would be built, all coming from the Baldwin Locomotive Works, and were delivered to the B&O towards the end of World War II between 1944 and 1945.
The eastern trunk line was one of the first to embrace diesel technology purchasing a boxcab switcher from Alco and Ingersoll-Rand in 1924.  It was also quick to test Electro-Motive's streamlined EA in 1935 and ultimately went back to EMD for many of its diesel locomotives.
The railroad desperately wished to continue purchasing diesels (then EMC's FT model) to keep up with wartime traffic. However, with restrictions in place the B&O was forced to settle buying more steam.

A Baltimore & Ohio EM-1 (2-8-8-4) leads eastbound loads of coal over Magnolia Cutoff at Orleans Road, West Virginia during the early 1950s. Bill Price photo. American-Rails.com collection.
The EM-1s had a rather low boiler pressure comparative to other models in its class but this low pressure had a great benefit, a high factor of adhesion (4.22). This high ratio allowed the locomotive to start rather efficiently in that it was not as susceptible to wheel slippage.
For instance, this added incentive was an extra benefit in the type of service the B&O originally designated the EM-1, the torturous grades of the railroad's West End (its Cumberland and Pittsburgh Divisions), through the Appalachians.
The locomotive did a marvelous job, having little trouble hauling merchandise or coal drags over the steep climbs of Cranberry Grade, along the West Virginia/Maryland border, or over Sand Patch in Pennsylvania.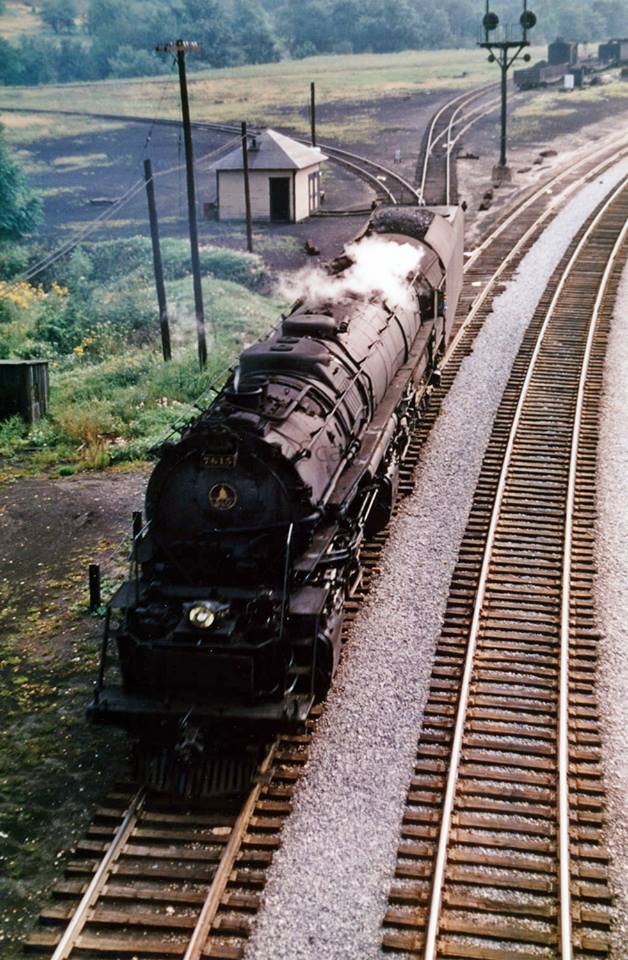 Baltimore & Ohio 2-8-8-4 #7615 (EM-1) is seen here in a rare scene on Sand Patch on August 26, 1954. These behemoths were normally not assigned to this territory. Just a few years later the big steamers were renumbered into the 600 series to make way for newly arriving diesels. Bill Price photo.
In time, the railroad actually became rather fond of its 2-8-8-4s. The EM-1 was a true sight to behold if one was lucky enough to witness it trackside at work. A classic example is the locomotive working upgrade over Sand Patch.
The engine exemplified what made the steam locomotive such an admired and respected machine, even outside the railroad and railfan community.
The pure power and deafening sound by a locomotive of the EM-1's size is perhaps something words, pictures and maybe even videos can never truly replicate without the fortune of being there in person to witness such for yourself.
While the size of the EM-1 is enough in itself to instill awe, seeing it in person illustrates the point that much more.  The below specifications of the locomotive are courtesy of John Patton.

Specifications
| Builder | Road Numbers | Cylinders (Diameter & Stroke) | Drivers | Boiler Pressure | Grate Area | Weight On Drivers | Total Engine Weight/With Tender |
| --- | --- | --- | --- | --- | --- | --- | --- |
| Baldwin Locomotive Works | 7600-7629 | 24" x 32" | 64 Inches | 235 psi | 117.5 Square-Feet | 485,000 Pounds | 628,700 Pounds |
According to John Patton:
"...the EM-1s were said to be easy steamers to operate and crews liked them. With minor stay bolt trouble they were perfect for the B&O in every way possible.
As said upon delivery by head of machinery, they had everything, all wheels had roller bearings and were top of the line for steam on the B&O...these B&O articulateds were 1,010,700 pounds, laden; carried 22,000 gallons of water and 25 tons of coal."
Roster
Class

EM-1

Builder

Baldwin Locomotive Works

Road Numbers

7600-7629 (1944-1956)

650-659 (Post-1956)

Serial Numbers (7600-7619)

70062-70081

Serial Numbers (7620-7629)

71502-71511

Year Built

1944 (7600-7619)

5/1945 - 8/1945 (7620-7629)
---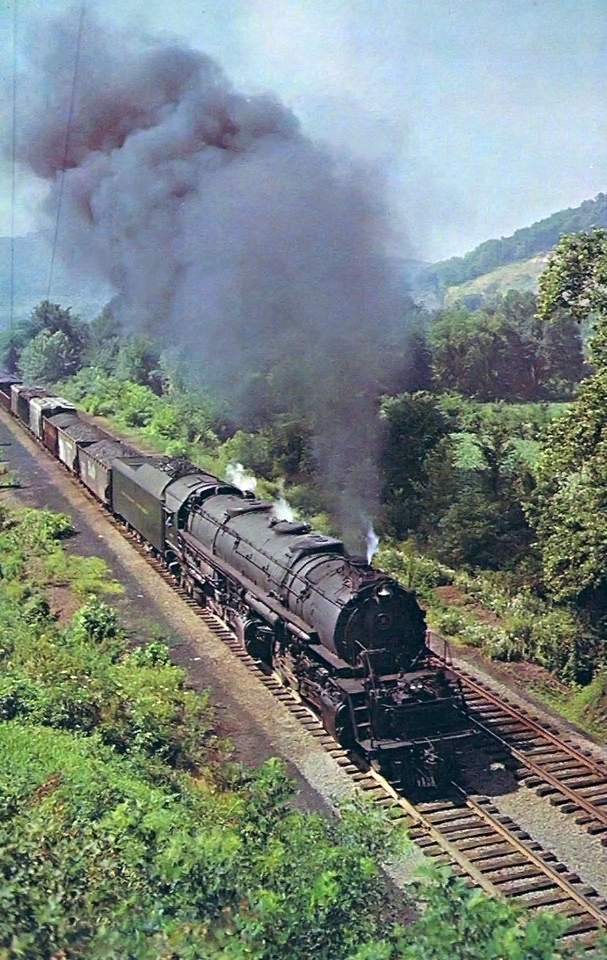 Baltimore & Ohio 2-8-8-4 #657 heads north along the once-busy Wheeling Division near Holloway, Ohio (now abandoned) with a mixed freight (dispatched from Benwood/Wheeling) bound for Lorain in July of 1957. The big EM-1's had recently been renumbered to make room for incoming diesels and they would soon be retired after barely a decade of service... Don Wood photo.
Final Years
The EM-1 would be short-lived, however. By the late 1950s the locomotives had been renumbered to make room for new diesels that the B&O could finally purchase after the war had ended, and the EM-1 was shifted from the mountain regions to the Ohio River and the railroad's Pittsburgh Division.
This time period also spelled the end for steam itself throughout the nation's railroads. After less than twenty years of service (in steam locomotive years this is very young) the final EM-1 was dropped from the roster around 1960.
However, according to Mr. Patton, "the last one off the roster was to be saved for the B&O Museum in Baltimore, but it never happened due to lack of funding and the museum not being open to try an reserve funding for such." Unfortunately for both railfan and historian alike, not one EM-1 is preserved for future generations to tour and see.  

Sources
Edson, William D. Steam Locomotives Of The Baltimore & Ohio: An All-Time Roster.  Potomac: William D. Edson, 1992.
Mainey, David. Baltimore & Ohio Steam In Color. Scotch Plains: Morning Sun Books, 2001.
Reynolds, Kirk and Oroszi, David. Baltimore & Ohio Railroad. Osceola: MBI Publishing, 2000.
Withers, Bob. Baltimore & Ohio Railroad In West Virginia, The. Charleston: Arcadia Publishing, 2007.