Baltimore & Ohio 2-6-6-4 (Class KB-1)
Last revised: May 19, 2023
By: Adam Burns

A few classes of the Baltimore & Ohio's large, articulated steam locomotives were acquired second-hand from other railroads. 

One in particular, a batch of 2-8-8-2s from the Seaboard Air Line during the early 1920s was never liked, so much so that the B&O converted them into Consolidation Mallets after only a year. 
However, the B&O went back to the SAL in the late 1940s purchasing a small fleet of 2-6-6-4s needed due to a power shortage.  The steamers were listed as Class KB-1 and crews spoke very highly of them.  Interestingly, their time on the B&O was very short. 
As new diesels continued arriving during the early 1950s all were retired after only a few years of service.  Unfortunately, none of these big articulateds were preserved, as all were scrapped soon after their retirement.
The Baltimore & Ohio was a major proponent of large, powerful wheel arrangements to handle heavy coal tonnage in Ohio, northern West Virginia, and western Pennsylvania. 
Alas, many mine in these regions have since closed but at the time comprised a high percentage of the B&O's coal traffic.  As a result, it rostered big steam like the 2-6-6-4, 2-10-2, 2-8-8-0, 2-8-8-4, and the 2-6-6-2.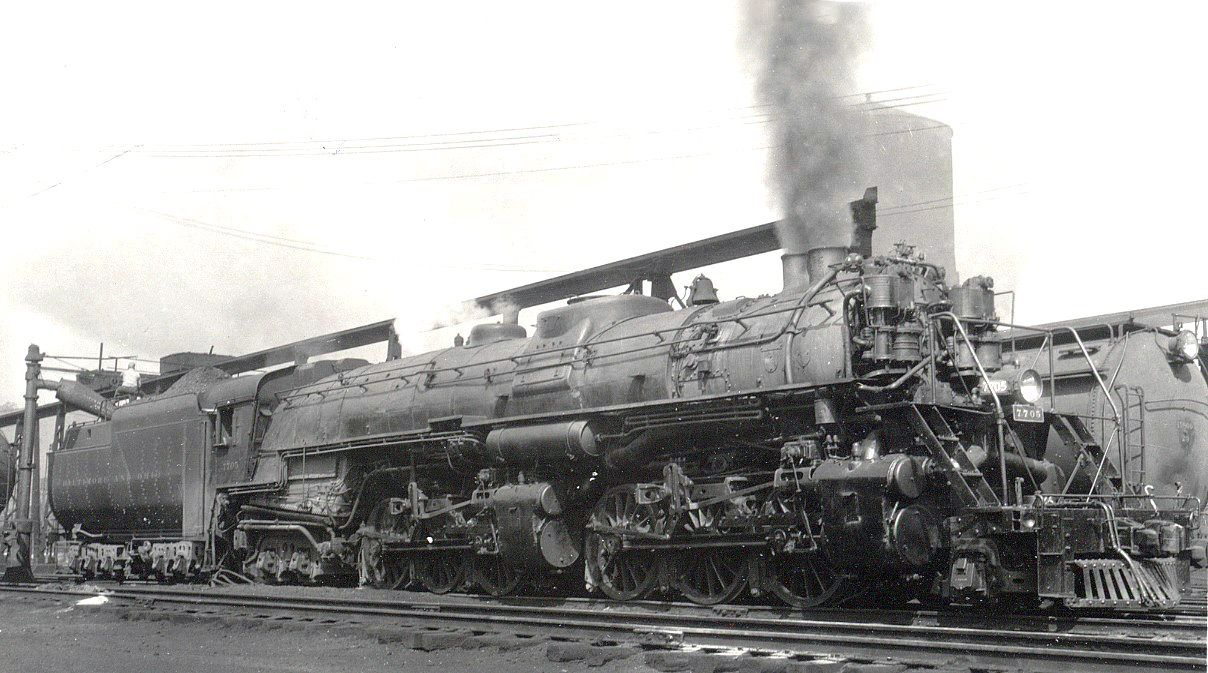 Baltimore & Ohio Class KB-1a #7705 is seen here at Cumberland during 1947. Note the new location of the air pumps giving the steamer a bulkier, husky appearance.
History
The 2-6-6-4 was a late era wheel arrangement developed during the age of "Super Power" steam locomotives, or those designs first employed by the Lima Locomotive Works in the 1920s that featured larger fireboxes and boilers, newer technologies (such as roller bearings), and in general were simply faster and more powerful. 
This particular steamer was first put into service on the small Pittsburgh & West Virginia Railroad, which acquired seven (1100-1106) from the Baldwin Locomotive Works in 1934. 
The P&WV; operated in western Pennsylvania, northern West Virginia, and eastern Ohio moving heavy freight trains, notably coal, which necessitated the need for such large designs. 
Interestingly, the 2-6-6-4 was made most famous on the Norfolk & Western Railway although the design never drew serious interest across much of the industry (the Erie considered but ultimately declined any examples).
Perhaps the 2-6-6-4s should have been referred to as "Norfolks" or "Roanokes" (where they were built in Roanoke, Virginia) due to their success on the N&W.  The railroad's legendary shop forces constructed 43 examples between 1936 and 1950 numbered 1200-1242 and listed as Class A. 
One could reasonably argue that the Norfolk & Western was a better builder than the notable manufacturers of the day such as Alco, Baldwin, and Lima.  The Class A's were a fine machine that could be utilized in either passenger service or as helpers in drag service. 
According to SteamLocomotive.com:
"In addition to a high-pressure boiler, an A had a cast-steel frame and roller bearings on virtually all surfaces. The firebox had 57 square feet of arch tubes but no circulators or syphons.
The last five of the type had roller bearings in the side and main rods, the only articulateds to take such friction-reducing measures."
Seaboard Air Line
The only other railroad to put a 2-6-6-4 into service was the Seaboard Air Line.  In truth, the N&W; probably gained the inspiration for its Class A's from the SAL.  At the time the SAL was seeing its financial situation improve following its bankruptcy in December of 1930. 
Management received permission from the railroad's receiver, Legh Powell, Jr. to order a batch of five 2-6-6-4s from Baldwin in 1934 (delivered a year later), which were listed as Class R-1 and numbered 2500-2504.
Unlike the P&WV;'s examples, the SAL's were designed for fast freight service sporting 69-inch drivers, 82,300 pounds of tractive effort, a boiler pressure of 230 pounds, and were rated to handle 2,700-ton freights along the main line between Richmond, Virginia and Hamlet, North Carolina. 
Other features of the locomotives included the type E superheater, Baker valve gear, and Elesco feedwater heaters (#2504, however, used the Worthington Type 5-SA).  The Class R-1's were well built locomotives that offered good riding quality and ample power making them a favorite of crews. 
As SteamLocomotive.com points out, however, Seaboard management would not allow the 2-6-6-4s to operate at speeds which crews felt they were capable. 
If there was a drawback it was their use of friction bearings on all axles instead of the more economical roller bearings used on the Class A's. 
Two years after the first batch of five arrived the Seaboard acquired five more from Baldwin in 1937; listed as Class R-2 they were numbered 2505-2509. 
Specifications
| Model | Builder | Road Number(s) | Date Built | Disposition |
| --- | --- | --- | --- | --- |
| Class KB-1 | Baldwin | 7700-7704 | 1935 | Scrapped, 1953 |
| Class KB-1a | Baldwin | 7705-7709 | 1937 | Scrapped, 1953 |
According to Seaboard Air Line Railway: Steam Boats, Locomotives, And History by Richard Prince, the R-2's were slightly different sporting Walschaert valve gear and a change in the locomotives' frame design. 
After the arrival of these latest 2-6-6-4s the Seaboard extended their territory to Monroe, North Carolina and northwesterly into Charlotte. 
They would also eventually find their way into passenger service speeding trains into Atlanta and as far south as Florida. 
B&O Acquisition
Their arrival to the Baltimore & Ohio occurred during July of 1947; the railroad was continuing to experience a power shortage as the result of World War II and the inability to purchase new diesels. 

Under B&O ownership the 2-6-6-4s became Class KB-1's #7700-7704 and Class KB-1a's #7705-7709.  Just like on the Seaboard, B&O crews liked the locomotives for the same reasons and they did very well at moving fast freights in a timely manner. 

---
Retirement
The big articulateds tended to stay along the eastern fringes of the Cumberland Division according to David Mainey's Baltimore & Ohio Steam In Color, where grades were relatively flat between Brunswick, Maryland and Cumberland save for locations near Harpers Ferry and Martinsburg, West Virginia. 
The B&O experienced some minor issues with the locomotives.  As noted by SteamLocomotive.com their slip joints tended to leak and were replaced by ball joints. 
Additionally, crews noted they had a slipping issue when tackling grades, which was mostly remedied when the air pumps were moved to the front pilot. 
As the B&O purchased new diesel through the early 1950s the need for the 2-6-6-4s quickly waned.  Unfortunately, this resulted in a very short [new] career for the locomotives as all were retired and scrapped by 1953.