Baltimore & Ohio 2-8-2 (Class Q)
Last revised: June 24, 2022
By: Adam Burns
The 2-8-2 Mikado became the preferred steam locomotive in freight assignments for many railroads starting at the turn of the 20th century.  The Baltimore & Ohio employed its first in service after 1910, listing them under the Class Q heading. 
In the following years the B&O came to own several hundred 2-8-2s either by purchasing them directly from the Baldwin Locomotive Works or inheriting others through a number of smaller, subsidiary railroads. 
Additionally, as per usual B&O custom many were rebuilt and upgraded over the years with several sub-classes (although not quite as confusing as the Pacifics).  
The Mikado was the workhorse on the B&O, ranging far and wide across its vast network in whatever assignment it was needed; usually this meant pulling freight trains but it also handled passenger consists as well. 
Today, just one survives, Q3 #4500 at the Baltimore & Ohio Railroad Museum.  It was the first USRA locomotive manufactured by Baldwin in 1918.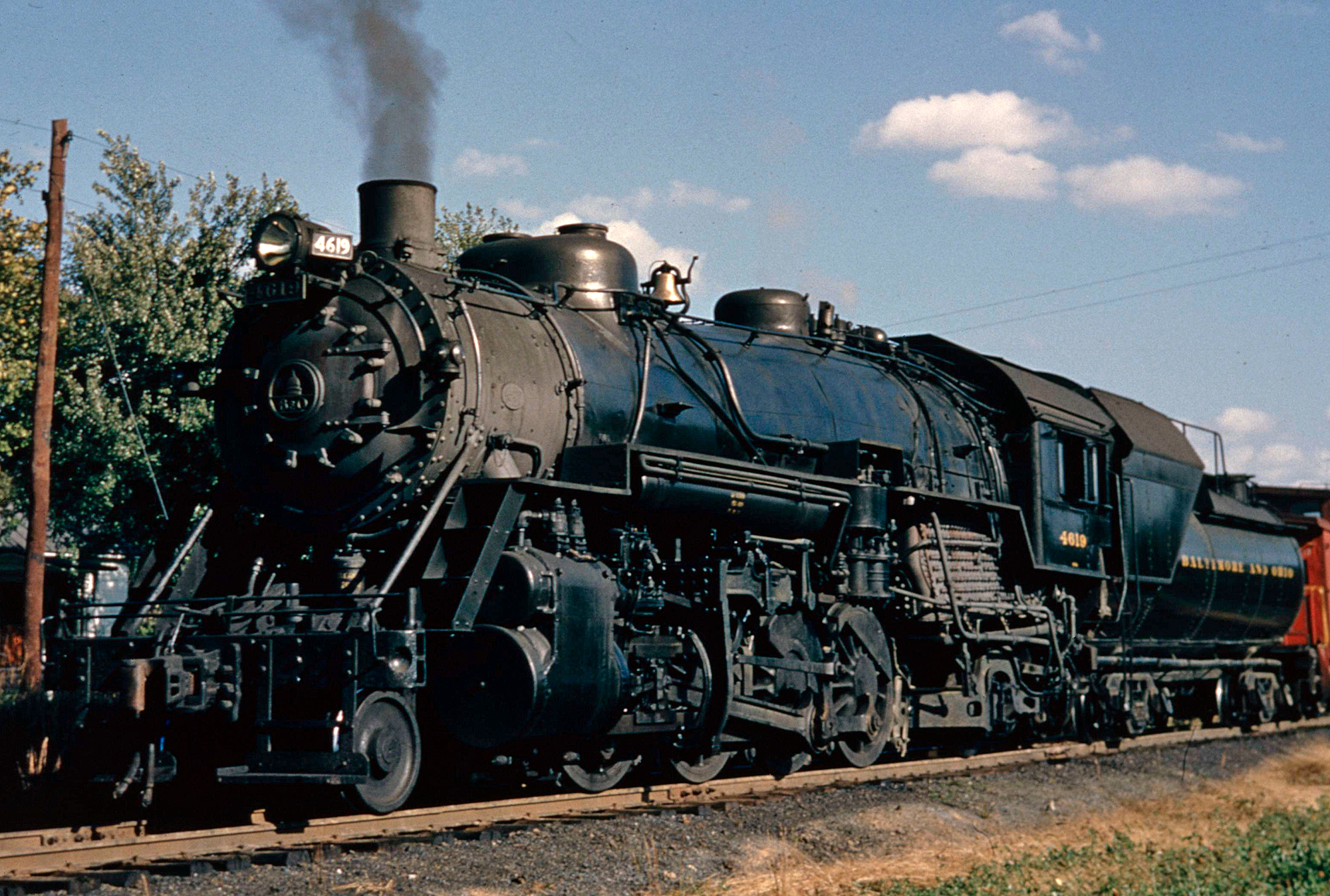 Baltimore & Ohio 2-8-2 #4619 (Q-4b) is seen here in service during the mid-1950s. The location is not listed and these Mikados roamed far and wide across the B&O network. This particular unit was a 1923 product of Baldwin and used in dual service assignments. American-Rails.com collection.
History
The 2-8-2 first saw service in 1887 on Japan's Nippon Railway; its name "Mikado" comes from the Japanese term for emperor.  
During the 1890s U.S. railroads first began experimenting with the wheel arrangement although a true, 2-8-2 first went into service on the short line Bismarck, Washburn & Great Falls Railway in 1903 (another Baldwin product).  
This was followed soon after by the Northern Pacific in 1905, which is often credited with kicking off the Mikado as a general road service locomotive across the railroad industry.  
As for the Baltimore & Ohio, it was regularly experimenting with new wheel arrangements and always looking for a more efficient design to handle the stiff and difficult eastern mountain grades on its main line through Maryland, West Virginia, and western Pennsylvania.
Implementation
During 1911 the railroad put its first Mikados into service; these were home-built at its well-known Mt. Clare Shops in Baltimore.  
Using two former 2-8-0 Consolidations shop forces extended the boiler via a larger frame, increased the cylinder diameter and drivers, and added a trailing truck. 
Other upgrades included the addition of superheating and a change in the valve gear.  The new 2-8-2s were given road numbers 4160-4161 with a rather odd listing as "Class Q odd."  
Later that year the B&O also began receiving brand new Mikados; these were listed as Class Q-1 and included a fleet of 160 units numbered 4000-4159.  
More were ordered in 1912, sub-classed as Q-1b and numbered 4170-4219.  Finally, another 110 arrived a year later, numbered 4220-4329 and given Class Q-1c.
Most of these locomotives offered similar levels of power and tractive although the Q-1b's and Q-1c's included a somewhat higher axle loading. 
During 1918 and through 1919 the B&O received the standard USRA light Mikados, listed as Class Q-3 and given numbers 4500-4599. 
The final, new 2-8-2s designed and built exclusively for the B&O were the Class Q-4's of 1921.  These locomotives, numbered 4400-4499 and 4600-4634, were received through 1923 offering the greatest tractive efforts and axle loadings of any 2-8-2s the B&O owned with 64 inch drivers. 
Every new Mikado the railroad purchased, even the USRA standard design were all built by Baldwin, the B&O's favored steam manufacturer.   
Aside from these the company also got other 2-8-2s through its purchase of smaller roads including the Buffalo, Rochester & Pittsburgh and Cincinnati, Indianapolis & Western.
Classification
| Model | Builder | Road Number(s) | Date Built | Disposition |
| --- | --- | --- | --- | --- |
| Class Q odd | Baldwin | 4160-4161 | 1911 | Scrapped, 1949 |
| Class Q-1 | Baldwin | 4000-4159 | 1911 | Scrapped, 1955 |
| Class Q-1b | Baldwin | 4170-4219 | 1912 | Scrapped, 1955 |
| Class Q-1c | Baldwin | 4220-4329 | 1913 | Scrapped, 1941 |
| Class Q-3 (USRA Light) | Baldwin | 4500-4599 | 1918-1919 | Scrapped, 1959 |
| Class Q-4 | Baldwin | 4400-4444 | 1920 | Scrapped, 1959 |
| Class Q-4a | Baldwin | 4445-4449 | 1921 | Scrapped, 1959 |
| Class Q-4b | Baldwin | 4450-4499 | 1922 | Scrapped, 1959 |
| Class Q-4d | B&O; | 4635-4637 | 1941-1942 | Scrapped, 1955 |
The Q-4's also were equipped with steam boilers allowing them to be used in passenger service.  As with its Pacifics and habit of experimentation the B&O updated a number of its Mikados over the years (which crews often referred to as simply "Qs").  
Most of these projects tended to be done on the Q-1's; many were rebuilt with super-heaters, larger fireboxes, cylinders (among other improvements), and given sub-classes as Q-1b's, Q-1c's, Q-1aa's, Q-1ab's, etc.  
Additionally, others of this class were rebuilt into either Pacifics or upgraded as Class T 4-8-2 "Mountains."  During World War II the B&O, in a stance of patriotism against the empire of Japan renamed its 2-8-2s as "MacArthurs" (the famous World War II general). 
Interestingly, though, this designation didn't seem to take well with train crews many of whom continued to refer to them as either "Mikes" or "Qs."   
Wherever one went across the B&O system a 2-8-2 was sure to be seen; they operated on rural West Virginia branch lines lugging long strings of coal trains or hustled mixed freights across the flat, bucolic farmland of Indiana.  
In other scenes the Class Q's would depart Chicago's Grand Central Station with an important passenger consist or operated in helper service over the fabled grades of the West End (such as at Sand Patch, Pennsylvania).  
The Mikes were certainly the B&O's workhorses during steam's late-era fielding any type of secondary service asked of them.  As diesels continued to replace steam the 2-8-2s began to see retirement as early as 1941. 
---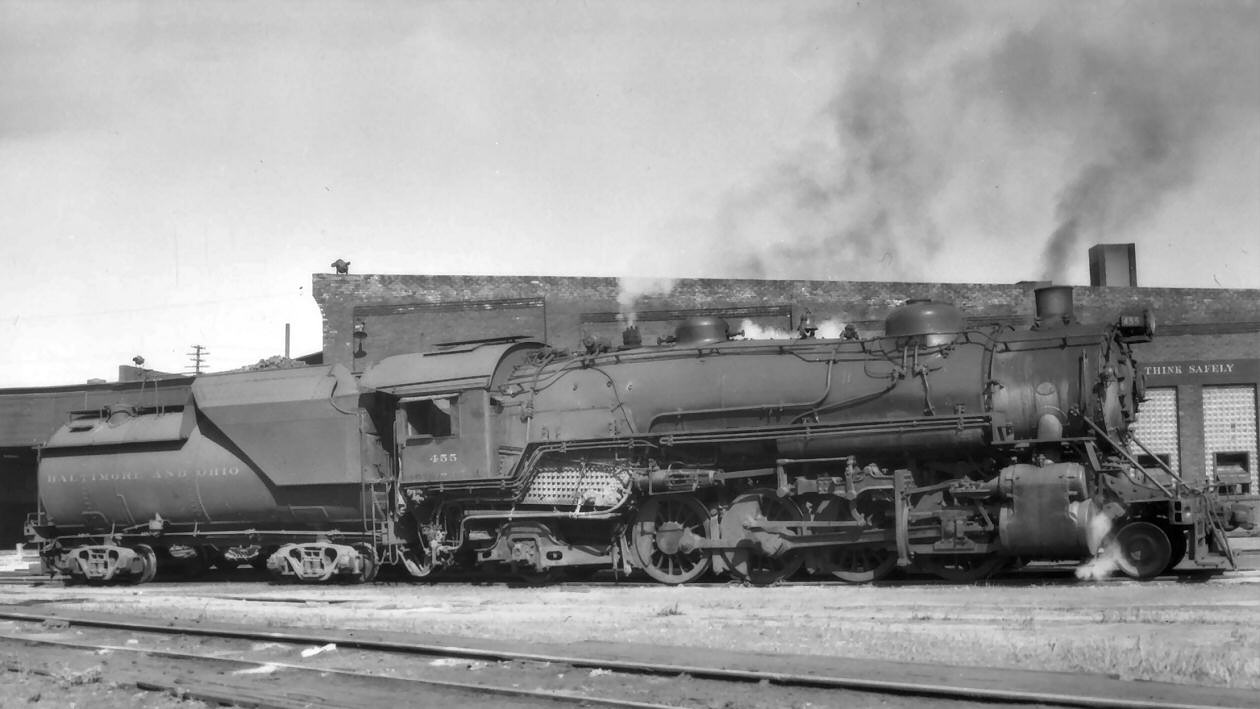 Baltimore & Ohio 2-8-2 #455 (Q-4), a product of Baldwin, in a post-1956 scene following its renumbering.
Retirement
This continued rapidly following the war as railroads were able to buy new diesels unimpeded, purchasing models like the Electro-Motive's F3 and F7 cab units, and then later the GP7 and GP9 road-switchers.  
According to records it seems that most of the B&O's Mikados met their fate between the late 1940s and around 1955.  
However, some of the Class Q-4's could still be found in service as late as 1959 along with a few of the former BR&P 2-8-2s (then classed as Q-10's). 
Today, only one of the railroad's sturdy and rugged Mikes survived, Class Q-3 #4500 which is now at the B&O Railroad Museum in Baltimore.  This unit was one of the standard USRA light designs as unfortunately none of the B&O originals like the Q-1's and Q-4's were preserved.